AFC West:

Palmer to Raiders
October, 18, 2011
10/18/11
5:40
PM ET
Jason Campbell
left the Oakland Raiders' facility to get his collarbone surgically repaired with hopes of playing again this year.

Campbell
Campbell told Oakland media that he was hopeful he could return from the injury he suffered Sunday against Cleveland in six weeks. The more realistic prognosis was that Campbell was finished for the season.
Now, as Campbell begins the healing process from his surgery, the likeliest scenario is that he has played his final game as a Raider.
Now that the Raiders gave up a first-round pick in 2012 and at least a second-round pick in 2013 to get
Carson Palmer
from Cincinnati, it is safe to say the Raiders are discarding Campbell. The only way Campbell will come back is if Palmer is a complete disaster this year.
It is stunning how this situation changed. Campbell entered Sunday's game as an improved player whom the Raiders completely believed in. The expectation was that the Raiders would eventually look to extend the contract of Campbell, who will be a free agent at the end of the year.
You often hear about the brutality of this business. But I can't think of a more brutal recent situation than this. Campbell worked hard in Oakland and improved. He was a model teammate and was terrific with the media.
It's tough to see good guys deal with these types of situations, but the Raiders are trying to win now, and Oakland coach Hue Jackson did what he felt was necessary in light of Campbell's injury.
Cincinnati coach Marvin Lewis hinted Tuesday that Jackson had shown interest in reuniting with Palmer for a while. But there is no way this trade would have been made had Campbell not been hurt. Campbell was the Raiders' quarterback until he was hurt.
And now he's not.
October, 18, 2011
10/18/11
5:15
PM ET
The immediate question is: When will the
Carson Palmer
era begin in Oakland?
The Raiders traded for Palmer on Tuesday to help keep them in the playoff hunt. I wouldn't be shocked if Palmer is playing Sunday at home against Kansas City.
I know Palmer hasn't played in 10 months. I know he doesn't know his new teammates, and I know it would be highly unusual for an NFL team to give its offense to a new quarterback in this situation.
But the Raiders gave up two high draft picks for Palmer because they think he is the man to help them win right away. They could have stuck with
Kyle Boller
this week while figuring out what they wanted to do for the rest of the season, but they made this bold move instead.
So why wait? Get Palmer on the field as soon a possible.
Palmer played for Oakland coach Hue Jackson at USC and in Cincinnati. So, he is not unfamiliar with this system. The Raiders rely on the run anyway, so Palmer could be eased into action this week.
There is also recent precedent to the Raiders rushing newly acquired players onto the field. Last week, linebacker
Aaron Curry
started for the Raiders after having one practice with the team.
Why wouldn't they do that with Palmer? Jackson is as aggressive as they come. Why would he change now?
October, 18, 2011
10/18/11
4:50
PM ET
There's no doubt
Carson Palmer
was the best available quarterback for the
Oakland Raiders
, who are trying to keep their playoff hopes alive in the aftermath of losing
Jason Campbell
, possibly for the season, to a broken collarbone.
But the question that will define the Raiders for the next few years is: Is Palmer worth the steep price the Raiders paid Cincinnati to get him?
[+] Enlarge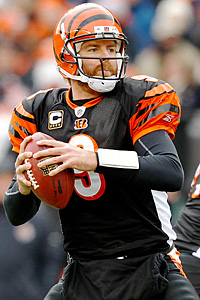 Matthew Stockman/Getty ImagesCarson Palmer's numbers have declined since 2006 -- will a change of scenery reverse the trend?
The Raiders sent the Bengals their first-round pick in 2012 and a conditional pick in 2013 -- a pick that will be a first-rounder if the Raiders win the AFC title game this season or next. (If they don't, the 2013 pick is a second-rounder.) That is a huge commitment for a player who will turn 32 this year, hasn't played since last season and has been in decline.
Yet the Raiders, who had
Vince Young
as
their backup plan
to Palmer, think Palmer is the best quarterback for them as they move forward. A lot of it has to do with the familiarity between Palmer and Oakland coach Hue Jackson. Jackson coached Palmer both at USC and in Cincinnati.
Palmer has a big arm, and he's accurate. He should benefit from the Raiders' athletic group of young receivers. Plus, Oakland has the NFL's best rushing team.
But can he still be productive?
Palmer, who has completed 62.9 percent of his career passes, struggled in 2010. He threw 20 interceptions. His 23 turnovers were the fourth most among all NFL quarterbacks, according to ESPN Stats & Information. His last statistically strong season was in 2007, the season before he missed 12 games with a serious elbow injury. Jackson last coached Palmer in 2006.
Palmer's completion percentage, yards per attempt, yards per game and touchdown-to-interception ratio have slipped in the past three years, according to ESPN Stats & Information. From 2004 to '07, Palmer threw 104 touchdowns. He has thrown 50 touchdown passes the past three seasons combined. Palmer's Total QBR for 2010 was 46.2, good for 25th best in the NFL.
Since 2008, Palmer has struggled against seven or more defenders in coverage, according to ESPN Stats & Information. He's averaged 6.5 yards per attempt in those situations, which is 29th best in the NFL.
Campbell was efficient in the Raiders' offense because he was a good game manger and didn't make many mistakes. Palmer will have to improve on his recent spate of poor decision-making. The trade is risky considering the price it cost Oakland -- veterans such as
Kyle Orton
and
Donovan McNabb
likely could have been had for much less.
Matt Williamson of Scouts Inc. doesn't think Palmer is a top player anymore.
"Palmer does fit the offense, and I think he might, might, be an upgrade over Campbell," Williamson said. "But I think Oakland way overpaid for an older quarterback that really has not played well for the past few years. He used to be an elite passer, but I haven't seen that in quite a while. He doesn't move well. I do think a change of scenery will help him. But he also had led the league in near-interceptions, and his decision-making is just average. He isn't close to what he once was."
October, 18, 2011
10/18/11
4:25
PM ET
By
ESPN.com staff
| ESPN.com
The
Carson Palmer
trade is official.
The Raiders will send their first-round pick in 2012 and a conditional first-round pick in 2013 to Cincinnati. The 2013 pick will be a first rounder if the Raiders win a playoff game this season. If not, it will be a second-round pick in 2013.
Plenty more to come on this blockbuster.
UPDATE:
The 2013 pick is technically being called a second-round pick and not a conditional pick at this point. We'll keep you updated.
UPDATE:
The Bengals aren't confirming or denying that the 2013 pick will be upgraded to a No. 1 if the Raiders win a playoff game this year. But it sure seems like that is the case.
October, 18, 2011
10/18/11
4:07
PM ET
The
Oakland Raiders
are Hue Jackson's team.
One of the biggest questions in the NFL since the Oct. 8 death of Al Davis has been who would lead the Raiders? Davis, the most hands-on owner in sports, had held control of the franchise since the 1960s. The answer is their 45-year-old rookie head coach.
[+] Enlarge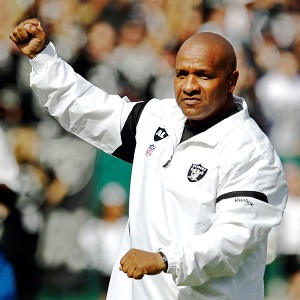 AP Photo/Paul SakumaThe Carson Palmer trade is a clear indication that the Raiders are now Hue Jackson's team.
The Raiders' trade for Cincinnati quarterback
Carson Palmer
shows that Jackson has been the given the power to do what he thinks Oakland needs to do.
After looking through an awful list of available quarterbacks (
Todd Bouman
,
Todd Collins
,
Trent Edwards
and
Josh McCown
were among those the Raiders considered) and deciding against going with backup
Kyle Boller
, Jackson plucked the flashiest quarterback left. Jackson coached Palmer at USC and in Cincinnati, and he's clearly the player Jackson thinks can keep the 4-2 Raiders in the playoff mix after
Jason Campbell
broke his collarbone.
The price is steep. The Raiders are sending their first-round pick in 2012 and a conditional first (and at least a second-round pick) in 2013 to the Bengals. The 2013 pick becomes a first-round choice if the Raiders win their first playoff game in nine years this season.
This is an extremely risky deal. Palmer will turn 32 this season and he has been in a decline. The Raiders probably could have gotten veterans
Kyle Orton
or
Donovan McNabb
for much cheaper than the rusty Palmer, who hasn't played this season. The trade means Oakland doesn't have a pick until the fifth round next year (although it probably will get a couple of compensatory picks, which start at the end of the third round, for lost free agents), and it puts the Raiders in a tight salary-cap spot.
I'm sure Jackson is not worried about the trade risks. In his first six games as the head coach in Oakland, Jackson has made several aggressive calls and often pulls out trick plays. This is how Jackson rolls, by rolling the dice. If Palmer is awful and the Raiders don't make the playoffs, this trade will be Jackson's legacy in Oakland.
But the point is, Jackson has been given the opportunity to make a legacy pick. This is a tremendous opportunity and responsibility for a man who was brought to Oakland to be the offensive coordinator in 2010. Since Davis' death, Jackson has said Davis trained him to make personnel decisions, and Jackson has made it clear in the past week-plus that he is the leader of the organization.
There have been reports that Davis' son, Mark Davis, would look to hire a general manager, probably after the season. ESPN's Adam Schefter has reported that Mark is relying on advice from former Raiders employees and Al Davis confidantes John Madden, Ron Wolf and Ken Herock.
Jackson said Monday that every decision he makes includes input from Mark and Raiders CEO Amy Trask. It will be Mark who ultimately decides the structure of the Raiders' front office. But it is clear the first person to get the chance to lead the Raiders is Jackson and, if his moves work out, he probably will stay in the power chair.
October, 18, 2011
10/18/11
10:50
AM ET
The
Oakland Raiders
are all-in.
And they are as aggressive without Al Davis as they were with him.
In what would be one of the biggest NFL trade-deadline deals in recent memory, the
Raiders are set to acquire
quarterback
Carson Palmer
from Cincinnati. He had been on the retired list by the Bengals. The price is steep. Oakland is reportedly sending its first-round draft pick in 2012 for Palmer and a conditional first-round pick in 2013 for the quarterback. Oakland has a need at quarterback because starter
Jason Campbell
broke his collarbone Sunday.
The 4-2 Raiders feel they are a playoff team and this deal shows they are not interested in taking a step back because of Campbell's injury.
It was the type of deal Davis, who died Oct. 8, would have made. Oakland coach Hue Jackson (who coached Palmer in the past), Davis' son, Mark Davis, and CEO Amy Trask are the main decision-makers. They would have made Al Davis proud with this deal.
He often gave away premium picks for older players whom he thought would give his team a chance to win. Palmer will turn 32 in December. If this deal goes through, Oakland's highest draft pick next year will be a fifth-round selection. They already dealt their second-, third- and fourth-round picks. They are set to get some comp picks for lost free agents, but they start at the end of the third round.
But the Raiders are clearly not worried about the future. They are trying to win right now. That's why they are adding Palmer. We'll have more on this trade later.