January, 4, 2013
1/04/13
7:30
PM ET
It will be interesting to see who Andy Reid adds to his coaching staff.

Among the names who may be candidates to be his offensive coordinator is former Cleveland head coach Pat Shurmur. He was on Reid's Eagles' staff from 1999-2008. There has been talk that perhaps the former Eagles' offensive coordinator and former Minnesota head coach Brad Childress could be on his staff.

There have reports that former Philadelphia offensive line coach and former defensive coordinator Juan Castillo could be his offensive line coach. Castillo was fired during the 2012 season. He is a close friend of Reid's and he is considered a much better offensive line coach than a defensive coach.

A key will be who Reid's defensive coordinator will be. After the death of the highly successful Jim Johnson, Reid's defenses have struggled. The Chiefs' defense has talent, so Reid could be able to attracts some good defensive coordinators.

He needs to keep an open mind and get the best possible coach, regardless if the Chiefs stay in a 3-4 defense or become a 4-3 defense. Among the names that have popped up is Monte Kiffin, who wants to come back to the NFL after being on the USC staff where his son, Lane Kiffin, is coach.
December, 12, 2011
12/12/11
12:03
PM ET
Todd Haley's firing
from the
Kansas City Chiefs
pushes
St. Louis Rams
offensive coordinator Josh McDaniels into the spotlight as a potential replacement.
Last offseason, the Rams lost coordinator Pat Shurmur to Cleveland largely because Browns president Mike Holmgren knew and trusted Shurmur.
McDaniels' strong ties to Chiefs general manager Scott Pioli make him a person to watch even though the Rams' offense has averaged fewer than one touchdown per game.
The Chiefs named no replacement for Haley in announcing the firing. McDaniels is in Seattle for the Rams' Monday night game against the Seahawks. He worked with Pioli in New England. McDaniels was the
New England Patriots
' offensive coordinator and quarterbacks coach when the team went 10-5 with current Chiefs quarterback
Matt Cassel
in the lineup.
The fact that two people worked together in the past doesn't necessarily make them a match. But if the Chiefs wanted to stick with Cassel, McDaniels could make sense for them.
March, 18, 2011
3/18/11
12:00
PM ET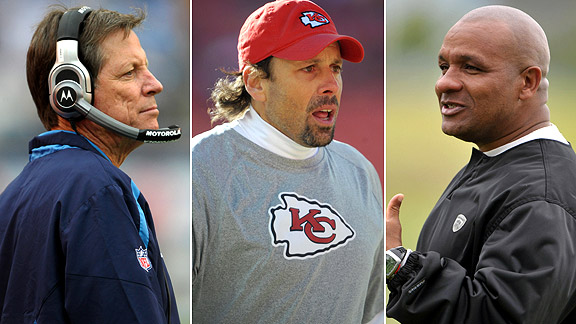 Kirby Lee/Image of Sport/US PresswireNorv Turner, left, Todd Haley, middle, and Hue Jackson are all expected to be in the play-calling mix.
New
Oakland Raiders
coach Hue Jackson realizes the most challenging aspect of his role as a first-time head coach at any level is finding the time to do everything it takes to run a team.
"It's amazing. You just don't have any time," said Jackson, who joked at the NFL combine last month that the biggest sacrifice since becoming a head coach is his physical fitness. "You look up, and you want to go work out and you don't have the time to do it."
Jackson is not doing his schedule any favors. In addition to all of the usual roles taken on by head coaches, Jackson will join the alternative ranks of head coaches who call their own offensive plays.
Although it's not a large movement around the NFL, it has become a major trend in the AFC West. Jackson, San Diego's Norv Turner and Kansas City's Todd Haley are all expected to call their own plays. Turner has long performed the duty. Haley called the plays in his first season in Kansas City in 2009 before relinquishing the job to Charlie Weis in 2010. With Weis now at the University of Florida, Haley promoted offensive line coach Bill Muir to offensive coordinator.
Haley –- who calls play calling "an art" -- has said multiple times since promoting Muir that he has not decided whether he will call the plays. However, he has also said he is not opposed to doing it. Under Jon Gruden in Tampa Bay, Muir ran the offensive meetings and Gruden called the plays on game day.
Assuming Haley will be, at least, very involved in the play calling, the AFC West will be the epicenter of coaches who call plays. Ironically, had Denver not fired Josh McDaniels, the AFC West would have been a full house of head coaches who call their own plays. In a poll of my ESPN.com blog network colleagues, a total of 10 head coaches are expected to call their own plays.
In addition to Jackson, Turner and Haley, Buffalo's Chan Gailey, New Orleans' Sean Payton, San Francisco's Jim Harbaugh, Houston's Gary Kubiak, Green Bay's Mike McCarthy, Cleveland's Pat Shurmur and Dallas' Jason Garrett are all expected to call their own offensive shots. Arizona's Ken Whisenhunt may be actively involved as well.
Payton and McCarthy have won the past two Super Bowls using this approach. It's a proven winning formula.
Still, there are two schools of thought: Some people don't like to see a head coach call his own plays because he may have too much on his plate. Others like it because it keeps the head coach in control of his team.
The general managers of two of the teams that employ the system both say the bottom line is whether it is effective.
"Experience is what matters, no matter who calls the plays," San Diego general manager A.J. Smith said. "In our particular case, Norv has been calling plays for a long time and it runs very smooth and very well for us."
Added Kansas City general manager Scott Pioli: "I've been a part of it where coaches have been playcallers on offense or defense. What matters is whether you get it right."
While Jackson knows his challenge, Gary Horton of Scouts Inc. thinks Jackson is starting his head-coaching career the right way. In fact, Horton would be bothered if Jackson, who was Oakland's offensive coordinator last season, wasn't calling his own plays.
"I'd hate to see a guy like Hue not call plays as a head coach," said Horton, who is a former longtime NFL scout. "That's why he was hired. He was hired because he has terrific play-calling skills. I want him calling the plays. I'd hate for him to say, 'Well, I have other things to worry about.' Play to your strengths. If you were a great playcaller as an offensive coordinator, I want to see you do it as a head coach. If I'm an owner, I'm going to demand it. 'This is why I'm hiring you. Go call the plays.'"
Matt Williamson of Scouts Inc. agrees that if a head coach thinks he's the best playcaller on the staff, he should assume the role as a head coach. However, Williamson said he has seen coaches who call the plays lose touch with the rest of the game.
"It can be too much if you're not careful," said Williamson, another former NFL scout. "I think it is similar to coaches who are also general managers. I think it can be a failing combination. You see these guys have their back turned to the field sometime when the defense is on the field because they are talking with the quarterback. There is so much to worry about during a game. There's clock management, knowing when to call a timeout. It's a lot to juggle."
The key is delegation. Coaches who call their own plays must trust their assistants, particularly their defensive coordinators.
"You have to have a strong guy over on the other side," Horton said. "You look at a guy like Todd Haley. He's in good shape because he has Romeo Crennel. Romeo will take care of the defense and allow Todd to run his offense."
If he does call the plays, expect Haley to be more prepared than he was when he called the plays in 2009. Haley suddenly took over the duties in the preseason when he fired Gailey.
"In Year 1, you're comparing apples to oranges to where we are now as a team and as a staff," Haley said. "We've had two years full years to lay our foundation [and] the system now is in place. ... Play calling is an art. It's instinctual. There are guys that are good at it and guys that aren't so good at it."
In 2011, success in the AFC West may depend on head coaches dealing with the challenge of calling plays.
January, 13, 2011
1/13/11
2:20
PM ET
The hiring of St. Louis offensive coordinator
Pat Shurmur as head coach in Cleveland might open the door for former Denver coach Josh McDaniels with the Rams.
There has been reports that McDaniels would be the top candidate to replace Shurmur if he went to Cleveland. Now that it has happened, it could mean McDaniels is St. Louis bound. Like Shurmur and the Cleveland brass that hired him, McDaniels is represented by agent Bob Lamonte. So, there is a chance McDaniels easily could slide into the St. Louis job.
McDaniels, who was fired in December after 28 games in Denver, would likely covet the St. Louis job. He has been looking for a stable situation where he could go and flourish in an attempt become a desirable head-coaching candidate within the next couple of years.
The Rams are a growing program with young quarterback
Sam Bradford
. McDaniels has had great success with coaching quarterbacks, and Bradford could greatly benefit from working with McDaniels.
Meanwhile,
it's being reported
that Browns defensive coordinator Rob Ryan is not expected to return. It has been reported that Ryan could be a candidate in Oakland either as head coach, or defensive coordinator if the Raiders promote offensive coordinator Hue Jackson to head coach.
January, 12, 2011
1/12/11
10:20
PM ET
San Diego Chargers
coach Norv Turner
is not wasting time
trying to replace defensive coordinator Ron Rivera, who was hired as Carolina's coach on Tuesday.
Turner has already interviewed current defensive assistants John Pagano and Steve Wilks. San Francisco defensive coordinator
Greg Manusky
will interview with the team on Thursday. Meanwhile, San Diego tight ends coach Rob Chudzinski could be headed to Carolina to be Rivera's offensive coordinator.
ESPN's Adam Schefter is reporting
that St. Louis offensive coordinator Pat Shurmur could be named the head coach in Cleveland by Friday.
If so, that could clear the way for former Denver coach Josh McDaniels to end up as the offensive coordinator in St. Louis. McDaniels is extremely interested in the St. Louis job but has also interviewed in Minnesota. Carolina could be interested in McDaniels if he doesn't end up with the Rams.
Schefter also reports that, if the Shurmur talks break down in Cleveland, the Browns could turn to former Carolina coach John Fox. He interviewed in Denver on Wednesday.
Don't be shocked if Cleveland defensive coordinator Rob Ryan is a candidate to return to Oakland as defensive coordinator if Hue Jackson is promoted to head coach. There has been talk Ryan could be a head-coaching candidate and that may be the case. But he could still possibly return as a coordinator.
After his dominant performance in the BCS Championship game Monday, Auburn defensive lineman Nick Fairley has moved up on
Mel Kiper's draft big board

. Denver would likely target Fairley with their No. 2 pick. There is more than three months left before the draft, and a lot can happen, but expect Fairley to stay near the top of the draft list.
Could the secondary-hungry

Houston Texans
make a push for
Champ Bailey
or
Nnamdi Asomugha
? Both Asomugha and Bailey are unrestricted free agents. Will the AFC West see two of its top defenders leave the division? I still say Oakland will do what it takes to keep Asomugha and Bailey's future will be revisited in Denver soon.
San Diego quarterback
Philip Rivers
and Kansas City quarterback
Matt Cassel
chime in on Tom Brady's
stellar season.
The Chiefs have re-signed all eight of their practice squad players.
January, 6, 2011
1/06/11
1:40
PM ET
If the
Denver Broncos
want to hire a top offensive coach to start the
John Elway
regime, the legendary quarterback might have to call an audible in his first duty as the team's front-office leader.
ESPN's Adam Schefter reported
that Atlanta offensive coordinator Mike Mularkey has postponed his interview with Denver until after the Falcons' playoff run. That could be in a month if the Falcons – the No. 1 seed in the NFC playoffs – advance to the Super Bowl.
Mularkey will honor his Saturday interview with Cleveland because the Browns called first. Mularkey is trying to concentrate on the Falcons' playoff run. By NFL rules, coaches from playoff teams with first-round byes can interview during the bye.
Mularkey's decision likely won't make Denver happy. But perhaps the Broncos will wait for him. There was talk in league circles that Mularkey was at the top of Denver's list.
Elway tweeted that he respects
Mularkey's decision to hold off on the interview.
In addition to the Mularkey delay of game penalty, the Broncos might be close to losing out on Stanford coach Jim Harbaugh. Wednesday, Elway publicly said the Broncos will call Harbaugh. But Miami is
heavily pursuing
Harbaugh.
So, Denver might have to explore alternative routes. Other potential offensive coaching candidates include former Baltimore coach Brian Billick, Oakland offensive coordinator Hue Jackson and St. Louis offensive coordinator Pat Shurmur. If Denver really wants to spend big money, it could look into Jon Gruden, but that seems to be a longshot.
Denver has an interview set with Giants defensive coordinator Perry Fewell and is expected to talk to Saints defensive coordinator Gregg Williams when their season is over.