Josh Weinfuss and Jeff Legwold break down Sunday's matchup.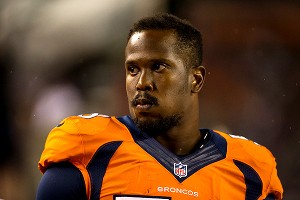 This has always been a critical year in the relationship between Pro Bowl linebacker Von Miller and the Denver Broncos.With Miller still recovering from ACL surgery and slated to be an unrestricted free agent at the end of the 2014 season, team officials face their first major decision about Miller's contract.
In the end, Von Miller's status as a complete player won him the NFL Defensive of Rookie of the Year award.The Associated Press announced the Denver Broncos rookie linebacker had been chosen.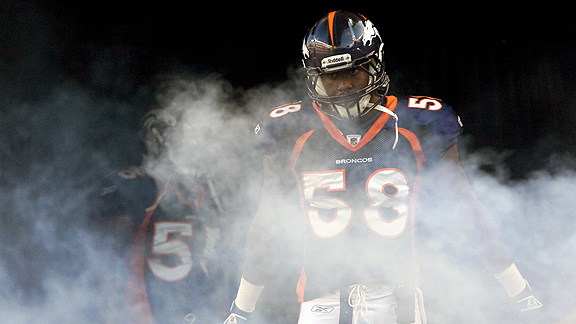 DENVER -- It was weeks into John Elway's new role in his old home and he was explaining how he could best help the Denver Broncos take advantage of having the No.
Random thoughts on San Diego's 34-31 win at Arizona on Saturday night:For the first time in the preseason, the Chargers' starters struggled.
Let's look at who the readers believe each AFC West team should take with their first pick. We took polls for each team Tuesday.Denver, No. 2There's no doubt, Denver fans want the team to take Alabama defensive tackle Marcell Dareus in a landslide over Auburn defensive tackle Nick Fairley, LSU cornerback Patrick Peterson and Texas A&M linebacker Von Miller.
Here are your options for the Denver Broncos with the No. 2 pick.Please give your reason why you are making the pick in the comment section below.
In a conference call with Denver Broncos' season-ticket holders, team executive John Elway was asked which quarterback prospect in the upcoming draft reminds him most of himself.
Here is a sample of our AFC West chat, which was held earlier Thursday. Thanks to everyone who participated:DenverChad from CA.: If Dareus goes off the board at 1, wouldn't it be logical for the Broncos to snag Peterson?
Each Thursday leading up to the NFL draft (April 28-30), the ESPN.com NFL blog network will take a division-by-division look at key aspects of the draft.
There are many different thoughts by Denver fans when it comes to what to do with the No. 2 pick. Let's look at some of your responses to our sound-off question:Chris A.
The NFL's rookie pay proposal could potentially make it easier for Denver to trade the No. 2 pick if the deal were to be completed before the April 28-30 draft.
Here is a sampling of our AFC West chat, which was held Thursday. Thanks to everyone who participated:Gabe, Houston: How far could the Broncos drop and still get an elite defensive player?
Check out Jeffri Chadida's story on Texas A&M linebacker Von Miller on ESPN.com. Interesting kid. Miller agrees with scouts that he can play in any defensive scheme.
According to Mel Kiper's big board, the Denver Broncos will get their choice of top defensive players available at No. 2.Kiper's latest big board, which is an Insider piece on ESPN.