April, 27, 2012
4/27/12
12:00
PM ET
The
Kansas City Chiefs
and the
San Diego Chargers
both addressed their greatest needs in the first round of the NFL draft Thursday.
The Chiefs took Memphis nose tackle
Dontari Poe
at No. 11 and San Diego grabbed South Carolina pass-rusher
Melvin Ingram
at No. 18.
Let's take a look at what direction both teams could go in Friday's second round as a result of their work in the first:

Kansas City, No. 44:
The Chiefs are looking for the best players available, because they don't have many glaring needs. I think could consider a quarterback such as Michigan State's
Kirk Cousins
or even Arizona State's
Brock Osweiler
. We could see them take a look at Midwestern State guard
Amini Silatolu
, Wisconsin guard/center
Peter Konz
or perhaps a receiver if a top talent like Georgia Tech's
Stephen Hill
, LSU's
Rueben Randle
or South Carolina's
Alshon Jeffery
falls to them at that spot.

San Diego, No. 49:
I think we can see the Chargers taking a running back such as Oregon's
LaMichael James
or Miami's
Lamar Miller
. Other possibilities include LSU safety
Brandon Taylor
and Mississippi offensive lineman
Bobby Massie
.
April, 19, 2012
4/19/12
4:05
PM ET
Here are some
highlights from our AFC West chat
, which was held earlier Thursday:
DENVER
CJ from Boulder, Colo.:
Any chance the Broncos look at Peter Konz if their top DT is no longer on the board? I've heard that [J.D.] Walton was the worst rated starting center last year.
Bill Williamson:
I think the team is OK with Walton and he is already working with Manning.
KANSAS CITY
Paul from K.C.
: Do you think there is anything to the rumors the chiefs might trade up to 7 for Ryan Tannehill
BW:
I think they will be able to do it, I'm just not sure they want to. If they are sold on Tannehill, they will do it. If they are merely interested in him, they'll let him fall to No. 11. I know that is vague, I'm just not sure the Chiefs are in love with him. If they are, they should go for it, because they may not know when their best chance to get a top QB prospect yet.
OAKLAND
Paul from Trenton:
Do you think Oakland might be interested in
Cedric Benson
behind [Darren] McFadden if he continues to receive almost no interest and would play for at or near the league minimum?
BW:
He is part of that vet RB group. I could see the fit. I like him. I think it could be a nice fit, but then again, I think he could also help Denver and San Diego.
SAN DIEGO
Mark from San Diego:
Do you see the Chargers trading down in the 1st round? Seems a lot of players they are interested in could be available in the 25 pick range.
BW:
I bet A.J. Smith goes to the draft not knowing what he is going to do. He is open to moving up, staying at No. 18 or moving down. It will be determined on the clock.
March, 9, 2012
3/09/12
12:00
PM ET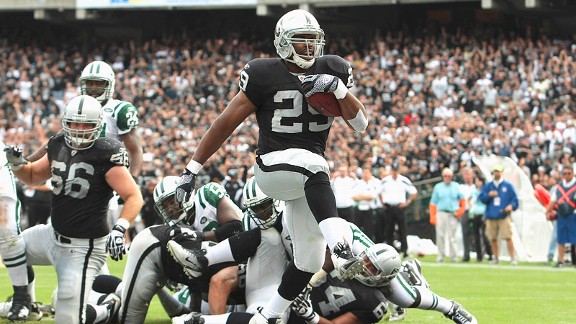 Kelley L Cox/US PresswireRaiders running back Michael Bush could be a good fit for the rival Broncos.
Offseason movement starts Tuesday, when the free-agent signing period begins. Let's take a look at the top needs of each team in the AFC West in free agency and in the draft:
Denver Broncos

1. Defensive line:
The Broncos could use a stout defensive tackle even if
Brodrick Bunkley
returns. They need a tone setter. Denver hasn't taken a defensive tackle in the first round since 1997 when it selected
Trevor Pryce
. Perhaps this is the time that streak ends.
Possible fits:
The Dolphins'
Paul Soliai
, Memphis'
Dontari Poe
, Mississippi State's
Fletcher Cox
, Michigan State's
Jerel Worthy
.
2. Secondary:
Denver is too old at cornerback and too young at safety, especially with
Brian Dawkins
likely not returning. I think the Broncos will look to add to their secondary.
Possible fits:
The Redskins'
LaRon Landry
, Boise State's
George Iloka
, Alabama's
Dre Kirkpatrick
.
3. Running back:
The Broncos want to add a running back to pair with
Willis McGahee
and will address this need either in free agency or early in the draft.
Possible fits:
The Raiders'
Michael Bush
, the Chargers'
Mike Tolbert
, University of Miami's
Lamar Miller
, Virginia Tech's
David Wilson
, Boise State's
Doug Martin
.
Scouts Inc. take:
"I also think that they need a lot of secondary help overall. I also think they really need a QB, but that is probably a discussion for a different day."
-- Matt Williamson of Scouts Inc.
Kansas City Chiefs

1. Offensive line:
The Chiefs need a tackle. If they go for a left tackle, they can move
Branden Albert
to right tackle or they can get one. They might also be interested in a guard.
Possible fits:
The Saints'
Carl Nicks
, the Dolphins'
Vernon Carey
, the Eagles'
King Dunlap
, Stanford's
Jonathan Martin
, Iowa's
Riley Reiff
.
2. Nose tackle:
The Chiefs have the makings of a strong defense, but they are missing a nasty nose tackle. They need to find one this offseason.
Possible fits:
The Dolphins'
Kendall Langford
, the Ravens'
Cory Redding
, Soliai, Cox or Poe
3. Inside linebacker
: The Chiefs could use one more standout linebacker to flourish in Romeo Crennel's 3-4 defense.
Possible fits:
Boston College's
Luke Kuechly
, Alabama's
Dont'a Hightower
Scouts Inc. take:
"Right tackle is far and away their biggest need. I would say nose tackle is second."
-- Matt Williamson
Oakland Raiders

1. Cornerback:
The Raiders currently don't have any starting-quality cornerbacks on the roster.
Possible fits:
The Saints'
Tracy Porter
, the 49ers'
Carlos Rogers
, the Cardinals'
Richard Marshall
, the Jaguars'
William Middleton
, Vanderbilt's
Casey Hayward
.
2. Linebacker:
I get the sense that the new Oakland regime would like to find at least one new starter. I think they can get a cornerstone linebacker who can set the tone for the defense.
Possible fits:
The Vikings'
Erin Henderson
, the Seahawks'
Leroy Hill
, the Bengals'
Manny Lawson
, West Virginia's
Bruce Irvin
.
3. Offensive line:
The Raiders' offensive line is a work in progress and they may be looking for at least one new
starter.
Possible fits:
Texans' center
Chris Myers
, Texans' guard
Mike Brisiel
, Miami of Ohio's
Brandon Brooks
.
Scouts Inc. take:
"Cornerback is far and away their biggest need. I would put right tackle and interior offensive line second."
-- Matt Williamson.
San Diego Chargers

1. Linebacker:
The Chargers desperately need a game-changing linebacker. It will be a top priority in the first round of the draft and in free agency.
Possible fits:
The Texans'
Mario Williams
, Alabama's
Courtney Upshaw
, USC's
Nick Perry
, Illinois'
Whitney Mercilus
.
2. Defensive line:
The Chargers like youngsters
Corey Liuget
,
Vaughn Martin
and
Cam Thomas
, but could use a stud veteran in the middle.
Possible fits:
The Seahawks'
Red Bryant
, Redding, Soliai, Washington's
Alameda Ta'amu
.
3. Offensive line:
The Chargers may have to make wholesale changes on the line because of
Kris Dielman
's retirement, and because center
Nick Hardwick
and left tackle
Jared Gaither
will be free agents.
Possible fits
: Nicks, Carey, Stanford's Martin, Stanford's David DeCastro, Wisconsin's
Peter Konz
.
Scouts Inc. take:
"To me, the Chargers need a lot. Offensive line is a massive need. Some receivers would be nice if
Vincent Jackson
leaves. On defense, I think they could use a little something at every level, but their biggest two spots would be at outside linebacker and strong safety."
-- Matt Williamson.
February, 23, 2012
2/23/12
11:00
AM ET
INDIANAPOLIS -- Let's take a look at what AFC West each team may be seeking during the NFL combine, which starts Thursday:
Will the Raiders still love speed?
It became a combine ritual. The Raiders would draft the fastest, or one of the fastest players, at the combine. It happened several times in recent years:
Stanford Routt
,
Darrius Heyward-Bey
,
Jacoby Ford
and
DeMarcus Van Dyke
. No team in the NFL valued speed more than Al Davis' Raiders. Davis died in October. Will the Raiders be married to speed now that Reggie McKenzie is the general manager? I'm sure the Raiders will stick to Davis' values somewhat, but I think it will no longer be automatic to connect the fastest combine runners to the Raiders.
Will the Chargers get their pass-rusher?
The Chargers took defensive end
Corey Liuget
at No. 18 last year and bypassed several pass-rushers in a deep class. This year's class is not nearly as deep, but the Chargers still need a pass-rusher. Once again, San Diego has the No. 18 pick.
[+] Enlarge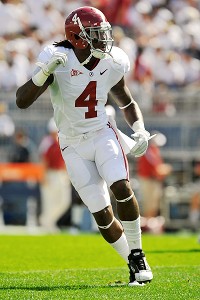 Randy Litzinger/Icon SMISafety Mark Barron is one of several Alabama defenders that AFC West teams may take a look at.
Will the Alabama defense roll into the AFC West?
Alabama won the BCS championship last season on the strength of a dominant defense. There are several key Alabama defenders who will go early in the draft, starting with linebackers
Courtney Upshaw
, safety
Mark Barron
and cornerback
Dre Kirkpatrick
. I could see all three players drawing interest in the AFC West. I think San Diego would jump on Upshaw if he somehow fell to No. 18, and it could take Barron if it doesn't address safety in free agency. If Kirkpatrick drops, Denver could take him at No. 25.
Will the Broncos look at quarterbacks?
Yes, I believe they will, but it remains to be seen whether Denver makes a play for a quarterback in the early rounds. Denver looked at all the top quarterbacks last year, and I think
John Elway
and his group will do the same this year. In his last mock draft, Todd McShay of Scouts Inc. has Denver taking Texas A&M's
Ryan Tannehill
at No. 25. I'm not sure Denver -- which has committed to
Tim Tebow
going to training camp as the No. 1 quarterback -- will take a quarterback that high, but there will be interest in the position.
Is Trent Richardson on the Chiefs' radar?
The Alabama star running back won't compete at the combine because of a minor knee surgery. However, he will be able to run at his pro day next month. Still, perhaps the Chiefs will meet with Richardson. He has been connected to Kansas City in several mock drafts. I'd be surprised if Kansas City ended up with him because of other needs and because the Chiefs have running back
Jamaal Charles
coming back from a torn ACL. But it is an intriguing scenario.
Chiefs, Chargers looking at the O-line:
Both Kansas City and San Diego could use their top pick on an offensive lineman. There are several players who could help their standing with a strong combine. I think Stanford tackle
Jonathan Martin
will be closely watched by both teams. San Diego could also look at Wisconsin's
Peter Konz
if it doesn't want to re-sign free agent
Nick Hardwick
.
Watch out for Luke Kuechly:
The Boston College inside linebacker has a chance to be a hot name in the top half of the first round if he has a big combine. He was productive in college and his game translates well to the NFL. Kansas City will surely be interested in him and could have competition if Kuechly lights it up in Indy.
Broncos will be watching running backs:
The Broncos probably will add a running back early in the draft or in free agency. Denver could use its top pick on the position. It will be closely watching Miami's
Lamar Miller
, Washington's
Chris Polk
, Virginia Tech's
David Wilson
and Boise State's
Doug Martin
, among other tailbacks, this week
Is this the time for a tight end in San Diego?
I expect the Chargers to look at tight ends this week. This isn't considered a great class, but the Chargers need to consider getting younger at the position.
Antonio Gates
will turn 32 in June and has been dealing with injuries the past few years. The Chargers probably would have to commit a second-round pick for the top tight ends, which include Stanford's
Coby Fleener
, Clemson's
Dwayne Allen
(though, they could both be late first-round choices) and Georgia's
Orson Charles
.
Nick Foles needs to show Denver some accuracy:
There was talk that the Arizona quarterback could be on Denver's radar last season. But he had some trouble with interceptions, which may have cooled the team on him. If he can show better accuracy at the combine. Foles could be a mid-round target of the Broncos again.
The Raiders need to pay big attention:
The Raiders currently have the smallest draft class in the NFL this season. They have just a fifth- and a sixth-round pick. They will, though, probably get two or three compensatory picks next month. The earliest will be at the end of the third round. But don't think for a moment that the combine won't matter to Oakland. The Raiders will have to dig deep and find great value in the mid-to-late rounds to get some something positive from this class. Closely scouting the combine will be essential.
Is Brandon Weeden too old?
The Oklahoma State quarterback is one of the more interesting players in the draft. He has skills that translate to the NFL, and some people think he could be a future starter. But Weeden turns 29 in October. There really isn't much time to groom him. Is it worth spending a premium pick on a player who could be over the hill in five years? I think both Denver and Kansas City could look at him, but they would have to be comfortable with his age.
Will the coin flip the Chiefs' way?
The Chiefs will have a coin flip with Seattle to determine the No. 11 and No. 12 picks in the draft. It is set to take place Friday. If the Chiefs lose and get the No. 12 pick, it will not be the end of the world, but there's no denying there is more value in having the No. 11 pick.
Will Mercilus impress the Chargers?
One player to keep an eye on for the Chargers is Illinois pass-rusher
Whitney Mercilus
. He came on strong in 2011, but there are consistency questions. If he answers all the right questions on and off the field this week, I could see his being a target at No. 18.
Will Chiefs look at suspect character players?
Kansas City has a reputation for taking players with sterling off-field reputations. However, last year, genearl manager Scott Pioli took Pitt receiver
Jon Baldwin
in the first round and Georgia pass-rusher
Justin Houston
in the third round. Both had character questions. Baldwin ended up missing a chunk of his rookie season because of a reported training camp fight with veteran
Thomas Jones
. It hurt his development. However, Houston was outstanding as a rookie. Let's see whether Pioli takes more risks this year.
Will Broncos add players to aid Tebow?
If Denver takes a running back early, adds to the offensive line and beefs up the defense, that means it is doing what it can to build around Tebow. The best way Denver can win with Tebow is with a good running game and strong defense.
Will the Broncos finally draft a defensive tackle in the first round?
Denver could take a defensive tackle at No. 25. Among the players it may consider are Penn State's
Devon Still
, Mississippi State's
Fletcher Cox
and Michigan State's
Jerel Worthy
. Denver hasn't taken a defensive tackle in the first round since
Trevor Pryce
in 1997.
Will Arizona State linebacker impress the Chiefs or Chargers?
Arizona State's middle linebacker
Vontaze Burfict
was considered a top-10 pick before the season. But after his production fell off and he had some character issues, Burfict is no longer considered a sure first rounder. I think he could help both the Chiefs and Chargers. His progress this week will be watched by these two teams.