April, 22, 2011
4/22/11
12:00
PM ET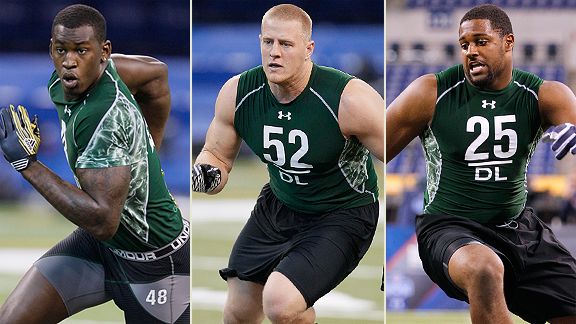 AP PhotosCould pass-rushers Aldon Smith, J.J. Watt or Cameron Jordan end up in the AFC West?
With the NFL draft starting in six days, there are many interesting storylines involving the AFC West. Let's take a look:
Will any AFC West teams draft a quarterback?
Denver, Kansas City and Oakland have all been studying several of the top quarterbacks. There is a chance Denver and Oakland could use a second-round pick on a quarterback. Kansas City will probably wait until the mid-rounds before it addresses the position. I wouldn't be shocked if we see a quarterback enter the division Friday. San Diego could take a quarterback in the late rounds because backup
Billy Volek
is a free agent.
Will a top pass-rusher land in the division?
Denver, San Diego and Kansas City have all looked at pass-rushers very closely. I could see San Diego, which has the No. 18 pick, and Kansas City, which has the No. 21 pick, drafting a pass-rusher in the first round. The run on pass-rushers will probably start at No. 15. Guys like Wisconsin's
J.J. Watt
, Cal's
Cameron Jordan
, Missouri's
Aldon Smith
Purdue's
Ryan Kerrigan
, UCLA's
Akeem Ayers
and Temple's
Muhammad Wilkerson
could all be in play for these two teams.
Will Denver trade out of the No. 2 pick?
I know Denver is open to trading out of the No. 2 pick. It would ideally like to go down to the No. 5-to-8 range and still grab a top-flight defensive player while adding picks. Denver's best bets may be Arizona (No. 5) and Tennessee (No. 8). One of those two teams may believe it is necessary to move up to take a quarterback. Still, it won't be easy. The No. 2 pick hasn't been traded since 2000.
Will the Chiefs take a receiver high?
The Chiefs need a No. 2 receiver and may take one early rather than waiting for free agency. They could pounce on a receiver like
Leonard Hankerson
of Miami, although it might be risky waiting for him to drop to No. 51.
[+] Enlarge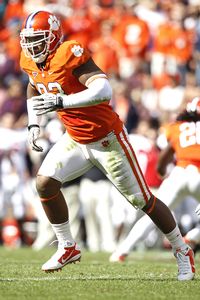 Joe Robbins/Getty ImagesInitially Clemson's Da'Quan Bowers looked like a candidate for Denver at No. 2. But he may still be heading to the AFC West.
Will Da'Quan Bowers end up in the AFC West?
Before all the alarm about his surgically repaired knee, the Clemson pass-rusher was considered a possibility for Denver at No. 2. His injury will probably cause him to fall. It wouldn't be a total shock if Bowers fell all the way to San Diego. There has been speculation that Bowers won't fall past Minnesota at No. 12, but if he did slide to San Diego, he'd be a great value at No. 18.
Will the Chiefs' infatuation with the SEC continue?
The Chiefs have drafted a player from the SEC in the past four years, and Kansas City general manager Scott Pioli has a long history of taking players from that conference. I've been told the Chiefs have been scouting the entire South hard this spring. It will be interesting to see how that affects their draft class.
Will the Chiefs draft some beef
? The Chiefs could add a nose tackle and an offensive tackle early. Don't be surprised if the Chiefs try to make a trade and take Baylor's massive nose tackle
Phil Taylor
if he drops some in the second round.
Will Casey Matthews be AFC West-bound?
Denver, Kansas City and San Diego all have been connected to the Oregon linebacker, the younger brother of Green Bay star
Clay Matthews
. A lot of teams are excited about Matthews, and it would be interesting to see him end up in the division.
Will A.J. Smith be a mad trader?
San Diego general manager A.J. Smith is known as an active draft trader. He has five of the first 89 picks, and he has tremendous trading power. Smith could trade up or down. I wouldn't be shocked if the Chargers ended up with two first-round picks.
Will Denver take a running back high?
Despite Denver's greatest needs on defense, there has been speculation it could take a running back to pair with 2009 No. 12 overall pick
Knowshon Moreno
. New Denver coach John Fox believes in running the ball first, so help is needed. One player Denver has been targeting is Illinois'
Mikel Leshoure
. He could be a target with one of Denver's two second-round picks.
Will Oakland trade up into the first round?
The Raiders are the only team in the league without a first-round pick. They don't pick until No. 48. Oakland probably can pair that pick with the No. 81 pick to get into the end of the first round if it focuses on a particular player.
Will Wiz II come to the AFC West?
Penn State center/guard
Stefen Wisniewski
has been connected to Denver, Kansas City and Oakland. The Raiders are obviously being connected to Wisniewski because he is the nephew of former Raiders' offensive lineman and current assistant offensive line coach
Steve Wisniewski
. Wisniewski would fill a big need in Oakland. He might be a second or third-round pick.
Will Jimmy Smith fall to Oakland?
Colorado cornerback Jimmy Smith is considered a top-15 talent, but he could fall because of character questions. Oakland probably would jump on him if he fell to No. 48 as a potential replacement for free-agent
Nnamdi Asomugha
. Still, Philadelphia or Baltimore could take him in the first round.
Will Oakland combat defensive moves by adding to the offensive line?
The offensive line is Oakland's greatest need. The other three teams in the division could add front-seven help on defense. Thus, Oakland may feel more pressure to add to the offensive line.
Will the Chargers add to the secondary?
The Chargers have been looking hard at safeties because
Eric Weddle
is a potential free agent. This isn't a strong class for safeties, but expect the Chargers to look for a gem in the late rounds.
Will AFC West move to Taiwan?
One of the hottest names in recent weeks is Eastern Washington running back
Taiwan Jones
. Denver, Kansas City and Oakland have been connected to Jones. He also could fill a need in San Diego if the Chargers move away from free agent
Darren Sproles
. Jones runs a blazing 4.3 40-yard dash. ESPN draft analyst Todd McShay has said Jones could potentially be a third-round pick.
April, 17, 2011
4/17/11
4:00
PM ET
The draft stock of a prospect being considered by two AFC West teams could reportedly drop because of injury concerns.
CBSSports.com reports
that Baylor defensive tackle
Phil Taylor
has potential issues with his feet. The report states that some teams are putting a red flag on Taylor because medical results at the NFL combine. Apparently, the bones in both of Taylor's feet are growing together, which could be a long-term issue.
He is massive man, who weighs about 340 pounds, and teams could be wary of the issue. Taylor is expected to be taken in the 25-35 range. He has visited both Kansas City and Denver and is a versatile player who can fit in both the 3-4 and 4-3 defensive schemes.
I think he could be an outside possibility for the Chiefs at No. 21 or if they trade down. It will be interesting to see if this issue causes Taylor to drop.
April, 16, 2011
4/16/11
3:00
PM ET
Weekend mail call:
Michael from Long Beach wants to know
what offensive linemen San Diego could look at with the No. 18 overall pick.
Bill Williamson:
I think the Chargers will look at pass-rushers first, but there could be some offensive lineman who interest the Chargers, who would grab a tackle. Among the tackles that could be available at No. 18 include Boston College's
Anthony Castonzo
, Wisconsin's
Gabe Carimi
, Colorado's
Nate Solder
and Mississippi State's
Derek Sherrod
. Castonzo and Carimi could be intriguing to the Chargers if they are available at No. 18.
Kolby from Kansas wants to know
which of these three players -- Baylor nose tackle
Phil Taylor
, Florida guard/center
Mike Pouncey
or UCLA pass-rusher
Akeem Ayers
-- would best fit in with the Chiefs.
BW:
Well, Kolby, I think Pouncey is the best prospect and he would be the best value at No. 21, where the Chiefs pick. He wouldn't fill an immediate hole, although he'd eventually look good in a Kansas City uniform. Ayers may be a slightly better prospect than Taylor and a better value at No. 21. I think Kansas City could trade down to the No. 25-30 range and take either Ayers or Taylor. Both players would likely be contributors right away in Kansas City.
Bryce from Fayetteville, Ark., wants to know
if I think the Chargers could take Arkansas tight end
D.J. Williams
.
BW:
San Diego could look at a young tight end to groom behind
Antonio Gates
. Williams has good hands and he could be a good prospect. I don't think he'll be a high-priority pick for the Chargers. But if they address some needs early and get a chance to take Williams in 3-5 rounds, it could be a fit.
April, 13, 2011
4/13/11
12:00
PM ET
Mid-week mail call:
Jason from Burbank, Calif., wants to know
about new Denver coach John Fox's draft history in Carolina, where he was the coach from 2002-2010.
Bill Williamson:
It's been solid. There wasn't a ton of obvious horrible picks. Players like
Julius Peppers
,
DeAngelo Williams
,
Thomas Davis
and
Jon Beason
were all good first-round picks. The Panthers were aggressive and liked to trade for extra picks. The 2006-07 drafts were deep and resulted in some quality players who are still in Carolina. Fox's teams took four quarterbacks during his tenure. Fox will not be making the final call in Denver -- that's John Elway's job -- but he will have a voice and his experience should help.
George Miley from St. Charles, Mo., wants to know
if San Diego backup quarterback
Billy Volek
could leave as a free agent.
BW:
Volek has expressed a desire to start. I think he'd jump at a chance to start elsewhere. There are several teams that could use a starting quarterback. Yet, the lockout put players like Volek in limbo. The Chargers love having Volek back up
Philip Rivers
and he is one of the best backups in the game. San Diego certainly wants Volek to return, but it wouldn't be able to compete with another team offering Volek a starting job.
Nate from Portland wants to know
if I think Denver could take a defensive tackle at both No. 2 and No. 36.
BW:
Sure, I think it's possible. I expect the Broncos to take Alabama defensive tackle
Marcell Dareus
at No. 2 if he's available. I think Denver could still look at a defensive tackle at No. 36. I don't know if it will be a priority, but if someone like
Phil Taylor
,
Marvin Austin
or
Stephen Paea
available, Fox would be tempted. Getting two stud defensive tackles who could play right away wouldn't be a terrible way to go.
April, 10, 2011
4/10/11
9:00
AM ET
Weekend mail call:
Humble Gorilla from Antioch, Calif., wants to know
if I think Oakland needs to trade into the first round and grab an offensive lineman to counter all of the top defensive players that the other three teams in the AFC West are expected to take early.
Bill Williamson:
It's a heck of a point, Humble. Offensive line is Oakland's biggest area of need. The fact that Denver, San Diego and Kansas City could all take front-seven defensive players makes it even more important for Oakland to get help on the line. There are some strong offensive linemen available in the first round, but I think the Raiders could wait to No. 48 and pick up a guard or a center.
Steve from Woodside, N.Y., wants me to list
the following players in order of how I think they'd fit with the Chiefs :
J.J. Watt
,
Cameron Jordan
,
Aldon Smith
,
Muhammad Wilkerson
,
Akeem Ayers
,
Ryan Kerrigan
,
Justin Houston
,
Phil Taylor
and
Stephen Paea
.
BW:
Steve, I think pass-rusher and then offensive tackle are the Chiefs' biggest areas of need. But as far as your list goes, here is how I think these players will go off the board: Watt, Jordan, Smith, Wilkerson, Ayers, Kerrigan, Houston, Taylor and Paea. I expect these players all to go in the 12-35 range. I think Wilkerson, Ayers, Kerrigan, Houston, Taylor and Paea may all be available when the Chiefs pick at No. 21.
Reg from Portland, Maine, thinks
the Raiders should look for a quarterback in the draft. He wants to know if I agree.
BW:
I've said all offseason that Oakland should, at least, consider taking a quarterback. If the Raiders fall in love with a quarterback at No. 48 and it's a good value, they should think about it. Oakland could need a starter as soon as 2012, so a good developmental quarterback may be needed. Yes, Oakland needs offensive line help, but good quarterbacks are hard to pass up. The Raiders are clearly considering it. They are among the teams working out Nevada quarterback
Colin Kaepernick
.
March, 30, 2011
3/30/11
3:25
PM ET
Phil Taylor
is on the radar in the AFC West.
NFL.com is reporting
that Baylor's massive nose tackle has worked out for the
Kansas City Chiefs
and he will work out for the
Denver Broncos
. The report also states Taylor will visit Kansas City in addition to his workout. Taylor is working out for several other teams.
He is looking like a sure first-round pick. Taylor fits both 4-3 and 3-4 defenses. Kansas City runs a 3-4 defense. Denver is moving from a 3-4 to a 4-3.
If Taylor, 6-foot-3, 334 pounds, ends up in Denver, it will likely require a trade down by the Broncos, who hold the No. 2 overall pick, or a trade up into the first round from their No. 36 pick in the second round. Denver has been working out players throughout the draft board to set up many scenarios.
Kansas City has the No. 21 pick. Taylor could be a good fit there. The Chiefs are looking for a couple of stout defensive tackles this offseason. They tried to sign
Shaun Rogers
before signed with New Orleans shortly before the lockout.