AFC West:

Preseason Week 3
August, 29, 2010
8/29/10
11:35
PM ET
The key to being a successful quarterback in the NFL is bouncing back.
That's a lesson all rookies learn.
Tim Tebow
learned it quickly Sunday night as he bounced back glowingly.
[+] Enlarge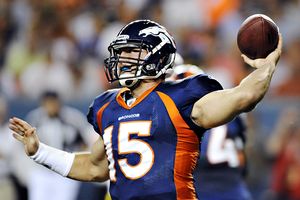 AP Photo/Chris SchneiderTim Tebow completed 5 of 10 passes for 72 yards with a touchdown and an interception against the Steelers.
Early in the fourth quarter of
Denver's 34-17 victory
over visiting Pittsburgh, Tebow made a classic rookie mistake. He misjudged the speed of an NFL defensive backs and looked silly on an interception that set up a Pittsburgh touchdown.
However, the former Heisman Trophy winner didn't go in the tank in his debut in Denver. On the next drive he threw bullets, including a short touchdown pass to fellow rookie
Eric Decker
.
Once again, Tebow, who completed 5 of 10 passes for 72 yards, showed he's resilient and he's a confident passer. He didn't let the interceptions ruin his night or take him out of his game.
It's another important step for Tebow as he learns the NFL game. Tebow, who sat out last week's game against Detroit with sore ribs, was mostly good Sunday.
He still has an awkward throwing motion that is not going to change overnight. But he threw some legitimate NFL passes and he moved the chains. After his two preseason performances, Denver has to be mostly pleased with Tebow's progress.
Tebow, who should play extensively against Minnesota in the preseason finale Thursday, should play in special packages as a rookie. He is not great as of right now, but he is making progress and he is learning from his mistakes, which is crucial for a young quarterback.
Meanwhile, Denver's first-team offense was solid under the leadership of
Kyle Orton
, who has been outstanding in the preseason. Orton bounced back from a big hit from Pittsburgh's
James Harrison
. Denver's first-team offense has accounted for five touchdowns and one field goal for an average of 3.2 points per possession in 12 offensive drives under Orton this preseason.
Denver's defense also made strides after a shaky showing in the first two games. Linebacker
Robert Ayers
showed a strong burst and perhaps he is ready to take the next step as Denver looks for a pass-rushing presence during
Elvis Dumervil
's injury.
August, 29, 2010
8/29/10
1:35
PM ET
Random thoughts from Oakland's 28-24 home loss to San Francisco on Saturday night:
The Raiders had some injury scares. Quarterback Jason Campbell suffered a stinger after being sacked and running back Michael Bush broke his left thumb. Campbell is expected to be OK to play in the season opener at Tennessee on Sept. 12. Bush is going to see a hand specialist; still the team is hopeful he should be able to play against the Titans.
Campbell's injury looked like it could be a lot worse when it happened. It is another reminder that Oakland's troubled offensive line needs to improve or Campbell is going to get hammered often.
Before he was injured, Campbell played well, leading the Raiders to a touchdown on the opening drive of the game. Campbell was 6-of-8 for 93 yards. It was his second straight solid outing.
Bruce Gradkowski may have solidified his role as the No. 2 quarterback over Kyle Boller, who did not play. There is just something about Gradkowski. He is a sparkplug. He came in for Campbell and took the starting offense on his back as he did last year when he spelled JaMarcus Russell. Gradkowski was 14-of-22 for 202 yards with two touchdown passes, including a beautiful a 74-yard touchdown pass to Louis Murphy. Second-year receiver Darrius Heyward-Bey looked solid, catching three passes for 46 yards.
Defensively, Oakland wasn't as strong as it was in its first two games. The run defense continued to be an issue. San Francisco had 165 yards rushing on 33 carries. Frank Gore had a 49-yard run against the defense, which was playing without Richard Seymour. Last week, Chicago's Matt Forte had an 89-yard run. Tackling has been Oakland's biggest problem the past few seasons.
Oakland has to shore up the run before it meets 2009 rushing champion Chris Johnson on opening day. The Raiders didn't have a sack against the 49ers after registering 12 sacks in the first two games.
There were some bright spots on defense and rookie middle linebacker Rolando McClain and safety Michael Huff both made several plays.
August, 28, 2010
8/28/10
3:35
PM ET
Random thoughts from San Diego's 36-21 loss at New Orleans on Friday night:
The Chargers' starters continued to play pretty well. Both the offensive and defensive starters have been strong during the preseason. The starters will likely sit for Thursday's preseason finale, but the Chargers are clicking as they prepare for the Sept. 13 season opener at Kansas City.
Sure, there were some drops on offense and the defense allowed New Orleans some big plays. But overall, it was a strong effort by San Diego.
San Diego quarterback
Philip Rivers
completed 16 of 27 passes and rookie running back
Ryan Mathews
continued to run hard and he looked primed to start his rookie season.
San Diego tight end
Antonio Gates
will clearly be a top receiving option during Vincent Jackson's holdout. Expect Gates to be a glorified receiver this season.
Jacob Hester
also played well as he vies to be the primary fullback.
Overall, Saturday's performance was an extension of the entire preseason and training camp. The Chargers looked sharp and well tuned.
Not all is great in San Diego, though. Linebacker
Shaun Phillips
is
facing another lawsuit.
August, 28, 2010
8/28/10
2:28
PM ET
Some thoughts from Kansas City's
20-17 loss
to Philadelphia on Friday night:
First, we must address the injuries. Rookie linebacker
Cameron Sheffield
was
taken off the field on a stretcher
after a helmet-to-helmet hit. The Chiefs just announced good news. He was released from the hospital Saturday with movement in all of his extremities.
Running back
Jamaal Charles
left the game in the second quarter with an arm injury. Saturday, ESPN's Adam Schefter
reported that Charles is fine.
Despite the injury scares, it was a productive night for the Chiefs. The most exciting aspect was the strong play from the defense. Kansas City has been searching for this type of effort all summer. The Chiefs had five sacks. That's a tremendous boost for this unit. Linebackers
Andy Studebaker
and
Demorrio Williams
each had two sacks. Both Studebaker and Williams have earned major playing time once the regular season starts.
The offense was sloppy at times, but it was steady. The Chiefs turned a turnover into a touchdown on a 16-play, 63-yard drive. If the two units can play like this once the regular season starts, the Chiefs will have a chance to compete in every game.
Other strong points for the Chiefs included another impressive performance by the rookie class and the fact that the still-growing offensive line allowed just one sack.
With most of the key players expected to play small roles -- if they play at all -- in the preseason finale, the Chiefs should march toward their Sept. 13 opener against San Diego feeling pretty good.