AFC West:

Quanterrus Smith
March, 18, 2014
Mar 18
2:30
PM ET
For the moment, the
Denver Broncos
have put away owner Pat Bowlen's checkbook, albeit with fewer checks in it than when free agency began.
The team has one or two offensive linemen on its radar that it would consider reeling in. But with just under $6 million in salary-cap space with which to work, the price would have to be right.
So with the heavy lifting behind them in free agency, the Broncos will simply wait to see if there are any veteran players they want to sign to low-impact deals. Two years ago, they added
Keith Brooking
and
Jim Leonhard
; last season they signed
Quentin Jammer
and
Paris Lenon
.
The Broncos still have some needs on their depth chart to address, either with late-spring deals or in the draft. The biggest of those needs:
Defensive back
Safety
T.J. Ward
was a starter the moment he signed his new contract, as was cornerback
Aqib Talib
. And the Broncos are certainly encouraged by
Chris Harris Jr
.'s recovery from ACL surgery.
[+] Enlarge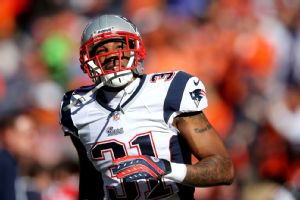 Mark J. Rebilas/USA TODAY SportsAqib Talib has had difficulty staying healthy in his career, so the Broncos would be wise to bolster their depth at cornerback.
Harris has told plenty of folks he believes he could have played in the AFC Championship Game and the Super Bowl with a partially torn ACL. But the Broncos put him on injured reserve, not wanting to risk a full tear or damage to the other ligaments and cartilage in his knee.
Talib has never played 16 games in a season. Until he does, the prudent expectation is the Broncos need more depth here. And with defenses playing the nickel and dime so much, the Broncos will need some additional help at cornerback moving forward.
Kayvon Webster
will get, and deserves, a bigger role and the Broncos will put as much on his plate as he shows he can handle. Webster has the kind of skills in man-to-man the Broncos want with plenty of speed. But if the draft falls right, the Broncos could still look to use a premium pick on a cornerback.
Middle linebacker
Once a glamour position on defense, middle linebacker is a situational job these days. The Broncos had four games this past season when the middle linebacker was in the formation 12 or fewer plays.
The Broncos have players they can use at the position already on the roster --
Nate Irving
, or possibly
Steven Johnson
-- but those would be stop-gap moves and the Broncos have tried Webster there before only to make him
Von Miller
's backup. The Broncos will look for someone at the position who fits their scheme later in the free-agency season.
"People are a lot more worried about middle linebacker than we are right now … we'll get something done,'' executive vice president of football operations/GM John Elway said this week.
Weakside linebacker
Danny Trevathan
plays in base, nickel and dime schemes, which means the Broncos can look for a two-down player at middle linebacker if they have to.
The list of true middle linebackers is shrinking in the college game and defenses are getting smaller to defend spread attacks, but the Broncos will take a long look at some options at inside linebacker in the draft.
Returner
The Broncos did not make an offer to
Trindon Holliday
, who agreed to a deal with the
New York Giants
Monday. The Broncos loved Holliday's touchdowns -- six in less than two seasons, playoffs included -- but they struggled to reconcile those with his spotty work handling the ball and a difficult stretch last season when he had limited impact and made plenty of questionable decisions.
Wide receiver
Emmanuel Sanders
has been a returner, but he also had a foot surgery early in his career and the Broncos see him as a key piece of their three-wide-receiver set on offense as well as a potential No. 2 receiver. Elway has already used the work "risk'' when talking about the possibility of Sanders handling both kickoff and punt returns.
The Broncos have players who could fill in, but they lack impact players at the position.
Defensive end
The Broncos did the work to get
DeMarcus Ware
in the lineup and believe the 31-year-old's durability -- he's missed just three games -- has been a hallmark of a 117-sack career to this point. They have high hopes for what will essentially be
Quanterus Smith
's rookie season as a pass-rusher in '14 after he spent last season on injured reserve. They believe
Derek Wolfe
will return to form as a strongside end.
But the Broncos need some additional depth here and have to cover themselves if Ware's injury-marred 2013 season turns into something similar in '14 or if Smith isn't ready.
Wide receiver
Yes, they signed Sanders and re-signed
Andre Caldwell
just before free agency opened. But with
Wes Welker
's concussion history -- he had two last season -- the Broncos would be remiss if they didn't look at the draft's deep class of wideouts.
The Broncos could find a player who could contribute this season, add more speed to the roster and have a player ready to move into the lineup with Welker's contract set to expire after the 2014 season.
They carried four wide receivers on the roster last season, but would be wise to carry five this time around and add some youth on the outside. Whether that means they carry three tight ends instead of four or 10 defensive backs instead of 11, adding a spot at wide receiver would be a worthy investment.
February, 26, 2014
Feb 26
7:00
AM ET
INDIANAPOLIS -- With the NFL's scouting combine having wrapped up Tuesday afternoon, the
Denver Broncos
have had an up-close-and-personal look at 335 or so of the best prospects in this year's draft.
And as they collate all of the information they obtained in and around Lucas Oil Stadium from the workouts, medical exams and interviews from those prospects, here are some things they likely took away from the past week's work:
They can find much-needed help for their defense on this draft board but will likely have to use earlier picks to get it. It is a deep draft overall, but many scouts believe the depth is far greater, as a whole, on offense. So to get the impact players on defense, the Broncos may have to move more quickly do it. That's especially true among the defensive backs. As a group the wide receivers in Indy ran faster and were, on average, bigger than the defensive backs in attendance. The Broncos have six defensive backs scheduled to be restricted or unrestricted free agents, so they have some things to address in the secondary. That's especially true at cornerback, where Chris Harris Jr. is not only a restricted free agent but he's also returning from ACL surgery. Both Broncos head coach John Fox and executive vice president of football operations/general manager John Elway said at the combine they're optimistic in Harris' recovery because the ACL was not completely torn. But with Dominique Rodgers-Cromartie set to hit the open market to go with Champ Bailey's $10 million salary cap figure and a coming discussion with Elway about Bailey's future, the Broncos certainly will have to give the position attention in the draft. And they'll have to do it in the first three rounds to have a chance at the bigger cornerbacks on the board who have the kind of speed the team wants.
With Von Miller coming back from ACL surgery and Shaun Phillips headed for free agency, the Broncos will need more presence on the edge in the defense. And the pool of potential rushers who look to be ready to come in and contribute significantly as rookies looks fairly shallow. Phillips' signing in free agency during last year's draft weekend turned out to be one of the league's best value signings. Phillips finished with a team-leading 10 sacks in a one-year deal with no signing bonus. But that kind of good fortune is not a given. The Broncos will feel at least some incentive to look both in both free agency and among those early picks for an edge rusher. Fox said during the combine he believes Quanterrus Smith, a fifth-round draft pick in last year's draft, will be ready to contribute after Smith spent this past season on injured reserve. But he's a question mark, and the Broncos don't even open their conditioning work until April 21 and won't have conducted any of their on-field OTA work until after the draft.
The Broncos were highly interested in the linebacker class at this year's combine. They need more physicality at the position, but they need it from a player who can drop into coverage when asked. So don't think old-school thumper, but rather an attempt to find someone who plays with the same kind of versatility Danny Trevathan has shown since the Broncos selected him in the 2012 draft.
The Broncos have a glaring need at running back, but the run game is going to get plenty of attention in this offseason from offensive coordinator Adam Gase. The Broncos want, and need, to take some of the pressure off quarterback Peyton Manning and the team's passing game to do the heavy lifting as well in the offense in short-yardage situations. Knowshon Moreno is an unrestricted free agent who will get a bigger offer elsewhere than he can get from the Broncos. And after years' worth of running back classes filled with undersized runners, many running backs coaches in the league consistently referenced the size of this year's group at the combine. Many teams will be looking to dive in during the second, third and fourth rounds. There were 17 running backs at this year's combine who weighed 218 pounds or more. Last year there were 10 running backs at the combine who weighed at least 218 pounds and 14 in 2012 .
The Broncos want more speed in the defensive formation. If there was one lesson they took away from this past season, including the Super Bowl loss, it was that they were not nearly as fast as they need to be in the defensive formation. That speed deficiency showed up on special teams as well, notably down the stretch and into the playoffs. Look for the Broncos' draft class to have more fast clockings than "try hard" guys when the picks get made.