February, 26, 2013
2/26/13
6:35
PM ET
The
Oakland Raiders
have been looking for a new leader for the organization for months, and their conversations with Mike Holmgren indicate the team is serious about trying to get better in all facets of the organization.
John Clayton and I are reporting
Raiders owner Mark Davis is considering hiring Holmgren to lead the organization as a whole. Holmgren has been to the Raiders' facilities. At this point, he is considered a candidate for a position.
Holmgren is currently in Europe. There isn't a timeline for the hire. NFL executive Ray Anderson and former Madison Square Garden president Scott O'Neal have been linked to a leadership role in Oakland.
Securing a new stadium is a major goal for the Raiders, and a new leader is expected to be a big part of pursuing that.
[+] Enlarge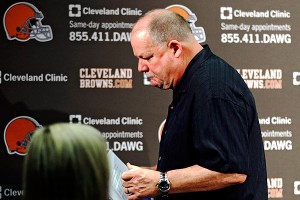 AP Photo/Mark DuncanMike Holmgren, who considered a return to coaching this offseason, is a candidate for a leadership role with the Raiders.
If Holmgren joins the team, he'd certainly have a role on the football side because that is his background. Holmgren, a former head coach in Green Bay and Seattle, was the team president in Cleveland from 2010 to '12. He left the Browns late last year after an ownership change.
The Browns weren't a winner under Holmgren's watch, but he did help get the team's finances together and the team drafted well the past two years under his leadership.
Holmgren, 64, is from San Francisco and wants to be on the West Coast. He said he was open to coaching this year, but he didn't get any looks from the eight teams looking for a coach. If Holmgren heads to Oakland, the entire team would be under his umbrella. It would create an interesting dynamic on the football side.
The team hired Reggie McKenzie (who was in Green Bay with Holmgren) last year to be the general manager. He is in charge of the football operations. I'm sure Holmgren and McKenzie would work well together, but there's no doubt there would be another football mind in the building. That is undeniable. So a power structure would have to be established. I don't see Holmgren joining a team with which he wouldn't have a powerful role.
Also, the addition of Holmgren could hover over coach Dennis Allen. Holmgren is on the record as saying he'd coach again. What if Oakland, which went 4-12 last season, starts slowly again? Would Holmgren consider naming himself coach? That looming possibility could be uncomfortable for Allen.
There are a lot of reasons to like this potential partnership. Holmgren has a great NFL track record and has won before. But there would be plenty of new questions if he joins the team as well.
January, 20, 2013
1/20/13
12:25
PM ET
San Diego has hired former Arizona special teams coach Kevin Spencer, according to ESPN's Adam Schefter.
He is the third former Arizona coach named to new coach Mike McCoy' staff. Spencer was the special teams coach in Arizona under Ken Whisenhunt. Whisenhunt is McCoy's offensive coordinator. Former Arizona receivers coach Frank Reich is San Diego's quarterbacks coach.
Spencer also worked with Whisenhunt in Pittsburgh, where they won a Super Bowl, as a fellow assistant.
UPDATE:
Schefter reports Oakland is talking to former Madison Square Garden president Scott O'Neil about a president's role with the team. Oakland has also been linked to Ray Anderson of the NFL. The primary duty of this role will be on the business side, trying to secure a new stadium for the team.
Arrowheadpride.com reports
the Chiefs will workout quarterback Rudy Carpenter. If he is signed, Carpenter will be considered a longshot to make the team.
January, 13, 2013
1/13/13
9:10
PM ET
In a season-ending team meeting Sunday, Denver Broncos coach John Fox told his players to be ready to make another playoff run in 2013 after a classic double-overtime 38-35 loss at home to Baltimore.

Fox meets the media to wrap up the season on Monday and he will likely be asked again about his decision to take a knee at the end of regulation despite having 31 seconds on the clock and two timeouts remaining. On Sunday, Atlanta beat Seattle, 30-28, on a game winning field goal after getting the ball in a similar situation.

The situations weren't the same. The Falcons had to go for the win as they were trailing.

I can see why Fox made the decision to go to overtime. If his team made a mistake, it would setup a scoring opportunity for Baltimore. But on the flip side, giving quarterback Peyton Manning a chance to try to get into field-goal position could have been beneficial. Denver was flat offensively in overtime and perhaps going for it at the end of regulation would have helped the Denver offense get over the shock of Baltimore' game-tying 70-yard score in the final minute.

The debate will rage on and expect it to be a topic for Fox on Monday.

In other AFC West news:

ESPN's Chris Mortensen is reporting Kansas City Chiefs Coach Andy Reid has interviewed former Miami head coach and former Jets offensive coordinator Tony Sparano for the Chiefs' offensive line coach position. Sparano failed in the higher-profile jobs, but he was known as an excellent offensive line coach in Dallas. Reid has also talked to former Minnesota head coach Brad Childress about a role on the staff. It would help Reid to have two former head coaches.

CBS Sports reported the Chiefs have interviewed Chicago special teams coach Dave Toub. He is considered a premier special teams coach.

Mortensen has reported Oakland has had talks with NFL executive Ryan Anderson about a role it in front office. Oakland has been interested in Anderson for some time. If added, Anderson would be more of a business addition than a football addition.

As expected. Cincinnati offensive coordinator Jay Gruden interviewed for the San Diego's coaching job Sunday. The Chargers are interviewing several candidates, including Denver offensive coordinator Mike McCoy.

Denver receiver Branden Stokley said he plans to play another year. He is 36. He had a solid season as Denver's third season after he was essentially brought out of retirement by Manning, his close friend. He had 45 catches and five touchdowns this season.


December, 11, 2011
12/11/11
3:21
PM ET
DENVER --
ESPN's Chris Mortensen is reporting
that the
Denver Broncos
will likely keep
Tim Tebow
as the starting quarterback if the Broncos make the playoffs.
That makes perfect sense. If Tebow continues to improve as a passer and Denver ends up in the playoffs, the team will have no choice but to stick with him in 2012 and look to improve other areas on the roster.
In other AFC West nuggets:
Receiver
Eddie Royal
is among Denver's inactive players against Chicago. He has a concussion.
ESPN's Adam Schefter tweeted
that NFL executive Ray Anderson could be a fit as president in Oakland. That would be interesting because he is not known for being a talent evaluator. So, if Oakland were to look at Anderson, it would mean it was looking to beef up the top level of its administration as it moves away from the Al Davis era.
As expected, Kansas City quarterback
Kyle Orton
was inactive Sunday. He injured a finger in his only throw as a Chief last week.