March, 13, 2014
Mar 13
8:45
PM ET
The
San Diego Chargers
continued a busy Thursday by announcing two more signings, bringing back linebacker
Reggie Walker
and signing cornerback
Brandon Ghee
.
Walker
Ghee
Both players signed two-year deals.
Walker was one of San Diego's most versatile players on defense in 2013, seeing time at all four linebacker positions in defensive coordinator John Pagano's 3-4 defensive front.
Walker, 27, signed with San Diego in September before the start of the regular season after being released by Arizona last May.
The Kansas State product started six games and played a total of 451 snaps defensively during the regular season, finishing with 36 tackles, three sacks and a forced fumble.
Ghee, 26, played in 23 games during part of four seasons with Cincinnati, totaling 17 tackles and five pass breakups. At 6-0 and 200 pounds, Ghee was a third-round selection by the Bengals in the 2010 draft.
March, 7, 2014
Mar 7
11:00
AM ET
»
AFC Free-Agency Primer
:
East
|
West
|
North
|
South
»
NFC
:
East
|
West
|
North
|
South
With just under $6 million in projected salary-cap space, the
San Diego Chargers
are not expected to make a big splash at the start of free agency. But the Chargers could still add a few impact players at a reasonable price if the organization is patient and does its homework.

That said, we take a close look at San Diego's approach heading into free agency.
Key free agents:
Chad Rinehart
,
Darrell Stuckey
,
Richard Marshall
,
Reggie Walker
,
Charlie Whitehurst
.
Where they stand:
San Diego already took care of the team's top offseason priority, with middle linebacker
Donald Butler
inked to a multiyear deal before the onset of free agency. The Chargers need help at cornerback, nose tackle, edge rusher, interior offensive line and in the return game. San Diego could look to sign a couple of their own free agents that produced in 2013, including Rinehart, Stuckey, Marshall and Walker. All four players had an impact in the team's surprising postseason run and could return at a reasonable price. The Chargers also need to find a capable backup for every-down running back
Ryan Mathews
, with veteran
Ronnie Brown
hitting the market.
What to expect:
With a limited amount of cap space, expect the Chargers to be active in the secondary free-agent market, targeting veteran players with a specific skill set who can make an impact. The Chargers benefited from signing two such players to two-year deals last year in tackle
King Dunlap
and running back
Danny Woodhead
. San Diego also could look for front-line players who don't receive the type of lucrative offers they expect and want to re-enter the market after a one-year, prove-it deal.
January, 5, 2014
Jan 5
8:22
PM ET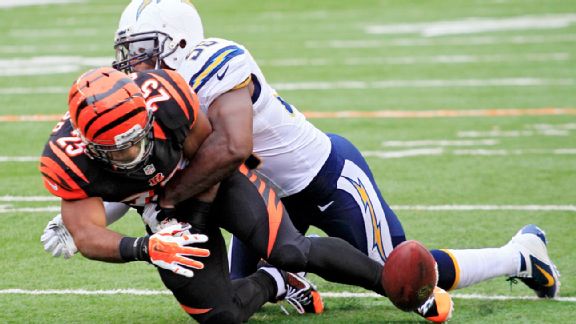 AP Photo/Tom UhlmanThe Chargers' defense stifled the Cincinnati offense by forcing four turnovers.
CINCINNATI -- According to Mike McCoy, the
San Diego Chargers
executed the rope-a-dope Muhammad Ali made famous on the
Cincinnati Bengals
.
"A lot of times teams lose the game rather than win it," the San Diego coach said of the Chargers'
27-10 victory
. "When you make some mistakes and turn the football over and do certain things, it hurts your football team."
The team McCoy not-so-subtly referred to is the unlucky Bengals. San Diego advanced to the divisional round of the AFC playoffs by expertly sidestepping Cincinnati's initial barrage, ultimately allowing the Bengals to beat themselves by turning the ball over four times and falling for the fifth straight time in the postseason.
Cincinnati entered the contest as a seven-point favorite, but the Chargers performed more like the experienced playoff team from the onset.
It started with the Chargers' unflappable quarterback,
Philip Rivers
, who didn't try to do too much in his first postseason appearance since 2009.
"Playoff games aren't meant to be pretty," said Rivers, who sported his trademark bolo tie. This one made from elk horn was sent to him by a fan. "You just find a way to win, and we did that in all three phases today."
Rivers was efficient, finishing 12-of-16 for 128 yards, including a 4-yard touchdown to tight end
Ladarius Green
. Rivers threw a career-low six times in the first half.
"Rivers played a smart game," Bengals cornerback
Adam Jones
said. "He didn't force anything. He took what was there."
San Diego's complete effort was punctuated by a surprisingly suffocating defense that limited Cincinnati's potent offense to a season-low 10 points at home.
The last time these two teams met, the Bengals bowled over the Chargers for 164 rushing yards in a 17-10 win. But San Diego was ready this time.
"We were talking all week -- if we stopped the run, they weren't going to beat us," Chargers linebacker
Reggie Walker
said. "We just knew if we made it a passing game, they weren't going to beat us."
The Chargers held Cincinnati to 113 rushing yards, grabbed a 14-10 lead at halftime and extended it to 20-10 with just more than 14 minutes left in the game.
The Chargers forced
Andy Dalton
to beat them with his arm, and he couldn't do it. Dalton wilted under the steady pressure of San Diego's defensive front. He finished 29-of-51 for 334 yards but also threw two interceptions and lost a fumble. Dalton was sacked three times and was hit six other times. He finished with a 67 passer rating.
The Bengals had not lost at home this season, averaging 34 points per contest.
"I know we were all glad, and itching to play them again," Walker said. "Thank God we got seeded to play them again. Because of all the teams we wanted to play, we wanted to play them again. We had to get our toughness back, because that was ridiculous.
"We have a great blitz package. So we knew if we could get them in third-and-long, they were not going to beat us."
Need proof that the Chargers have reached the big time? Golfer and San Diego native Phil Mickelson and his wife, Amy, attended the game on Sunday, and have plans to make it to the Chargers' AFC divisional-round game at Denver next week.
The Chargers could use star power facing
Peyton Manning
for a third time this season. No doubt, Manning and the Broncos will be ready after losing 27-20 in Denver on Dec. 12, the last time these two teams met.
But the San Diego defense plans on bringing its A-game, too. Aside from holding Denver to a season-low 20 points, this defense has allowed an average of just 16 points a game in the team's past five contests.
"They're going to be ready, but we're going to be ready, too," Walker said. "So we're just going to go in there and put our hard hats on and see what happens. We're not just happy to be playing. We've got a goal, and we're going to go get that."
Added middle linebacker
Donald Butler
, who finished with a team-high 12 tackles: "All the pressure is on them. We're loose. We're just going to go play and try and win another game."
September, 29, 2013
9/29/13
9:20
PM ET
SAN DIEGO -- Observed in the locker room after the
San Diego Chargers
' 30-21 win over the
Dallas Cowboys
on Sunday.
Rivers
Fast-talking McCoy:
Still wired from the win, San Diego coach Mike McCoy did not take too many breaths in between words at the podium after this one.
So does McCoy always talk that fast?
"My wife tells me, 'yes,' " McCoy joked. "But I'm a little excited, too, so it's a good reason to talk fast. ... There's nothing like winning, so I'll probably talk fast all night."
A team-defining win:
San Diego quarterback
Philip Rivers
said Sunday's win over the Cowboys is the type of victory that can help create an identity for his team. "These are the kind of wins that kind of define your character, your personality, your identity," he said.
Redemption for Butler:
Reserve cornerback
Crezdon Butler
gave up the winning score against Tennessee last week, a 34-yard touchdown reception by Titans rookie receiver
Justin Hunter
. Butler redeemed himself on Sunday, forcing Dallas rookie receiver
Terrance Williams
to cough up the ball at the goal line late in the game to help preserve a win. Butler's teammate
Richard Marshall
recovered the fumble.
"It feels good," Butler said. "Last week was tough, and I had to move on from that. Being a defensive back you have to have a short-term memory, and it was time to move on. I'm glad I made that play today."
A strong finish:
After giving up two fourth-quarter leads in the first three games, the Chargers finally finished strong, scoring 20 unanswered points to put the game away. San Diego linebacker
Reggie Walker
said his team can build on Sunday's effort.
"It's a thing that was kind of being held over our heads, not finishing," Walker said. "And then we went in there and finally finished a game, which is awesome."
September, 1, 2013
9/01/13
5:25
PM ET
The
San Diego Chargers
added four defensive players Sunday.
The team claimed defensive lineman
Drake Nevis
from the
Indianapolis Colts
and linebacker
Terrell Manning
from the
Green Bay Packers
. Earlier in the day, the team traded a 2015 conditional seventh-round pick to the
Dallas Cowboys
in exchange for defensive tackle
Sean Lissemore
, and signed linebacker and special-teams standout
Reggie Walker
. He was with Arizona.
Nevis is a good player who should help the defensive line depth. He was in Indianapolis with first-year San Diego general manager Tom Telesco. I think he can be a good player. All four of the players should help with depth and help San Diego's special teams. it was poor in the preseason.
The Chargers added three players to the practice squad: tackle Nick Becton, linebacker
Thomas Keiser
and cornerback Marcus Cromartie. They were all cut by the team Saturday. The Chargers have five more openings on the practice squad.
September, 1, 2013
9/01/13
3:26
PM ET
A day after setting the 53-man roster, new San Diego Chargers general manager Tom Telesco went to work, adding depth to a roster that needs to get deeper.
Telesco started with the defense. The Chargers acquired defensive tackle
Sean Lissemore
from Dallas for a conditional 2015 seventh-round pick. Lissemore adds to a thin position. He is a good fit for the 3-4 defense. The fourth-year player could be a rotational player.
The Chargers also signed linebacker
Reggie Walker
. He was previously with Arizona where he played for new San Diego offensive coordinator Ken Whisenhunt and new San Diego special-teams coach Kevin Spencer. Walker is known for being a strong special- teams player. That's vital. The Chargers were awful on special teams in the preseason.
To make room for Lissemore and Walker, the Chargers reportedly cut linebacker
D.J. Smith
and put defensive tackle
Damik Scafe
on injured reserve.
Running back Edwin Baker, cut by San Diego, signed with Denver's practice squad.