AFC West:

Richard Goodman
July, 4, 2013
7/04/13
8:00
AM ET
Our AFC West positional rankings series concludes with a look at the top return man in the AFC West:
1.
Trindon Holliday
, Denver: Perhaps the most dynamic return man in the game right now.
2.
Josh Cribbs
, Oakland: Free-agent addition should help if he is healthy. He has a great resume.
3.
Jacoby Ford
, Oakland: If healthy, he has shown he is a dynamic return man.
4.
Richard Goodman
, San Diego: A solid kick returner.
5.
Dexter McCluster
, Kansas City: Going with McCluster here but it is wide open in Kansas City.
March, 11, 2013
3/11/13
1:25
PM ET
The Broncos have signed safety
David Bruton
to a three-year deal. Bruton is an outstanding special-teams player.
The speculation around the league is the
Kansas City Chiefs
will re-sign defensive end
Glenn Dorsey
. The Chiefs run a 3-4 defense and he is best suited for a 4-3 defense, but apparently the new regime in Kansas City likes him enough to keep him.
The Giants signed defensive tackle
Cullen Jenkins
. He visited the Raiders last week, but they are tight against the cap.
The Chargers are keeping receiver/returner
Richard Goodman
. He was an exclusive rights free agent.
The Chiefs have a private workout set with Central Michigan left tackle Eric Fisher. He is a long shot possibility to be the No. 1 overall pick.
Here is an Insider look at the Raiders'
offseason needs.

November, 7, 2012
11/07/12
11:00
AM ET
»
NFC Midseason Teams
:
East
|
West
|
North
|
South
»
AFC
:
East
|
West
|
North
|
South
We present our 2012 AFC West midseason team.
A few notes before we get to the list.
I used a 3-4 defense because half of the division (Kansas City and San Diego) uses it as a base defense and I thought the linebackers were stronger in the first half so I wanted to recognize four of them. This list features the best players at the position, so I used two left tackles instead of forcing a right tackle, two tailbacks instead of a fullback, etc.
The list features 10 Broncos, eight Chargers, five Raiders and three Chiefs. Coincidentally, that is the order of the division standings halfway through the season.
Let's point out some picks of note. Some may be surprised to see Denver defensive lineman
Kevin Vickerson
on the list. If you talked to NFL scouts, you wouldn't be. He's been strong.
I really like this group of linebackers. I wanted to find a place for the Chiefs' Justin Houston and Derrick Johnson, but I felt like I needed to get San Diego's Donald Butler, Oakland's Philip Wheeler and Denver's Wesley Woodyard on the list. Again, this was a very tough position to choose from.
I could have gone in several directions at receiver. Many receivers in the division are having terrific seasons. Can't go wrong with
Demaryius Thomas
and
Eric Decker
, though.
Mike Scifres
over
Shane Lechler
? Yes, Lechler is an all-time great, but Scifres is having a better season.
This isn't a great year for returners in the division. I was going to go with San Diego's
Richard Goodman
, but he is out for the season. Holliday returned a touchdown for a score in Week 9, so he's your winner despite playing just three games with Denver.
On to the list. I'm sure you'll have a lot to say in the comments section below.
November, 12, 2010
11/12/10
8:05
PM ET
Denver rookie quarterback
Tim Tebow
rarely sees the field, but his jersey
gets plenty of action.
His jersey remains the No. 1 selling jersey in the NFL. Tebow's No. 15 jersey shot to the top of the NFL in April, days after he was surprisingly drafted in the first round.
It's truly amazing that Tebow's NFL popularity has remained at a high level even though he is currently nothing more than a special-package player. Once again, the selling power of Tebow is mind boggling.
In other AFC West news, Kansas City rookie receiver/returner/running back Dexter McCluster is questionable to play at Denver on Sunday because of an ankle injury. He was limited all week. He's missed the past two games. Guard Brian Waters is questionable with a shoulder injury. He's been limited all week. Safety Jon McGraw is questionable with a knee injury. He has been limited the past two days.
The Chargers re-signed receiver Richard Goodman to the practice squad. He is the player who left the ball on the grass after his first NFL catch against New England. He thought he was down, but he was never touched. The Patriots recovered the ball on their way to a three-point win. He was cut last week.
Former San Diego backup Charlie Whitehurst may not have a future in Seattle after all. What a trade that was for San Diego. The Chargers moved up 20 spots in the second round in April and got a third-round pick next year in the trade for Whitehurst, who was a third-string quarterback in San Diego.
November, 6, 2010
11/06/10
6:21
PM ET
As expected,
the
San Diego Chargers
activated safety
Steve Gregory
.
Gregory
He returns this week after serving a four-game NFL suspension for using a banned substance. Goodman was tied for the AFC West lead with 30 tackles when he was suspended after Week 4.
San Diego's pass defense is No. 1 in the NFL, but it gave up 303 passing yards last week against Tennessee, including several big plays. It is not known if Gregory will start Sunday at Houston. But I'd expect to see him play some.
He is a physical force in the secondary. Gregory can also help on special teams, which the Chargers desperately need.
To make room for Gregory, receiver
Richard Goodman
was released the undrafted rookie is a candidate to return to the practice squad. Goodman is remembered for leaving the ball on the field before he was touched by a New England defender after making his first NFL catch on Oct. 24. The Patriots recovered for a key turnover in a three-point loss for San Diego.
October, 27, 2010
10/27/10
1:00
PM ET
»
NFC Stock Watch
:
East
|
West
|
North
|
South
»
AFC
:
East
|
West
|
North
|
South
FALLING
1. Denver Broncos:
Yes, the whole dang team. The entire club has to be embarrassed after Denver was beaten 59-14 at home by the previously 2-4
Oakland Raiders
, who were playing their backup quarterback. Losing by 45 at home is a horrible experience for a franchise that can hover for the rest of the season. Denver is 2-5 and you have to wonder if it can bounce back from this type of traumatic defeat.
2. Josh McDaniels, Denver coach:
McDaniels deserves his own category this week. While the entire team has to take accountability, McDaniels was in charge of preparing the Broncos for the game. The nature of the loss is ultimately his fault. McDaniels has been a whipping boy on Denver talk radio this week and after this historic defeat, he deserves the heat.
3. Richard Goodman, San Diego wide receiver:
Every receiver remembers his first NFL catch. Goodman surely won't forget his first catch, but for all the wrong reasons. The undrafted rookie made a nice grab on a 25-yard pass from
Philip Rivers
. Goodman looked like he belonged in the NFL. Then he simply left the ball on the grass -- without being downed by a New England defender. The Patriots jumped on the ball. It was a critical turnover in a three-point loss for the Chargers. The first thing that will keep a player off the field is dumb mistakes. Goodman will be lucky if he's in the Chargers' game plan anytime soon after that gaffe.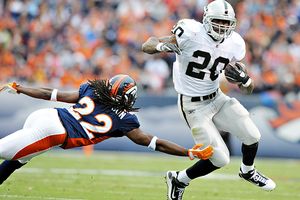 Kirby Lee/US PresswireDarren McFadden rushed for 165 yards and three touchdowns in a 45-point rout of the Broncos.
RISING
1. Oakland Raiders:
Yes, the whole dang team. The Raiders deserve major props for what they did at Denver. Teams just don't win by 45 points on the road. This was a tremendous team effort. For a franchise rich in tradition, it was Sunday's game that set the Raiders' all-time single-game scoring record. A lot of the credit goes to coach Tom Cable. He had his team prepared for this game after a poor showing in San Francisco the previous week. Times have been tough for Oakland in recent years, but the Raiders showed great life in this win.
2. Thomas Jones, Kansas City running back:
The veteran is showing why the Chiefs made him a priority this offseason. Jones had 125 yards rushing in the Chiefs' win over Jacksonville on Sunday. He had a 70-yard run in the game. Jones and
Jamaal Charles
are leading the best running game in the NFL. This is a big reason why the Chiefs are 4-2 and have the look of a team that will be in the playoff picture all season long. Jones is giving this offense a toughness it didn't have in the past.
3. Antwan Barnes, San Diego linebacker:
The Chargers have been looking for a new pass-rusher since they determined that the soon-to-be released
Shawne Merriman
couldn't be counted on to stay healthy enough to be a factor. Barnes may be that player. He has two sacks Sunday against New England and he showed a great pass-rush burst all game. The former Raven and Eagle was signed during the season because of injuries at linebacker. Barnes showed that he has a chance to be an impact player on passing downs for the Chargers.
October, 24, 2010
10/24/10
11:05
PM ET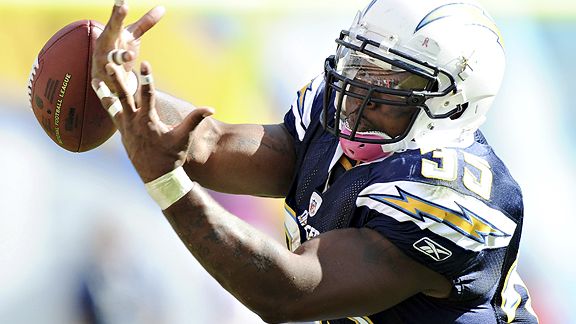 Harry How/Getty ImagesMike Tolbert and the San Diego Chargers are struggling to avoid costly mistakes.
SAN DIEGO -- Just because the
San Diego Chargers
have been here before, it doesn't mean they know the escape route or they are positive the usual late-season revival is in the works.
I heard the word "hope" a lot in the losing locker room Sunday. It's getting to the point where it seems as if the Chargers are starting to wonder themselves if the Keystone Kops act is ever going to end. Doubt may be creeping in by the Pacific Ocean.
Asked when he thinks the Chargers will finally put their mistakes behind them, safety
Eric Weddle
replied: "I hope it's next week against Tennessee. ... I hope it's soon."
The truth is the Chargers are one game from the halfway point of their season and they're 2-5. And they're 2-5 because they continue to make the same mistakes, loss after frustrating loss.
Sunday's 23-20 loss to New England had a familiar look: turnovers, special-teams follies and a late rally that fell short. All the major ingredients of San Diego's self-inflicted defeat cocktail.
"Until we stop making those same mistakes," Weddle said, "we will not win. I hope it changes soon."
The Chargers -- who have two tough games coming up against Tennessee and Houston before the bye -- and their fans would be fooling themselves if they were to think their fortunes will suddenly change just because they have in the past three seasons. In 2007, the Chargers were 5-5 and finished 11-5. In 2008, they were 4-8 and finished 8-8. Last season, they were 2-3 and finished 13-3.
There hasn't been any sign from this team that it is ready to finish games. The hole is getting deep. If San Diego wins two-thirds of its remaining games, it will still only be 8-8. With Kansas City sitting at 4-2 (including a win over the Chargers), it is safe to say the Chargers' string of four straight AFC West championship is in jeopardy if the turnaround isn't swift and emphatic.
The pall over the locker room Sunday seemed to suggest the team understands.
"It's on us, the players," Weddle said. "The coaches are doing a great job. It's us who keep making the same mistakes."
What is maddening to the Chargers is they know they are close to being a dominant team. The Chargers entered the game ranked No. 1 in the NFL on offense and on defense. Once again, they played well on both sides of the ball.
New England had only 179 total yards. San Diego harassed Patriots quarterback
Tom Brady
all game. He was never comfortable. The Chargers, who outgained their first six opponents by nearly 1,100 yards, had 363 yards of offense Sunday.
The problems? The same old things.
The Chargers committed four turnovers. Two of Sunday's giveaways were head-scratchers. Rookie Richard Goodman made a nice 25-yard catch (his first in the NFL). However, after going down untouched, he simply left the ball on the field, thinking the play was over. New England recovered. Then, fullback
Jacob Hester
let a backfield pass from
Philip Rivers
bounce, thinking the play was dead. New England picked it up and returned it deep into San Diego territory.
Speaking of playing dead, the San Diego special teams had its usual assortment of disasters, including a failed onside kick and long punt return allowed. San Diego saved the worst special-teams mistake for last.
After the Chargers scrambled back into the game by outscoring New England 17-3 in the fourth quarter, they had a chance to tie the score with a 45-yard field goal in the final seconds. But they committed a false start, forcing new kicker
Kris Brown
-- the replacement for the injured
Nate Kaeding
-- to attempt a 50-yarder. He hit the upright.
And so continued the Chargers' stunning self-destruction.
"I just don't think we gave ourselves a chance," San Diego coach Norv Turner said.
It's starting to look like the Chargers are wondering when they'll ever give themselves a chance to win a game.
[+] Enlarge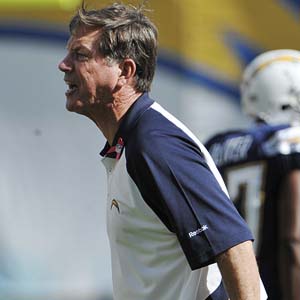 AP Photo/Denis PoroyCostly turnovers continue to be a problem for Norv Turner's Chargers.
The following are other key aspects of Sunday's game:
Falling behind in the AFC West:
The Chargers now have two teams to climb above in the AFC West if they want to win their fifth straight division championship.
While the Chargers are stumbling, the Chiefs continue to make strides. Kansas City, which has a very manageable remaining schedule, got back in the win column Sunday with a 22-point victory over the Jaguars. The Chargers also have to worry about catching Oakland. The Raiders had their best game in eight years, embarrassing the host Broncos 59-14. The Raiders, who beat San Diego two weeks ago, are 3-4.
"We know we dug a hole," Weddle said. "We have to find a way to get out of it."
Defense stars:
Teams that hold New England to 179 yards of offense and Brady to 159 yards passing usually win. The Chargers were terrific on defense.
The defense was playing in stressful situations because of the fumbles and special-teams mistakes. But make no mistake, Ron Rivera's crew played wining football Sunday. Brady was pressured all game. San Diego, which has 25 sacks, had four Sunday. Newcomer
Antwan Barnes
had two sacks and he is giving the team a pass-rushing burst at the position that soon-to-be former Charger
Shawne Merriman
once dominated from in San Diego.
Gates steps up:
San Diego tight end
Antonio Gates
deserved to leave the stadium a winner Sunday.
Gates didn't practice all week because of a toe injury. But with starting receivers
Malcom Floyd
and
Legedu Naanee
out with hamstring injuries, Gates willed himself onto the field.
Gates was clearly not himself. He was used mostly as a decoy in the first half when the Chargers were sputtering on offense. But he took over in the fourth quarter, when he had all four of his catches, including a touchdown.
Gates was limping noticeably in the locker room as he headed to the training room. This player is a superstar and his toughness can never be denied.
October, 12, 2010
10/12/10
9:40
PM ET
NFL.com is reporting that the
that the
St. Louis Rams
is not interested in San Diego holdout receiver
Vincent Jackson
when he becomes eligible to be traded Monday. Tuesday is the trade deadline.
The Rams had previously been interested in Jackson and there was speculation that perhaps St. Louis would have renewed interest after losing
Mark Clayton
for the season because of a knee injury. Minnesota, Jackson's most ardent pursuer, is likely out because it traded for
Randy Moss
. Seattle and Washington could emerge again as suitors, but with the high asking price and small time frame, the chances of Jackson being swapped is slim. Jackson is expected to stay away from the Chargers for the entire season.
San Diego added receiver Richard Goodman from
the practice squad.
Expect him to be added to the struggling coverage unit.
The Kansas City Star
has an interesting take on
Dwayne Bowe
, who once again betrayed the Chiefs' in a critical moment. I think Bowe better figure it out or he will be a former Chief in 2011.
September, 5, 2010
9/05/10
4:20
PM ET
The
San Diego Chargers
didn't waste any time in signing a veteran offensive tackle to give the team depth during Marcus McNeill's holdout.
San Diego inked massive tackle
Adam Terry
. He is 6-foot-8, 335 pounds. Terry was cut by Indianapolis on Friday. He was on the injured reserve last year and he spent his first five seasons with Baltimore. He has started 18 NFL games. He will likely be a backup as San Diego prepared to play without McNeill.
San Diego cut undrafted rookie tackle
Ryan Otterson
, one day after he made the 53-man roster. He could be a candidate for the practice squad. However, the Chargers now have a full eight-man practice squad. Here it is:
April, 26, 2010
4/26/10
3:25
PM ET
The Chargers signed 20 undrafted free agents: Here they are: