AFC West:

Richie Incognito
March, 24, 2014
Mar 24
4:00
PM ET
Richie Incognito
as a member of the
Oakland Raiders
is so, well,
last
regime. Or have you not noticed the trend and type of player general manager Reggie McKenzie has been signing thus far this offseason?
Incognito
They are guys not only with championship pedigrees but also locker room leaders. Guys like
Justin Tuck
and
LaMarr Woodley
and
James Jones
, and yes, the re-signed
Charles Woodson
.
Incognito exhibits none of those traits.
Sure, the left guard is a mauler on the offensive line who would have fit in nicely on the old-school Raiders' island of misfit toys (imagine him and Lyle Alzado going at it in practice), but McKenzie is veering away from those types of players.
Asked at the NFL owners meetings in Orlando on Monday if he had seen the NFL.com report in which Incognito said he was "100 percent into" the prospect of playing for the Raiders, McKenzie smiled.
"I've heard about it," McKenzie said, per the Bay Area News Group.
Asked what he thought about it, McKenzie smiled and said nothing.
Asked if he was interested in Incognito, McKenzie again smiled and was mute.
From a pure playing standpoint, Incognito does have relationships with Raiders offensive coordinator Greg Olson and assistant head coach/offensive line coach Tony Sparano.
"I'm a loyal guy," Incognito told NFL.com, "and I'd love to play for them again. And, of course, the Raiders have that aura."
But again, that aura is from a different generation. I'm not saying it's right or wrong, it just is.
Because the notion of Incognito -- who may still face league discipline for his role in the bullying episode in Miami involving
Jonathan Martin
-- joining the Raiders gave pause to even the progeny of Al Davis.
"I'd have to think about that," Mark Davis told reporters.
He'd probably be wise to check in with recently signed defensive end
Antonio Smith
, who has a longstanding feud with Incognito going back to their college days in the Big 12, a bad blood grudge that's included kicks to the head, helmets being ripped off and more-than-salty threats.
Yeah, Incognito would be a great fit for the old Raiders ... just not McKenzie's Raiders, who have already added offensive linemen
Donald Penn
,
Kevin Boothe
and
Austin Howard
, to go along with center
Stefen Wisniewski
, the re-signed
Khalif Barnes
, second-year tackle
Menelik Watson
, veteran right guard
Mike Brisiel
,
Matt McCants
,
Lamar Mady
and McKenzie's first-ever draft pick,
Tony Bergstrom
.
As one anonymous Raiders player told me last season when I asked which player, Incognito or Martin, he would rather have as a teammate, "Neither," was the reply.
March, 12, 2014
Mar 12
8:00
AM ET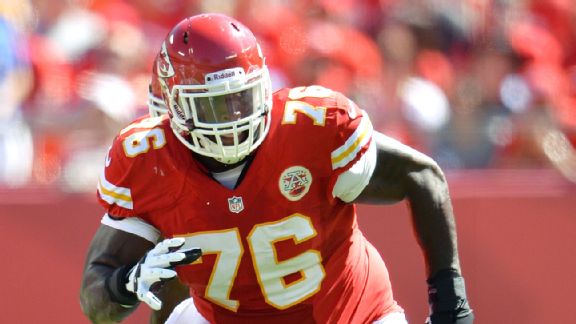 Peter G. Aiken/Getty ImagesThe Dolphins bolstered their O-line by agreeing to a five-year, $46 million deal with Brandon Albert.
NFL free agency kicked off with a bang Tuesday, and Pro Bowl left tackle
Branden Albert
was one of the biggest names to switch teams. Albert signed a five-year, $46 million contract with
Miami Dolphins
. He spent the previous five seasons with the
Kansas City Chiefs
.
One team's loss is another team's gain in free agency.
ESPN.com's Chiefs reporter
Adam Teicher and
Dolphins reporter
James Walker weigh in on both sides of the Albert signing.
James Walker:
Adam, the Dolphins are ecstatic to land a player of Albert's caliber. Pro Bowl left tackles do not grow on trees, and Albert was the highest-rated player at that position on the market. Albert also filled Miami's biggest need on the offensive line, which was torn apart last season with the bullying controversy. The price tag wasn't cheap. But the Dolphins feel it was worth the investment, especially after watching their quarterback get sacked a team-record 58 times last season. Albert will protect
Ryan Tannehill
's blindside. Adam, how are the Chiefs dealing with the loss of Albert?
Adam Teicher
: It's a loss for the Chiefs for the short term without a doubt. Eventually, the Chiefs should be able to handle his departure. The Chiefs and Albert were so far apart on a long-term contract last year that they knew it was never going to happen. So they began preparing for this day last year by selecting a tackle,
Eric Fisher
, with the first pick in the draft. Fisher started as a rookie at right tackle but didn't play well. He was a huge disappointment, but there's no reason to believe he won't eventually become the player the Chiefs envision. He needs a year in Kansas City's weight program. That alone should make him better.
The Chiefs and Dolphins talked about a trade involving Albert last year. How disappointed was Miami they couldn't acquire Albert then?
Walker:
The Dolphins liked Albert last year, but the person calling the shots this year is different. Miami fired former general manager Jeff Ireland and hired new GM Dennis Hickey in January. Ireland liked to acquire picks as opposed to trading them away. So it wasn't a shock when talks with Kansas City failed. It turned out to be a mistake as Miami's offensive line was atrocious, which played a factor in Ireland losing his job. Hickey doesn't want to make the same mistake. It appears he values the perks of a good offensive line and is making it a priority by putting money into Albert.
Adam, the Chiefs' offensive line appears to be in transition with losses of Albert,
Jon Asamoah
and
Geoff Schwartz
. How will they recover?
Teicher
: They've tried to prepare for this. Over the last four drafts, the Chiefs have used five picks in the first three rounds on offensive linemen. Four of them will start next season. They have three developmental linemen and the Chiefs could slide one of them into a starting spot in the middle of the line. Their depth will definitely take a hit, particularly at tackle. They'll have to find some backups and perhaps even a starter through free agency or the draft.
With regard to the offensive line, is anything left for the Dolphins to do or are they set?
Walker
: The Dolphins are far from set, Adam. Unlike Kansas City, Miami has not invested much in the offensive line in the past year. Pro Bowl center
Mike Pouncey
is the only starting offensive lineman expected to return. Last year's starting guards --
Richie Incognito
and
John Jerry
-- will not return due to their involvement in Miami's high-profile bullying scandal. Offensive tackles
Tyson Clabo
and
Bryant McKinnie
are both unrestricted free agents who are long in the tooth. Pouncey and Albert are a solid foundation. But the Dolphins still need two starting guards and a right tackle to play alongside their two Pro Bowlers.
November, 6, 2013
11/06/13
6:53
PM ET
ALAMEDA, Calif. -- With the
Richie Incognito
-
Jonathan Martin
hazing scandal swirling in Miami,
Oakland Raiders
quarterback
Terrelle Pryor
believes the responsibility for putting an end to such bullying rests with team leaders.
Specifically, with the starting quarterback.
"You need to make sure you have your foot stepped forward, and I'm not trying to put down or say that the Dolphins quarterback isn't doing that, I don't know that," Pryor said of
Ryan Tannehill
. "But in answering your question … I believe that the quarterback is very responsible for in-house and locker room things and deals and quieting situations down. I believe that people are going to listen to you if they respect you enough.
"I just think that we're professionals, and I definitely hope we'll see Martin playing again soon. I watched some film, he's a good player. My hat's off to him for standing up and being a man."
Pryor is a first-year starter for the Raiders after being selected out of Ohio State in the third round of the 2011 supplemental draft as the late Al Davis' last pick.
"You want to cut things off, you know?" Pryor said of stopping situations before they get out of hand.
Pryor referenced stopping teammates from drinking too much.
"Hey, maybe you should take a cab," he recalled advising a teammate.
"Something small like that, you just get so much respect from your teammate that you stopped and helped him … that definitely comes in a leadership role."
December, 9, 2011
12/09/11
5:15
PM ET
It's been an expensive season for
Richard Seymour
.
Seymour
The Oakland Raiders' Pro Bowl defensive lineman was
fined $30,000 by the NFL
for punching Miami offensive lineman
Richie Incognito
in the Dolphins' 34-14 win over Oakland on Sunday. Seymour was ejected for the offense. It is the third time in Seymour's three seasons in Oakland -- he was acquired in a trade with New England in September 2009 -- in which he was ejected from a game.
Seymour has now been fined, at least, $60,000 for offenses this season.
Last season, Seymour was fined $25,000 after being ejected for slapping and knocking down Pittsburgh quarterback
Ben Roethlisberger
. In 2009, he was fined $10,000 after he was ejected for an offense against Cleveland running back
Jerome Harrison
.
Seymour needs to be careful or his fines will continue to grow; he could eventually face a short suspension if the infractions continue. Seymour is a great player who is as aggressive as they come. He sets the tone for the Oakland defense, but he needs keep his emotions in check better. He can't help the Raiders if he keeps getting ejected from games.