March, 20, 2013
3/20/13
1:40
PM ET
Closure?
Probably not.
Some wounds never heal. The events of Jan. 19, 2002, in snowy Foxborough, Mass., fall under that category in the Raider Nation. It was the inspiration for the tuck rule.
On Wednesday, more than 11 years later and in the heat of the Arizona desert, the NFL voted to make the tuck rule go away. Yes, for the
Oakland Raiders
it is 11 years too late. The team even tweeted as much last week when the rule change was proposed.
We all know the gory details. Late in the 2001 AFC divisional playoffs, New England quarterback
Tom Brady
appeared to fumble. But it was ruled a pass. Had Oakland been awarded the fumble, it would have would have gone to the AFC title game. Instead, the Patriots came back and won the game.
The sting is still felt in Oakland.
Now it is over. But so what? It doesn't change history.
Meanwhile, I did find it interesting that New England owner Robert Kraft abstained from the vote.
His decision to abstain could be perceived to be a message to the Raiders. The late Al Davis was famous for abstaining from league votes. Had the legendary Davis still been alive, I'm sure he would have been the first owner in line to cast a ballot in this vote.
March, 18, 2013
3/18/13
6:20
PM ET
Elvis Dumervil
's new agent, Tom Condon, and the
Denver Broncos
lost an appeal to get the verbal agreement honored by the NFL. The agreement was turned in after the league's deadline on Friday.
It was considered a longshot, anyway because had the NFL honored the deal the rest of the league would have been upset.
The Denver Post reports
that the
Baltimore Ravens
are currently negotiating with Dumervil. The Broncos want Dumervil back and he wants to return, but there are salary issues.
The Denver Post reports the Broncos' first choice to replace Dumervil, 29, if he signs elsewhere will be former Atlanta pass-rusher
John Abraham
. He was productive last season, but he will turn 35 in May.
In other AFC West notes:
Cornerback
Terence Newman
tweeted he may make his decision on a team later in the week, choosing between the Bengals and Raiders.
The Baltimore Sun reports former Oakland safety
Michael Huff
, who was cut last week, is receiving interest from Baltimore, Green Bay, Dallas and Tennessee.
Dallas reportedly is talking to Jets guard
Matt Slauson
. He reportedly received interest from Oakland early in free agency.
Raiders linebacker
Nick Roach
got a four-year with $5 million in guaranteed money.
Patriots owner Robert Kraft said receiver
Wes Welker
signed with Denver for less than what New England offered him. Welker signed a two-year, $12 million deal with the Broncos.
The Boston Globe reports the Patriots have shown some interest in right tackle Eric Winston, who was cut by the Chiefs. Winston has also visited with the Chargers.
Former San Diego pass-rusher Antwan Barnes
has signed with the Jets
on a three-year contract.
October, 8, 2011
10/08/11
8:40
PM ET
Here are some more notes on the death of
Oakland Raiders
owner Al Davis, who died Saturday at age 82:
There will be a moment of silence
before every NFL game Sunday in Davis' honor. It should be an emotional scene in Houston, where the Raiders play the Texans.
Here is a string of emotional tweets
from Oakland players and others who are reacting to the loss of Davis.
The Oakland Tribune has a nice collection
of statements about Davis from around the NFL.
The Raiders made a personnel move
on the day Davis died. Linebacker
Ricky Brown
was put on injured reserve with a concussion. Fullback Manase Tonga was promoted from the practice squad. He could play Sunday with fullback
Marcel Reece
questionable thanks to an ankle injury.
Davis' death has
SportsNation remembering
what he did for the NFL, Raider Nation and some great AFC West rivalries. Read those memories and share yours.
Patriots owner Robert Kraft -- whose team was the last to play Davis' team -- issued this statement Saturday night:
"I was deeply saddened to learn of Al Davis' death this morning. Al was an American Football League pioneer and a legendary Hall of Fame contributor to the National Football League. He was one of the first owners to welcome me into the NFL in 1994, which was a great thrill for me personally and an introduction that I will never forget. I always admired his passion for the game and enjoyed listening to his historical account of some of the game's most memorable moments. He had a unique style and a certain aura about him that would be hard to ever replicate. When engaged in any discussion, he always spoke with great conviction and could be very persuasive.

"We shared a bond as two Massachusetts natives in the NFL, something that he pointed out to me in that initial introduction. I feel fortunate to have spent time with him just last Sunday before our game against the Raiders. Not knowing when I would see him again, I told him how much I appreciated all he had done for the game of football and thanked him for all that he had done for me. He informed me of the Raiders' plans to honor my sweetheart with a moment of silence before our game, which was a touching and heartfelt gesture. Little did I know that just one week later, we would be doing the same in his honor. It's very sad.

"On behalf of the entire Kraft family, I want to extend our heartfelt condolences to the Davis family, the Oakland Raiders organization and all of the Raiders fans who are mourning his loss. His presence will be missed, but his legacy will live forever."
July, 22, 2011
7/22/11
8:25
PM ET
Oakland defensive lineman
Richard Seymour
attended the funeral of Myra Kraft, the wife of New England owner Robert Kraft, Friday. Seymour was traded to Oakland from New England nearly two years ago. Seymour has expressed displeasure with the way the Patriots, in particular coach Bill Belichick, handled his departure. It was a classy move by Seymour to attend the funeral. Myra Kraft died of cancer. She was a favorite of many Patriots' players and their families.
In other AFC West news:
The Denver Post has new details
in the case against Denver cornerback
Perrish Cox
. His trial is set for October. He could face a maximum of life in prison if convicted of rape. He is free on bail and he is still part of the Broncos.
The Broncos released this statement regarding the Cox case:
"The allegations involving Perrish Cox are extremely serious and troubling to our organization. We will continue to monitor this situation very closely."
The Oakland Tribune looks at the challenges the Raiders will have re-signing free-agent tight end Zach Miller. I expect Miller to be back. The Raiders love him and they usually take care of their own. Losing Miller would be crushing and the Raiders know it.
The Broncos hired former Buffalo player Jerry Butler as the team's director of player development.
July, 2, 2010
7/02/10
10:00
AM ET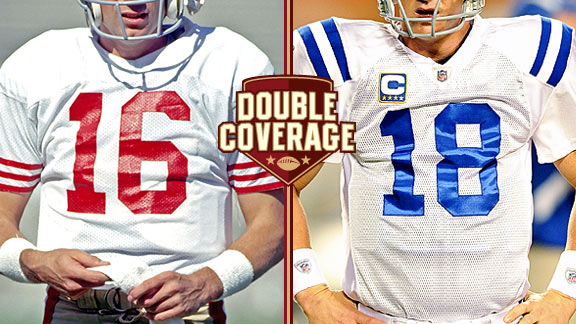 US PresswireLongstanding records would likely fall if the NFL moved to an 18-game regular season. But does that matter in the long run?
Who's up for more football?
The NFL would like to expand the regular season to 18 games and eliminate two preseason games by 2012. Seems like a no-brainer.
But at such a politically charged time, the NFL Players Association isn't willing to concede anything. There are reasons against lengthening the regular season. Injuries are prominent in the discussion, and players would like to be paid for playing additional games.
If the NFL wants an "enhanced season," as it's calling the proposal, then the players would like "enhanced compensation."
Beyond that, however, there are many reasons to debate the idea. That's why ESPN.com's Tim Graham and Bill Williamson are squaring off over it.
Tim Graham:
Let's waste no time here, Bill, and get to a fundamental aspect about the proposed expanded season. We can deliberate on injuries and tradition and whether the NFL needs to increase revenues -- and we will. But the root of the 18-game concept is that fans want more meaningful action and less preseason silliness. Season-ticket holders must pay full price to watch undrafted rookies and retreads with no shot of making the roster run around in exhibitions. Those games are irrelevant. What matters is the enthusiasm NFL fans have for getting the season started as early as possible. Take a look at the message boards and listen to the talk shows. They're frothing in anticipation of the upcoming season. More and sooner is better.
Bill Williamson:
OK, slick, let's get this right: We're supposed to see the greatest sport of mankind completely change its world because fans shouldn't have to pay for parking during the preseason? I totally agree the preseason is a waste of time after the first two games. But cutting back the preseason to add two games to the regular season -- risking further injury and mucking up the tradition of the game -- just doesn't make any sense. Cut the preseason to two games, keep the 16-game regular-season slate and be done with it. That's a win-win to me.
TG:
You know darn well lopping off two preseason games won't cut it with the owners, especially guys like Jerry Jones and Robert Kraft and Woody Johnson. Those games are moneymakers for the individual teams because they can sell local broadcast rights and advertising without having to share with the
Buffalo Bills
and
Jacksonville Jaguars
. That kind of cash grab can't evaporate without a trade-off. Two more regular-season games increase revenue streams for all 32 teams. As for your contention it would completely change the greatest sport of all time, I disagree. The fact the game is so remarkable is why we should be able to watch more of it.
BW:
Tim, you hit on two points that are going to be the reasons we ultimately end up seeing an 18-game regular season: revenue and fan base. Roger Goodell is a fine commissioner. He is a visionary. He is going to capitalize on the country's absolute rabid desire for the NFL. Fans will jump at the chance to see an 18-game regular-season slate (two more weeks of beer and chicken wings is admittedly appealing), and the owners will bathe in more money. But that doesn't make it right. Sometimes, enough is enough, and Goodell is going to be messing with a good thing. The players are the product, and they are going to suffer because of this. Then, in turn, the game is going to suffer. Who wins there?
[+] Enlarge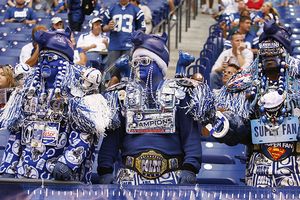 Brian Spurlock/US PresswireSundays during the regular season have become an event for NFL fans.
TG:
You just mentioned chicken wings and beer. I can think of two winners already.
BW:
Tim, I think we can both agree the toughest task for any NFL team to navigate a 16-game season is staying healthy. Nothing ruins a Super Bowl dream like a couple ripped-up knees. Going to an 18-game season will only increase season-ending injuries. Look, it's a month before training camp starts and there already have been several players lost for the season, including
Willie Colon
,
Limas Sweed
and
Thomas Davis
. It's a nasty game. Why make these guys risk further injury and further dampen their teams' Super Bowl hopes by playing two more games in the regular season?
TG:
I agree additional games will escalate the likelihood a given player gets seriously hurt. But some injuries are going to happen no matter what.
New England Patriots
receiver
Wes Welker
, for example, crumpled to the Reliant Stadium turf while making a cut in the regular-season finale. He wasn't touched. Who's to say he wouldn't have suffered the same injury the following Wednesday at practice?
BW:
Right, injuries happen all the time. That's my point. Why increase the season by 14 days and give players 14 more chances to get hurt in a game or in a practice? In an 18-game world, a team would have to play a minimum of 21 games to win a Super Bowl. It's currently 19 games. It may be only two more games, but that is a big difference down the stretch. It would be physically and mentally draining for players to wake up Dec. 1 and realize they have two extra games to play to reach their ultimate goal.
TG:
Wake up on Dec. 1 and then realize they have two extra games? Will the expanded schedule make comas more prevalent? The players, coaches and training staffs will prepare their players for the extra games from the start of the offseason conditioning program. Maybe, for once, organized team activities will become truly voluntary. Subtract some of those workouts. But there are possible in-season remedies too. I understand players will get beaten up with the accumulation of hits and strains. So return to a two-bye schedule, increase the roster size or do away with game-day inactives to give a team more players to use. The NFL also is talking about another developmental league to replace NFL Europa. That would help improve the quality of substitute players.
[+] Enlarge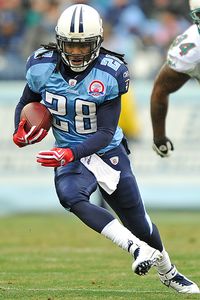 Don McPeak/US PresswireChris Johnson eclipsed 2,000 yards in 16 games. What would his target be in 18 contests?
BW:
The 16-game slate has been in play for 32 years, and it's working great. Every Sunday in the NFL is an event. Even in Detroit and Oakland, where the losses have been suffocating, game day is a cherished occasion. That's because there are only 16 game days a year. An NFL Sunday is a rarity. I love baseball. But if I miss my San Francisco Giants (who are killing me these days, by the way) on a busy Tuesday night, I know I'll have Wednesday to catch them. That's not the case with the NFL. Sundays in the fall are must-see NFL days. It also makes the season more urgent for the participants. "Don't mess up one of these 16 chances" is often the message from NFL coaching staffs to players. Increasing the number of games would take away from the game. What's next? Twenty games? Twenty-four games? Stop the madness. The football season is compact and intense. Why change it?
TG:
NFL games are events not because of how many there are, but because your team plays once per week. Fans revel in or grouse about the last game from the final whistle until about Wednesday morning, when they start looking forward to the upcoming opponent. The tension rises steadily as they talk trash about what's going to happen, they set their fantasy lineups, they maybe wager a few bucks, they attend a tailgate party and then settle into their seats for the opening kickoff. It's an unfailing routine. That's why fans go through a hangover the moment the season is over, and why they can't wait for the next season to commence. NFL games would remain an event if we had a 52-game schedule.
BW:
Let's not underplay the value of records. There are some stirring records out there that will be broken by the virtue of two extra games. That's not cool. Let baseball corner the market on asterisks. Why should the NFL have to play that game? It's just one more reason why moving to an 18-game slate would damage the integrity of the game. It's just not worth it. My message to Roger Goodell is this: Be happy with what you got. It's perfect.
TG:
Records, schmecords. NFL milestones stood up when the schedule was lengthened to 16 games in 1978. Running backs still target 1,000-yard seasons, but they stopped being special a long time ago. Last year,
Fred Jackson
hit quadruple digits. He'll be called a 1,000-yard rusher for the rest of his life.
Chris Johnson
rushed for 2,000 yards, and he was lumped in with O.J. Simpson, who did it in 14 games. Besides, records don't mean nearly as much as they used to because the game itself has changed. Steve Largent retired as the NFL's all-time leading receiver in 1989.
Derrick Mason
and
Larry Centers
, a fullback, have more catches, for crying out loud. Eighteen games. Bring it on.
April, 10, 2009
4/10/09
12:43
PM ET
| | |
| --- | --- |
| | |
| | Ron Chenoy/US PRESSWIRE; Denny Medley/US PRESSWIRE |
| | Broncos coach Josh McDaniels, left, and Chiefs GM Scott Pioli are tapping into their New England roots in their new positions. |
Posted by ESPN.com's Bill Williamson
A fifth franchise has entered the mix in the AFC West. Welcome the New England Patriots to what was arguably the NFL's weakest division in 2008.
The Patriots are moving out West -- in theory, anyway.
The organization's influence was a huge theme in the massive change in the AFC West this offseason. It is most often referred to as the Patriots' Way. Get used to it. You'll hear it a lot if you follow this division.
While Oakland stayed in-house to fill its head coaching opening, the Denver Broncos and Kansas City Chiefs looked outside to reconstruct their respective franchises. Both Denver owner Pat Bowlen and Kansas City owner Clark Hunt looked East for their blueprint.
After his shocking firing of head coach Mike Shanahan after a 14-season run, Bowlen hired New England offensive coordinator Josh McDaniels as his coach. In Kansas City, Hunt ended a month-long general manager search by hiring Scott Pioli as general manager after nearly 20 years of the Carl Peterson era. Pioli, who was New England's top executive, had worked closely with Patriots coach Bill Belichick and was lauded for his acquisitions and approach as the head of the New England front office.
What is the Patriots' Way? It is a combination of spread-it-out football on offense and an aggressive 3-4 scheme on defense. It also extends off the field, where players are employees who must fit into a very tight, strict business plan. At the top of the food chain is a tight, inner circle that gives instructions and expects results, no questions asked.
"It's about making football important," new Chief and former New England linebacker Mike Vrabel explained to reporters in Kansas City shortly after arriving as one of the team's big-ticket pickups early in the offseason. "It's about being prepared, about being accountable and consistent. To be consistent, at least your teammates and coaches know what to expect every week and it's not something that's great one week and kind of [lousy] the next."
The brass of the San Diego Chargers, the only AFC West team to stand pat in its leadership structure this offseason, is prepared for the influx of the Patriots' Way.
"Obviously, the system that Denver is going to run will be very much like what New England did on offense," San Diego coach Norv Turner said. "I think there's some of that influence anyway. [New Chiefs coach Todd] Haley's background is similar to the New England background. He comes from the [Bill] Parcells school, that whole deal."
Added San Diego general manager A.J. Smith: "I have long admired the New England way of doing things. They do things the right way on the field and in the business structure. The New England structure is being implemented in this division, and I believe both Denver and Kansas City will be better for it."
With both Pioli and McDaniels on their own, it is clear the two are sticking to their New England roots in the first stages of their new jobs. There's Patriots DNA all over these two franchises.
What do you expect?
January, 13, 2009
1/13/09
6:07
PM ET
Posted by ESPN.com's Bill Williamson
The Chiefs just announced the hiring of Scott Pioli as general manager in a release.
The Patriots also just released statements on the Chiefs' hire of the New England executive:
Statement from Patriots owner Robert Kraft
Scott Pioli was an integral part of the many championships the New England Patriots have celebrated this decade and I would like to thank him for his countless contributions throughout the past nine seasons. Scott is a great evaluator of talent. He is thorough in his evaluations, extremely organized and has done a tremendous job mining all possible resources to help Coach Belichick and his staff field the players needed to win consistently. He has played an important role in building a championship tradition with players that I am proud to call Patriots. On behalf of the entire Patriots organization, I wish Scott continued success in his new role and offer best wishes to his wonderful wife Dallas, and their beautiful daughter Mia. I think Clark Hunt and the Kansas City Chiefs have made a very wise hire.
Statement from Bill Belichick
To sum up in words everything Scott Pioli has meant to this organization and to me personally would be difficult, if not impossible. From the day I met him, he has demonstrated a passion for football and respect for the game that is second to none. It has been extremely gratifying for me to follow Scott's career ascension from the bottom of the totem pole in Cleveland to his place as a pillar of championship teams in New England. Now with the opportunity to steer his own ship and a vision of building a winner, there is no more capable, hardworking, loyal, team-oriented person than Scott Pioli.

On a personal level, the Belichick-Pioli bond runs far deeper than our workplace, as we and our families have shared countless memories away from football. Working side by side with one of my best friends for almost two decades is special enough in itself. But to help each other achieve success beyond our dreams is a blessing and something I will always remember and appreciate.