November, 8, 2013
11/08/13
10:00
AM ET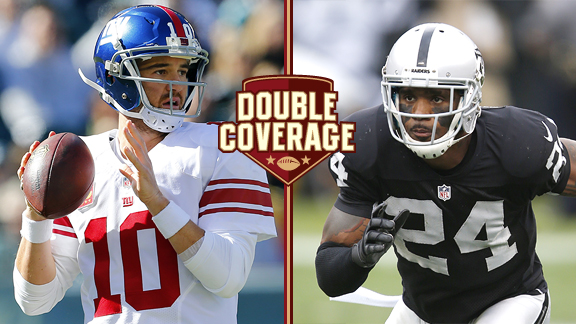 Getty ImagesEli Manning's Giants aim to maintain their momentum when Charles Woodson and the Raiders visit.
It will be a battle of teams looking to climb out of the cellar of their respective divisions as the 2-6
New York Giants
host the 3-5
Oakland Raiders
at 1 p.m. ET Sunday at MetLife Stadium in East Rutherford, N.J. The Giants have won two games in a row after an 0-6 start and are coming off their bye week. The Raiders just suffered their most embarrassing loss of the season, 49-20 at home to the
Philadelphia Eagles
.
Which last-place team will get the win Sunday at the site of Super Bowl XLVIII? ESPN.com Raiders reporter Paul Gutierrez and Giants reporter Dan Graziano break it down for you.
Dan Graziano:
Paul, I was a little surprised by how poorly the Raiders played Sunday. I knew they were a sub-.500 team, but I didn't think they were a terrible one. What was up with that defensive effort against
Nick Foles
and the Eagles?
Paul Gutierrez:
Dan, you're not the only one who was surprised by what the Raiders in general, and the defense in particular, put on the field against the Eagles. Everyone from coach Dennis Allen to veteran safety
Charles Woodson
wondered out loud if the defense got caught reading its clips from the week before. After all, the Raiders' D was playing lights out and was the team's strength, entering the game with the No. 10-ranked defense, despite 10 new starters.
Like boxing, styles make fights, and the Eagles' high-octane offense worked to near-perfection and dropped Oakland early and often. The Raiders were a step behind all game long, especially top draft pick
D.J. Hayden
, who was given the Elvis "Toast" Patterson treatment (I'm sure that name will elicit varied responses from Giants fans) by
Riley Cooper
and
DeSean Jackson
and gave up three completions to the two for a combined 139 yards and two touchdowns. In short, it was a complete meltdown by the entire defense, which had been feeling itself a little too much.
The Giants, though, seem to be heading in the opposite direction after that ghastly start. Do you get the sense they have righted the ship, or is it fool's gold after beating the hapless Vikings and then-hopeless Eagles?
Graziano:
It's unquestionably fool's gold. They beat the Vikings when Minnesota foolishly and inexplicably started an unprepared
Josh Freeman
at quarterback and beat the Eagles when they started a clearly injured
Michael Vick
and had to replace him with unprepared
Matt Barkley
. And it's not as though they looked especially good in either win.
Eli Manning
hit clumsy Minnesota defenders in the hands three times in that Monday night game and somehow still didn't get intercepted, and the Giants didn't score a touchdown in that 15-7 victory over the Eagles. They are a bad team with major problems at almost every position, and the fact that they've won two in a row after starting 0-6 doesn't make that go away.
That said, it's possible they'll get a gimpy
Terrelle Pryor
this week, right? (And maybe an
Aaron Rodgers
backup next week.) Pryor left against the Eagles with a knee injury. Do you expect that he'll play, and assuming he does, what kind of special problems does he present for a Giants defense that has been getting fat on the likes of Freeman and Barkley?
Gutierrez:
Pryor said after the game that his knee was fine, that treatment and ice and the like were all "precautionary," that his knee was not "wobbly" or anything like that. The Raiders were going to take him out of the game for those last two series of a blowout anyway. While Pryor did not speak at the facility Monday, he was walking around the locker room and was not wearing a brace. He should be ready to go.
Then again, if there is even the slightest hitch in his giddyup, that could spell trouble since his running game is his strength. The problems he presents defenses are not unique for a team like the Giants, who already face the read-option from Washington's
Robert Griffin III
(when healthy). But Pryor's combination of size and speed is what makes him unique, or did you miss his 93-yard touchdown run against the Pittsburgh Steelers in which he looked like he was coasting but actually was pulling away from defenders? Earlier in the year, the Raiders' coaches wanted him to run more to take advantage of his strength. Now, Allen said Pryor has to trust the process more, from the protection to his reads. This should be interesting to see how Pryor soaks it all in.
Then again, it will be interesting to see how the Giants' defense responds to Pryor. The Steelers and Eagles had some success in keeping him under wraps by putting a spy on him, challenging him to beat them with his arm. Would the Giants employ such a tactic and who would that spy be, or would they rather play him straight up?
Graziano:
It's a good question, though they don't seem interested in giving away the answer just yet. In the past year, they have played guys like Vick and RG III without a spy and have paid the price. Vick ran for 79 yards against them in the first half in Week 5 before pulling his hamstring.
If they do change it up and decide to spy Pryor, the most likely candidate would be linebacker
Jacquian Williams
, who has good sideline-to-sideline speed. They tend to like to use him to cover tough tight ends, but it's possible that the Raiders' receiving options will allow them to get everyone covered with their nickel-safety or nickel-corner package with Week 8 NFC Defensive Player of the Week
Terrell Thomas
covering the slot. That might free up Williams to spy Pryor, which I think would be a good idea. But the Giants can get stubborn at times, and it's possible they'll decide to play him straight up. I would like his chances of picking up yards on the ground on the outside if they did.
Manning hasn't thrown an interception in his past two games, but he still leads the league with those 15 he threw in the first six weeks. The Giants have been vulnerable to A-gap pressure due to the fact that they're using backups at center and right guard, and as a result, Manning has been uncomfortable in the pocket all season. The lack of a run game has hurt his play-action passing game too. Are the Raiders going to be able to pressure him better than they did Foles? Or will Eli have an easy day?
Gutierrez:
Using the past-is-prologue approach and sprinkling in the notion that hindsight is always 20/20, the Raiders simply have to put pressure on Manning. Allen acknowledged the Raiders did not bring enough pressure to disrupt Foles, and when they did, he simply rolled out and found a target downfield. The Raiders seemed to have learned their lesson, but we'll see. Against the Eagles, they went away from being their normal, blitz-happy selves by rushing just three at times and sitting back in coverage. Foles ate them up. And Foles is no Manning. (You can't spell "elite" without "Eli," right?)
I would expect defensive coordinator Jason Tarver to dial up the blitzes again and send anyone at any time -- unless the Giants start running a no-huddle, hurry-up offense to rattle the Raiders. Keep an eye on right defensive end
Lamarr Houston
, who leads the Raiders with four sacks but was slowed by a right hamstring issue against the Eagles. In fact, 11.5 of Oakland's 23 sacks have come from their front four.
The Raiders -- Hayden in particular -- had problems in coverage against the Eagles. Whom would the Giants deploy to take advantage of Hayden, who usually plays on the outside in nickel packages? Might the Giants put the physically imposing
Hakeem Nicks
out there?
Graziano:
Yeah, Nicks plays on the outside with
Victor Cruz
in the slot and
Rueben Randle
on the other side when they go three-wide. But Nicks hasn't been himself. He's still capable of outfighting defenders for the ball and could be a tough matchup for Hayden, but he doesn't seem able to separate anymore and has had uncharacteristic issues with drops. He won't admit it, but he's playing like a guy in his walk year whose long-term future is on his mind. It's been one of many problems the Giants didn't anticipate, and if he has a big game against the Raiders, it'll be his first. He still doesn't have a touchdown this season.
Anyway, nice chatting with you, Paul. Travel safely, and I look forward to seeing you at the game Sunday.
September, 13, 2013
9/13/13
7:00
AM ET
ENGLEWOOD, Colo. – It can be tough to follow such a high-end opening act, but that is the
Denver Broncos
' task this week as they make their first road trip since an Aug. 17 preseason game in Seattle.
"And our last outing wasn't too positive,'' said Broncos coach John Fox about that 40-10 loss to the Seahawks. "I think we've got a little bit to learn from that.''
By the time Broncos jog onto the field Sunday at MetLife Stadium in East Rutherford, N.J., it will have also been 10 days since
Peyton Manning
carved out another slice of football history -- and carved up the
Baltimore Ravens
' secondary -- with seven touchdown passes in a 49-27 opening victory. So, in that light, here are some things to consider about the third, and perhaps last, time Peyton will face his brother
Eli
's team:
What comes after seven? Manning tied an NFL record with his seven passing TDs against the Ravens and became the first player to reach that mark in a game since 1969. Tough to top that. The Broncos would like to run the ball a few more times -- and a lot better -- against the Giants than they did against the Ravens, but Manning will still put the ball in the air plenty. The Giants have some uncertainty at cornerback -- Prince Amukamara suffered a concussion in the opener against the Cowboys -- and their linebackers struggled in coverage against Dallas. That's a recipe for Manning to push the ball up the sidelines at times, especially out of play-action, and work the middle of the field with tight end Julius Thomas or Wes Welker. Running back Knowshon Moreno, who has the running back of choice in the three-wide-receiver set, figures to be busy in the passing game as well -- Cowboys quarterback Tony Romo completed 18 passes to his backs and tight ends, who consistently found room in the short to intermediate zones.
[+] Enlarge

AP Photo/Paul JasienskiDenver center Manny Ramirez could get a stiff test from the Giants' interior defensive line.

Four of a kind. The Giants have always believed in the benefits of a four-man rush to bring pressure on opposing quarterbacks -- "That's been true going all the way back to when I was coaching there,'' Fox said. That allows the defense to use seven players in coverage in these pass-happy times -- and it's especially true for a Giants team with some uncertainly in its defensive back seven and that likely needs to play it a little more conservatively. Against the Cowboys, with end Jason Pierre-Paul still working his way back from offseason back surgery (he played 50 snaps in Dallas), the Giants did most of the consistent damage when they won on the inside. Defensive tackles Linval Joseph and Cullen Jenkins, a combined 628 pounds, repeated pounded away at Cowboys rookie center Travis Frederick. The two also made life difficult for right guard Mackenzy Bernadeau, so much so many in the league believe recent signee Brian Waters will be manning the position the next time the Cowboys play. The Broncos struggled at times against the Ravens' defensive front, particularly in the run game on the interior. The Giants figure to test left guard Zane Beadles and center Manny Ramirez plenty.
Short and not so sweet. The danger in all of the up-tempo frenzy going on in the league -- and the biggest reason the jury remains out on all of it -- is what it does to a defense when the team's offense doesn't get a first down when running at warp speed. The Broncos had a 48-second three-and-out possession in the second quarter against the Ravens, to go with a 59-second possession in the fourth quarter. "We have to avoid that,'' said offensive coordinator Adam Gase. "When we go to our up-tempo stuff, we have to make sure that we're staying on the field and put the (opposing) defense in a bad defense.''
Three-pack. What the Giants could do with Victor Cruz and Hakeem Nicks at wide receiver was already a significant challenge for opposing defenses. And if Rueben Randle can consistently be that third option -- all three topped 100 yards receiving against the Cowboys -- it spreads things out even a little more. The alignment to watch was one that was repeatedly effective against the Cowboys, with Nicks and Cruz lined up to the offensive right and Randle as the lone receiver to the left. The Giants consistently got all three into open space with that set. It will be a significant challenge for the Broncos' defensive backs. "Real good third option," said Denver defensive coordinator Jack Del Rio said of Randle. "I described him to our guys, he's like a No. 2 in the league, I think he's a legitimate starting-caliber wide receiver (who) happens to be the third guy in their rotation."
Be in a rush. In of the rose petals tossed at the Broncos' feet after what was a high-quality victory over Baltimore, it was easy to lose sight of the fact that Denver did not have a sack, or hadn't really even stressed Joe Flacco all that much in the pocket, until right tackle Michael Oher suffered a severely sprained right knee on a 1-yard touchdown run by Ray Rice with 8 minutes, 3 seconds to play in the second quarter. All four of the Broncos' sacks, including the 2.5 for defensive end Shaun Phillips, came after the Ravens had to slide protections at times with Oher out. The Giants have had their own struggles in the offensive front, but the Broncos have to find a way to get some heat on Eli Manning -- or Manning will find the soft spots in coverage.
Adapt or punt. You don't spend $12 million of Pat Bowlen's dollars on Welker if you don't want to go with three wide receivers on offense most of the time. But the Broncos struggled mightily early against Baltimore until they went to a two-tight-end look for five plays. They found their flow, played a little bigger for a few snaps ... and away they went. They have been more efficient at times over the past two seasons out of the two-tight-end look, especially early in games. The Broncos had eight plays among the first 20 that went for one yard or fewer or were an incompletion. The first 20 snaps, including penalties, resulted in three punts. The Broncos didn't score the first touchdown until they went to two tight ends, then got back in the three-wide set on their fifth possession of the game. They scored a touchdown on a one-play drive, in three-wide, to close out their fourth possession after they got the ball on the Ravens' 24-yard line, thanks to a Chris Harris interception.
September, 9, 2013
9/09/13
5:53
PM ET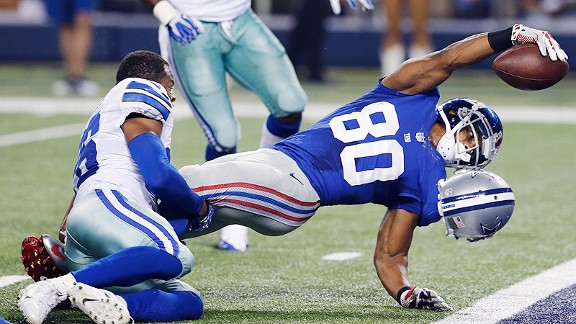 AP Photo/LM OteroThe Broncos will likely deploy more defensive backs when taking on the Giants and Victor Cruz.
ENGLEWOOD, Colo. -- Fresh off the feel-good season opener the
Denver Broncos
' secondary will get an entirely different kind of test Sunday against the
New York Giants
.
Baltimore Ravens
quarterback
Joe Flacco
had limited options on the outside -- once
Jacoby Jones
left with a knee injury on a second-quarter punt return.
Brandon Stokley
is 37 years old and was signed after training camp opened;
Dallas Clark
is 34, has struggled with injuries in recent seasons and was signed after training camp open;
Marlon Brown
is a rookie; and
Ed Dickson
struggled mightily in a receiving role last Thursday night. So, despite not having either
Champ Bailey
(left foot injury) or
Von Miller
(suspension) in the lineup, the Broncos did not surrender a pass play longer than 34 yards in the game.
The Giants, however, present a different set of troubles. In their turnover-marred loss in Dallas, New York still had three wide receivers finish with at least 100 yards in the game --
Victor Cruz
with 118 yards on five catches,
Hakeem Nicks
with 115 yards on five catches and
Rueben Randle
with 101 yards on, yes, five catches. Cruz finished with three touchdowns in the game.
"Their receivers are dynamic,'' said Broncos safety
Rahim Moore
. " … They have so many targets.''
"Honestly, Cruz is getting the bulk of the attention, but they have weapons all over the place,'' said safety
Duke Ihenacho
.
The challenge will be how the Broncos matchup with the size the Giants have on the outside, especially if Bailey isn't ready to return to the lineup this week. Randle is 6-foot-2, Nicks is 6-foot-1 and Cruz comes in at 6-0. The Broncos can counter with 6-2
Dominique Rodgers-Cromartie
and the 6-0 Bailey, if the 12-time Pro Bowl selection is ready to return to the lineup.
Cornerback
Chris Harris
, an aggressive player who consistently fends off the challenges, is 5-foot-10 and cornerback
Tony Carter
, who has routinely come in when the Broncos go to the nickel in games Bailey doesn't play and the dime when Bailey is in the lineup, is 5-foot-9 and 175 pounds. When Carter plays in the nickel, he lines up in one of the outside positions and Harris goes inside to the slot.
Flacco sought Carter out in coverage on several occasions in last January's playoff win as well as last Thursday night. This is especially true if Carter allows the receiver to get a free release off the line of scrimmage, and
Eli Manning
would likely do the same.
The Broncos will also use rookie cornerback
Kayvon Webster
at times in some of their specialty looks and if they get into some of the longer down-and-distance situations, defensive coordinator Jack Del Rio will use a seven defensive back package. The Broncos used it for two snaps against the Ravens, but figure to use it more against the Giants' attack.
Giants coach Tom Coughlin's peers in the league have long considered him one of the more aggressive coaches in the NFL, whether it be during his tenure in Jacksonville or now with the Giants. He signs players who once worked for an upcoming opponent in the days before his team plays that opponent. And if things go well for former Broncos running back Willis McGahee Tuesday, he could join the list. Per ESPN NFL Insider Adam Schefter, McGahee will be one of three backs -- Brandon Jacobs and Joe McKnight are the others, who will work out for the Giants Tuesday. The Broncos released McGahee in June after McGahee had skipped the majority of the team's offseason workouts. The running back cited "family reasons.'' McGahee will turn 32 next month and hasn't played in a game since tearing an MCL on Nov. 18 against the Chargers on a hit from now-Broncos cornerback Quentin Jammer. McGahee had two years left on his deal when the Broncos let him go with a scheduled $2.5 million base salary this season and $2 million base salary in 2014. But with the Broncos having used a third-round pick on Ronnie Hillman in the 2012 draft to go with the second-round pick they used on Montee Ball in April's draft, the combination of McGahee's injury and contract pushed the Broncos toward the young guys at the position. So much so, the Broncos were willing to take a $1 million dead money hit against the salary cap to release McGahee. The Broncos had some concern about McGahee's ability to stay healthy over the long term and after he took part in the team's mandatory minicamp in mid-June, they released him. The Giants benched running back David Wilson Sunday after two fumbles and some bobbles in pass protection.

Wide receiver/kick return Trindon Holliday (left lower leg), cornerback Omar Bolden (left shoulder) and linebacker Wesley Woodyard (right ankle) were not on the field for the Broncos' workout Monday. The practice was essentially an extra opportunity for some on-field work for the Broncos -- what coach John Fox calls "a Broncos on Broncos practice.'' Wide receiver Eric Decker, who suffered a right shoulder injury in last Thursday's game, did participate in the practice. Bailey (left foot) did not take part. Tight end Joel Dreessen, who had two arthroscopic surgeries on his left knee since May, is closing in on returning to practice on at least a limited basis. Dreessen worked with strength and conditioning coach Luke Richesson. Rookie running back C.J. Anderson also did drills alongside Dreessen, work that included some short sprints.

The final Manning tally for the season's opening week: 912 passing yards -- both finished 27-of-42 passing in their respective games -- and 11 touchdowns. Peyton Manning was 27-of-42 for 462 yards with seven touchdowns without an interception in the Broncos' 49-27 victory over the Ravens on Thursday night. Eli Manning was 27-of-42 for 450 yards with four touchdowns and three interceptions in the Giants' loss to Dallas Sunday. The two brothers will face each other Sunday at MetLife Stadium -- it's the third time they have played each other in the NFL.
April, 27, 2012
4/27/12
12:00
PM ET
The
Kansas City Chiefs
and the
San Diego Chargers
both addressed their greatest needs in the first round of the NFL draft Thursday.
The Chiefs took Memphis nose tackle
Dontari Poe
at No. 11 and San Diego grabbed South Carolina pass-rusher
Melvin Ingram
at No. 18.
Let's take a look at what direction both teams could go in Friday's second round as a result of their work in the first:

Kansas City, No. 44:
The Chiefs are looking for the best players available, because they don't have many glaring needs. I think could consider a quarterback such as Michigan State's
Kirk Cousins
or even Arizona State's
Brock Osweiler
. We could see them take a look at Midwestern State guard
Amini Silatolu
, Wisconsin guard/center
Peter Konz
or perhaps a receiver if a top talent like Georgia Tech's
Stephen Hill
, LSU's
Rueben Randle
or South Carolina's
Alshon Jeffery
falls to them at that spot.

San Diego, No. 49:
I think we can see the Chargers taking a running back such as Oregon's
LaMichael James
or Miami's
Lamar Miller
. Other possibilities include LSU safety
Brandon Taylor
and Mississippi offensive lineman
Bobby Massie
.
April, 27, 2012
4/27/12
1:16
AM ET
After reading the transcript from John Elway's press briefing Thursday night, it is clear to see why the Broncos traded down twice and eventually out of the first round.
They didn't think anybody was worthy of a first-round pick where they were picking and they wanted to add picks. Denver now has the No. 36 pick in the second round and added No. 101, in the fourth round. Denver has two picks in the second round, one in the third round and three in the fourth round. I would be surprised if the Broncos don't try to add another third-round pick and get four picks on Friday.
I think Denver decided to trade down once defensive tackles
Dontari Poe
,
Fletcher Cox
and
Michael Brockers
were off the board by the 14th pick. Denver originally had the No. 25 pick, then traded to No. 31 before going to No. 36.
"Everyone else saw the talent that we saw too," said Elway, Denver's top decision-maker. "When those guys started going like that, they went in a hurry. We thought we were going to have to get a little bit lucky for them to fall to us anyways. They're good football players and when they didn't get to us that gave us the opportunity to start moving back a little bit."
Elway made it clear that the Broncos would rather stockpile picks than make a reach, thus the trades with the Patriots and the Buccaneers.
"When we looked at where we were, obviously we had some guys targeted that didn't quite make it to us in 25, so we had some opportunities to move back with New England to pick up a fourth. We liked that, thought that was great," Elway said. "Then, when we had a chance to move back from 31 to 36 with Tampa again, our board looked the same. We thought we'd be able to get the same people at 36 that we could at 31 -- or have the same pool of players there at 36 as we did at 31. By doing that we moved up 25 spots to the top of the fourth, which we really believe this is a deep draft. It's not real thick at the top, but it's pretty deep through the middle rounds. We thought by adding another good pick it gives us more options going into tomorrow. Plus, we'll still be able to get the same people that we had targeted that made it to us at 25 at 36. We're excited about the day. Obviously it's a little bit of a downer when you don't have a new player. But, we're excited about where we sit and the next two days are going to be exciting."
Among the players Denver could target at No. 36 with their top pick Friday are Michigan State defensive tackle
Jerel Worthy
, Connecticut defensive tackle
Kendall Reyes
, Georgia Tech receiver
Stephen Hill
, LSU receiver
Rueben Randle
, North Alabama cornerback
Janoris Jenkins
, Cincinnati defensive tackle
Derek Wolfe
and Nebraska linebacker
Lavonte David
. I think we could see Denver try to get a quarterback Friday as well.