August, 6, 2013
8/06/13
12:00
PM ET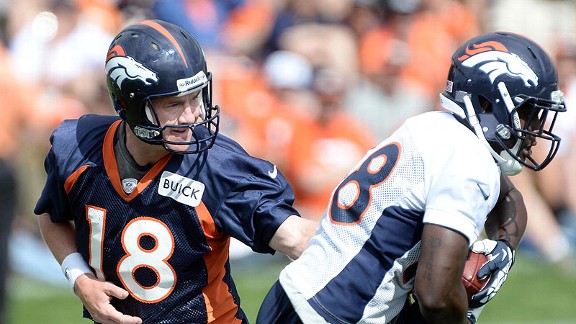 Ron Chenoy/USA TODAY SportsFor Denver rookie Montee Ball, protecting Peyton Manning is a higher priority than taking handoffs from him.
Since
Terrell Davis
powered his way to the 1998 NFL MVP award to go with 2,008 rushing yards in the Broncos' second of back-to-back Super Bowl seasons, since he was the unquestioned stopping point for a handoff in the offense, Denver has, by both necessity and choice, led the mix-and-match movement in the league's backfields.
Since the start of 1999, nine different running backs have led the Broncos in carries for at least one season. Over that 14-year span Denver has not had a running back lead the team in carries in three consecutive seasons.
And a team that once churned out 1,000-yard rushers like Apple products coming off the assembly line has now had just one back --
Willis McGahee
in the read-option season of 2011 -- in the past six years finish with 1,000 yards.
What gives?
"It's probably a combination of things," said Broncos coach John Fox. "There are injuries, changes in the offense, changes in your personnel and just the nature of the job. That's a high-impact job in a bigger, faster, stronger league. I'm not sure anybody really sits there these days -- unless you have one of the top, top guys -- and thinks one guy is going to get you through."
And fantasy football owners be damned, the Broncos stand poised to break out the committee to run the ball once again in 2013. But how those carries will be divvied up might surprise some who watch a group that includes
Ronnie Hillman
,
Montee Ball
,
Knowshon Moreno
and
Jacob Hester
.
Because while running the ball is great -- it's in the position's name after all -- for the Broncos' backs to get the ball, they're going to have to be good when they don't have it.
"I've said, whenever a young guys asks me, everybody who gets to the league can run, everybody can catch, but here, the way the game is played right now, you have to block," said Davis, a Broncos Ring of Fame member. "So, learn how to block, do the work and block. That's what I tell them, even if they haven't done it before because they were the main option, because that's what will get you on the field in this league and here, with this team."
Or as Broncos running backs coach Eric Studesville said, "Bottom line: The better you do in pass protection, the more run opportunities you're going to have. That's it. You aren't going to get the ball if we don't take care of the quarterback. They all know that, they are all aware of that. They don't get to run until we see the rest of it."
The Broncos certainly fit the league's profile for a passing team in a pass-first league. They have
Peyton Manning
at quarterback, they signed
Wes Welker
in free agency and their favorite formation on offense as the games grew in importance in 2012 was a three-wide receiver look.
They know defenses want to rush Manning in the middle of the formation, a formation they have to open up when they go to three wide receivers. That often puts the running back in the role of last man standing in pass protection, the guy who has to pick the most dangerous rusher who has broken free from the guys up front.
Make the right choice and there's a big play waiting in the offense. Make the wrong one and the quarterback will take a hit that almost always joins the list of biggest hits of the year and always carries the potential to crater a season.
[+] Enlarge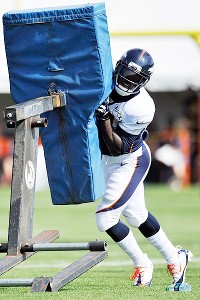 AP Photo/Jack DempseyRonnie Hillman is Denver's most explosive runner, but his ability to block will determine how much he'll get on the field.
So, open-field speed is great, vision in traffic a must, but the Broncos' runners know their to-do list has another rather large item on it that has nothing to do with any runs to glory. It's also why the committee appears to have formed again.
"We all know we have to keep Peyton from getting hit," Hillman said. "If you can't make the right choices in there blocking, you're probably not going to get the ball."
To that end, Hillman has put on about 15 pounds from last season and hovers closer to the 195-pound range, far better than the 178 pounds or so he came in at when the Broncos faced the Ravens in the playoffs in January. Hillman, entering his second season, is the most explosive runner the Broncos have, the big-play threat in an offense that wants more big-play runs this time around.
Ball, a rookie, spent plenty of extra time with Manning during offseason workouts in post-practice discussions about the nuances of protection schemes and the fine line between knowing when to stay in and block and when to leave the backfield to be the hot-read option.
Moreno, because of his knee troubles of recent seasons, and Hester have not shown the run skills in workouts the two youngsters have, but they are more proficient in those long-yardage responsibilities. Hester has appeared at both running back and fullback in practices, while Moreno, now up to 220 pounds, has also shown a proficiency in pass protection.
There is also the matter of audibles. Perhaps the biggest of Manning's many gifts at quarterback is his ability to change the play just before the snap to get his guys in the look that is the biggest problem for a defense.
Rams head coach Jeff Fisher, who faced Manning twice annually in Fisher's long tenure with the Titans, said, "He knows your intentions and he knows what to do, all before he snaps the ball. ... So even when you're right, there's a good chance you're wrong."
But for Manning's audibles to work, everybody else on offense has to be ready to make the changes as well. It's another hurdle for Hillman and Ball in their effort to be at the top of the rotation (when the Broncos released their first "official" depth chart of the preseason Sunday, Hillman was the No. 1 back).
"So, I always keep in my mind that they're two young guys, but we have to age them, in terms of their knowledge of the offense, rapidly," Studesville said. "The reality of our offense is we do what the quarterback can do, so they have to catch up, they've got to get it. We're not going to put people out there who slow the quarterback down. If they don't understand that and don't get it, they won't play."
It's all important because the Broncos know people defend them with Manning as a passer at the top of the list. So, against a vast array of nickel, dime and other specialty defenses designed to stop problems in the air, the Broncos have to find a way to wind the clock, convert first downs, pound it in the end zone from in close and create explosive runs.
And while one back used to be enough for the job, Denver is more than comfortable using several once again in 2013.
"When we get those friendly boxes because of the way people defend Peyton, we have to feel comfortable with whoever we put back there to run it," Studesville said. "And when we get to the season, I think we will. We like this group."
And that's group, as in more than one.