March, 17, 2014
3/17/14
11:00
AM ET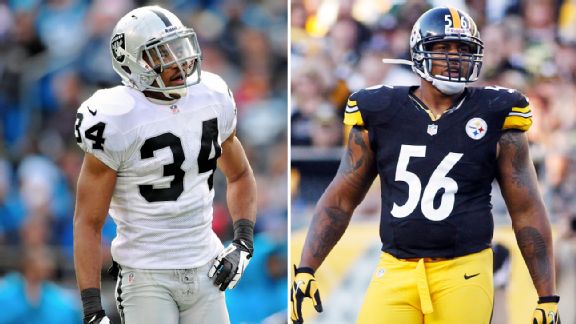 Getty ImagesIn safety Mike Mitchell and linebacker LaMarr Woodley the Steelers and Raiders hope to find free-agent steals.
LaMarr Woodley
is now a Raider as he signed with Oakland last week following his release from the Steelers. The Steelers, meanwhile, made an uncharacteristic signing on the first day of free agency, bringing in
Mike Mitchell
to take over for
Ryan Clark
at free safety. Mitchell played for the Panthers in 2013 but spent his first four seasons with the Raiders.
ESPN.com Steelers writer Scott Brown and ESPN.com Raiders writer Paul Gutierrez take a closer look at Woodley and Mitchell and what their signings mean for their respective teams.
Paul Gutierrez:
The Raiders had many needs entering the offseason, perhaps none greater than pass rush. They seemed to address that by signing
Justin Tuck
and LaMarr Woodley, but I'm sure Raiders fans are wondering just how much Woodley, who turns 30 in November, has left in the tank?
Scott Brown:
The Raiders should be getting a player who will be extremely motivated following his release by the Steelers -- and by how his career played out after they had made Woodley the highest-paid defensive player in franchise history. It proved to be a rather stunning fall from grace for Woodley, and ultimately the Steelers picked
Jason Worilds
, whom they had been widely criticized for drafting in the second round in 2010, over Woodley.
Woodley's inability to stay on the field led to the Steelers making that choice, and if he can stay healthy he could turn out to be a real bargain for the Raiders. Woodley played well until a calf injury sidelined him in the second half of the last season and ultimately shut him down. What has the reaction been to the Woodley signing, and do you think the Raiders view it as a low-risk, high-reward proposition?
Gutierrez:
The reaction has been one of relief from Raiders fans, especially since Tuck had signed earlier in the wake of the
Rodger Saffold
debacle. Now, I'm not saying it "saved" the Raiders' free agent-signing season, but it did wash away some of the bad taste because the Raiders had a huge need at pass rush. In Woodley (57 career sacks) and Tuck (60.5 career sacks) they addressed it even if both guys will be on the wrong side of 30 come midseason. Still, Woodley and Tuck, bring a championship mentality (two Super Bowl appearances) to a franchise that has not had a winning record since 2002. And yeah, the money is right ("only" up to $12 million) as is the length of the deal (two years).
Still, there are questions about how his skill set plays into the Raiders' base 4-3 defense since Woodley was the left outside linebacker in the Steelers' 3-4 scheme. He says he'll play with his hand in the dirt as a defensive end in a 4-3. Do you see that as a realistic possibility, or is that too much to ask of him at this stage of his career?
Brown:
Woodley should be fine moving to defensive end as that is what he played in college when he tormented quarterbacks for Michigan. The move might help him regain some of his pass-rushing mojo as Woodley won't drop into coverage nearly as often as he did with the Steelers. I like the signing for the Raiders, especially if Woodley prepares and plays as if a fire has been lit under him. Did complacency set in after he signed the six-year, $61.5 million in 2011? It sure seems that way and maybe getting released is what Woodley needed to get his career back on track.
The Steelers normally stay on the sidelines during the first wave of free agency but they made a significant signing when they lured Mike Mitchell away from Carolina with a five-year, $25 million contract. Mitchell spent his first four seasons in Oakland and I'm curious about your impressions of him. Did he simply need a change of scenery or did things click for him last season because he played on a better team?
Gutierrez:
Yeah, it's been a couple of years since I covered Mitchell on a day-to-day basis but he definitely left an impression as one of the best interviews in the Raiders locker room, win, lose or draw. The spotlight was on him from the day Al Davis used a second-round pick on a little-known player from Ohio University. Davis had visions of another undersized, hard-hitting safety from the Buckeye State in Jack Tatum but that was a tough bar to reach. Still, he had some flashes… especially in covering San Diego tight end
Antonio Gates
a few years back. A change of scenery, and being with a team that had a better pass rush, definitely helped him out in Carolina. Plus, he was able to freelance more with the Panthers as a free safety, rather than on the strong side. And with his outspoken manner, gritty disposition and, yes, rep as a hard hitter, he seems to fit the mold of Raiders and Steelers' DBs of yore, even if he's not Tatum or even Donnie Shell.
Speaking of old school, Raiders fans still refer to "IT" as the Immaculate DE-ception… so when, if ever, is Frenchy Fuqua going to tell the entire story?
Brown:
I just read a tremendous book on the 1970s Steelers, "Their Life's Work," and it sounds like he is taking that story to his grave. I'm sure Steelers' fans would counter that the Immaculate RE-ception is history and in the books no matter how it went down. It certainly is one of the more intriguing chapters of that storied rivalry and remains so after all of these years. What are the chances that the Raiders and Steelers turn back the clock at some point and resume meeting regularly in the playoffs as they did in the 1970s?
Gutierrez:
Well, that would mean the Raiders have to get BACK to the playoffs, a place they have not visited since 2002. Realistically, I can't see it happening in the next year or two, but in the NFL, things do change quickly. Not sure the rivalry can ever get back to the days of the '70s, though, when the Steelers and Raiders met in
three straight AFC title games
, which I wrote about in January.
September, 4, 2012
9/04/12
1:05
PM ET
ESPN.com's Stephania Bell reports
Pittsburgh safety
Ryan Clark
will miss his third game in Denver in the past few years on Sunday night because of health risks spurred by Denver's high altitude.
Clark has the sickle cell trait. It is a genetic abnormality which can affect red blood cells. While playing Denver in 2007, Clark had a bad reaction to the high altitude and had to have his spleen and gall bladder removed.
Meanwhile, Pittsburgh receiver
Mike Wallace
, who recently ended his holdout, has been working with the first unit and he should play extensively against the Broncos.
In other Denver notes:
Peyton Manning's former Indianapolis coach Tony Dungy, was a visitor at the Broncos' practice Monday.
Arizona signed receiver Gerell Robinson to its practice squad. Denver recently cut the Arizona State product.
The Broncos added former Mississippi State center Quentin Saulsberry to their practice squad.
April, 17, 2012
4/17/12
7:21
PM ET
Breakdown:
Peyton Manning's first game as the Broncos' quarterback will be against the
Pittsburgh Steelers
, the same team that former Denver quarterback
Tim Tebow
beat in the playoffs in his second-to-last game with the team. The NFL will put Manning in the immediate spotlight -- his Broncos debut and first game since the 2010 season will be on Sunday night in Week 1.

The Broncos have two Monday night games, starting in Week 2 at Atlanta. They play in Week 6 at San Diego as well. The prime-time power of Manning is strong. Denver hosts New Orleans in Week 8 on "Sunday Night Football" and plays at Oakland in Week 14 on Thursday night.
The Broncos have the second-toughest schedule in the NFL, but they play three of their first four games at home and they play their final two games of the season at home.
Complaint department:
It's simply a byproduct of the tough schedule. There are no breaks. The season looks like one tough stretch. Denver must take advantage of starting and finishing the season at home.
The Ryan Clark factor:
The Steelers' standout safety missed the final game of his 2011 season and he will miss the first game of his 2012 season. He has a physical condition that makes it highly dangerous for him to play in the high altitude of Denver. He lost his spleen and gallbladder after playing a game there in 2007. Just a another reason the Steelers are probably not thrilled to go back to Denver so soon after the painful playoff loss.
Broncos Regular-Season Schedule (All times Eastern)
Week 1:
Sunday, Sept. 9, Pittsburgh, 8:20 PM
Week 2:
Monday, Sept. 17, at Atlanta, 8:30 PM
Week 3:
Sunday, Sept. 23, Houston, 4:15 PM
Week 4:
Sunday, Sept. 30, Oakland, 4:05 PM
Week 5:
Sunday, Oct. 7, at New England, 4:15 PM
Week 6:
Monday, Oct. 15, at San Diego, 8:30 PM
Week 7:
BYE
Week 8:
Sunday, Oct. 28, New Orleans, 8:20 PM
Week 9:
Sunday, Nov. 4, at Cincinnati, 1:00 PM
Week 10:
Sunday, Nov. 11, at Carolina, 1:00 PM
Week 11:
Sunday, Nov. 18, San Diego, 4:15 PM
Week 12:
Sunday, Nov. 25, at Kansas City, 1:00 PM
Week 13:
Sunday, Dec. 2, Tampa Bay, 4:05 PM
Week 14:
Thursday, Dec. 6, at Oakland, 8:20 PM
Week 15:
Sunday, Dec. 16, at Baltimore, 1:00 PM
Week 16:
Sunday, Dec. 23, Cleveland, 4:05 PM
Week 17:
Sunday, Dec. 30, Kansas City, 4:15 PM
January, 8, 2012
1/08/12
3:33
PM ET
January, 4, 2012
1/04/12
4:30
PM ET
Pittsburgh quarterback
Ben Roethlisberger
said he suffered
"a little setback"
in his recovery from an ankle injury when he played against Cleveland on Sunday.
"I had a little setback early in the third quarter," Roethlisberger told reporters in Pittsburgh on Wednesday. "We're working really hard with the trainers and doctors to get back to even where we were before the Cleveland game. I felt pretty good going in and moved a little bit at the beginning of that game. It's a little setback but we'll get moving."
Roethlisberger and the Steelers play at Denver in a wild-card game Sunday. The 12-4 Steelers are heavy favorites against the 8-8 Broncos, who have lost three straight games. Yet, the Steelers are already playing without running back
Rashard Mendenhall
and safety
Ryan Clark
. With Roethlisberger still gimpy, perhaps the home team has some hope.
There's no doubt Roethlisberger's play has been affected by the injury. Since the injury he has completed 56 of 96 passes (58.3 percent) for 729 yards. He has thrown one touchdown and four interceptions for a 68.4 passer rating.
In other AFC West news:
January, 3, 2012
1/03/12
1:40
PM ET
When the
Pittsburgh Steelers
held safety
Ryan Clark
out of a game at Denver in 2009, there was some talk if the Steelers ever came to Denver for a playoff game, a different decision may be made.
No, it wasn't.
Taking a firm hand and quickly ending any speculation,
Pittsburgh coach Mike Tomlin announced Tuesday that Clark will not play in Denver during the Steelers-Broncos AFC wild-card game Sunday.
Clark has sickle cell trait; a condition that can trigger serious medical complications in high altitudes. In a 2007 game there, Clark became violently ill and lost his spleen and gall bladder because of deprivation of oxygen to his major organs.
Really, Tomlin had no choice but to make this call. The Steelers will also be without running back
Rashard Mendenhall
because of a serious knee injury, and quarterback
Ben Roethlisberger
is not 100 percent because of an ankle injury. Still, the visiting Steelers are heavily favored over the Broncos, who backed into the playoffs with three straight defeats.
In other Steelers-Broncos nuggets::
ESPN.com's playoff predictor

, an Insider piece, doesn't like the Broncos' Super Bowl chances. I don't blame it.
In an Insider piece,
the Football Outsiders

show some alarming results of
Tim Tebow
's recent performances. He is not throwing or running the ball well and the result, according to this article, is the Broncos have little chance of beating the Steelers.
January, 1, 2012
1/01/12
7:56
PM ET
Three things to know about next week's Pittsburgh Steelers-Denver Broncos wild-card game:


1. Backing in:
The Broncos aren't exactly storming into the playoffs after a six-year break. Denver has lost three straight games after turning around its season with a six-game winning streak. The Broncos are the seventh team in NFL history to make the playoffs on the heels of a three-game skid to end the season. Denver made the playoffs because the
San Diego Chargers
beat the
Oakland Raiders
on the road. Denver, Oakland and San Diego all finished 8-8. The Broncos advance to the postseason against the 12-4 Steelers on the merits of a tiebreaker. Unless Denver's offense and beleaguered quarterback
Tim Tebow
get out of its doldrums, it will be short postseason ride in the Rockies.
2. Steelers are banged up:
The
best thing Denver, who lost standout guard
Chris Kuper
to a potentially bad lower-leg injury Sunday, has going for it is the Steelers are hurting, too. Quarterback
Ben Roethlisberger
is not completely healed from an ankle injury. Running back
Rashard Mendenhall
injured his knee Sunday and will miss the playoff game. Pittsburgh may also be without safety
Ryan Clark
, who has a rare sickle-cell trait that is affected by high altitudes. He missed a game in Denver in 2009 because he became violently ill during a game against the Broncos in 2007.
3. Bad playoff memories:
The last time Denver played in the playoffs was a home loss to the Steelers in the 2005 AFC championship game. The Steelers ran away from Denver early and the game was never close. The Broncos have long rued that blown opportunity to go to the Super Bowl at home. Now, they will try to rekindle their playoff dreams against the same team.
November, 9, 2009
11/09/09
9:22
PM ET
Posted by ESPN.com's Bill Williamson
DENVER --
Kyle Orton
's second interception of the season could haunt the
Denver Broncos
.
Orton hurled an overthrown pass and it was intercepted by Pittsburgh safety
Tyrone Carter
, who returned it 48 yards for a touchdown to give Pittsburgh a
7-3 lead
with 12:50 to go in the second quarter.
It was Orton's second interception of the season. His only other interception was a Hail Mary at the end of the first half against New England on Oct. 11. It was intercepted by Patriots receiver
Randy Moss
.
Carter is playing because starting safety
Ryan Clark
is inactive over health concerns. Clark has a rare sickle-cell trait that causes his body to adversely react to exertion in high altitudes. In 2007, the last time Clark played in Denver, he had complications that led to him losing his spleen and gall bladder.
November, 9, 2009
11/09/09
7:36
PM ET
November, 8, 2009
11/08/09
9:50
PM ET
Posted by ESPN.com's Bill Williamson
DENVER -- Here are five keys to Monday night's game for Denver (6-1) against visiting Pittsburgh (5-2):

Start fast:
If Denver has had a problem this season, it is starting slowly. It has had to rely on great second-half play. The second-half luck ran out in Baltimore in Week 8, but the Broncos must take pressure off of themselves and jump to a lead. It will be interesting to see how this team would react to not have to scramble back into games. Plus, there's bound to be a lot of Pittsburgh fans at the game (the streets of Denver were teeming with folks in Steelers' gear Sunday), so the Broncos must take the Steelers fans out of the game early. In the 2005 AFC Championship Game, the Steelers took early control of the game and their fans took over the stadium in a 34-17 Pittsburgh win. Denver can't allow that to happen again.
Control the no-huddle offense:
There has been talk that the Steelers will try to use more no-huddle to keep the Broncos off balance. The Ravens had great success using the no-huddle in Week 8. Denver has responded well to everything thrown at them this season, so if the Steelers come with the no-huddle, the Broncos have to be ready.
Take advantage of the Steelers' injury issues on defense:
The Steelers may be without three key defensive starters because of health issues. Defensive end
Travis Kirschke
, inside linebacker
Lawrence Timmons
and safety
Ryan Clark
are all unlikely to play. The Broncos must take advantage and get their offense going against the limping Steelers. This is a great opportunity for the Broncos.
Run the ball:
The Broncos must keep Pittsburgh's defense honest by running the ball.
Correll Buckhalter
and rookie
Knowshon Moreno
have been a good tandem for most of the season. But the pair struggled at Baltimore. These two must establish the run to create an offensive rhythm. That will allow Denver quarterback
Kyle Orton
to play his game and be more effective than he was against the Ravens.
Tighten the special-teams coverage unit:
Denver allowed a punt return for a touchdown against San Diego and a kick return for a score last week against Baltimore. It can't surrender a special-teams touchdown for the third straight game. This game probably will be closely contested. Denver can't give an excellent team such as Pittsburgh a freebie as it did the past two games.