AFC West:

Ryan Fitzpatrick
December, 6, 2013
12/06/13
10:00
AM ET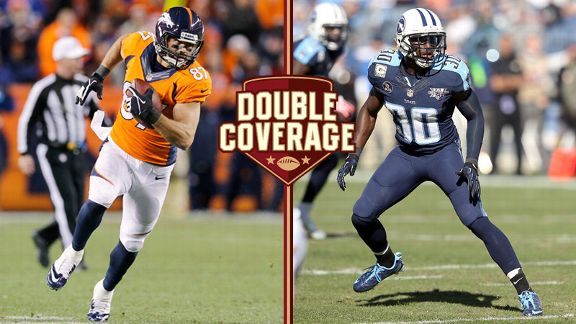 AP Photo Jason McCourty, right, and the Titans' secondary face a formidable challenge in defending Eric Decker and the Broncos' passing attack.
It seemed a little out of place, but as the
Denver Broncos
were about to get to work on the
Tennessee Titans
this week, quarterback
Peyton Manning
said he was going to prepare for an "unfamiliar opponent."
Granted, Manning hasn't faced a Titans team with Mike Munchak as its head coach, but he has faced Tennessee 19 times previously in his career (including a playoff game in the 1999 season), all with the
Indianapolis Colts
. So, while this is the Titans' first look at Manning in a Broncos uniform, the quarterback is a familiar face as Denver tries to keep its grip on home-field advantage in the postseason.
Here, ESPN.com Titans reporter Paul Kuharsky and Broncos reporter Jeff Legwold discuss Sunday's game.
Legwold:
Paul, you've been around the team since it arrived in Tennessee and, before we get to the on-field matchup, how would you say the team has dealt with franchise founder Bud Adams' death earlier this season? Who is making the decisions now and who will make them in the coming offseason, both on and off the field?
Kuharsky:
It was a big loss, of course, for Munchak and general manager Ruston Webster and team employees who worked for Adams for a long time. Most of the players hardly knew him, as he was not around much in his final couple of years, when his health began to fail. So there is a lot of uncertainty now. Three branches of Adams' family share control of the franchise, and Bud's son-in-law, Tommy Smith, is the team president and CEO. He's apparently been paying close attention to things in anticipation of taking over. But we know very little about how he will operate going forward. That means there is some tension, because not every team employee knows if he's secure. That starts with the struggling head coach, Munchak.
Leadership in Denver appeared to remain strong as Jack Del Rio stepped in for John Fox. How much of a boost will Fox's return give the team?
Legwold:
Del Rio, the team's defensive coordinator, earned praise from everyone in the organization, including Fox and the players, for how things were handled in the head coach's absence following open-heart surgery. His return has given the team an emotional boost, because after a month away, Fox came back feeling better than he had in some time and enthusiastic to see where this season can go. It should help the Broncos avoid a late-season stumble as they try to get home-field advantage for the playoffs again. Tactically speaking, not much will change. Coordinator Adam Gase is still calling the plays on offense -- Del Rio has said that, other than being a sounding board from time to time, he left the offense solely in Gase's hands during Fox's absence. Del Rio will continue to call the defense on game day as he has all season. Overall, though, it's likely Fox's return will keep the Broncos from hitting an emotional lull over the final month of the regular season.
On the field, the Titans have seen Manning plenty over the years. How do you think Tennessee will approach things on defense and does it see some differences in the Broncos' offense compared to what it saw from the Manning-led Colts?
Kuharsky:
Well, it's a relief the Titans don't see Edgerrin James, I am sure. And while Denver's pass-catchers are a remarkable bunch, I'm not sure there is a
Marvin Harrison
in it yet. They know blitzing Manning can be fruitless no matter what matchups they like against offensive linemen. They'll try to be unpredictable and force him to throw to a certain spot a few times. But plenty of teams have that idea and fail with it. Under Gregg Williams' influence, the Titans have used an ever-shifting front, and we know that's a popular way to play against Manning in an attempt to minimize his ability to make pre-snap reads. The front is pretty good, especially
Jurrell Casey
, though there is no dominant edge rusher. The secondary has been quite good. It's the linebackers, particularly in pass coverage, who seem vulnerable to me, and I don't know what the Titans will do there to prevent abuse.
Bernard Pollard
's been a leader whose play has matched his talk, but the Titans have kept him out of tough coverage situations and I wonder whether Manning will find ways to try to go at him.
The Titans are rooting for freezing temperatures even though they've been awful themselves in their past two frigid games. I know some all-time great quarterbacks have excelled in the cold even if they haven't loved it. How much of an issue is it for Manning at this stage of his career?
Legwold:
That is the elephant in the room with the Broncos given their playoff loss to the
Baltimore Ravens
last January. Manning threw for 290 yards and three touchdowns in that game, even though the temperature at kickoff was 13 degrees. But folks seem to remember a wobbly incompletion here and there to go with an interception to close out the Broncos' final possession. Until Manning simply cranks it up on a cold day and the Broncos get a key victory, people are going to ask him about it. He had spots in the overtime loss to New England two weeks ago -- in frigid, windy conditions -- in which he threw as well as he ever has, particularly on a sideline pass to
Demaryius Thomas
and a touchdown throw to tight end
Jacob Tamme
. It's not so much his arm that has been an issue post-surgery, it's his grip when he throws. Overall, though, the Broncos push the pace more on offense at home. Manning has terrorized defenses that have played a lot of man coverages against the Broncos' offense, including his five-touchdown game last weekend in Kansas City. The Broncos like that matchup in any weather.
Denver has some injuries on defense that have affected how it plays, especially with the run defense. Where does
Chris Johnson
fit in the Titans' offense these days?
Kuharsky:
He's really had one big game all season. Even when he seems to get going, the Titans can't find a rhythm or a way to stick with him. This was supposed to be a run-reliant, run-dominant team. It isn't. With
Ryan Fitzpatrick
now the quarterback, the Titans like to put him in an empty set and let him do his thing. It's been good at times, but it doesn't do much to enhance the chances of the running game. Johnson doesn't get yards after contact. So if he doesn't find a big hole, he's not going to do a lot of damage. Watch out on a screen or little flip pass -- that's where Johnson has been more threatening.
Denver's defense has dealt with quite a few injuries and
Von Miller
's suspension. How's his health and how is that group playing together?
Legwold:
The Broncos have yet to play the 11 starters on defense in any game this season they expected to have coming out of training camp. They never will now that defensive tackle
Kevin Vickerson
has been moved to injured reserve. Vickerson was a big part of the plan on early downs -- and the Chiefs tested the middle of the defense plenty this past Sunday, so the Broncos are working through some adjustments there.
Champ Bailey
(left foot) has played in just three games this season -- just one from start to finish -- and safety
Rahim Moore
is on injured reserve/designated to return. (The Broncos hope Moore will be back for the postseason.) Toss in
Derek Wolfe
and
Dominique Rodgers-Cromartie
not being in the lineup against the Chiefs and the Broncos are not nearly as consistent as they were last season, when they were a top-five defense. Miller has had moments of top-shelf play since his return, but hasn't been a consistent force like he was last season.
October, 3, 2013
10/03/13
12:00
PM ET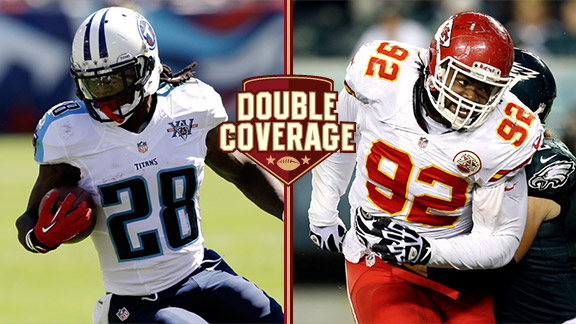 AP Photo With Jake Locker out, Chris Johnson,left, may see his workload increase. It'll be up to Dontari Poe and the Kansas City defense to contain him.
Raise your hand if you figured a Week 5 matchup between the
Kansas City Chiefs
and
Tennessee Titans
in Nashville would feature teams with a combined 7-1 record.
If your hand is up, you're likely fibbing.
In his first season in Kansas City, Andy Reid has already doubled last season's win total. In his third season as the head coach of the Titans, Mike Munchak appears to have a revamped team on a good course.
ESPN Titans reporter Paul Kuharsky and ESPN Chiefs reporter Adam Teicher discuss the teams they cover in advance of the game.
Teicher:
Jake Locker
was obviously playing well but he won't be available to the Titans on Sunday. What do the Titans lose without him in their lineup and how will their offense change, if it does, with
Ryan Fitzpatrick
at quarterback?
Kuharsky:
Well, they won't have him running around as much, though he's more mobile than one might think. But they haven't used Locker on bootlegs and roll outs so much as they might eventually, as they've been going against 3-4s. They moved away from
Matt Hasselbeck
in March as he was too expensive for a backup, and they were eyeing Fitzpatrick as they made that move. He's a smart guy, obviously, and has been a good resource for Locker. He entered the Jets game with the Titans holding a big lead and he said his job was simply not to screw it up. He knows his job changes now for however long Locker is out. Fitzpatrick wasn't on a good team in Buffalo, but he turned the ball over way too much. The Titans are 3-1 in large part because they have not turned the ball over at all yet. The Titans are confident in their system and that Fitzpatrick will be able to keep the trend going.
Alex Smith
is a minimal-mistake guy, too. How conservative has he been in Reid's offense?
Teicher:
Smith opened things up a little more, went downfield a little more against the Giants on Sunday. Most of their long pass plays from the first three games had been of the catch-and-run type, but he has completed some passes down the field. The Chiefs actually have more pass plays of 20 or more yards (14) than their opponents (10). Smith threw his first two interceptions of the season Sunday, but you could argue that neither one was his fault. On the first,
Dwayne Bowe
ran a lazy slant route and allowed the cornerback to cut in front and make the catch instead. The other interception was deflected by
Jamaal Charles
, who accidentally kicked it straight to a defender. The throw wasn't a great one, it was slightly behind Charles, but the interception wasn't Smith's fault. Going down the field a lot doesn't play to Smith's strengths. He doesn't throw a great deep ball. His strengths are good decision-making and accuracy on shorter routes.
Big plays have hurt the Chiefs in the running game, but
Chris Johnson
is averaging fewer than 3.5 yards per carry. Is he still capable of exploiting KC's run defense or are his best days behind him?
Kuharsky:
He's definitely still capable of stellar runs. The Titans have faced some stiff run defenses, particularly in Pittsburgh and against the Jets. They rebuilt the interior of the offensive line, but the new threesome hasn't jelled as quickly as they may have expected. And Johnson will benefit from surrendering some carries to the bigger, better-in-short-yardage
Shonn Greene
, but Greene's been out since early in the opener with a knee injury that required a scope. He could return this week. Tennessee has run it 55 percent of the time, and Fitzpatrick and the Titans could look for that to go up.
Charles isn't just the Chiefs' top rusher, he's their top receiver. If the Titans can control him, how much will they improve their chances?
Teicher:
A lot. In the passing game, no other receiver has stepped forward as a consistent threat for the Chiefs. Bowe has scored a couple of touchdowns, but otherwise, his numbers are way down. He's just not getting open a lot. The other starting wide receiver,
Donnie Avery
, had a big game against the Eagles in Philadelphia but has otherwise produced little. Likewise,
Dexter McCluster
had a nice game last week against the Giants, but otherwise has given them almost nothing. The Chiefs are hurting at tight end. Of their top three tight ends at training camp, one is out for the season while the other two are injured and didn't play last week. In the running game, the Chiefs don't trust anyone but Charles. They drafted
Knile Davis
in the third round this year, but between fumbles, lining up in the wrong place and running the wrong play, they can't count on him for much.
The Titans are a lot like the Chiefs in that they are living off a nice turnover differential. The teams are tied for the league lead at plus-9. What's it going to look like for the Titans when that begins to balance out?
Kuharsky:
Not only are the Titans tied with Kansas City with the league-best plus-9, but Tennessee's plus-9 includes zero giveaways. Odds are this team is due to lose a fumble or throw a pick, and Fitzpatrick is more likely to get picked off than Locker, though he should be less inclined to force anything in this system than when he was pressing in Buffalo. But this is a big piece of what they want to do -- play mistake-free and capitalize on mistakes they help prompt.
Looking at the stats, I see the Chiefs are giving up 5.4 rushing yards a clip. Johnson once ran a mile for a touchdown at Arrowhead and then played the drums he found on the sideline to celebrate. Defensively, what's the best plan of attack for the Titans' offense?
Teicher:
He played the drums well, too, as I recall. The Titans need to be patient with the running game. They need to stay with it even if they get behind early or it isn't working well. If they give up on it early, it's probably going to be a long day for Fitzpatrick and the offense because the Chiefs are relentless in getting after the passer. They have the players and the schemes to make it work, so the last thing Tennessee needs to do is drop-back the quarterback a bunch of times. Though their season stats look ugly, the Chiefs had only one game where their rushing defense stats were completely out of whack. Philadelphia rushed for 264 yards on 27 carries, but
Michael Vick
accounted for a lot of that. The Chiefs have allowed 11 runs of 10 or more yards and six were in that game. Their longest run allowed in the other three games is 15 yards. But that's still the best plan of attack for the Titans.
The Titans haven't received as much attention for the way they've played on defense, but they've got a lot of guys playing well on that side of the ball. Who are some of the defensive players the Chiefs need to make sure they account for in the running game and the passing game?
Kuharsky:
A guy who's probably remembered by Chiefs fans, safety
Bernard Pollard
, is the defensive tone-setter. The Titans have managed to keep him out of coverage situations downfield, which are not his strength. Defensive tackle
Jurrell Casey
is a really good, disruptive rusher and effective run-stopper who rates as the best player on defense.
Zach Brown
is a speedy weakside 'backer who's gotten to the quarterback. And cornerback
Alterraun Verner
has more takeaways than anyone in the league with four picks and two fumble recoveries. They wondered if he'd be good enough playing more man-press, which they're going to more often. He's been great.
Same question to you. We know
Justin Houston
's got 7.5 sacks and
Eric Berry
is a very good safety. Who else keys that defense?
Teicher:
They have a lot of guys playing well on defense.
Dontari Poe
, their nose tackle, has been outstanding. He's providing some consistent push in the pass rush they haven't had from the middle of their line in a long time. Inside linebacker
Derrick Johnson
is playing as well as he ever has. The other outside linebacker,
Tamba Hali
, had a big game against the Giants with a couple of sacks and a forced fumble. The corners,
Sean Smith
and
Brandon Flowers
, have mostly held up well.
Dez Bryant
of Dallas had a big game against Flowers. He has a sore knee that prevented him from playing Sunday and could be trouble for him again this week. A rookie,
Marcus Cooper
, filled in nicely for Flowers. A lot of their players seem to have taken to the pressure system put in by new coordinator Bob Sutton.
.
October, 28, 2011
10/28/11
3:25
PM ET
Jason Campbell
finally got a dose of some good luck.
And he needed it
.

Campbell
Campbell stepped up in line in the 2012 free agency class Friday when Buffalo extended the deal of quarterback
Ryan Fitzpatrick
.
According to ESPN's Chris Mortensen,
the extension is worth $59 million over six years, including $24 million in guaranteed money. Campbell is now the top quarterback available in free agency next year.
Expect him to take advantage of it and sign a nice deal elsewhere.
Seeing Campbell out of Oakland in 2012 seemed highly unlikely two weeks ago. But after a whirlwind, it is almost a certainty Campbell will be gone next year. Campbell, 29, broke his collarbone Oct. 16. Two days later, the Raiders changed direction at quarterback by giving up two premiums picks to Cincinnati for
Carson Palmer
. He is under contract in Oakland through 2014.
Because of the picks and the guaranteed money Oakland owes Palmer, it is almost impossible to think the Raiders will go back to Campbell. He has already said he sees himself as a starting quarterback and he is not interested in being a backup.
So, expect Campbell to be happy to see Fitzpatrick sign, opening the way for Campbell to go elsewhere.
Does Campbell, who made steady strides this year, have a future in the AFC West? Denver is the only team in the division that could look for a starter if
Tim Tebow
fails to impress. But Denver could look to address the position in the draft.
August, 20, 2011
8/20/11
11:55
PM ET
Some thoughts about the
Denver Broncos
' 24-10
win
over the visiting
Buffalo Bills
on Saturday night:


It was a good overall game for Denver. The Broncos played well both offensively and defensively.
Quarterbacks
Kyle Orton
and
Brady Quinn
were terrific. They combined for 20-of-29 passing for 265 yards. Quinn worked with the second team ahead of
Tim Tebow
. Quinn played well for a second straight game.
Don't expect Quinn to give up his backup spot in the coming days. Tebow played late and he didn't do much. The fact that Quinn threw 16 passes and Tebow tossed just two shows the team is much more interested in seeing Quinn play than seeing Tebow at this point. Tebow's arrow is simply not pointing in the right direction as we approach the start of the season.
The Broncos didn't run the ball well.
Knowshon Moreno
had 28 yards on six carries.
Willis McGahee
had just 6 yards on five carries. The Broncos want to run the ball often, so this is an area that must be improved.
Receiver
Brandon Lloyd
looked to be in midseason form as he had four catches for 55 yards.
Denver's defense -- which was ranked No. 32 in the NFL last season -- was strong, especially against the pass. Buffalo starting quarterback
Ryan Fitzpatrick
was just 6-of-16 passing for 44 yards.
Von Miller
, the No. 2 overall pick in the April draft, showed his explosiveness with a sack, much to the delight of the home crowd.
May, 2, 2011
5/02/11
2:00
PM ET
Now that the draft is completed, we have a better idea of what teams still need a quarterback and who could potentially be interested in Denver quarterback
Kyle Orton
. The pool has shrunk considerably as six quarterbacks were taken in the first 36 picks.
Orton -- along with Philadelphia's
Kevin Kolb
and Cincinnati's
Carson Palmer
-- could all be trade possibilities when the lockout ends.
However, the longer the lockout extends, the higher the odds are that Orton stays in Denver. If second-year quarterback
Tim Tebow
doesn't get ample offseason work, the Broncos could be tempted to begin the season with Orton as the starter. Still, because Orton's contract ends after this season, the Broncos might be swayed to trade him while they can get a decent return for him. Here are a few teams that may be interested in Orton because they didn't address quarterback in the draft.
Arizona
: This could be a good fit.
Buffalo
: The Bills will likely stick with
Ryan Fitzpatrick
Miami
: Orton could paired with
Brandon Marshall
again.
Seattle
: The Seahawks will likely pursue a veteran.
Tenneesse
: Despite drafting
Jake Locker
, the Titans could look for a vet.
Washington
: The Redskins may go with
John Beck
.

AFC WEST SCOREBOARD
Friday, 8/22
Saturday, 8/23
Sunday, 8/24