January, 3, 2014
1/03/14
10:00
AM ET
Something will have to give when the
Indianapolis Colts
and the
Kansas City Chiefs
meet in an AFC wild-card playoff game at Lucas Oil Stadium on Saturday.
The Chiefs have lost seven straight playoff games, tying them for the longest playoff losing streak in NFL history. The Colts have lost three straight wild-card playoff games.
This is the second time the teams will meet in a three-game period. The Colts, who are on a three-game winning streak, beat the Chiefs 23-7 at Arrowhead Stadium on Dec. 22.
ESPN.com Colts reporter Mike Wells and Chiefs reporter Adam Teicher break down the matchup.
Teicher
: The Colts were wobbling coming into Kansas City a couple of weeks ago but seem to have righted themselves that day. What can you point to as the reasons?
Wells
: Most fans would say it's because of quarterback
Andrew Luck
. Don't get me wrong, Luck has been as good as expected, but the change has been led by the defense. The Colts have 12 sacks and have forced eight turnovers, including four against the Chiefs in Week 16, during their three-game winning streak. That's where Luck and the offense come in. You give Luck a short field to work with, and the odds are pretty good that he'll lead the Colts to a score. They scored a quick 17 points in the first quarter against Jacksonville last week.
Chiefs coach Andy Reid decided to rest most of his starters against San Diego in the finale. Do you think that was the right thing to do?
Teicher
: Undoubtedly. The Chiefs didn't get a bye in the playoffs, but Reid created one for eight defensive and seven offensive starters who didn't play against the Chargers. I would expect that to be reflected in how those guys play against the Colts. Momentum going into the playoffs is overrated. The NFL is such a week-to-week deal that it's almost impossible for a team to carry anything over from one game to the next, and even at that, the starters were able to get in some practice time last week. Not that this is a huge thing with the playoffs beginning, but the Chiefs got a good look at some of their backups under game conditions against an opponent that needed to win. In several cases, they liked what they saw.
Donald Brown
was the Colts' playmaker against the Chiefs a couple of weeks ago. He obviously is fast and has more power than you would think by looking at him. Why don't the Colts use him more as their featured back and why did they trade for
Trent Richardson
?
Wells
: Brown took over the starting spot from Richardson against Tennessee on Dec. 1 because Richardson was having a difficult time finding a rhythm. I still think the Colts made the right move in trading for Richardson, because Brown has been inconsistent for most of his five seasons with the Colts up until now. Richardson is still the future for the Colts; they have no intention of parting ways with him after the season. They still envision him and Luck having a great future together. And Brown said it best earlier this week, "There are only a handful of teams that only use one running back. We're going to need two, three running backs to get through the playoffs."
Speaking of running backs, it looked like
Jamaal Charles
was going to have a huge game against the Colts (not that 106 yards is a bad game) after the first series. He ended up with only 13 carries. How come the team's best player didn't have more carries or more catches, for that matter?
Teicher
: Reid messed up that one and he beat himself up for it afterward. You can count on that not happening again this time around. Charles was given the ball 18 times (13 carries, five receptions) against the Colts two weeks ago. That actually wasn't a season low for him. He had 16 touches (and a monster game) the week before in Oakland and 18 touches in two other games (both Chiefs losses). Another thing to remember is the Chiefs had only 53 offensive plays against the Colts, their second-lowest total of the season. They didn't have the normal amount of opportunities to get him the ball. But whether or not the Chiefs have a limited amount of snaps on Saturday, they will get him the ball more often. He's their best offensive player, so they're making a huge mistake if they don't.
Linebacker
Jerrell Freeman
is another player who had a big game for the Colts when they played against the Chiefs. Has he had other games like that this season? Give us a little scouting report on his strengths and weaknesses.
Wells
: You have to credit Colts general manager Ryan Grigson for finding Freeman. Grigson is known for finding players in different parts of the world. He'd probably go to Antarctica to scout if there were a football team there. Freeman is a former Canadian Football League player. He led the Colts in tackles as a rookie and would be the team's defensive MVP if not for a player named
Robert Mathis
. Freeman reached double figures in tackles in 12 of the 16 games this season. He has no problem being matched up against a running back out of the backfield, a tight end or even a wide receiver if he has to, because he's athletic enough to defend them. An argument could be made that Freeman deserved a Pro Bowl nod.
This is not a knock against Charles, but how come the Chiefs had a running back lead them in receiving this season? I would have said
Dwayne Bowe
led them in receiving if you asked me to take a guess on their leading receiver this season.
Teicher
: It's a number of factors. The Chiefs wanted to use Charles more in the open field and get him in favorable one-on-one matchups, and it's easier to do that by throwing him the ball. Ideally, the Chiefs would go down the field to their wide receivers more often, but Bowe,
Donnie Avery
and
Dexter McCluster
haven't been able to get open consistently and have delivered few plays. Quarterback
Alex Smith
has tended to do the safe thing and opt for the checkdown to Charles rather than take a chance down the field. It's something the Chiefs will need to correct next season. They'll find another receiver or two in the draft or through free agency.
October, 18, 2013
10/18/13
12:00
PM ET
There will always be games when a player returns, with his new team and wearing a new set of NFL colors, to the city where he once worked. Happens all the time.
And then there is this week. When the former face of a franchise, a future Hall of Famer, returns, not as a legend in the final days of his career, but as a 37-year-old vying for the league's MVP award, having the season of his life with a Super Bowl hopeful.
Peyton Manning
returns to Indianapolis as the 6-0
Denver Broncos
will meet the 4-2
Indianapolis Colts
in Lucas Oil Stadium. ESPN.com Broncos team reporter Jeff Legwold and Colts team reporter Mike Wells break down this week's game.
Legwold:
Mike, let's get right to it. Manning. Colts. Indianapolis. There isn't much precedent in the league's history for a player of Manning's stature returning, playing as well as ever, to meet his former team. How has it played there? And just how many of the current Colts were even teammates with Manning?
Wells:
As much as I hate to admit it, safety
Antoine Bethea
, a former Manning teammate, said it best inside the locker room in San Diego on Monday, "We see players come and go all the time," and that the media will make a big deal about it. Bethea was the first Colt not named Jim Irsay to talk about Manning's return. Coach Chuck Pagano didn't even want to talk about it on Tuesday. There are only 11 players still on the roster from when Manning played here. The Colts respect Manning, but they also want to prove they've moved on and they can win without him.
You've been around Manning for more than a season now. Do you get a sense that he'll be more pumped than what he is every weekend?
Legwold:
Manning has already been on the media merry-go-round earlier this season when he faced his brother Eli for the third and likely final time in his career. He didn't like it that much and said as much. I think he certainly will want to show, at least in some way, he appreciated his time with the Colts and that he enjoyed the successes there. In the end he will try to play it straight through the week. That said, when Manning arrived in Denver, those close to him said he was initially surprised the Colts actually released him, even though it made sense financially and for the overall direction of the franchise due to the uncertainty surrounding how he would recover from his neck surgeries. As one of the most competitive people in a league full of competitive people, there is likely a part of him that wants to show what he has left for a team that considers itself to be a Super Bowl contender.
To that end,
Andrew Luck
has consistently seemed comfortable in his role as the team's leader in the post-Manning era, how do you think he will handle all of this? And will he have some added adrenaline?
Wells:
Luck hasn't given any indication that he'll prepare for or approach the game any different. It obviously wasn't the same magnitude as what Sunday will be, but the second-year quarterback was put under the spotlight earlier this season when he returned to the Bay Area, where he starred at Stanford, to take on his college coach, Jim Harbaugh, and the
San Francisco 49ers
. Luck played within himself -– 17-of-26 for 159 yards --and I expect him to do the same thing this weekend. Don't be surprised if offensive coordinator Pep Hamilton tries to get Luck going early in front of the sold-out Lucas Oil Stadium crowd. But don't expect to see Luck throwing the ball 45 times unless the Colts dig themselves into a big hole.
I was little surprised Broncos coach John Fox took exception to Colts owner Jim Irsay's comments to USA Today. Is that normal for Fox to respond the way he did?
Legwold:
From the Broncos' perspective, some in the organization see it as Irsay gladly reaping the benefits of the Colts' success with Manning at quarterback, including a new stadium that allowed the city to host a Super Bowl, and now acting as if one Super Bowl win in Manning's tenure sticks in his craw. Fox simply came to the defense of his player, something he does when he sees it as necessary and something that only strengthens his standing in the Broncos' locker room. Manning almost always takes the high road publicly in such things, as he did this week, but there isn't much question he has one of the game's longest memories when it comes to what's been written or said.
Much of what is, or isn't said, this week won't matter much once the ball is snapped, but on the field what do you think the Colts' defensive plan will be against the Broncos' offense?
Wells:
Don't expect the Colts to sit back in a Cover 2 the way Jacksonville did. That's not defensive coordinator Greg Manusky's style. The cornerbacks will press up on the receivers and they'll continue to gamble to try to make a play. That may not be the right approach to take because as you know, Manning makes teams pay for their mistakes. It'll be interesting to see if
Robert Mathis
, another one of Manning's former teammates, is able to get off the edge and get to Manning. Mathis is tied for the league lead in sacks with 9.5. The area of concern for the Colts is at linebacker. Linebacker
Jerrell Freeman
, the team's leading tackler, had to sit out the second half of last week's game at San Diego with a concussion.
Speaking of linebackers, the Broncos will have
Von Miller
for the first time this season this weekend. Do you expect him to be rusty after being suspended for the first six games?
Legwold:
On the field that may be the biggest question of the week. Miller, under a provision added to the league's collective bargaining agreement in 2006, could attend team meetings during his suspension and work out at the team's strength and conditioning center. He could not practice or attend games. So, all of the on-field work he has done with the strength coaches has been a solo affair. The question will be if he stayed up to speed in the team's defensive playbook – he says he has. He is an impact rusher, a "game-wrecker" as Pagano likes to say (Pagano is a Boulder, Colo., native). Miller's adrenaline will be off the charts, especially early in the game. It wouldn't be a shock for the Colts to test him with a little misdirection early to see if he's up to the challenge. But Miller should have an impact in the pass rush, especially if his conditioning is as good as he says it is.
A lot of folks here are interested to know how Pagano has done healthwise this season following last year's cancer treatments. How important is he to the team's success?
Wells:
The fact that Pagano was able to overcome cancer to be back on the sideline coaching at the end of last season is a remarkable story in itself. The players like how he motivates them and is constantly positive. I don't think there are many head coaches in the NFL who would think about heading over to Lowe's (he ended up having somebody else go for him) to purchase mousetraps as a reminder for his team not to overlook winless Jacksonville after beating San Francisco the week before.
So much is said about Denver's passing game, but what about its rushing game? Can it be effective the same way San Diego was last week?
[+] Enlarge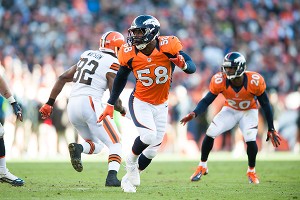 Dustin Bradford/Getty ImagesVon Miller will make his season debut against Andrew Luck and the Colts.
Legwold:
Much of the Chargers' offense comes from first-year head coach Mike McCoy -- the Broncos' offensive coordinator last season. Denver certainly noted the success the Chargers had running at the heart of the Colts' defense, especially with a zone run scheme. For all of the talk about how much the Broncos throw the ball, and they throw it with purpose in any down-and-distance situation, they are still fifth in the league in carries with 180, or 30 per game. With Manning at quarterback, with this coaching staff, they will always be pass-first, but offensive coordinator Adam Gase's mentor in the league was Mike Martz. And Martz's high-flying offenses always had a major run-game component.
With the Colts' run game, and with Luck 20
th
among the league's starters in pass attempts, is there an element of having a system in place that doesn't require Luck to have to do everything for the team to win?
Wells:
Offensive coordinator Pep Hamilton, who held that same role at Stanford with Luck, is big into being a run-first team. The Colts have stuck to that mindset through the first six games. But it'll be interesting if Hamilton loosens things on the offense this season after the Colts ran for a season-low 74 yards last week at San Diego. Luck gives the Colts the best chance to win. They'll need Luck's arm to beat the Broncos because Manning & Co. are going to put points -- a lot of them -- on the board this week. It's hard to imagine the Colts will be able to run the ball well enough to keep Manning on the sidelines looking antsy to get back on the field.
Passing the ball is probably a good idea since the Broncos are last in the league in defending the pass (338 yards a game). Why have the Broncos defended the pass so poorly?
Legwold:
Some of it, especially over the first four games of the season, was a good bit of stat padding late in blowouts by opposing offenses. But there is an element that is a personnel issue as well.
Elvis Dumervil
left in free agency after the fax fiasco in the offseason, Miller was suspended and
Champ Bailey
missed five games after injuring his left foot in the preseason. That's 17 Pro Bowl appearances from guys who were in the lineup last season when the Broncos tied for the league lead in sacks. And they have had some sacks -- 17 thus far -- but those plays have often been clustered near the end of games with the Broncos having built 20-point leads. They haven't consistently pressured opposing passers this season and as a result some of those quarterbacks are finding some openings against a steady diet of man coverage in the Broncos' secondary. They know they have to get to Luck this weekend or he will pick away at them.
That should do it, enjoy the game.
.
May, 11, 2013
5/11/13
1:00
PM ET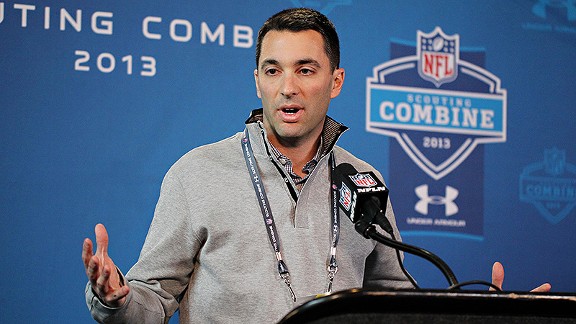 Brian Spurlock/USA TODAY Sports"Its my job to know the league," said GM Tom Telesco. "... It's my job to study rosters every day."
When Tom Telesco received an interview for the San Diego Chargers' vacant general manager post in January, it was considered a terrific opportunity in the career of promising young front-office man.
Telesco wasn't considered a sure bet to be hired to pump life into a stale franchise after the 10-year A.J. Smith era. But Telesco took control of his future and essentially stole the job.
It was well known that the Chargers were focused on removing Smith and head coach Norv Turner. Longtime personnel man Jimmy Raye was widely considered as a slam-dunk to be promoted. The Chargers were fine with the front office as a whole. They figured Smith's time with the team had run its course and that the bigger issue was finding a replacement for Turner.
Then, Telesco interviewed. Everything changed. Telesco opened the Chargers' minds. Perhaps an outside voice to lead the front office was exactly what the team needed. And in a big upset, the Chargers named the 40-year-old Indianapolis front-office man to replace Smith.
The surprise hiring was met with applause from around the league. Telesco was a career front-office man and a protégé of former Colts general manager Bill Polian. Telesco was known for a keen scouting eye and was credited with helping turn the Colts back into a playoff team by restocking the roster.
"Tom has that no-stone-unturned mindset," said Ryan Grigson, his boss in Indianapolis last year. "Tom never stops working. That's what the Chargers are going to appreciate. If I asked Tom if this guy could play or not, an hour later I was getting a text from him or he was knocking on my door, giving me a thumbs-up or a thumbs-down. Tom is a bright, bright, bright guy with a great work ethic."
[+] Enlarge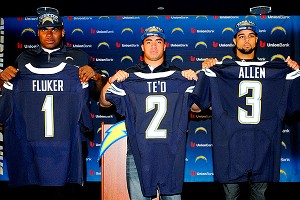 AP Photo/Denis PoroyESPN analysts Mel Kiper Jr. and Todd McShay praised Tom Telesco's first draft with the Chargers.
Ownership was reportedly blown away by Telesco's knowledge of the Chargers' roster during his interview. The Spanos family was stunned by his vision for the team moving forward.
I asked Telesco about that, and he brushed it off.
"It's my job to know the league," said Telesco, polite as always. "I have to know that stuff. It's my job to study rosters every day."
Polian, now an ESPN analyst, wasn't surprised that Telesco impressed the Chargers. Telesco first joined the NFL with Carolina in 1995 when Polian ran the Panthers. He followed Polian to Indianapolis in 1998.
"Tom knows the league, he does what it takes to be good at his job," Polian said. "He's a hard worker. He's level-headed. He's a great judge of talent. … He will be great in San Diego."
His first offseason in San Diego has been positive. He received kudos for tabbing heavily sought-after Denver offensive coordinator Mike McCoy to coach the team. Chargers employees tout Telesco, who played receiver at noted NFL coaching and front-office factory John Carroll University in Ohio, as friendly. They say he has re-energized a building that lacked excitement at the end of the Smith era.
Most league observers believe the Chargers, who have gone three seasons without making the playoffs, had one of the best drafts in the NFL. The Chargers scored big in the first three rounds with the selections of Alabama right tackle
D.J. Fluker
(first round), Notre Dame linebacker
Manti Te'o
(second) and California receiver
Keenan Allen
(third). ESPN analysts Todd McShay and Mel Kiper both said during the draft that Telesco got three first-round picks with his first three choices. Telesco aggressively went after Te'o, who was falling, and traded up on the clock to take him.
Telesco was less aggressive in free agency. The cap-strapped Chargers were active, but they didn't make many splashes. They did get several players who should help right away, starting with cornerback
Derek Cox
, guard
Chad Rinehart
and running back
Danny Woodhead
.
San Diego has not sufficiently addressed its biggest need yet: left tackle. Free-agent signing
King Dunlap
is currently expected to start there even though he is not considered a solid option. The team is also talking to Pittsburgh free agent Max Starks. In Telesco's defense, the Chargers never really had a great chance of adding a top option at the position because of cap issues and because the top three draft options were gone after the first four picks of the draft.
Regardless of whether the Chargers enter Telesco's first season a finished project, he promises to continue to approach the job his way.
"(I) come into work every day trying to find the best players we can," Telesco said. "Part of building chemistry with the team and the team process is getting to know the coaches well, getting to know the scouts, the front office. That's all part of team building for me. It's just trying to get to know everybody really well."
February, 21, 2013
2/21/13
5:45
PM ET
INDIANAPOLIS -- Here are random notes from the media sessions with new San Diego general manager Tom Telesco and coach Mike McCoy:

McCoy said the team will adapt some zone-blocking philosophies, but will use whatever scheme best fits his talent on the offensive line.
McCoy praised veteran tight end Antonio Gates and his ability to always get open. McCoy said Gates will be a big part of the team's new scheme.
McCoy said offensive coordinator Ken Whisenhunt will call the plays. McCoy called the plays in Denver as offensive coordinator.
Last year, the Chargers scrimmaged with the Cowboys in the preseason last year. McCoy said he has his training camp schedule planned for this year and has no such workouts planned. But he said he is not opposed to the idea.
Telesco said he is gaining wisdom and inspiration from the job Chuck Pagano and Ryan Grigson did last year in their first year together in Indianapolis. Telesco was in the front office with the Colts.
While the focus in San Diego is improving the offense, Telesco praised his young defense. He said there is the makings of a strong unit in place. I don't disagree. That unit is solid.
January, 29, 2013
1/29/13
3:30
PM ET
In late December,
I participated in an ESPN.com vote for the NFL executive of the year.
I voted for Denver's John Elway. In that poll, he was edged by Seattle's John Schneider. There isn't an official executive the year award. However,
the Sporting News awards one in which coaches and executives vote for.
On Monday, it was announced that Indianapolis' Ryan Grigson won the award by one vote over Elway.
Am I outraged by that result because I voted for Elway last month? No.
Grigson did a heck of a job, building the Colts from a team that had the No.1 pick in the draft to one that made the playoffs.
This is what I wrote in December to explain my Elway vote: I voted for Elway because few moves he has made have been wrong. Of course, it starts with the signing of (
Peyton) Manning
. I know the argument is anyone can try to sign Manning, and recognizing Manning's importance isn't all that's special. True.
But Elway is the reason why Manning chose Denver. So, Elway gets credit for bringing him to the franchise. There were plenty of teams that wanted Manning. Elway won the sweepstakes, and he deserves kudos. He also added several key pieces, whether on the coaching staff or on the roster. Remember, Elway inherited a 4-12 team that was No. 32 in the NFL in defense just two seasons ago.
I felt Elway deserved the award and many in the Sporting News vote did as well. But seeing Grigson win over Elway isn't exactly a travesty. It was earned.