April, 27, 2013
4/27/13
2:35
PM ET
When the fourth round began, there was talk the
Oakland Raiders
could take former USC quarterback
Matt Barkley
with the third pick in the fourth round. After Oakland traded down, there was talk it could take Syracuse quarterback
Ryan Nassib
. He was taken two picks before Oakland's pick.
Undeterred, the Raiders continued the quarterback run by taking Arkansas quarterback
Tyler Wilson
with the No. 112 pick.
Thus, the Raiders were going to get that quarterback.
[+] Enlarge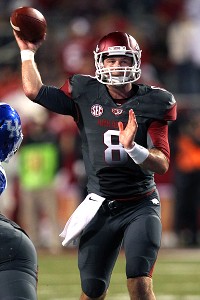 Nelson Chenault/US PresswireTyler Wilson will likely battle Terrelle Pryor to be the backup to expected starter Matt Flynn.
This is a fascinating pick.
Oakland has pressing needs throughout the roster. Yet, it took a quarterback fairly early in the draft. In the end, I don't mind it because if you score a future starting quarterback in the fourth round, it is tremendous value. So in the end, why not take Wilson if you think he can be good?
I do think this says something about the other two quarterbacks on Oakland's roster.
After
Carson Palmer
refused to take a pay cut, Oakland shipped him to Arizona and traded for
Matt Flynn
. They also have
Terrelle Pryor
.
I think the Wilson pick says much more about Pryor than Flynn. If the Raiders really felt Pryor would soon be ready to push Flynn for a starting job, they wouldn't have added another young quarterback at a fairly premium pick. Pryor was taken two years ago by the previous regime in the third round of the supplemental draft.
Teams only have so much time to develop young quarterbacks. Trying to get two youngsters the requisite amount of reps on the practice field is difficult. Usually, teams can only develop one potential starting quarterback at a time.
Plus, regimes love their own guy. Wilson is now "the guy" of general manager Reggie McKenzie and coach Dennis Allen; Pryor is the hand-me down who this regime felt needed further competition.
Sure, Pryor can always develop and prove he is the guy, but the presence of Wilson means the Raiders want to see what he can do just as much as Pryor.
I don't think this pick means all that much for Flynn. He is either going to be good or not. If he is good, he will keep the job. If Flynn, who soon turns 28 and who has started just two NFL games, fails, the Raiders will have to turn to someone else anyway.
It could be Wilson.
He is a big, strong-armed, smart quarterback who is as tough as they come. He has great moxie and I think he can develop. It may take some time, but he has a chance to become a starter. I think it is worth Oakland's time to get him in its program and see what he can do.
Let's face it: Next year's quarterback draft class has a chance to be strong. If the Raiders have a shot at a franchise quarterback, they could take him.
It's open audition time for the Oakland starting quarterback of the future and Tyler Wilson is the next in line.
April, 27, 2013
4/27/13
10:00
AM ET
There are still several quarterbacks available going into the final day of the draft and many league observers expect an early run in the fourth round.
The
Kansas City Chiefs
,
Oakland Raiders
and
San Diego Chargers
all could draft a developmental quarterback. The Chiefs have the second pick in the fourth round and the Raiders have the third. The Chargers do not because they sent it to Arizona to draft
Manti Te'o
trade in the second round.
The biggest name available is USC's
Matt Barkley
. He would fit the Chiefs' system and Oakland general manager Reggie McKenzie attended Barkley's pro day.
He could be an interesting developmental quarterback if either team decides to take a flier. Other quarterbacks available include
Tyler Wilson
,
Ryan Nassib
.
Zac Dysert
,
Matt Scott
and
Tyler Bray
.
The Chiefs, Raiders or Chargers could end up taking a quarterback on the final day of the draft. At this point, it's pretty low risk.
February, 25, 2013
2/25/13
11:00
AM ET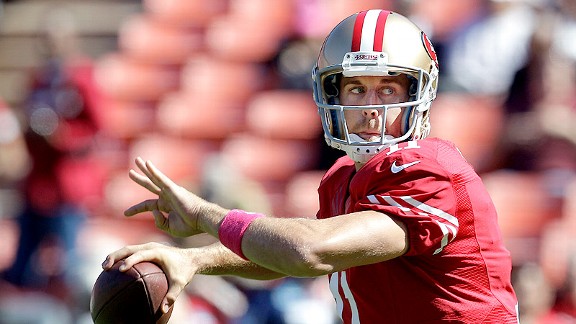 AP Photo/Tony AvelarAlex Smith may be Kansas City's best option if they are looking to add a veteran quarterback.
The biggest story in the AFC West heading into the new league year will be to see where the
Kansas City Chiefs
find their new starting quarterback.
We may have an answer soon. Quarterbacks have worked out at the NFL combine and the NFL league season starts March 12. The Chiefs can either then trade for a veteran or sign one. Let's look at the options as the Andy Reid era in Kansas City begins with a big decision:
CURRENT NFL PLAYERS
I am listing these players first because even though the Chiefs have the No. 1 pick, I think they are leaning toward pursuing a veteran.
Most Likely
Alex Smith, San Francisco:
Why he fits:
Several recent reports have identified the Chiefs as Smith's greatest pursuer. Getting the former 49ers' starter will probably require a trade instead of waiting for him to be cut. I think it may be worth it since he may be the best fit of all of the available quarterbacks this year. He is not perfect, but he could be a good bridge quarterback for a year or two while the Chiefs wait for a better option. Smith has shown he can be a part of a quality team. He is smart and he has played winning football. With good coaching and a solid unit around him, I think Smith can help the Chiefs win games.
Why he doesn't fit:
He is not going to wow anyone and is probably not a long-term answer. He also probably reminds too many people of outgoing Kansas City quarterback
Matt Cassel
. Smith also can't win games alone on a regular basis.
Nick Foles, Philadelphia:
Why he fits:
Reid drafted him in the third round last year and made him his starter. There has been a report that stated the Chiefs have asked about Foles. I think it is worth Reid's time to pursue him. They made good headway together last year and it could be interesting to see the relationship continue. If Foles can develop, he can be a long-term answer. How many other veterans on this list can that be said about?
Why he doesn't fit:
As of now, the Eagles are maintaining he is not available. But that could change since he doesn't seem like a perfect fit for Chip Kelly's offense. If the Chiefs' compensation package is tempting, I can see the Eagles letting go of Foles. It wouldn't be smart to keep a quarterback who doesn't fit a system instead of getting an additional draft pick to go after a player who does.
Matt Flynn, Seattle
Why he fits:
Flynn is a West Coast offense quarterback who came from Green Bay. He was there with new Kansas City general manager John Dorsey. Flynn doesn't fit anymore in Seattle, but he can develop into a decent player. If the price tag and Flynn's salary are right (both should be), it could be worth giving Flynn a flier as a backup option to Smith and Foles. It's not a great year for quarterbacks. Sometimes, teams have to take chances. This would be a low-risk chance and he fits the team's needs.
Why he doesn't fit:
There is a chance the Chiefs may have to go find another quarterback next year if Flynn is acquired.
Other possibilities:
Jason Campbell
(Chicago),
Ryan Mallett
(New England),
Colt McCoy
(Cleveland)
Kyle Orton
(Dallas),
Carson Palmer
(Oakland), Braden Weeden (Cleveland),
Summary:
This isn't a great list and there are no guarantees everyone on this list will be available. Palmer's availability will be a longshot. Guys like Mallett and Weeden could be intriguing because they both have a chance to develop even though Weeden is already 29.
DRAFT
First round
Geno Smith, West Virginia:
Why he fits:
I put Smith on the favorite list along with Alex Smith, Foles and Flynn. I'm not sure Smith will be worthy of the No. 1 pick, but there are some things to like about his game. Many scouts think he'd be a nice fit for Reid's offense. He has all the tools and he is a good pocket passer who can get out and run. Of this entire rookie class, he looks like the best quarterback.
Why he doesn't fit:
He's no sure thing and nothing sets a franchise back like blowing the No.1 pick. Geno Smith comes with risks.
Second-tier options
Matt Barkley
(USC),
Tyler Bray
(Tennessee),
Mike Glennon
(North Carolina (Syracuse),
E.J. Manuel
(Florida State),
Ryan Nassib
(Syracuse)
Tyler Wilson
(Arkansas)
Summary:
I could see the Chiefs getting a veteran, adding a top player elsewhere in the draft and then taking a quarterback at No. 34 or No. 65 to develop. I think Barkley, Wilson, Bray and Manuel could all particularly interest the Chiefs. None of them may be the answer, but it could be worth getting them in the system and to try to develop them in a year where there is no such thing as a guarantee.
February, 21, 2013
2/21/13
10:00
AM ET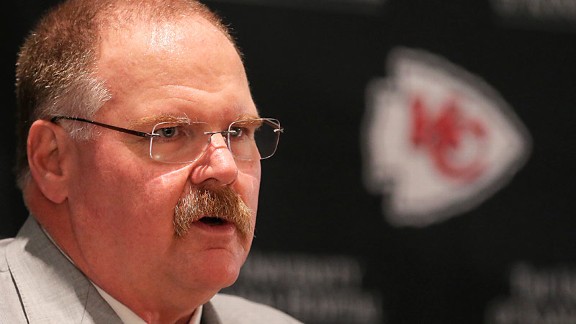 AP Photo/Charlie RiedelAndy Reid and the Chiefs need a quarterback, but will they take one with the No. 1 pick?
INDIANAPOLIS -- The NFL scouting combine starts Thursday. Let's look at some key storylines that affect the AFC West:
It starts with the Chiefs:
The Chiefs have the No. 1 pick in the draft for the first time in the modern era. It's been well documented that this is not an ideal year for the Chiefs to have the top pick. Even though a quarterback has been selected with the top pick in 12 of the past 15 years, there are no quarterbacks who currently have a chance to be the top choice. Yes, quarterback is the Chiefs' greatest need. The Chiefs would probably like to trade out of the first pick. But because the lack of a top quarterback and the fact that most of the top prospects are fairly equally rated, the trade market may not be robust. The Chiefs will likely test the trade waters this week at the combine, but don't be surprised if they leave Indianapolis resigned to the fact that they will keep the pick.
The Raiders are not far behind:
Welcome to the AFC West, where third place equals the No. 3 overall draft pick. Unlike the Chiefs, the Raiders are in a great spot because this is a defense-heavy draft. Oakland needs all kinds of defensive help. It will spend the week scouting the best defensive talent and then go from there.
Will Floyd rise all the way to Oakland?
That leads us to this question: Could Florida defensive tackle
Sharrif Floyd
get on Oakland's radar at No. 3? Floyd is considered a fast riser. He started as a late first-round prospect. However, there's talk he could move all the way up to the Raiders' pick and bypass Utah's
Star Lotulelei
as the top interior defensive lineman. This is a big week for Floyd, and Oakland will be watching closely.
New philosophies abound:
Don't look now, but
John Elway
is the most senior decision-maker in the AFC West. It's just the third year in this role for the legendary former quarterback, but he is the dean of AFC West executives. We have new general managers in San Diego's Tom Telesco and Kansas City's John Dorsey. Both men are first-time general managers. Both Telseco and Dorsey are highly regarded. It will be interesting to see them operate this week at the combine.
[+] Enlarge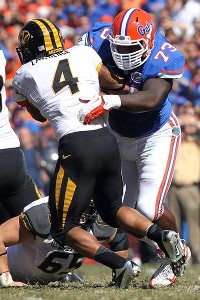 Kim Klement/US PresswireThe Raiders could be looking at Shariff Floyd for the No. 3 pick.
Will Denver trade down again?
Last year, the Broncos traded out of the first round. Could they do it again? Elway has shown he values picks and tries to pick a player where there is value. The Broncos have a lot of options at No. 28, but this week starts the process for Elway to see whether he will be flexible to move down.
Second-round QB options for the Chiefs:
Unless West Virginia quarterback
Geno Smith
steals the combine, the Chiefs will likely consider taking a quarterback in the second round. If I had to guess, three quarterbacks to watch in the second round may be USC's
Matt Barkley
, Syracuse's
Ryan Nassib
and Arkansas'
Tyler Wilson
. Barkley could be a great fit for Andy Reid's West Coast offense. Barkley's shoulder is still not healed enough for him to throw, but I'm sure the Chiefs will quiz him this week.
Chargers have options:
San Diego may be in a position of strength at No. 11. We may not see the Chargers' draft plan unfold after they do their free-agent shopping. Left tackle is San Diego's top need. The free-agent class is solid. If the Chargers answer their left tackle needs before the draft, they could operate from a position of strength in the first round. They could let the draft board play out and see if guards
Chance Warmack
of Alabama or
Jonathan Cooper
of North Carolina fall to them. Both are considered top prospects, but the truth is, guards often drop. So, either player could be a steal at No. 11. I think the same could be said for Alabama cornerback
Dee Milliner
. But it starts with the Chargers looking at this class of left tackles and deciding if free agency is the way to go.
Will Patterson be one of them?
A dark horse for the No. 11 spot is Tennessee receiver
Cordarrelle Patterson
. This is not a strong class for receivers, but Patterson is supremely talented. If he blows the doors off at the combine, he could intrigue the Chargers. They badly need a playmaker for
Philip Rivers
as he enters a critical time in his career. The Chargers will surely poke around Patterson.
Will Oakland get more picks?
The Raiders, who didn't pick until the end of the third round last year, have more picks this season, but they are missing second- and fifth-round picks because of failed trades for veterans. Oakland has one of the thinnest rosters in the NFL. It needs talent everywhere. The Raiders would like to trade down from No. 3 to acquire more picks. But similar to Kansas City with the No. 1 pick, trading down from No. 3 will not be easy. But I'm sure Oakland will put feelers out this week.
Great year to need linemen:
Many folks around the league do not think this is a great overall draft. But it seems strong for offensive and defensive linemen. Several could be taken in the top 40 picks. Each team in the division could use help in both areas. It will be interesting to see if the feeling about these positions remains strong after the combine.
Will Lane Johnson continue to rise?
If the Chargers do take their chances at left tackle in the draft, an answer may be Oklahoma's Lane Johnson. He had a great Senior Bowl, and the former quarterback could be an option for the Chargers if he comes through with a strong combine.
Will the Honey Badger migrate west?
One of the more talked about prospects this week will be former LSU cornerback
Tyrann Mathieu
. He will be at the combine after missing last season because of reported drug issues. Known as the "Honey Badger" for his dynamic playmaking and return ability, Mathieu is a fan favorite. But the truth is, scouts had questions about him before he missed the 2012 season. He is considered an average cover man, but he has ball skills. If he has a good combine he could be taken in rounds 3 or 4. All of the AFC West teams could use a cornerback (with Oakland and San Diego having the greatest needs), so he will be watched by this division.
Injured stars will get looks:
South Carolina running back
Marcus Lattimore
and Florida State's pass-rusher
Tank Carradine
would likely be top prospects if they weren't coming off major knee injuries. Still, both will likely land in the middle rounds and could be steals if they regain their health. I could see Denver closely monitoring Lattimore, and Carradine is a type of player who could help any team. So, the focus at the combine will be on more than just the players on the workout field.