March, 12, 2012
3/12/12
2:10
PM ET
According to ESPN's Chris Mortensen and Adam Schefter
, the
Kansas City Chiefs
are likely out of the running for
Peyton Manning
.
Despite the team's public announcement that it was interested in Manning, it appears nothing has developed. Where does that leave the Chiefs' quarterback situation heading into 2012?
Right where it was prior to Manning becoming a free agent: It is
Matt Cassel
's job until further notice.
Kansas City general manager Scott Pioli said at the combine that the starting quarterback job wasn't necessarily open. It is Cassel's job, but there will be competition.
Like any team looking at Manning, the Chiefs were interested in a rare opportunity to pursue a superstar. That is no knock on Cassel. The reality is, 32 teams would prefer Manning to Cassel. That's just the way it is.
Still, with Manning apparently out of the picture, expect the Chiefs to continue to look at quarterbacks this offseason, albeit on a lesser scale. Candidates include
Kyle Orton
,
Jason Campbell
and
Chad Henne
. If the Chiefs are looking for a pure backup for Cassel,
Brady Quinn
could be an option.
I could also see the Chiefs looking at Branden Weeden or Kirk Cousins if they are available when the Chiefs pick in the second round.
The Chiefs will add a quarterback this offseason. The only question is whether Cassel will be truly pushed or not. Of course, had the Manning pursuit worked out, Cassel might have been pushed right out of Kansas City.
March, 2, 2012
3/02/12
12:00
PM ET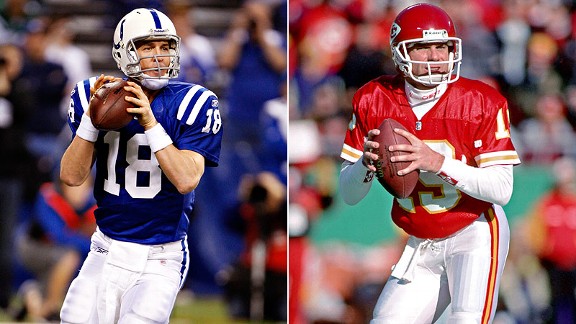 US PresswireWill the Chiefs go after Peyton Manning following an injury as they once went after Joe Montana?
The
Peyton Manning
saga will surely be the story of the NFL offseason. The question in the AFC West is, will the Kansas City Chiefs be the story along with the legendary Indianapolis Colts quarterback?
As of now, we have to think it is a real possibility that the Chiefs will heavily pursue Manning -- who may be cut by the Colts as soon as next week -- if he becomes a free agent. Manning, who will turn 36 on March 24, missed all of last season with a neck injury and there is no certain date when he will be 100 percent, although there have been reports he will be ready to play in 2012.
If the Chiefs end up signing Manning, it won't be the first time the organization
brought in a living legend
at the end of his career after he suffered a serious injury. The Chiefs traded for San Francisco's Joe Montana in 1993.
The Chiefs have been connected to Manning in recent weeks. A Kansas City radio station has even reported that the team has had multiple conversations with Manning's agent about finances and that the Chiefs feel comfortable about what Manning may want. That would constitute tampering and it is highly unlikely any team would talk finances with Manning before giving him a physical and knowing more about his recovery timetable. Still, the Chiefs have a load of salary-cap room and they can easily construct a deal for Manning in addition to making other improvements.
Of course, Kansas City coach Romeo Crennel did nothing to take the scent off a potential Chiefs-Manning pairing when he said this at the NFL combine last Saturday: "With a talent like that, I would be crazy not to consider it if he's available. I'll leave it at that."
The Chiefs are not necessarily looking for a new starting quarterback. At the combine, Kansas City general manager Scott Pioli wouldn't say the job is open. He said the starter is
Matt Cassel
. However, there will be competition at every position. The translation is the Chiefs expect Cassel to be the starter, but if a better option comes along, they will consider it. There's no doubt a healthy Manning would be a better option.
[+] Enlarge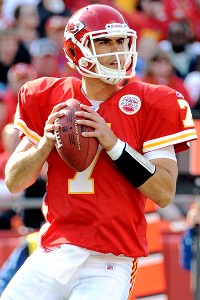 Dak Dillon/US PRESSWIREMatt Cassel may find himself backing up Peyton Manning next season if the Chiefs make a move.
If the Chiefs do want to go deep into the Manning sweepstakes,
they will have competition
, likely beginning with Miami and Washington. There will surely be other teams that show interest in the player who many consider one of the greatest NFL players of all time.
In addition to their interest and financial means, here's another reason the Chiefs could be favorites to land Manning: They may be the best team interested in him. That would surely appeal to Manning when he is making his choice. I'm not sure many of the interested teams can offer Manning a better supporting cast.
The Chiefs have a strong running game and Manning would have plenty of receiving options. No. 1 receiver
Dwayne Bowe
is expected to be franchised, 2011 first-round pick
Jonathan Baldwin
is a potential game-changing deep threat and
Steve Breaston
is a solid possession receiver. Tight end
Tony Moeaki
is expected to be healthy after missing the 2011 season with a knee injury. He was terrific as a rookie in 2010.
In addition to appealing offensive weapons, the Chiefs have the makings of a strong defense. A healthy Manning would immensely help any team. But Manning could be a difference-maker in Kansas City. Matt Williamson of Scouts Inc. said adding Manning would make the Chiefs -- who finished 7-9 in 2011 despite major injury issues -- "the clear favorite to win the AFC West" in 2012.
Putting Manning in the Heartland would make many teams in the AFC nervous.
I would think Manning would also be fine with working with Crennel and Pioli. He is close with New England quarterback
Tom Brady
and Brady won Super Bowls with both men. I'm sure Brady would give Manning glowing reports on both of his potential bosses. And don't think Manning would have trouble working with a defensive-minded coach like Crennel. Remember, the man Manning won his Super Bowl ring with, Tony Dungy, was a defensive-minded coach.
Cassel is also a factor in this scenario. Because Manning will be signed before there are any guarantees he'll be ready to play, any team that signs him must have a good fallback plan. There are fewer better fallbacks than Cassel.
If Manning is signed and he has a setback, the Chiefs can rely on Cassel, who shined as Brady's injury replacement in 2008. While Cassel wouldn't be thrilled with the idea of backing up Manning, I'm sure he'd understand the Chiefs taking advantage of a rare opportunity to pick up a future Hall of Fame player.
There are a lot of reasons this pairing makes sense. If it happens, the Chiefs will be at the center of the NFL universe.
December, 22, 2011
12/22/11
3:30
PM ET
Midweek mail call:
Rick from Phoenix wants to know
if I think the
Kansas City Chiefs
will pursue Bill Cowher to be their coach.
Bill Williamson:
I don't see that as a fit. First, Cowher has maintained he will not coach next season. Also, I don't see Cowher wanting to work with a powerful general manager like Scott Pioli. Cowher would likely want to call his own shots. The coach will not get that opportunity in Kansas City.
---
Pete from S. Lake Tahoe, Calif., wants to know
if I think Oakland coach Hue Jackson could be in danger of losing his job.
BW:
I don't think so. Jackson should be safe. He gets along with Mark Davis, the son of the late Al Davis. The Raiders want to build some stability and they believe in Jackson. The Raiders may bring in some front-office help for Jackson, but expect to see him on the sideline in Oakland next year.
---
Paul from Kansas City wants to know
if San Diego fired Norv Turner and Kansas City makes Romeo Crennel the interim coach, could we see Turner end up as the Chiefs' offensive coordinator.
BW:
It's an interesting question. If Crennel -- a defensive specialist -- is hired, he will look for a strong offensive coordinator. Turner could be interested. I think Josh McDaniels -- if the Rams' staff is fired and if he isn't hired as the Chiefs' head coach -- would also interest Crennel. But if Turner is available, I could see him being on the Chiefs' list.