August, 31, 2012
8/31/12
1:46
AM ET
A look at the Chargers'
35-3 road loss
Thursday night:


After being held out last week because of injuries on his offensive line, the Chargers gave quarterback
Philip Rivers
some late-preseason work. The interception bug hit him again.
Rivers' night ended with poor red-zone decisions on a ball that was intercepted. Rivers threw four interceptions this summer after being picked off 20 times last season. Thursday's interception was just a pass Rivers should not have thrown.
It is a worry? Kind of, yes.
Look, preseason mistakes are just that, and Rivers is a fine player. He has thrown the ball well in the preseason. He completed 8 of 10 passes Thursday and he was 24-of-30 this preseason (yes, only two passes Rivers threw in the preseason were not caught). But he has to get out of this interception rut when the season starts.
Rookie defensive lineman
Kendall Reyes
looked good once again. I expect him to make an instant impact.
Nose tackle
Cam Thomas
looked good and should play a lot as well.
Watch for the Chargers to look for cornerback help on the waiver wire. They are banged up and their reserves were not good Thursday. The 49ers passed all over the Chargers.
Last year, while with the Chargers, quarterback
Scott Tolzien
performed well against the 49ers. So well, in fact, the 49ers claimed him when the Chargers cut him. Thursday night, Tolzein might have lost his roster spot when
Josh Johnson
had a great game for the 49ers. Would the Chargers be tempted to sign Tolzien either as a replacement for
Jarrett Lee
or as a practice-squader regardless if Lee is kept on the 53-man roster?
Linebacker
Bront Bird
finished strong and has a chance to make the team when the 53-man roster is finalized Friday.
Unless there is a shocking change of heart, kicker
Nate Kaeding
makes the team and
Nick Novak
gets cut.
August, 8, 2012
8/08/12
12:00
PM ET
SAN DIEGO -- With the outside perception of the
San Diego Chargers
taking a major tumble, the team, which for so long was built from the inside, changed philosophy in 2012 in a last attempt to keep that proverbial Super Bowl window from slamming shut and causing major upheaval in the organization.

After two playoff-less seasons and a reprieve from ownership, San Diego general manager A.J. Smith made an uncharacteristically heavy play in free agency. Taking advantage of one of the deepest classes in history, the Chargers nabbed more than a dozen free agents to infuse new life into a roster that was still talented but no longer arguably the stoutest in the NFL.
"I love what they have done around here," said safety
Eric Weddle
, one of the Chargers' homegrown mainstays. "We hit the lowest of the lows the past two years by not making the playoffs. Getting new blood in here has helped."
Among the veterans San Diego brought in were running backs
Le'Ron McClain
and
Ronnie Brown
, receivers
Robert Meachem
and
Eddie Royal
, linebacker
Jarret Johnson
and defensive tackle
Aubrayo Franklin
.
"The thing about the new guys is they all love football," San Diego quarterback
Philip Rivers
said. "They love it. We need guys like that here. … It gives us a new start. Those guys won't worry about the past. They weren't here for the slow starts or the six-game losing streak last year. It's all a new start."
If this cleansing of the roster doesn't work, the next restructuring will likely occur up top with the firing of coach Norv Turner and possibly Smith. Yet, in a season of new beginnings, spirits are high.
"I think we can be special," Weddle said. "There's still a lot of talent here, with a bunch of new talent. … People may not be expecting much from us this year because we haven't done anything, so that's fair. But it's kind of nice to be under the radar for once."
THREE HOT ISSUES
[+] Enlarge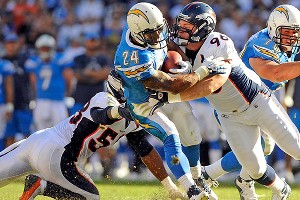 Christopher Hanewinckel/US PresswireThe Chargers aim to lean even more heavily on running back Ryan Mathews this season.
1. Ryan Mathews' workload:
Outside of Rivers, there is likely not a more important player in this camp than Mathews. The Chargers all know if Mathews flourishes in his third NFL season, the team will have a strong chance to be successful. Mathews, the No. 12 overall pick in 2010, had a solid second season as he ran for 1,091 yards and averaged a terrific 4.9 yards per carry. This year, the Chargers want to see Mathews become consistent and stay healthy. He will likely be given the chance to to carry the ball 25 times a game, catch several balls out of the backfield and be a factor on third down and in short yardage. This camp is designed to get him prepared for a heavy workload. From what I saw and heard, it seems like Mathews might be up to the task.
"He's working hard," Rivers said. "Ryan knows what is expected of him."
2. Sparking the defense:
While the offense in San Diego needs some tweaks, the bigger fixes are necessary on defense, where former linebackers coach John Pagano is in charge of fixing a unit that fell apart last season. He replaces Greg Manusky, who was fired after one season on the job. The biggest issue -- it is a major point of emphasis in camp -- is getting off the field on third down. San Diego was last in the NFL in third-down defense in 2011. It gave up a first down on 49.2 percent of all third downs -- according to ESPN Stats & Information, the worst percentage in the NFL since the 1995
Cleveland Browns
. The Chargers have added several pieces to the defense and it has a chance to be much more active -- particularly on passing downs, when No. 1 pick
Melvin Ingram
will be given a chance to make an instant impact as a pass-rusher.
3. Protect the quarterback:
The San Diego offensive line was in shambles for much of last season, and it was a big reason why Rivers struggled for the first 10 games. Mainly due to poor health, San Diego used 13 offensive linemen last season -- literally taking players off the street at one point in November. With
Jared Gaither
, claimed off waivers from Kansas City, solidifying the left tackle spot, the unit improved dramatically late in the season. Gaither was re-signed and is being counted on to protect Rivers' blind side. The steady
Tyronne Green
takes over for the departed
Kris Dielman
. Green has fared well when he's had to play. If this unit remains in good health, it should protect Rivers well. If not, trouble could persist. So far, the unit looks good in camp.
REASON FOR OPTIMISM
The passing game looks to be top-notch. After a sloppy start to last season, Rivers finished 2011 strong. He has looked good in camp, and has an interesting group of receivers. Yes, standout
Vincent Jackson
is gone, but the Chargers have an ensemble group that includes
Malcom Floyd
, free-agent signees Meachem (New Orleans) and Royal (Denver) and second-year player
Vincent Brown
. Together, this group should offer Rivers plenty of help.
"We like what we have there," Turner said. "We like all the pieces. We think we can get some things done in the passing game."
If the Rivers-led passing attack is back at an elite level, the Chargers will be a threat to win every game. When Rivers is on, San Diego has a chance to score every time the offense hits the field.
REASON FOR PESSIMISM
The Chargers must prove they are totally past their doldrums. The team feels good about itself, but it does every summer. We will not know if San Diego is out of its funk until it's out.
Yes, the depth looks good, but will it be enough if injuries pile up for a fourth consecutive year? Yes, cutting down on turnovers is a point of emphasis in camp, but once the season starts, will the hard work pay off or will the killer interceptions and fumbles continue?
It has gotten to the point where we can't trust this team until it shows it is has indeed rebounded.
OBSERVATION DECK
[+] Enlarge

AP Photo/Lenny IgnelziReceiver Eddie Royal, an offseason pickup, appears to have clicked with Chargers QB Philip Rivers.

Tight end Antonio Gates is turning heads on a daily basis. After dealing with foot-related injuries for four years, Gates is finally completely healthy. He's slimmed down and he is making a lot of plays. If his health remains, the 32-year-old should make a huge impact.
Denver might have lost interest in Royal, but there is a place for him San Diego. Expect Royal to get a lot of work. He has impressed the coaching staff this summer and I expect him to be as favorite a target for Rivers during the season as he has been this summer.
The Chargers love what they see in Johnson. He is tough, smart and excellent against the run. They think he can bump the defense up a notch.
Linebacker Donald Butler looks good after a strong 2011 season, which was essentially his rookie season because he was injured in 2010. He is just another fascinating young defensive piece on this team.
Undrafted rookie quarterback Jarrett Lee looks like a keeper. He got extra work because of a knee injury to Charlie Whitehurst. I could see Lee making this roster. The Chargers were burned last year when they tried to sneak undrafted rookie quarterback Scott Tolzien onto the practice squad; he was claimed by San Francisco. If Lee continues to impress, I think the Chargers will find room for him on the 53-man roster. They need to develop a young quarterback at some point and Lee might be it.


The Nate Kaeding-Nick Novak battle at kicker will go down to the wire. If Kaeding stays healthy and kicks well in the preseason, he should win the job.
The Chargers love the skill level of Meachem. Perhaps he was lost in the shuffle of the dynamic offensive weaponry in New Orleans. He'll get his shot in San Diego.
The Chargers are pumped about McClain, a free-agent pickup from Kansas City. He will play a lot and should be in the mix for some carries. They like the veteran stability he brings to the offense.
Center David Molk, a seventh-round pick, is getting some second-team reps. He may have a future.
The Chargers are very happy with pre-camp signings Franklin and running back/special-teamer Jackie Battle. Though they both signed late, I see them both being contributors.
Keep an eye on ex-Chief Demorrio Williams. The linebacker has been a camp stud, boasting terrific speed. The Chargers like him in coverage.
The Chargers will keep their eyes open for help at certain positions, including cornerback and offensive line, as the summer progresses.
Third-round pick Brandon Taylor, a safety, might not make an instant impact, but Taylor has impressed and will get some valuable time behind veteran pickup Atari Bigby, who himself has been outstanding this summer.


Brown has been getting looks as the third-down back and will be an occasional Wildcat threat.
Running back Curtis Brinkley flashed talent at times last season, but because of the logjam at running back, he is a long shot to make the team.


Rookie tight end Ladarius Green has nice receiving skills. I can see him making an impact behind Gates and Dante Rosario (a very nice backup). Green, a fourth-round pick, needs to learn to block at an NFL level, but he has terrific hands and natural size.
Undrafted rookie tackle Mike Harris has taken advantage of an early camp injury to Gaither, getting some reps with the first team. The UCLA product has a chance to make the team. Rivers has joked that Harris has gotten more first-team reps than any undrafted rookie tackle in the history of the NFL.
January, 25, 2012
1/25/12
6:30
PM ET
Quarterbacks
Kellen Moore
of Boise State and
Russell Wilson
of Wisconsin are both helping their NFL draft cause with solid performances at the Senior Bowl this week,
according to an Insider piece.
Both quarterbacks are considered third-day prospects (fourth round or later) because neither has ideal height for an NFL quarterback. Let's look at whether either quarterback could be playing their way into interesting any AFC West teams:
Denver:
I expect Denver to look at quarterbacks in the draft as it did last year. But I'm not sure the Broncos will be ready to invest a high-round pick on a quarterback. They may do that next year if Tim Tebow fails to prove himself in 2012. I do think the Broncos would be open to taking a bargain late in the draft. If someone like
Brandon Weeden
of Oklahoma State is available on day three, I think Denver would be more inclined to take him rather than Moore or Wilson. Since the Broncos would be open to drafting a quarterback, I wouldn't be shocked if Moore or Wilson ended up in Denver.
Kansas City:
The Chiefs took
Ricky Stanzi
in the fifth round last season. So, I don't see Kansas City taking another developmental quarterback this year.
Oakland:
The Raiders are in a similar situation as the Chiefs as they took
Terrelle Pryor
in the third round of the supplemental draft last year. Combine that with the fact the Raiders likely don't need another project at the position and their lack of draft picks, we just don't see the Raiders looking at Moore or Wilson.
San Diego:
I'd say the Chargers, along with the Broncos, are the most likely of the teams in the division to take a flyer on one of these two players. The Chargers signed Wisconsin's
Scott Tolzien
as an undrafted player last summer and regretted not keep him on the 53-man roster when he was claimed by San Francisco. I could see the Chargers looking to develop a young quarterback. They could take a stab at Moore or Wilson if either were available at the right time.
September, 6, 2011
9/06/11
1:34
PM ET
If Colts quarterback Peyton Manning doesn't play Sunday, Kansas City center Casey Wiegmann will have the fourth-longest starting streak in the NFL.
He has started 159 straight games
.
The Chiefs claimed tackle Steve Maneri off waivers from New England. He was on the Patriots' practice squad for much of last season. The Chiefs had been looking for depth at the position. To make room for him, Kansas City cut tight end Anthony Becht.
NFL.com has details
about who is interested in the outcome of a Terrelle Pryor appeal of his five-game suspension to start the season.
San Diego punter Mike Scifres expects to benefit from
an improved special teams
. Scifres did his job last seasons, but others around him didn't.
The Chargers added quarterback Drew Willy to the practice squad
as a replacement
for Scott Tolzien. He was claimed by San Francisco when the Chargers cut him during the weekend. The Chargers wanted to put Tolzien on the practice squad. Willy played college football at Buffalo and he's been with the practice squads of the Ravens, Colts and Jets.
September, 4, 2011
9/04/11
2:50
PM ET
This has to sting the
San Diego Chargers
a bit.

The San Diego Union Tribune reports
that two undrafted rookies the Chargers cut were claimed. Quarterback
Scott Tolzien
was claimed by San Francisco and center/guard
Colin Baxter
was claimed by the
New York Jets
.
It's not overly common for undrafted free agents to be claimed right after not making the 53-man roster. Tolzien and Baxter both had good summers.
The Chargers liked Tolzien a lot. The paper reported that the Chargers saw him as a potential future backup to
Philip Rivers
. Now, San Diego just has Rivers and backup
Billy Volek
in the program. That is all it needs, but it would have been nice for the team to develop Tolzien. Now that the gamble to try to stash Tolzien on the practice squad didn't work, the Chargers could look to add a young quarterback to the practice squad.
Baxter made a push to the make San Diego's 53-man roster. The Chargers liked him for his versatility.
While it hurts the Chargers to lose two prospects, this could be, in the big picture, a positive sign. The fact that the Chargers didn't find room on the 53-man roster for two talented players like this might be an indication of how deep the roster is.
Meanwhile, Carolina
reportedly claimed
defensive back
Stevie Brown
, who was cut by the Raiders. The 2010 draft pick was not eligible for the practice squad, so Oakland knew it was saying goodbye to Brown when it cut him.
UPDATE:
The Panthers have announced
the claiming of Brown and former San Diego receiver Seyi Ajirotutu. He showed promise at points last season. He reunites with Carolina head coach Ron Rivera, who was the Chargers' defensive coordinator. He was not eligible for the practice squad.
September, 3, 2011
9/03/11
11:10
PM ET
The San Diego Tribune
put out an interesting nugget
. It says it's no sure thing that undrafted rookie quarterback
Scott Tolzien
will make it onto the San Diego Chargers' practice squad. The paper thinks he could be claimed.
It reports that the
San Francisco 49ers
likes Tolzien. San Francisco is looking for quarterbacks and Tolzien played well against them in the preseason finale. Teams usually don't think undrafted free agents are going to be claimed, but a quarterback who had a good summer could be a different story.
If Tolzien does get claimed, the Chargers will likely look to add a young quarterback to the practice squad behind roster players
Philip Rivers
and
Billy Volek
. We'll find out Sunday when teams can claim players who were cut Saturday.
In other AFC West-related news at the end of a busy, day in the division:
ESPN's Adam Schefter reports
former
Kansas City Chiefs
guard
Brian Waters
tried out for the
New England Patriots
. It was his first reported visit since he was cut earlier in the summer.
The
Oakland Raiders
will
practice at night
this week in preparation for the "Monday Night Football" game in Colorado against the
Denver Broncos
. Kickoff is set for 10:15 p.m. ET.
September, 3, 2011
9/03/11
7:20
PM ET
Check here
for a complete list of the
San Diego Chargers
' roster moves.

Surprise move:
There were some familiar names on the Chargers' cut list. Defensive end
Ogemdi Nwagbuo
was productive last year, and he was a popular member of the team. Receiver
Seyi Ajirotutu
also made some plays last season when the Chargers' receiving crew was depleted. There was also a thought that undrafted rookie quarterback
Scott Tolzien
would be kept after a strong summer. I'm sure the Chargers will try to put him on the practice squad.
No-brainers:
In the end, receiver/returner
Bryan Walters
and linebacker
Darryl Gamble
, an undrafted rookie, were too good to cut. Anyone who paid attention to San Diego in the preseason saw these two youngsters make play after play. Now, they have jobs. Expect them both to contribute on special teams this season.
What's next:
The Chargers
on Saturday signed
veteran linebacker
Na'il Diggs
. The 12-year veteran is a leader, and he could push for playing time at inside linebacker. San Diego will probably look at the waiver wire for help in the secondary, offensive line and receiver.
September, 2, 2011
9/02/11
7:10
PM ET
As far as I'm concerned the 53-man cut-down date (which occurs Saturday) is an overrated event.
Many players who survive the cut end up being gameday inactives during most of the season and teams are always looking to improve the back end of the roster. Yet, the final cutdown time is upon us, so let's look at some of the players on the bubble for each AFC West team:

Denver:
There's not a ton of big names here that stand out as certain bubble players. Safeties
Darcel McBath
and
David Bruton
, both taken in 2009, could get the axe. Second-year cornerback
Perrish Cox
-- who is facing an October sexual assault trial that could imprison him for life -- could also be on the bubble. But the season-ending Achilles injury to key backup cornerback Syd'Quan Thompson could help Cox's cause to make the team.

Kansas City:
There's not a lot big names here, either. Receivers
Verran Tucker
,
Jeremy Horne
and
Keary Colbert
are fighting for a spot. Running back
Jackie Battle
is likely an odd-man out. Defensive backs
Donald Washington
, Rashard Langford,
Sabby Piscitelli
and
Travis Daniels
are also on the bubble.

Oakland:
Defensive backs
Walter McFadden
,
Jeremy Ware
, Steve Brown and
Sterling Moore
are all on the bubble. It will be interesting to see what happens there. Veteran running back Michael Bennett could also be on his way out as well as receiver/punt returner
Nick Miller
.

San Diego:
The Chargers' receiver situation is interesting. It looks like
Bryan Walters
could make the team. But what about Seji Ajirotutu,
Laurent Robinson
and
Kelley Washington
? Veteran linebacker
Stephen Cooper
and
Kevin Bentley
are on the bubble as is rookie undrafted quarterback
Scott Tolzien
.
What are your thoughts about the final cut downs. Fill up the comment section below with your thoughts.
August, 11, 2011
8/11/11
11:25
PM ET
Here are some thoughts from the Chargers' 24-17 loss to Seattle in their preseason opener on Thursday night on ESPN:

The first-team offense is nice:
The expectations in this post-lockout world have been that established offenses would be further along than teams with major change. The Chargers are virtually the same offense as they were last season.
The first-team offense looked like it's been working daily all year. Quarterback
Philip Rivers
led San Diego on an impressive 10-play, 89-yard drive in five minutes, 33 seconds. Rivers completed 5 of 6 passes for 87 yards and a touchdown pass. The Chargers cruised down the field as if it were November.
The fact that Rivers led more than 40 players in four-times-as-week workouts beginning in March makes it's easy to understand why the first-team offense clicked so well.
Happiness on special teams:
The Chargers' area that needs the most improvement is the special teams. It got off to a terrific start in 2011 under new coach Rich Bisaccia.
Bryan Walters
energized his team with a 103-yard kickoff return in the third quarter. Even though it is just the preseason, the entire stadium erupted and Bisaccia acted like he just won the Super Bowl. You can't blame the Chargers for reveling in the moment. After a year in which special-teams misery cost them a playoff spot, this was a welcome moment.
VJ-Rivers combination is back:
The highlight of that first drive was a 48-yard pass from Rivers to No. 1 receiver
Vincent Jackson
, who held out for much of last season. Prior to last season, Rivers and Jackson developed a tremendous chemistry and it is clear the combination is back in form. This will make San Diego's offense, which was ranked No. 1 in the NFL last year, even more dangerous.
Mathews has nice hands:
Rivers told me this week when I visited the Chargers' camp that he was impressed by how second-year running back
Ryan Mathews
was coming around in the passing game. Mathews made a nifty 9-yard catch on that first drive. If he can continue to make strides, Mathews can help make up for what is lost in the passing game with the departure of free-agent
Darren Sproles
, who is now in New Orleans.
New coordinator, same nasty D:
This was the debut of new defensive coordinator
Greg Manusky
. He replaces Ron Rivera, who is now the head coach in Carolina and who led the Chargers to the NFL's No. 1-ranked defense last season. I heard good things about Manusky, and Thursday, his defense came out and looked great. The Chargers' defense was swarming and aggressive -- just the way Manusky likes it. Seattle didn't pass midfield in the first half. It seems like this defense is still in good hands.
Liuget is explosive:
A big part of the new defense is first-round pick
Corey Liuget
. He was drafted for his speed and his ability to quickly get into the backfield. The Illinois product displayed that Thursday night, and the Chargers have to be thrilled. He is didn't have an offseason program, signed late and missed some camp time. Yet, he looks ready to go.
Todman looks good:
The Chargers have been thrilled about sixth-round running back
Jordan Todman
. They thought they got a steal when he lasted until the sixth round and they loved the way he worked in camp. The hope is he can replace Sproles. After his first preseason game, that hope shouldn't change. Todman looked good Thursday. He had 30 yards rushing on six totes and he added 21 yards on four catches.
Third stringers not so much:
The Seahawks outscored San Diego 24-7 in the second half. It was a tough game for San Diego undrafted rookie quarterback
Scott Tolzien
, who has been impressive in camp. He led a good drive at the end of the game that fell just short of the end zone. Overall, this was a good night for San Diego, just not for many of players who likely won't make the roster.
August, 10, 2011
8/10/11
12:00
PM ET
SAN DIEGO -- If anything beneficial came out of the
San Diego Chargers
' early-season stumbles in 2010, it was that the team that always seemed to be living dangerously had finally learned its lesson.
Starting slow can catch up to a team. In the three previous seasons under coach Norv Turner, the Chargers overcame slow starts with torrid finishes that resulted in AFC West championships. It didn't happen last year. San Diego couldn't overcome an early 2-5 hole and finished 9-7, allowing the upstart
Kansas City Chiefs
to steal the division title.
[+] Enlarge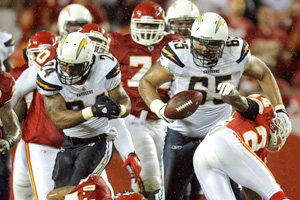 AP Photo/Charlie RiedelThe Chargers stumbled out of the gate last year to a 2-7 record, thanks partially to a rash of turnovers.
Chargers quarterback
Philip Rivers
said earlier in this abbreviated training camp that the Chargers must learn from last year's disappointment and find a way to finally start fast.
Turner is all for starting fast, and he said one emphasis during camp is working to fix what has made the Chargers vulnerable in recent seasons. San Diego's offense has often been sloppy early on, committing too many turnovers. Last season, the Chargers committed 18 turnovers in their first seven games.
"We've played good football, but the turnovers hurt us," Turner said. "When we didn't turn the ball over, we'd win. That's what we're working on. I think the key is not talking about the slow starts, but working on the reason why we started slow."
THREE HOT ISSUES
1. Getting special teams up to speed.
The 2010 Chargers will be remembered for assembling perhaps the worst special-teams unit of all time. San Diego had the No. 1-ranked offense and No. 1-ranked defense in the NFL last year, yet it didn't make the playoffs because of special teams, which cost the Chargers in every imaginable way. The Chargers have put a major emphasis on the unit during camp. Special-teams practice segments are long and spirited. New special-teams coach Rich Bisaccia is well-respected and determined to get his players on track.
"It is a major point of emphasis in this camp," Turner said.
2. Get Ryan Mathews ready.
This is a big camp for Mathews, the running back who was the No. 12 overall pick in 2010. He alarmed the team when he failed a conditioning test at the start of training camp. Teammates reportedly were surprised Mathews failed the test, and he admitted he should have worked out his legs more during the lockout. That is the last thing a team wants to hear from its rich 24-year-old tailback of the future. He is currently dealing with a minor leg injury that is expected to keep him out of the preseason opener against Seattle. Mathews had durability issues last year, although he flashed at times, and he must show during camp that he is ready to be a lead back and can stay healthy.
"Ryan has to get some carries," Turner said. "We need to get him some work."
Turner expects Mathews to continue to work in tandem with powerful veteran Mike Tolbert, who looks as fearsome as always. Tolbert is an underrated weapon. Look for him to see more action in all phases of the run game as Mathews tries to develop.
[+] Enlarge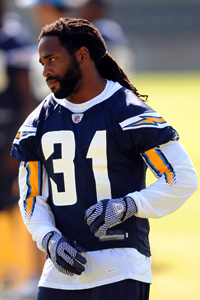 Christopher Hanewinckel/US PresswireVeteran safety Bob Sanders has struggled to stay healthy the past few seasons, but has looked good in camp.
3. The veteran safeties.
Oft-injured
Bob Sanders
looks good. It may be too much to ask for the former NFL Defensive Player of the Year to return to his peak form, considering he has played in nine games over the past three years, but Sanders looks primed to bounce back. He and fellow safety
Eric Weddle
, who last month signed a $40 million deal to stay in San Diego, seem to have a strong on-field connection. They should be fun to watch and should benefit from playing with each other.
"Bob has been amazing," Weddle reports. "There's no rust there."
BIGGEST SURPRISE
The Chargers have their starting receivers together. That wasn't expected.
The Chargers wanted to bring back No. 2 wideout
Malcom Floyd
, but they thought they would be outbid for Floyd's services. The market didn't develop as expected, though, so Floyd took a two-year deal that could be worth as much as $7 million to stay in San Diego.
That means the Chargers have No. 1 receiver
Vincent Jackson
(who held out for much of last season, and was given the franchise tag this year) and Floyd in the fold. Last year, because of a rash of injuries at the position, Rivers was throwing to street free agents at the end of the season. Having Jackson and Floyd at his disposal will be a treat for Rivers, who threw for 4,710 yards last season.
Add veteran
Patrick Crayton
and third-round possession receiver
Vincent Brown
, and the Chargers' receiving corps is stronger than it was expected to be.
BIGGEST DISAPPOINTMENT
The Chargers couldn't come to a contract agreement with inside linebacker
Kevin Burnett
. He was a priority for the team, but Burnett ended up being the one who got away from the Chargers, who otherwise enjoyed a strong free-agent period.
In the end, Burnett wanted more than San Diego was willing to offer, and he ended up signing with Miami.
Burnett had a good season for the Chargers in 2010, with 95 tackles and six sacks, and San Diego wanted him back as part of its 3-4 defense. Now a young player probably will be inserted opposite free-agent signee
Takeo Spikes
on the inside. Right now, 2010 draft pick
Donald Butler
(who missed all of his rookie year with an injury) is getting those repetitions with the first team. Second-round pick
Jonas Mouton
will have a chance to impress in the preseason too, and the Chargers could look for a veteran if the youngsters show they are not ready.
OBSERVATION DECK
New defensive coordinator Greg Manusky -- who replaced Ron Rivera, now the head coach in Carolina -- lets his presence be known. He is a high-energy coach who is not afraid to bark instructions constantly. No need to worry about the San Diego defense falling flat after being ranked No. 1 in the NFL last year.

Spikes has looked good. He is 34, but he played for Manusky in San Francisco last year and has Manusky's trust. Spikes has never played for a winner and seems energized by being part of this roster.

Rookie free-agent quarterback Scott Tolzien has looked good in camp. The Wisconsin product is a smart player who may be a nice developmental prospect.

The Chargers are not overly concerned about the foot injury hampering star tight end Antonio Gates, who started camp on the physically unable to perform list because of the plantar fascia injury that ended his 2010 season prematurely. The team will be cautious, and Gates is expected to be ready for the season.

Louis Vasquez and Tyronne Green continue to vie for the right guard spot. Vasquez had been the starter, but Green proved to be a worthy injury replacement for Vasquez and now is hoping for more playing time.

Sixth-round pick Jordan Todman is running the ball well. He could make a contribution as a rookie replacement for the departed Darren Sproles.

Cornerback Antoine Cason is going to take over punt returns now that Sproles is gone.

Defensive tackle Antonio Garay doesn't look like a one-year wonder. He is having a strong camp after a huge season in 2010.

The Chargers have loved what they've seen from rookie cornerback Marcus Gilchrist so far. He may have a chance to contribute.

Last year, Chargers camp was dampened by the holdouts of Jackson and left tackle Marcus McNeill. This year, there is contract harmony after several players received new deals. It wouldn't surprise me to see Tolbert, Cason and center Nick Hardwick also get new deals in the next year.
August, 9, 2011
8/09/11
7:40
PM ET
SAN DIEGO -- I had a chance to catch up with San Diego quarterback
Philip Rivers
on Tuesday, and we discussed several topics.
Rivers
Here is a sampling:
Rivers is excited about the prospect of playing with starting receivers
Vincent Jackson
and
Malcom Floyd
and tight end
Antonio Gates
. Last season, the three played together for a total of one quarter of a game. Jackson held out much of the season, and Gates and Floyd were hurt late in the season. In 2009, those three players combined for 192 catches for 3,100 receiving yards and 18 touchdowns catches.
That is a lot of missed opportunities for Rivers. However, he still passed for a career-high 4,710 yards in 2010.
Rivers said he is thrilled to have his top receivers back, but the good part about last season was that several other players showed they can contribute to the offense, including receiver
Patrick Crayton
and tight end
Randy McMichael
.
Add veteran free-agent pickup
Laurent Robinson
and rookie receiver
Vincent Brown
, and Rivers likes what he sees.
"We have a lot of weapons," Rivers said. "I have so many different guys who I can count on. It's really going to be exciting."
Meanwhile, Rivers complimented second-year running back
Ryan Mathews
for his development in camp. Mathews has been maligned for not showing up to camp in prime shape, and he has continued to deal with nagging injuries. He likely will not play Thursday against Seattle as a precaution because of a minor leg injury.
However, Rivers said Mathews is making strides in all aspects of the game, including pass protection. Rivers said he believes Mathews will only improve as he takes more repetitions.
Rivers admits it didn't break his heart to see star cornerback
Nnamdi Asomugha
leave Oakland and the AFC West to sign with Philadelphia. However, Rivers said he is impressed by Oakland cornerbacks
Stanford Routt
and
Chris Johnson
, who likely will replace Asomugha.
"Nnamdi is great, but Routt and Johnson can cover," Rivers said. "Oakland had us covered as well as anyone in [Oakland's 28-13 win at San Diego in December]. ... Those guys can play."
Rivers also has been impressed by rookie free-agent quarterback
Scott Tolzien
. Rivers said he knew the first day he saw Tolzien that Tolzien is more than camp fodder.
"He's a pro," Rivers said. "You can tell the kid can handle himself."
If the Wisconsin product has a good preseason, perhaps San Diego will add him on the active roster behind Rivers and
Billy Volek
.
August, 1, 2011
8/01/11
6:00
PM ET
No one has lost more in this post-lockout NFL world than undrafted free agents.
Let's take a moment and give some attention to the youngsters who face a serious challenge in making a roster. I enlisted Steve Muench of Scouts Inc. to list the top five undrafted free agents in the AFC West. Here are Muench's thoughts:
1. Kansas City -- Oregon DL Brandon Bair:
Bair has the long arms, quickness and bulk to transition from defensive tackle to defensive end in Kansas City's base three-man front. He's a hard worker who needs to improve his pad level and hand fighting to realize his potential in this scheme.
2. Kansas City -- Michigan State TE Charlie Gantt:
The Chiefs have also done well to give Gantt a look in training camp. Gantt isn't a game-changer or a dominant in-line blocker but he has the tools to develop into an effective short-to-intermediate target and wall-off blocker.
3. Denver -- Auburn RB Mario Fannin:
Fannin put the ball on the ground too much and left too many yards on the field by missing seams at the college level so it came as little surprise that he didn't get drafted. On the other hand, he could prove to be a steal for Denver. His size/speed blend is impressive and he can contribute on third down -- both as a receiver and as a blocker.
4. San Diego -- Wisconsin QB Scott Tolzien:
Tolzien doesn't project as the heir apparent to Philip Rivers in San Diego. He just doesn't have the frame or arm strength to carry a franchise. Still he's a strong signing because he has the work ethic, smarts and enough accuracy to develop into an effective backup and
Billy Volek
is 35 years old.
5. Denver -- Michigan State WR Mark Dell:
Dell isn't going to run away from NFL defenses after the catch or take the top of the coverage. He is however an effective zone buster with the toughness to make plays over the middle. Though he will have a harder time separating from man coverage he has the size and is a savvy enough route runner to produce against sub-package defensive backs. It's also worth pointing out that Denver signed Fresno State's
Jamel Hamler
who could also contribute as a No. 4 or 5 in time.
July, 26, 2011
7/26/11
3:55
PM ET
San Diego receiver
Vincent Jackson
has been in the news for a year since his 2010 holdout began. But it seems, for now, the Jackson headlines will slow down.
The San Diego Union-Tribune is reporting
Jackson is expected to sign his franchise tender almost as soon as he can on Friday. Jackson has been expected to sign, although he reportedly tried to wiggle out of it last week.
This is a big year for Jackson. He has to have a big year to finally get the big-money contract he has desired, whether it's from San Diego or another team. By signing his tender immediately, it shows Jackson is ready to begin the quest.
In other wild Tuesday updates:
None of the AFC West teams have announced their full undrafted free-agent classes.
But it appears
San Diego has added Wisconsin quarterback Scott Tolzien. He has a chance to stick as practice squad player. The Chargers want to re-sign free agent
Billy Volek
as their backup. If he signs elsewhere, San Diego will be in the market for a veteran backup for
Philip Rivers
.
ESPN's Adam Schefter is reporting Dallas is cutting
Marion Barber
. Denver could show interest.
Schefter reported
Oakland was interested in Delaware quarterback Pat Devlin before he signed with Miami as an undrafted free agent. He would have been a nice get for the Raiders, who want to develop a young quarterback.