June, 6, 2013
6/06/13
1:50
PM ET
New San Diego pass-rusher
Dwight Freeney
is comfortable with how
the Chargers plan to use him
. San Diego employs a 3-4 defense, while Freeney has excelled in 4-3 looks. However, the Chargers are multiple on passing downs and it should easily put Freeney in a position where he is comfortable.
ESPN.com columnist Jeffri Chadiha explains
what new
Kansas City Chiefs
quarterback
Alex Smith
offers his new teammates.
New Orleans Saints
coach Sean Payton said he talked to Oakland coach Dennis Allen, who was once on Payton's staff, about doing a combined workout in the days prior to the Raiders' preseason game in New Orleans on Aug. 16. However, Payton said he doesn't think the Raiders are going to do it.
November, 7, 2012
11/07/12
4:00
PM ET
Mid-week mail call:
Eric from Cincinnati wants to know
if New Orleans coach Sean Payton could end up coaching in the AFC West in 2013.
Bill Williamson:
I'd doubt it. It sounds like he's staying in New Orleans. If he does bolt, the
Dallas Cowboys
have to be considered the favorite landing spot. There could be openings in both San Diego and in Kansas City, but I doubt either team would win a bidding war for Payton, who looks like he could be the coaching prize of the offseason.
Matt McBeth from El Cajon, Calif., wants to know
if I think quarterback
Alex Tanney
has a future with the Chiefs.
BW:
Probably not. He is on the injured reserve now, so the team will likely give him another look in the offseason. He doesn't project as a potential starter, but stranger things have happened. The Chiefs will probably need to look elsewhere for a young quarterback.
Steve Blecha from San Francisco wants to know
if I think
D.J. Williams
could be used some at middle linebacker when he returns from his NFL suspension next week.
BW:
It's a possibility since Williams can play all three spots. He is versatile and Denver will likely sprinkle him where he is needed as he shakes off the rust. Williams is better at weakside, but with
Wesley Woodyard
playing at a high level, having Williams get some snaps in the middle may not be a bad idea.
October, 4, 2012
10/04/12
1:15
PM ET
The list of injured Kansas City Chiefs keeps growing.
Coach Romeo Crennel said running back
Peyton Hillis
(ankle) and defensive end
Glenn Dorsey
(calf) will not practice Thursday. Neither player saw action against San Diego on Sunday and I think their availability for Sunday's home game against Baltimore could be in doubt unless they turn things around quickly.
Crennel expects linebacker
Derrick Johnson
(groin), cornerback
Brandon Flowers
(foot), center
Ryan Lilja
(back) and receiver
Jon Baldwin
(hamstring) to be limited. Flowers is dealing with an aggravated foot injury he originally suffered this summer which shelved him for several weeks.
In other AFC West news:
The Saints will have
some interesting fans
Sunday when they host the Chargers. Will it help the Saints that suspended coach Sean Payton, among others, will be at the game? Not unless he is roaming the sideline, which he won't be.
March, 3, 2012
3/03/12
2:15
PM ET
Where does Dennis Allen stand in the
New Orleans Saints
' bounty scandal that has rocked the NFL?
He stands in Oakland, focused on revitalizing the Raiders as he begins his tenure as head coach. End of story.
Unless more information comes out (and it seems like the NFL's investigation was pretty thorough) that implicates Allen, I don't expect him to face any punishment for being a part of the scandal. Allen was an assistant coach with the Saints from 2006-10. According to the league's investigation, Saints players were given cash bonuses for hits that caused opposing players to leave games from 2009-2011. Allen was the Saints' defensive backs coach in 2009 and 2010.
Former New Orleans defensive coordinator Gregg Williams, owner Tom Benson, general manager Mickey Loomis, coach Sean Payton and several players were implicated in the scandal per the NFL's investigation. Allen,
who reportedly declined to comment on the story
, was not part of the report.
Unless more information comes out to the contrary, I will assume Allen was not part of it and he doesn't deserve any discipline, scrutiny or criticism. Do I think Allen was aware of the bounty program? I guess it would be difficult for him not to be, but that doesn't make him guilty.
A lot of people I trust tell me Allen is as principled and respectful of the game as they come. In my one meeting thus far with him, I didn't come away with any alternate impressions.
This story shouldn't take any shine off Allen's hire in Oakland nor should it make people think the Raiders just hired some loose cannon who has no regard for the spirit of the game. There shouldn't be guilt by association here unless proven otherwise.
January, 16, 2012
1/16/12
7:00
PM ET
Interesting names continue to pop up for the
Oakland Raiders
' head-coaching position.
The
New Orleans Saints
gave
Oakland permission
to interview offensive coordinator Pete Carmichael Jr.
New Oakland general manager Reggie McKenzie is aggressively pursuing replacements for Hue Jackson, who was fired last week. Former
Miami Dolphins
interim coach
Todd Bowles
has also interviewed. The
Denver Broncos
' offensive coordinator
Mike McCoy
and defensive coordinator Denis Allen will interview and McKenzie, a former Green Bay executive, is expected to interview some Packers assistants as well.
Former Oakland owner Al Davis, who died in October, would be proud of the Carmichael interview. He is a textbook Oakland candidate.
He is young and offensive minded. The 40-year-old Carmichael has been an assistant on some powerful offensive teams and he worked for Sean Payton, a young coach who Davis coveted at one point.
Carmichael called plays while Payton was injured earlier in the season and he is considered a coach on the rise. Davis loved finding this type of coach and now his replacement is doing the same.
March, 18, 2011
3/18/11
12:00
PM ET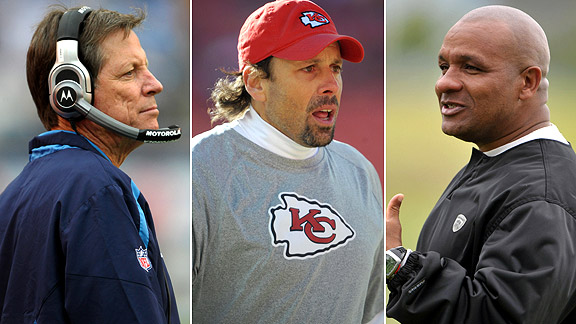 Kirby Lee/Image of Sport/US PresswireNorv Turner, left, Todd Haley, middle, and Hue Jackson are all expected to be in the play-calling mix.
New
Oakland Raiders
coach Hue Jackson realizes the most challenging aspect of his role as a first-time head coach at any level is finding the time to do everything it takes to run a team.
"It's amazing. You just don't have any time," said Jackson, who joked at the NFL combine last month that the biggest sacrifice since becoming a head coach is his physical fitness. "You look up, and you want to go work out and you don't have the time to do it."
Jackson is not doing his schedule any favors. In addition to all of the usual roles taken on by head coaches, Jackson will join the alternative ranks of head coaches who call their own offensive plays.
Although it's not a large movement around the NFL, it has become a major trend in the AFC West. Jackson, San Diego's Norv Turner and Kansas City's Todd Haley are all expected to call their own plays. Turner has long performed the duty. Haley called the plays in his first season in Kansas City in 2009 before relinquishing the job to Charlie Weis in 2010. With Weis now at the University of Florida, Haley promoted offensive line coach Bill Muir to offensive coordinator.
Haley –- who calls play calling "an art" -- has said multiple times since promoting Muir that he has not decided whether he will call the plays. However, he has also said he is not opposed to doing it. Under Jon Gruden in Tampa Bay, Muir ran the offensive meetings and Gruden called the plays on game day.
Assuming Haley will be, at least, very involved in the play calling, the AFC West will be the epicenter of coaches who call plays. Ironically, had Denver not fired Josh McDaniels, the AFC West would have been a full house of head coaches who call their own plays. In a poll of my ESPN.com blog network colleagues, a total of 10 head coaches are expected to call their own plays.
In addition to Jackson, Turner and Haley, Buffalo's Chan Gailey, New Orleans' Sean Payton, San Francisco's Jim Harbaugh, Houston's Gary Kubiak, Green Bay's Mike McCarthy, Cleveland's Pat Shurmur and Dallas' Jason Garrett are all expected to call their own offensive shots. Arizona's Ken Whisenhunt may be actively involved as well.
Payton and McCarthy have won the past two Super Bowls using this approach. It's a proven winning formula.
Still, there are two schools of thought: Some people don't like to see a head coach call his own plays because he may have too much on his plate. Others like it because it keeps the head coach in control of his team.
The general managers of two of the teams that employ the system both say the bottom line is whether it is effective.
"Experience is what matters, no matter who calls the plays," San Diego general manager A.J. Smith said. "In our particular case, Norv has been calling plays for a long time and it runs very smooth and very well for us."
Added Kansas City general manager Scott Pioli: "I've been a part of it where coaches have been playcallers on offense or defense. What matters is whether you get it right."
While Jackson knows his challenge, Gary Horton of Scouts Inc. thinks Jackson is starting his head-coaching career the right way. In fact, Horton would be bothered if Jackson, who was Oakland's offensive coordinator last season, wasn't calling his own plays.
"I'd hate to see a guy like Hue not call plays as a head coach," said Horton, who is a former longtime NFL scout. "That's why he was hired. He was hired because he has terrific play-calling skills. I want him calling the plays. I'd hate for him to say, 'Well, I have other things to worry about.' Play to your strengths. If you were a great playcaller as an offensive coordinator, I want to see you do it as a head coach. If I'm an owner, I'm going to demand it. 'This is why I'm hiring you. Go call the plays.'"
Matt Williamson of Scouts Inc. agrees that if a head coach thinks he's the best playcaller on the staff, he should assume the role as a head coach. However, Williamson said he has seen coaches who call the plays lose touch with the rest of the game.
"It can be too much if you're not careful," said Williamson, another former NFL scout. "I think it is similar to coaches who are also general managers. I think it can be a failing combination. You see these guys have their back turned to the field sometime when the defense is on the field because they are talking with the quarterback. There is so much to worry about during a game. There's clock management, knowing when to call a timeout. It's a lot to juggle."
The key is delegation. Coaches who call their own plays must trust their assistants, particularly their defensive coordinators.
"You have to have a strong guy over on the other side," Horton said. "You look at a guy like Todd Haley. He's in good shape because he has Romeo Crennel. Romeo will take care of the defense and allow Todd to run his offense."
If he does call the plays, expect Haley to be more prepared than he was when he called the plays in 2009. Haley suddenly took over the duties in the preseason when he fired Gailey.
"In Year 1, you're comparing apples to oranges to where we are now as a team and as a staff," Haley said. "We've had two years full years to lay our foundation [and] the system now is in place. ... Play calling is an art. It's instinctual. There are guys that are good at it and guys that aren't so good at it."
In 2011, success in the AFC West may depend on head coaches dealing with the challenge of calling plays.
June, 29, 2010
6/29/10
2:00
PM ET
ESPN.com's Page 2
has a great book review on Sean Payton's new book.
Prior to becoming the head coach in New Orleans, the defending Super Bowl champion coach interviewed for an opening in Oakland.
He tells a great tale of his interview with Oakland owner Al Davis. Davis came to the interview wearing his signature black sweat suit. Payton was impressed by Davis' football knowledge.
"Al is an extremely talented football guy. Few owners who interview can really talk about a defensive front, team travel and the salary cap," Payton said. "He can hit on all these topics, and this was my first interview as head coach. It was 2003, and I was going to meet Al Davis."
The interview did take a bit of a bizarre turn when it was dinner time. Instead of being wined and dined at a fancy Bay Area seafood house, Payton and Davis burned the midnight oil talking football and eating … fast food. Davis had a strange food combo request.
"So we're sitting there -- mind you, it's about 11 p.m. -- eating McDonald's cheeseburgers and cole slaw from KFC," Payton said.
You have to love Al. He was, is and always will be, his own guy.
May, 9, 2010
5/09/10
1:30
PM ET
It doesn't appear
JaMarcus Russell
will be headed back to Louisiana to resume his NFL career.
New Orleans Saints
coach Sean Payton said his team is not planning to sign the former LSU star. Russell was cut by Oakland on Thursday. He went unclaimed and he is a now a free agent.
"I don't think (we'd consider signing him) right now, with where we're at," Payton said. "I know he's gonna look for that next opportunity, and our league usually provides that. ... And certainly anytime the first pick of the draft is released after three years, it's newsworthy and that next opportunity for him is going to be important. Outside of that, I really haven't had a chance to study him a lot."
Meanwhile, the Cardinals'
team website
doesn't make it sound like Russell will end up in Arizona, either.
Russell will likely eventually get a chance to be a backup somewhere. It just may take some time.
May, 6, 2010
5/06/10
8:10
PM ET
There is little chance
JaMarcus Russell
will be claimed off waivers because of his large salary. However, I bet some team gives him another chance at some point.
He is only 24 and he has a great arm. NFL coaches are very arrogant. They think they can make players stars. So, some team will likely give Russell the league minimum salary and another chance.
With the help of my fellow bloggers, here is a list of some teams that could take a look at Russell.
Arizona
: The Cardinals aren't exactly set at quarterback.
Buffalo
: The Bills have a need for someone who can help now. That's not Russell.
Chicago:
Bears' offensive coordinator Mike Martz loves big arms. But the Bears would likely want a more experienced backup.
Cincinnati:
The Bengals could use a backup and they aren't afraid of adding anyone.
Minnesota
: If
Brett Favre
doesn't come back, there could be a need there.
New Orleans:
Maybe Sean Payton and a return to Louisiana could spark his career.
Philadelphia
: The Eagles aren't scared of bringing in quarterbacks.
San Francisco
: The 49ers could use another arm, but not sure how this would fly in the Bay Area. Raiders' fans would love it.
Washington
: Mike Shanahan would probably love to stick it to Al Davis and make something out of Russell.
January, 8, 2010
1/08/10
12:00
PM ET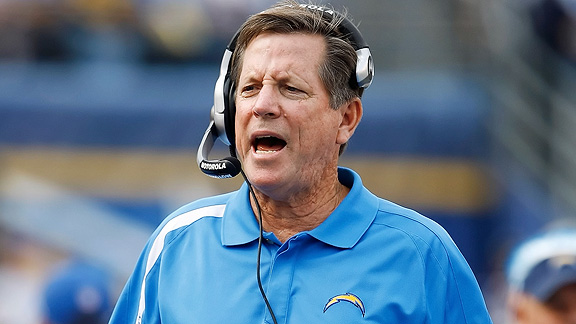 Jeff Gross/Getty ImagesNorv Turner and the San Diego Chargers haven't lost since falling to Denver on Oct. 19.
What follows is not a story of vindication or redemption. It's a tale about changing a longstanding perception.
Bad impressions are difficult to shake, but this one has to go. Now is the time for
Norv Turner
to be freed of his label as a lackluster, inept leader.
It's time for Turner to be recognized as a productive NFL coach. It's time for him to win the NFL Coach of the Year award.
Sounds weird, doesn't it? Norv Turner: NFL coach of the year. Better than Bill Belichick? Better than Mike Tomlin? Better than Jeff Fisher?
This year, Turner has been better than all of them. It will be a great injustice if Turner doesn't win the award when it's announced Jan. 17.
Perception would win out. That shouldn't happen. Turner should no longer be remembered only for sluggish head-coaching runs in Washington and Oakland. He was the ultimate example of "good offensive coordinator, lousy head coach."
But those days are over. Turner has been solid in three seasons as the head coach in San Diego. This season, he has reached the next level. He needs to be honored for it.
Turner is the clear-cut choice.
"Norv has done a hell of a job," San Diego linebacker
Shawne Merriman
said. "He deserves everything he gets. He deserves credit. He's our leader."
Sure, New Orleans coach Sean Payton, Indianapolis coach Jim Caldwell and Cincinnati coach Marvin Lewis will get some consideration for coach of the year. But none have accomplished what Turner has done this season.
San Diego ended the regular season as the hottest team in football. The 13-3 Chargers, who are ranked No. 2 in
ESPN.com's Power Rankings
, own the longest current winning streak in the NFL (11). They have a first-round bye and are the No. 2 seed in the AFC playoffs.
San Diego began its hot streak after starting 2-3 and falling 3½ games behind Denver in the AFC West. However, San Diego bounced back to win the division title. The Chargers ended up beating Denver by five games in the division.
San Diego has never lost under Turner in December. He also kept his team focused all the way through Week 17. When top playoff teams Indianapolis, New Orleans and Minnesota all experienced some type of December letdown, the Chargers kept moving forward. Even with most of its starters on the bench, San Diego closed out the regular season with a win over Washington.
[+] Enlarge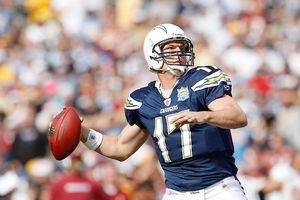 Jeff Gross/Getty ImagesChargers quarterback Philip Rivers has thrived under Norv Turner's tutelage.
But Turner's terrific job wasn't relegated to the final month. San Diego overcame many injuries, including playing most of the season without defensive tackle
Jamal Williams
and center
Nick Hardwick
. The San Diego running game sputtered all season, but Turner's passing game carried the offense. Quarterback
Philip Rivers
is in the
MVP mix
. Rivers has made steady strides under Turner's guidance the past three seasons.
Defensively, the Chargers made key adjustments in the pass defense just before their 11-game win streak.
"Norv should be the guy," said Matt Williamson of Scouts Inc. "The thing you look for in head coaches is if they can get their guys to peak at the right time. Norv is great at that. San Diego has not lost in December in 1,000 years. He deserves credit for that. It's time people start looking at Norv as a quality head coach. I think he is a top 10 head coach. I bet there are at least 20 owners in the NFL that would take Norv over their guy right now."
San Diego general manager A.J. Smith took a lot of heat when he hired Turner to replace Marty Schottenheimer after the 2006 season. Smith has stuck to his guns in his unwavering praise of Turner. But he is not about to play the I-told-you-so game.
"I'm pleased that Norv may be in the conversation," Smith said. "If he is, I understand why. He has done a good job here and I hope he continues to build a body of work here."
Turner is reluctant to push himself for the honor. He said he hasn't put much thought into his chances of winning the award. Still, he said this is one of his most satisfying seasons in his coaching career.
"I'm not very good at comparing those things, but the biggest thing for me is the job the assistant coaches have done and the number of people we have that have contributed to this team," Turner said. "That part of it is impressive. Somebody had the number, I don't know exactly what it was, but they said 60 different guys have played in games for us. That's a lot of guys, but I know that on Sundays we play a lot of people. When we win a game, I think everyone feels that they were part of it, and that's a great team feeling."
But it all starts with great coaching by Turner. Now let's see if he gets his due or if his previous reputation continues to get in the way.
October, 31, 2008
10/31/08
12:00
PM ET
| | |
| --- | --- |
| | |
| | Andy Lyons/Getty Images |
| | Through seven games, no team has thrown in Nnamdi Asomugha's direction more than twice. |
Posted by ESPN.com's Bill Williamson

His name is Nnamdi Asomugha (pronounced Nam-Dee Aso-MU-Wah).
He is one of the best cornerbacks in the NFL.
Yes, his name is difficult to pronounce. But it is more difficult to hear on a football field. That's because opponents rarely call his number.
They are too afraid.
Amid the circus atmosphere in Oakland that often keeps attention off the field, Asomugha's play is forcing attention back onto the field. He is having another remarkable year, following up a stellar 2007.
Boring, at times, but remarkable all the same. What is happening is that teams are avoiding Asomugha. They are avoiding him like they avoid drafting a cornerback with a 5.2 40-time. No one challenges Asomugha.
They figure it is just not worth it. Through Oakland's first seven games, Asomugha has been thrown at a dozen times. The ball has never been thrown in his direction more than twice a game.
"Why would teams throw at him?" asked Hall of Fame cornerback Willie Brown, who is now an assistant defensive backs coach with Oakland. "Something bad is likely going to happen if you throw it at Nnamdi. It's an ultimate compliment for a cornerback not to throw at him."
Teams are throwing on Oakland's defense, just not at Asomugha. Newly acquired cornerback DeAngelo Hall has been victimized at times for Oakland, which has the 19th-ranked pass defense in the NFL. But don't blame Asomugha. He just isn't getting any action.
Listening to opposing coaches, it doesn't sound like the Asomugha boycott will end anytime soon. It's doubtful that Atlanta rookie Matt Ryan will take on Asomugha on Sunday when the Falcons visit Oakland. Saints quarterback Drew Brees had his way against Oakland in a 34-3 New Orleans win on Oct. 12. But Asomugha was left alone. Read New Orleans coach Sean Payton's comment about Asomugha prior to that game and it's no surprise Asomugha was ignored by Brees.
"He's the best we have seen on film," Payton said. "He's long-armed, he's real good at bump-and-run coverage, he has good recoverability; he's tall, he has great ball skills and he's very intelligent. He would have been the most sought-after corner had he hit free agency."
Asomugha, 27, admits that he gets frustrated by the lack of action. He said he noticed last season that the word was out on him. Asomugha, Oakland's 2003 first-round pick out of nearby Cal, had eight interceptions in 2006. He had one last season, and he doesn't have any interceptions this season.
That's what happens when no one throws at you.
"It gets a little boring, a little lonely out there," said Asomugha, who presents himself more like a young professor than a shut-down corner. "You keep hoping that someone is going to challenge you."
Asomugha was particularly disappointed about his lack of action after the Raiders' 16-13 overtime win over the New York Jets. Surely, Asomugha reasoned, the great Brett Favre would come after him. Favre, after all, fears nothing. He's never met a cornerback he hasn't gunned on. Interceptions don't worry Favre, the NFL's all-time interception leader.
So what happened? Favre threw in Asomugha's direction twice.
"I really thought this was going to be the day," Asomugha said after the game. "I thought Brett was going to come after me like six or seven times."
Asomugha has taken the lack of passes coming his way as an opportunity to work on other parts of his game. He gets involved in the run support as much as possible. And he knows that his lack of action helps his team because it essentially shuts down half of the field.
"I talk to Willie [Brown] and Charles [Woodson, a former teammate now in Green Bay] about staying involved all the time," Asomugha said. "I'm still on the field. I can still have an impact even if they aren't going to throw at me."
Asomugha might get frustrated by his lack of passes thrown his way, but his coaches love his contributions on defense.
"It's the ultimate respect," Raiders defensive coordinator Rob Ryan recently told reporters in Oakland.

Asomugha attempted to put a happy spin on it. He even tried to say he thinks opposing coaches and quarterbacks will challenge him soon, but he quickly reconsidered it.
"No," he smiled. "Probably not. It probably won't change."
October, 12, 2008
10/12/08
2:40
PM ET
Posted by ESPN.com's Bill Williamson
NEW ORLEANS -- Random halftime thoughts from New Orleans where the Saints lead, 10-3.
Drew Brees' completion streak is over. He completed his first 16 pass attempts.
Oakland is airing it out. Raiders quarterback JaMarcus Russell has thrown the ball 16 times. Oakland has rushed the ball 11 times and hasn't gotten much going on the ground at all.
Oakland return man Johnnie Lee Higgins is underrated. He always seems to come up with something nice. He had a 35-yard punt return in the first quarter.
Oakland kicker Sebastian Janikowski missed field goal attempts of 57 and 59 yards late in the first half. However, both kicks were much closer than that 76-yard attempt at the end of the first half in Oakland's last game.
New Saints kicker Taylor Mehlhaff has struggled. In his first game in New Orleans, he missed a 31-yard field goal and he booted a kickoff out of bounds. He did redeem himself with a 44-yard field goal with 50 seconds remaining in the first half.
There was some controversy at the end of the first half when Brees hit Billy Miller at the Oakland 26. Television replays showed there was one second remaining but the officials said time expired in the half. Brees and Saints coach Sean Payton passionately argued to no avail.
The New Orleans defense dropped three easy interceptions in the first half.
September, 24, 2008
9/24/08
12:00
PM ET
Posted by ESPN.com's Bill Williamson
Mid-week mail call:
Billy from Corona, Ca: With denver coming out and putting up a lot of points and fast you would think it would make the oppositions offence more one dimensional trying to play catch up and much easier for our defence to make some big plays and force turnovers. Why is this not happening? Is it players or learning the new system or what?
BW: In a way, it is happening. Teams have to throw to catch up with Denver and they are throwing at ease. San Diego and New Orleans combined for 798 yards passing. The Broncos have to learn to stop the pass and perhaps their big leads will be safe.
---
St. Paul:
Will
Brandon Marshall
be suspended again this season, with his latest assault charge last week?
BW: The league is looking at the situation and if he is convicted, he could be disciplined further. However, the case was part of Marshall's original suspension so there is a chance he will not get any more disciplinary action sanctioned against him.

---
Rob from St. Paul:
In regards to Sean Payton complaining to the league office about the no call on the off-sides on the critical 3rd down play...Isn't there 2 or 3 plays that every coach in the league could complain about each week? It seems like sour grapes to me.
BW: Payton has a point. Jamie Winborn was offside on the play in question. Still, it had no impact on the outcome of the play, which Payton admitted. He is a coach frustrated with a loss and his reaction is understandable. Plus, the league needs to be made aware of officials' mistakes. But let's not compare this situation to the blown call the week before that went against San Diego. The impact was not even close.

---
Will from SD:
Through three games, Rivers is top five in passing yards and leads the NFL with 9 touchdown passes, and only two interceptions and no fumbles. It seems clear that Rivers has progressed significantly, and while the Chargers have gotten off to a slow start, Rivers hasn't. Does Rivers have a shot at the MVP if he keeps these numbers up and leads the Chargers into the playoffs?
BW: Philip Rivers is a flat-out stallion. Yes, he will be in the MVP conversation if he keeps this up. His play has been effortless. Rivers will always be successful because he is so bright and he is such a leader. His teammates will play hard for him. But if he continues to make the strides in his overall game, the sky is the limit. He is really fun to watch.

---
Chris from Atlanta:
Was it just me or did having McNiel (M&M) back at left tackle make a huge difference tonight? He appeared to lock down the left side which had not been the case the 1st 2 games.
BW: You are right. Marcus McNeill's presence really helped at left tackle. He is a Pro Bowl player who was missed. Once the Chargers get center Nick Hardwick back in a few weeks, this offensive line should be running at a high level.

---
Las Vegas:
What do you think about trading for
Chad Henne
or for
Colt Brennan
to be a quarterback of the future for the Chiefs?
BW: The Chiefs' fishing expedition about Brady Quinn with Cleveland last week shows that this team believes it may have to look outside the organization for quarterback help. So any current, young backup could be a possibility for Kansas City.

---
Josh from KC:
Do you believe you have the greatest job ever? I mean, you just travel around and go to NFL games and write them. It seems pretty awesome.
BW: Yes, Josh, it is pretty awesome. My fortune has not been lost on me. I am thankful to be able to do this job every day.

---
Michael Sitts from Syracuse, NY:
Hi, Bill! Thanks for all the blog content. This is actually a serious question and not the plaintive quivering of a bewildered fan... Is there any mechanism by which the NFL can interfere with the management of a team (obviously, I'm referring to the Raiders here...)? From the jaw-dropping contracts in the off-season of bidding against oneself, to the yearly re-enactments of the most painful and embarrassing coaching searches in memory, the Oakland franchise is like a drunk staggering through a minefield. There is some precedent in professional sports, most notably the NBA stepping in to help sort out the Cleveland Cavaliers' mess under Ted Septien in the 80's. I very much doubt there is, but the disarray in Oakland is taking on historic implications. thanks! Michael
BW: It's a legitimate question, Michael. However, it will never happen. But remember, NFL commissioner Roger Goodell got involved in the Brett Favre mess this summer. Why couldn't he go into Oakland and step in there? It's sort of the same thing, isn't it?
---
Lawrence from San Jose:
Hey Bill, should I be encouraged or discouraged by the Raiders effort on Sunday? for the first 3 1/2 quarters the defense and Janikowski were solid and the offense wasn't making mistakes. Yet, the offense wasn't able to punch it into the endzone in three redzone trips, and the defense gave up 17 fourth quarter points. Both Kiffin and Ryan appeared to be playing to not lose the game rather than win it. Your thoughts?
BW: Any time a big lead is blown in the fourth quarter, it is certainly a discouraging week. However, the Raiders played hard on the road for the second straight week despite all of the turmoil. That is encouraging. The Raiders aren't folding and that is impressive.

Thanks and keep them coming.
AFC WEST SCOREBOARD
Saturday, 12/20
Sunday, 12/21
Monday, 12/22