AFC West:

Seatle Seahawks
March, 13, 2012
3/13/12
12:50
PM ET
ESPN's
Adam Schefter reports
Denver has the third-most salary-cap room entering free agency with $38 million. That will clearly help the Broncos' push for
Peyton Manning
. U-T San Diego reports the Chargers will have about $20 million in cap room when they release tackle
Marcus McNeill
this week.
On "SportsCenter," Marcellus Wiley said the best fit for Houston pass-rusher
Mario Williams
is the
San Diego Chargers
. The Chargers plan to be in on Williams, but the question is will they be able to afford him. Also, Wiley thinks the best fit for Chargers receiver
Vincent Jackson
is Chicago.
Buffalo has been named often as a likely strong pursuer of Jackson. However, indications are they will make a strong initial push for another receiver. It doesn't mean Jackson won't be added to the Bills, but they have their eyes on other receivers as well.
A cornerback is off the market as the Giants have re-signed
Terrell Thomas
. He could have been of interest to the Raiders.
Among the names the
Kansas City Chiefs
could look at are Seattle tight end
John Carlson
and New Orleans receiver
Robert Meachem
.
April, 2, 2010
4/02/10
12:00
PM ET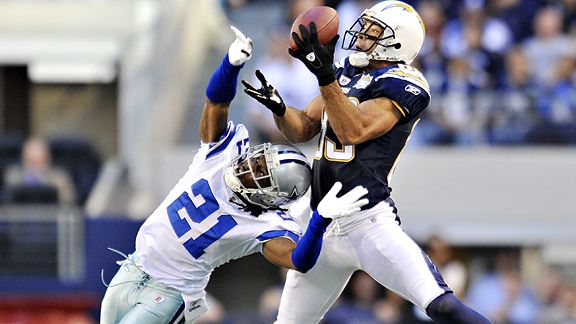 AP Photo/Michael ThomasReceiver Vincent Jackson is one of five players key to San Diego's future success.
There is no question San Diego has lost more personnel than it has gained as it attempts to rebound from a shocking playoff loss and stay among the elite teams in the AFC. Many Chargers fans worry the team has taken a step backward and could lose its grip as the four-time defending AFC West champion.
Among the departed: Running back
LaDainian Tomlinson
(cut and signed with the Jets), cornerback
Antonio Cromartie
(traded to the Jets), special-teams ace
Kassim Osgood
(free agent/Jacksonville), defensive tackle
Jamal Williams
(cut, signed with Denver) and tight end
Brandon Manumaleuna
(free agent/Chicago).
I don't think the losses are as devastating as they appear on paper and San Diego will not take a dramatic step backward. With the right moves in the rest of the offseason, I think the Chargers will reaffirm themselves as the top team in the AFC West. Here's why:
All of the players who left are replaceable:
None of the players who left were top-level performers on last year's 13-3 team.
Tomlinson is a legend and will be missed, but his performance last year was not memorable. He had a career-low 730 yards, he didn't have a 100-yard rushing game and the Chargers were ranked 31st in the NFL in rushing. An upgrade was needed.

Cromartie was a Pro Bowl player earlier in his career because he was an interception magnet. However, his interceptions have declined dramatically, he had issues in coverage and he was a major liability in the run game.

Third-year pro Antoine Cason will not be a big downgrade from Cromartie in coverage and he should help in ways Cromartie didn't. Cason, the Chargers' top pick in 2008, is a smart player who is trusted by his teammates. He is a ball hawk and doesn't shy from run support. He has some work to do, but he won't be a liability.

Williams missed all but one game last season with a triceps injury. The Chargers were moving on anyway.

Osgood will be missed on special teams, but his departure isn't a devastating blow. He was a very good role player, but became too expensive for the Chargers to keep. It's time for another player to step up and become a difference-maker on special teams. The Chargers will survive this loss.

Manumaleuna is a fine blocking tight end, but he is not a player San Diego will be lost without. He was a role player.
The team is keeping its best players:
Many San Diego fans complained the Chargers haven't been active in free agency. That is not accurate. The team has been very aggressive -- in keeping its own players. No team had as many key decisions to make in restricted free agency.
In the end, San Diego put the high tender of first- and third-round picks on receivers
Vincent Jackson
and
Malcom Floyd
, linebacker
Shawne Merriman
, left tackle
Marcus McNeill
and running back/return man
Darren Sproles
.
Unlike the group of players who left, these five players are essential to the team's future success. San Diego made the right decision to make it virtually impossible for another team to sign any of these players.
The team is prepared to improve in the draft:
The Chargers will be adding new talent this year.
San Diego's top two pressing needs are nose tackle and running back. San Diego is in position to find quality new starters in the draft at both positions.
In one of the shrewdest offseason moves, San Diego acquired the No. 40 pick in the draft when it traded No. 3 quarterback
Charlie Whitehurst
to Seattle. San Diego gave up the No. 60 pick. It also got Seattle's third-round pick next year.
San Diego now has the No. 28 and No. 40 picks in this month's draft, giving it great drafting power. Both the nose tackle and running back classes are deep, so San Diego should get two good players. The additional picks also give the Chargers greater flexibility. They could decide to package the picks and move up in the first round to get a top nose tackle or running back.
No matter what happens, the Chargers will get better through the draft. By the time the 2010 season starts, San Diego will be just as good as it was at the end of 2009.
May, 26, 2009
5/26/09
2:45
PM ET
Posted by ESPN.com's Bill Williamson
Denver
Here's a funny college story about new Denver cornerback Alphonso Smith.
My take: By all accounts, Smith is a good person who works hard. There was no doubting his production as a player at Wake Forest. But the bottom line is, if he doesn't have a huge rookie season and if the Broncos struggle in 2009, the pressure will be on Smith next year. Denver traded its first-round pick in 2010 to Seattle for the chance to take Smith with the No. 37 pick. Smith was expected to be a late-first round pick. Getting him at No. 37 was good value. Still, if the Seahawks end up with a top-10 pick next year through this deal, the trade may not benefit Denver in the long term.
Kansas City
The Chiefs are starting to come together under new coach Todd Haley.
My take: That's a good sign since training camp is about two months away. Every team needs a transition period when a new coach takes over. That's what offseason sessions are for. If the Chiefs feel good now, that will allow Haley to take it to the next level once training camp starts and not dwell on the transition as much.

AFC WEST SCOREBOARD
Thursday, 12/12
Sunday, 12/15