August, 16, 2013
8/16/13
7:15
PM ET
Pro Football Talk reported Kansas City running back
Jamaal Charles
is not expected to play until the regular season. He suffered a minor foot strain in practice Monday. Keeping him out just a precaution makes sense. Why risk an injury in August?
U-T San Diego reports the Chargers signed receiver
Seyi Ajirotutu
on Friday. He has been in San Diego in the past. While the Chargers need depth at the position, Ajirotutu still likely will be a bottom-of-the rotation player.
The San Francisco Chronicle reports Oakland defensive end
Lamarr Houston
likely will miss his second consecutive preseason game Friday night at New Orleans. He is coming back from an undisclosed injury.
The Chargers waived-injured receiver Danario Alexander. It was a procedural move. He is a pending free agent, thus, it is highly unlikely another team will claim him and take on his 2013 salary with him out for the year.
September, 2, 2011
9/02/11
7:10
PM ET
As far as I'm concerned the 53-man cut-down date (which occurs Saturday) is an overrated event.
Many players who survive the cut end up being gameday inactives during most of the season and teams are always looking to improve the back end of the roster. Yet, the final cutdown time is upon us, so let's look at some of the players on the bubble for each AFC West team:

Denver:
There's not a ton of big names here that stand out as certain bubble players. Safeties
Darcel McBath
and
David Bruton
, both taken in 2009, could get the axe. Second-year cornerback
Perrish Cox
-- who is facing an October sexual assault trial that could imprison him for life -- could also be on the bubble. But the season-ending Achilles injury to key backup cornerback Syd'Quan Thompson could help Cox's cause to make the team.

Kansas City:
There's not a lot big names here, either. Receivers
Verran Tucker
,
Jeremy Horne
and
Keary Colbert
are fighting for a spot. Running back
Jackie Battle
is likely an odd-man out. Defensive backs
Donald Washington
, Rashard Langford,
Sabby Piscitelli
and
Travis Daniels
are also on the bubble.

Oakland:
Defensive backs
Walter McFadden
,
Jeremy Ware
, Steve Brown and
Sterling Moore
are all on the bubble. It will be interesting to see what happens there. Veteran running back Michael Bennett could also be on his way out as well as receiver/punt returner
Nick Miller
.

San Diego:
The Chargers' receiver situation is interesting. It looks like
Bryan Walters
could make the team. But what about Seji Ajirotutu,
Laurent Robinson
and
Kelley Washington
? Veteran linebacker
Stephen Cooper
and
Kevin Bentley
are on the bubble as is rookie undrafted quarterback
Scott Tolzien
.
What are your thoughts about the final cut downs. Fill up the comment section below with your thoughts.
June, 16, 2011
6/16/11
3:00
PM ET
Despite the fact that he has not won a Super Bowl, San Diego quarterback
Philip Rivers
is generally considered an elite NFL quarterback. Baltimore's
Joe Flacco
, however, isn't. Flacco is widely respected, but he is more known as a gritty game manager.
Rivers

Flacco
In an ESPN.com Insider piece
, though, KC Joyner writes that Flacco is in Rivers' company. Crunching the numbers in the way only he can, Joyner makes the argument that Flacco is in Rivers' league as a deep passer. Rivers is considered by many NFL observers to have the prettiest deep ball in the league.
Here is some of Joyner's thinking on the subject: Last year, the San Diego receiving corps suffered through a slew of injuries and suspensions that cost the team the services of starting wideouts
Vincent Jackson
and
Malcom Floyd
and starting tight end
Antonio Gates
for a total of 22 games.
Those losses meant that Rivers ended up throwing a total of 189 pass attempts to the following receivers:
Seyi Ajirotutu
,
Patrick Crayton
,
Buster Davis
,
Randy McMichael
,
Legedu Naanee
and
Kelley Washington
. Those six players would be lucky to crack the starting lineup of any NFL team, yet Rivers ended up committing 34.9 percent of his targets to them last season.
For most quarterbacks, a situation of this nature would cause a significant drop-off in yards per attempt (YPA) production in the areas of vertical (aerials thrown 11 or more yards downfield) and stretch vertical (20 or more yards) passing, but that didn't happen with Rivers. He ranked fourth in the league in vertical YPA (12.1) and seventh in stretch vertical YPA (14.8).
One of the ways he was able to do this was by getting quality YPA figures from both the big name and non-big name pass-catchers. His 13.0 vertical YPA on passes to Floyd, Gates and Jackson alone would have been good enough to rank second in the league in that category, but his 11.2 YPA on vertical targets to other pass-catchers would have been good enough to rank 13th in that same category.
This shows that Rivers is capable of finding a way to get above-average vertical performance from backups. That ability kept the Chargers' downfield passing offense moving even when injuries and suspensions could have hamstrung it.
Flacco was faced with a somewhat different situation in that his wideouts and tight ends were healthy, but they all had vertical receiving limitations.
Anquan Boldin
has a very limited history of being a vertical threat and he was paired up with
Derrick Mason
and
T.J. Houshmandzadeh
, a tandem of aging possession receivers.
Flacco was able to do more than just work around these limitations. He actually excelled with this trio, evidenced by 1,472 yards on the 133 vertical targets aimed at these three.
That equates to an 11.1 vertical YPA overall, but what is more impressive is that each of the three ended up posting a double-digit vertical YPA mark (11.3 for Boldin, 11.9 for Houshmandzadeh, 10.4 for Mason). To put that into perspective, consider that only five other teams ended up with three qualifying pass-catchers in double digits in vertical YPA (47 total targets needed to qualify).
Flacco's downfield passing expertise did not stop there. He posted a 12.5 vertical YPA and 15.1 stretches vertical YPA on throws to targets other than the aforementioned three. Both of those figures are more than a yard higher than what the possession trio posted, and they should increase further with a legitimate deep-threat possibility this year in second-round pick
Torrey Smith
.
My thoughts: It's difficult to argue with Joyner and his numbers. He's a mad scientist when it comes to NFL statistics. And I do like Flacco. The guy is a winner. Still, for my money, I'd rather have Rivers on my team. His pure ability, gumption and leadership make him special.
Who would you rather have quarterback your team, Rivers or Flacco? Fill up the comment section below with your thoughts.
November, 4, 2010
11/04/10
6:06
PM ET
The
San Diego Chargers
gave themselves some much-needed help at receiver in the form of receiver
Kelley Washington
.
He is expected to be in uniform Sunday at Houston. He is a big receiver at 6-foot-3, 217 pounds. He has played eight NFL season and had 34 catches for 431 yards for Baltimore last season. He can also help on special teams.
Prior to signing Washington, San Diego had just three healthy receivers – Patrick Cratyon,
Gary Banks
and Seji Ajirotutu. Starters
Malcom Floyd
and
Legedu Naanee
are not expected to play at Houston because of hamstring injuries. Pro Bowl receiver
Vincent Jackson
won't be eligible to play until Week 12 after ending his holdout last week.
Also, star tight end
Antonio Gates
is dealing with foot injuries and will be severely hampered if he plays at Houston. So, the Washington signing makes sense.
October, 31, 2010
10/31/10
10:52
PM ET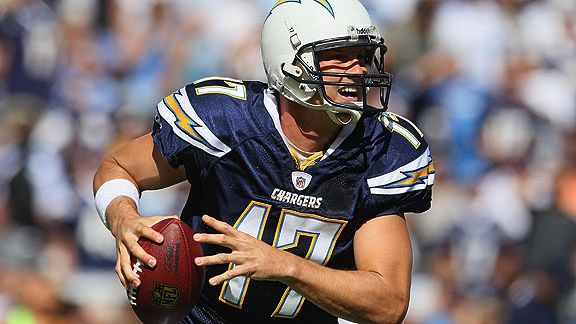 Jeff Gross/Getty ImagesFollowing a passionate halftime speech from Norv Turner, Philip Rivers helped rally the Chargers to victory over the Tennessee Titans.
SAN DIEGO -- The outside world had given up on the
San Diego Chargers
, tired of their maddening mistakes.
Yet, Norv Turner let his team know he hadn't given up on it, but it was time for it to start playing up to its potential and stop the self-destruction. Turner, who has a reputation for being laid back and lacking fire, delivered the most impassioned halftime speech of his four-year tenure in San Diego. The theme of the loud, colorfully worded address was belief.
"I've never seen him like that before," San Diego safety
Eric Weddle
said. "He told us how much he cares about us and he'd do anything for us. ... But he also told us it was time to get going. It was basically 'now, let's go freaking get it done.' ... I think that speech was a big reason why we came out like we did in the second half."
Losers of their past three games, the Chargers were in serious danger of seeing their AFC playoff hopes vanish Sunday. Tennessee was up by 12 points at one point in the first half. But spurred on by Turner's words from the heart, San Diego took over in the second half and
beat the Titans 33-25
.
The Chargers are now 3-5. They trail Kansas City (5-2) and Oakland (4-4) in the AFC West. The Chargers have come back with a strong second half in each of Turner's first three seasons, all of which ended with division titles. Yet, had San Diego not won Sunday, it would have been entering the second half of the season in a major hole.
"It's not a sigh of relief -- we're 3-5," San Diego running back
Mike Tolbert
said. "It's not like we're 8-0, or 7-1. ... But it's a start. We know we're capable of winning again."
And now so do all the critics. Along with Dallas, San Diego has been a major disappointment this season. The Chargers took a shellacking on ESPN's "Sunday NFL Countdown" on Sunday morning.
Here is a sampling of the verbal beating San Diego's players, Turner and general manager A.J. Smith took:
Keyshawn Johnson:
"No players. And when you don't have players, you can't win in this league. ... I put the blame on the general manager. He's the guy in the offseason that made a decision not to sign certain guys, run certain guys off."
Tom Jackson:
"It looks like the opportunity has passed them by and A.J. eventually is to blame."
Mike Ditka:
"The front office is horrible to make the decisions it's made."
Chris Berman:
"I'm embarrassed for the Chargers."
The Chargers missed the nationally televised dressing down because they were preparing to face the Titans. Smith wasn't available to react to the comments. But I had a chance to discuss them with some of the players after the game.
They were amused.
"No talent?" Weddle said. "OK, I'll take this no-talented team any day of the week. That's fine. It's OK no one respects us. Our coach does and we do, too."
Added Tolbert: "That's what happens when you are 2-5. People have been killing us all season. But what matters most is what our coach and everyone in this room thinks about us."
I didn't get the chance to ask Turner about the comments, but in his news conference, he alluded to outside criticism.
"I'm truly excited for those guys in that room because they don't blink," Turner said. "There are some people that might doubt them. We know who we are."
It was only one game, but if San Diego takes off, Sunday's performance and Turner's speech will be viewed as the turning point. San Diego has done this before. It won its final six games of the 2007 season, its final four games of the 2008 season and its final 11 games of the 2009 season.
"This is something to build on," San Diego cornerback
Antoine Cason
said. "Let's go build on it."
San Diego cut the Titans' lead to 19-14 with 1:55 to go in the first half. It evolved into a 20-0 run by San Diego, which led by eight points twice in the fourth quarter.
The catalysts, as usual, were quarterback
Philip Rivers
and tight end
Antonio Gates
. Playing without his top four wide receivers (and playing with undrafted rookie
Seyi Ajirotutu
), Rivers threw for 305 yards. It was the fifth time he has thrown for 300-plus yards this season. He has passed for 2,649 yards this season. No other quarterback in the history of the NFL has thrown for more yards after eight games.
Gates, playing with a bum toe, had five catches for 123 yards, including a 48-yard touchdown catch in the third quarter. It was a gutsy comeback performance by the two leaders on this team.
It wasn't all perfect for San Diego. It had its fourth punt blocked this season (that gave the Titans a safety early in the game) and an extra-point attempt was muffed in the fourth quarter, which kept it an eight-point game. The San Diego defense, which like the Chargers' offense entered the game ranked No. 1 overall, gave up way too many big plays.
But the Chargers found a way to overcome mistakes. That hadn't been the case this season. This has to be looked at as progress in San Diego. Perhaps this will be the start of another turnaround. If it is, the Chargers will always remember a rare show of intensity by their coach.
"I can tell you the fire I was able to see in [Turner's] eyes and what it meant to him," Gates said. "It meant the world to me for a coach to have that faith and belief in his team."
October, 31, 2010
10/31/10
3:36
PM ET
SAN DIEGO -- The
San Diego Chargers
will be without their top three receivers Sunday against Tennessee.
Starters
Malcom Floyd
and
Legedu Naanee
(both have hamstring injuries) are out as is No. 3 receiver
Buster Davis
(ribs).
Patrick Crayton
, the team's No. 4 receiver, and undrafted rookie free agent
Seyi Ajirotutu
will start. It will be Ajirotutu's second NFL game. Gary Banks, who was signed this week, will be the No. 3 receiver. Top San Diego receiver
Vincent Jackson
ended his holdout Friday, but he is not eligible to play until Nov. 28.
Star tight end
Antonio Gates
is active and he will play. He practiced fully Friday for the first time in two weeks because of a toe injury. He did play last week. Expect San Diego quarterback
Philip Rivers
to try to hit Gates as much as possible with his top receivers out.
Kicker
Nate Kaeding
will miss his second game with a groin injury. His replacement,
Kris Brown
, has an ankle injury. He could be limited Sunday. If Brown has a setback, punter Mike Scrfres would attempt field goals. He was practicing field goals this week.