January, 19, 2011
1/19/11
12:23
PM ET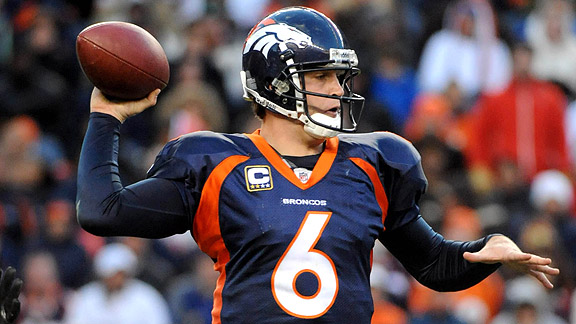 Kirby Lee/Image of Sport/US PresswireDenver has won just 12 games since trading quarterback Jay Cutler to Chicago in 2009.
Jay Cutler
became a Denver Bronco months after the team advanced to the AFC Championship Game.
When the Broncos traded up to take Cutler with the No. 11 pick of the 2006 draft, they probably would have been thrilled to know the quarterback would lead his team to a home championship game appearance in his fifth NFL season.
Unfortunately for Denver, Cutler is now a member of the
Chicago Bears
. The Broncos
traded Cutler in April 2009
, and they are still looking for their first playoff berth since they drafted him.
"This is the type of move that can adversely affect a franchise for five years," Scouts Inc.'s Gary Horton said. "There is no question. The Broncos are in much worse shape today than they were the day before they made this trade."
This week gives Denver a painful reminder of how far the organization has fallen in the two years since Josh McDaniels replaced Mike Shanahan as head coach. Shanahan left a good offense, but Denver's defense needed to be retooled. The job appeared to be an attractive one. The 8-8 Broncos were headlined by a 25-year-old quarterback who was coming off a Pro Bowl berth is in his second full season as a starter.
One of the primary reasons McDaniels was hired at age 32 to replace Shanahan was his ability to work with Cutler. Instead, the entire franchise was changed after McDaniels tried to acquire former Patriots quarterback
Matt Cassel
, who was instead traded to Kansas City. McDaniels and Cutler then feuded. Cutler was shipped out.
While Cutler is preparing to face Green Bay in the NFC Championship Game on Sunday, McDaniels is
beginning a stint as the offensive coordinator in St. Louis
. He is trying to rehabilitate his once seemingly boundless coaching career after a disastrous 28-game run in Denver. Among McDaniels' biggest missteps in Denver were poor personnel decisions, beginning with the Cutler trade.
[+] Enlarge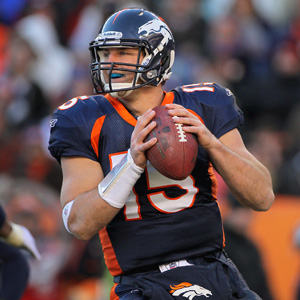 Doug Pensinger/Getty ImagesThe Broncos hope Tim Tebow develops into their quarterback of the future.
While the Bears are exactly where they hoped they'd be after the trade, Denver is trying to erase the McDaniels mistake. The team is now beginning the John Fox era with another young quarterback,
Tim Tebow
.
"Chicago got the big prize here," Matt Williamson of Scouts Inc. said. "The way this trade worked out for both Chicago and Denver is proof why teams don't trade young, franchise quarterbacks. It's just not something you do."
What bothers Williamson and Horton most about the trade is what Denver did with the picks it got in the Cutler deal.
"The Broncos got value," Williamson said, "but they squandered the picks."
Because Denver made so many draft picks, it's difficult to break down exactly what it received for Cutler. Denver originally sent Cutler and a fifth-round pick in 2009 (which turned out to be productive Bears receiver
Johnny Knox
) for quarterback
Kyle Orton
, first-round picks in 2009 and 2010 and a third-round pick in 2009.
Denver took defensive end/linebacker
Robert Ayers
with the 2009 first-round pick (No. 18). Ayers has shown some ability, but not as much as Denver hoped. It packaged the Bears' 2009 third-round pick and its own third-round pick in a deal with Pittsburgh for the final pick of the second round and a fourth-round pick. Denver took tight end
Richard Quinn
in the second round and guard
Seth Olsen
with the fourth-round pick. Neither has made an impact. Pittsburgh took standout receiver
Mike Wallace
with the pick from Chicago.
Denver had the No. 11 pick in 2010 from the Bears. The pick was flipped several times and Denver packaged the compensation with other picks that resulted in the selections of receiver
Demaryius Thomas
, Tebow and receiver
Eric Decker
. All could have promising futures. The players selected by other teams as part of the 2010 trade were San Francisco first-round pick
Anthony Davis
, Philadelphia first-round pick
Brandon Graham
and New England fourth-round pick
Aaron Hernandez
.
Tangibly, it is safe to say Denver received Orton, Ayers, Quinn, Olsen and some of the trading power to help fuel the early 2010 selections.
Orton played well for Denver, but he could be traded if Denver gives Tebow the opportunity to start in 2011, which is expected. Ayers will have a chance to play defensive end with Fox's defense likely going to a 4-3 scheme, but he still doesn't look like a foundation player. It has to eat at Denver fans that the Broncos passed on linebacker
Clay Matthews
in favor of Ayers. Matthews is a star for Green Bay.
"Denver could have gotten so much more," Horton said. "You saw Chicago get Knox and Pittsburgh get Wallace in this deal, and you just have to think the Broncos wasted a great opportunity here.
"The Broncos have to hope Tebow is a hit or this franchise will [be] set back for years. You look at Cutler,
Brandon Marshall
[traded to Miami],
Peyton Hillis
[traded to Cleveland], Mike Wallace and look at all the missed chances. This could be a very good team. But it's starting over all because of this [Cutler] trade."
Chicago is one game away from the Super Bowl.
"It's not difficult to argue who won this trade," Williamson said. "It wasn't the Broncos."
September, 4, 2010
9/04/10
6:25
PM ET

Check
here
for a full list of Denver's roster moves.
Biggest surprise:
There were a few surprises from Denver on Saturday. The two big ones involved second-year cornerback
Alphonso Smith
and free-agent pickup
Jarvis Green
. Denver traded Smith to Detroit for reserve tight end
Dan Gronkowski
. Smith was the No. 37 overall pick last year, and Denver gave up its first-round pick in 2010 (No. 14) for Smith. He was a failure in Denver. Still, basically giving him away was a shocker. Denver paid Green several million to come in and be a starter on its new-look defensive line. Yet, Green could never win a starting job, losing out to
Ryan McBean
. Still, it never appeared Green's job was in jeopardy. Also cut was second-year guard
Seth Olsen
. He was a fourth-round pick in 2009. Thus, Denver got rid of second-round pick and a fourth-round pick from a year ago. That's not the way to build a program.
No-brainers:
A big reason why Smith was expendable was the play of rookie cornerbacks
Perrish Cox
and Syd'Quan Thompson, fifth and seventh-round draft picks, respectively. These two players are keepers. Expect Cox to immediately play a huge role as the nickel cornerback and as a return man. Matthew Willis had a great camp and he deserved a roster spot. Keeping Willis was made easier when Denver put receiver
Brandon Stokley
on the injured reserve with a groin injury. There were reports earlier Saturday that Stokley was released. Recent pickup, linebacker
Jason Hunter
, excelled in the preseason and was an easy choice to make the roster, as was backup running back
Lance Ball
What's next:
Denver will look to upgrade at a few spots. First on the list is running back. The Broncos have been decimated by injuries at the position this summer, and it is not clear if starter
Knowshon Moreno
will be ready to play opening day at Jacksonville. Denver will look at every running back option available. Other areas Denver could look to upgrade include tight end, offensive line, receiver and the defensive front.
June, 23, 2010
6/23/10
12:00
PM ET
The
Denver Broncos
had the type of draft in 2009 that was supposed to give the team a nucleus.
Thanks to several trades (including one that sent Pro Bowl quarterback
Jay Cutler
to Chicago), the Broncos finagled five picks in the first two rounds. It was an impressive display of draft chip building by first-year Denver coach Josh McDaniels and general manager Brian Xanders.
There's no doubt that if the Broncos become a premier team in the near future it will be because of the development of the 2009 draft class. However, it appears solid production from this class is not a foregone conclusion. The class produced very little last year for Denver, which also wheel-and-dealed this year and produced five players in the top No. 87 picks, including receiver
Demaryius Thomas
and quarterback
Tim Tebow
in the first round.
"I like how Denver has found ways to acquire picks, and it's a good way of building a great foundation," said Matt Williamson of Scouts Inc. "I'm just not sold on the players they have taken."
While the 2010 class prepares to begin their rookie season, the 2009 class in Denver is preparing to make progress from a disappointing NFL start. Denver also has hope fourth-round picks
David Bruton
and
Seth Olsen
(guard) and fifth-round pick
Kenny McKinley
(receiver) will contribute as well. But the attention is on the five picks in the first two rounds.
The following is a look at those top five picks from Denver's 2009 class:
No. 12, Knowshon Moreno, running back

Moreno
Recapping 2009:
Moreno had 947 yards and averaged 3.8 yards per carry. His production dipped terribly as the season wore on. He had 173 rushing yards in the final four games as the Broncos, who started the season 6-0, fell out of playoff contention and finished 8-8. Moreno's 2.7-per-carry average in that time span was alarming. Overall, he didn't show much explosiveness at all. His longest carry of the season was 27 yards.
What's expected in 2010:
The Broncos have been pleased with what they have seen from Moreno this offseason and he seems to be more prepared for the long NFL season. He will be the starter and Denver hopes that he can get in the 1,200-1,400-yard range as the Broncos move to a more traditional power-blocking scheme.
A scout's view:
"I liked Moreno as a late-first round pick but not at No. 12. You don't take a running back that high unless he is
Adrian Peterson
, a superstar. I don't think Moreno will be a superstar, but he should be better in Year 2. He's a good player, but not an elite player." -- Matt Williamson
No. 18, Robert Ayers, linebacker:

Ayers
Recapping 2009:
Ayers started just one game last season, finishing with 19 tackles. He didn't have any sacks. That was disappointing for Denver because it drafted him to be a pass-rusher. He was moved to linebacker to use his explosiveness, but he didn't show it as a rookie. Ayers was a late draft riser after a so-so college career.
What's expected in 2010:
It hasn't started great. After being lauded by McDaniels for much of the offseason, Ayers didn't practice for the first two days of the mandatory minicamp earlier this month. Finally, on the third day, Ayers did some work and McDaniels said the problem had been resolved. Ayers can't have any more setbacks. He will get a chance to start at linebacker, but he must earn his keep.
A scout's view:
"I think he's more of a 4-3 defensive end than a 3-4 linebacker. I don't know if he is a good fit for Denver's scheme. I'd be reluctant to write him off because he is adjusting to a new scheme." -- Matt Williamson
No. 37, Alphonso Smith, cornerback

Smith
Recapping 2009:
Smith's rookie season was as a disaster partly because of how he was acquired. That's not his fault, but he has to deal with it. When Smith, who was expected to be a late first-round pick, fell to No.37, Denver jumped up and traded its 2010 top pick (which turned out to be No. 14) to Seattle for him. Smith didn't live up to the price tag. He couldn't keep his nickel cornerback job as he was beaten out by veteran pickup
Ty Law
and undrafted rookie
Tony Carter
.
What's expected in 2010:
The Broncos expect Smith to be the nickel cornerback. If he doesn't keep the job this year, the alarms will sound loudly.
A scout's view:
"I liked the move to get him at No. 37; I'm not so sure about giving up a first-round pick. He is tough as nails and he is a good player. I'm not sure why he had a slow start." -- Matt Williamson
No. 48, Darcel McBath, safety

McBath
Recapping 2009:
McBath was decent when he played, but for now, he is just a backup safety. He was a good special-teams player, but his season was cut short because of injuries.
What's expected in 2010:
To continue to develop and help on defense when needed and be a special-teams standout. He will replace
Brian Dawkins
when he retires.
A scout's view:
"I thought he was a good pick and he could be a good player. But he's backup for now." -- Matt Williamson
No. 64, Richard Quinn, tight end:

Quinn
Recapping 2009:
Like Smith, Denver gave up a lot to get Quinn. He was the centerpiece of a trade in which Denver sent two third-rounds picks away in 2009. Quinn was clearly targeted. Yet, on draft day, Quinn admitted that he expected to be selected much lower in the draft. Denver took him because of his blocking. He played in 15 games and didn't have a catch. He made noticeable mistakes in games and in training-camp practices.
What's expected in 2010:
He needs to develop. The team is using more of a power-blocking scheme so he may be on the field with
Daniel Graham
more in double-tight end sets.
A scout's view:
"He's a blocking tight end. He's not dynamic enough to use that high of a pick on. The Broncos already have Graham and Quinn is a Graham clone. It's clear that's what they want out of the position, but I'm not sure he'll give them the production that's expected because of what they gave up to get him."
-- Matt Williamson
February, 27, 2010
2/27/10
4:00
PM ET
INDIANAPOLIS -- While the Broncos are expected to trade likely restricted free agent receiver
Brandon Marshall
, Denver coach Josh McDaniels said that is not necessarily the case.
Asked Saturday at the NFL combine if Marshall could be in a Denver uniform in 2010, McDaniels said "certainly."
McDaniels said there is no timetable to hash out Marshall's situation. He will likely become a restricted free agent Friday and there is expected to be interest on the trade market. An NFL head coach said Friday he thinks Denver will get a first-round pick in return for Marshall.
"I'm fond of Brandon," McDaniels said. "He's a good person and he's been huge to our team."
Still, if Denver gets a decent offer expect it to deal Marshall.
Here are other highlights from McDaniels' session:
• Tight
Tony Scheffler
could also return. Scheffler is a likely restricted free agent and was suspended for the final game of the season along with Marshall for accountability issues.
• Third-year running back
Peyton Hillis
will remain on the team and McDaniels is looking forward to getting Hillis more involved. He expects to see third-year receiver
Eddie Royal
bounce back as well. Both Hillis and Royal were much less productive in McDaniels' first season than they were as rookies in 2008.
• McDaniels is following the
Darrent Williams
murder trial and is up to speed on
Elvis Dumervil
and Marshall's testimony.
• No. 2 quarterback
Chris Simms
could remain with the team and McDaniels is happy with
Tom Brandstater
' progress. McDaniels said the team has "high hopes" for Brandstater in the long run.
• McDaniels is confident new defensive coordinator Don Martindale will "do a phenomenal job." Martindale, who coached Denver's linebackers last season, replaced Mike Nolan. McDaniels said Martindale had the support of several of Denver's players.
• Second-year player
Seth Olsen
is a candidate to start at left guard and center. McDaniels wants the team to get bigger on the offensive line and that's one of the reasons why starting center
Casey Wiegmann
was cut this week.
November, 26, 2009
11/26/09
7:20
PM ET
Denver -- The following are the inactives for Thursday night's game between the Giants and Broncos. There are few surprises:
Denver Broncos
New York Giants
November, 24, 2009
11/24/09
2:30
PM ET
We will not know for some time who won or who lost the blockbuster trade between the Broncos and the Bears in April that sent
Jay Cutler
to the Windy City.
But 10 games into the trade, it seems the Broncos may have the edge. Denver gets the early nod for three reasons:
1. Cutler is struggling in Chicago.
2.
Kyle Orton
looks like he's Denver's leader.
3. The Broncos received several players in the deal and have a top pick still to come.
Cutler was the centerpiece of the deal, of course. Denver decided to deal Cutler, who made the Pro Bowl in his third season at 25, because he couldn't get on the same page with new coach Josh McDaniels. In Chicago, especially in recent games, the bad Cutler has taken over. Cutler was mostly good in Denver, but he did have occasional mental lapses. The mental lapses have taken over his game recently.
There is plenty of time to salvage his Chicago days, but, at this moment, Cutler doesn't look to be worth the bounty Chicago surrendered.
The Bears threw Orton into the deal because they didn't need him anymore. He's become a key cog in Denver. The Broncos probably will try to re-sign him in the offseason.
Orton has been mostly good for Denver. He led the team to its 6-0 start. Orton was not good in the next two games, two Denver losses. But he was rebounded well. Sunday, he cemented himself as Denver's leader when he entered the game in the second quarter in a crucial game against San Diego despite a badly sprained ankle. He played the rest of the game and played pretty well. It is clear Orton's teammates believe in him, something that wasn't always the case with the Cutler, who has a reputation for being somewhat aloof.
While Cutler is more talented than Orton, some Broncos feel they now have better leadership at the position.
In addition to Orton, Denver received first- and third-round picks in 2009 and a first-rounder in 2010. Chicago is 4-6, so the 2010 choice could be fairly decent.
The Broncos chose linebacker
Robert Ayers
with the No. 18 pick they acquired in the deal. Ayers has shown flashes, although he was not active against San Diego. Still, the Broncos like him as a future player.
Denver packaged the third-rounder from the Bears with their third-round pick in a draft-day trade with Pittsburgh that netted tight end
Richard Quinn
and guard
Seth Olsen
. Both players could help down the road. It does need to be noted that Pittsburgh used the third-round pick Denver got from Chicago to select receiver
Mike Wallace
. He has been a rookie star.
Chicago did get a fifth-rounder from Denver in the Cutler deal and used it on receiver
Johnny Knox
, who looks promising.
After 10 games, this deal does not heavily favor either side. But Denver received some decent pieces and Cutler has not lived up to early expectations. The edge goes to Denver at this point.
November, 9, 2009
11/09/09
7:36
PM ET
October, 19, 2009
10/19/09
7:31
PM ET
August, 31, 2009
8/31/09
2:15
PM ET

Posted by ESPN.com's Bill Williamson
Denver guard
Chris Kuper
escaped serious injury Sunday night against Chicago.
A source close to the situation said Kuper suffered a high ankle sprain. Kuper is going to try to play in Denver's regular season opener Sept. 13 at Cincinnati. However, that may be an optimistic view. A high-ankle sprain could take weeks to heal. If Kuper can't play, fourth-round pick
Seth Olsen
would likely substitute for him.
Still, the Broncos are looking at Kuper's diagnosis as a positive. His injury looked to be much more serious when he had to be helped off the field Sunday night. Kuper is quietly becoming one of the best young guards in the NFL.
August, 30, 2009
8/30/09
6:33
PM ET
Posted by ESPN.com's Bill Williamson
It's official: Denver Broncos fans have not forgiven Jay Cutler for his role in his departure from the Broncos this offseason.
Cutler was booed vigorously. It was so bad, Cutler couldn't hear the calls being relayed to him. Fans were stomping their feet when Cutler took the field, causing Invesco Field at Mile High to shake.
Cutler appeared to be affected by the reception early. But he did settle down and perform fairly well.
Denver quarterback Kyle Orton had to leave the game with a bloody index finger on his right hand, which is his throwing hand. With backup Chris Simms out for 2-4 weeks with an ankle injury, the only backups currently behind Orton are rookie Tom Brandstater and newly signed Ingle Martin.
Before he was injured, Orton wasn't perfect, but he seems to be calming down some. Orton will never be special, but if he can manage coach Josh McDaniels' system, he can be somewhat effective.
Denver receiver Jabar Gaffney has a broken thumb, according to the Denver Post. He will likely be out several weeks. Gaffney was starting for Denver with top receiver Brandon Marshall out because of a team suspension.
Guard Chris Kuper suffered what appeared to be either a knee or ankle injury. Kuper is an underrated player and a big part of Denver's strong offensive line. His loss would hurt. Rookie Seth Olsen replaced him.
Denver's defense looked decent. It provided solid pressure and it was very active.
Elvis Dumervil was all over Cutler. Dumervil is really adjusting well to the 3-4 defense. He is now a rush linebacker after starting his career as a defensive end. Dumervil could be primed for a good year.
Safety Brian Dawkins looked solid in his first preseason game after suffering a broken hand.
The official for the game is Ed Hochuli. He is famous for making a bad call that helped Denver win over San Diego last season. Hochuli has also officiated a Chargers' game this preseason.
July, 23, 2009
7/23/09
8:33
PM ET
Posted by ESPN.com's Bill Williamson

The Broncos signed their third draft pick in less than 24 hours Thursday by agreeing to terms with guard Seth Olsen. He was taken in the fourth round from Iowa.
Denver now has four of its 10 draft picks signed. First-round picks Knowshon Moreno and Robert Ayers are among the unsigned. Denver's rookies start practice Monday. Denver cut rookie free agent receiver David Grimes on Thursday.
Meanwhile, the Raiders have released information on their first few days of training camp. I am planning on being at Napa for the kickoff of the Raiders' new season.