December, 29, 2013
12/29/13
9:00
AM ET
SAN DIEGO -- Though they've been mysterious about specific plans for Sunday's game against the
San Diego Chargers
, it's easy to know what to expect from the
Kansas City Chiefs
.


Players and coaches to a man have talked about how important it is for the Chiefs to beat the Chargers, but Andy Reid has talked about resting key players and trying to keep them fresh for next week's opening-round playoff match, a game that really is important.
If
Alex Smith
,
Jamaal Charles
and other star players are out of the lineup early in the game, that sends a stronger message about Kansas City's desire to win this game than anything they say.
Meanwhile, the Chargers may or may not be vying for a playoff berth by the time the game kicks off. If both Baltimore and Miami lose in early games Sunday, San Diego would get the final wild-card spot by beating the Chiefs. If either Baltimore or Miami win, the Chargers are eliminated and as far as the playoffs go will have the same motivation as the Chiefs, which is to say none.
The Chargers seem more motivated than Kansas City does regardless. The 8-7 Chargers have talked about the importance of finishing with a winning record and building momentum for next season. While those incentives aren't nearly as strong as playing for the playoffs, they are more than the Chiefs have going for them.
So the playing field definitely isn't a level one in this regard. Maybe the Chiefs will surprise with their effort but more likely they will be watching the clock and waiting for it to expire like a kid on an average school day.
The Chargers are an improved team since they came to Arrowhead Stadium and beat the Chiefs late last month. They had been allowing a lot of points and gave up 38 that day but since have progressed considerably on defense.
Outside linebackers
Melvin Ingram
and
Jarret Johnson
are finally healthy and playing well. The Chargers made a lineup change in the secondary, benching cornerback
Derek Cox
, and suddenly they're creating turnovers and getting opponents off the field on the third downs. San Diego is allowing just 16 points per game in the four games since they played against the Chiefs.
Offensively, the Chargers may be without running back
Ryan Mathews
and wide receiver
Eddie Royal
because of injuries. But it's hard to shake the memory of how easy things were for
Philip Rivers
and
Keenan Allen
against the Chiefs the last time. And they were playing reserves at the end of the game against the Chiefs. It was seldom used wide receiver
Seyi Ajirotutu
who caught the winning touchdown pass.
The Chiefs could rise up and play well, but it's not wise to expect that given the circumstances. They have bigger prizes to play for than Sunday's game and the result should reflect that.
Prediction: Chargers 31, Chiefs 17.
November, 27, 2013
11/27/13
6:37
PM ET
SAN DIEGO -- His name is pronounced SHAY-ee ah-ZHIR-uh-tutu. But San Diego receiver
Seyi Ajirotutu
will just shrug and smile when others mispronounce his name, including a host of national TV personalities over the weekend.
Players and coaches call him "Tutu", which rolls easier off the tongue.
So what tongue-tied TV host stumbled the most on his unique last name?
[+] Enlarge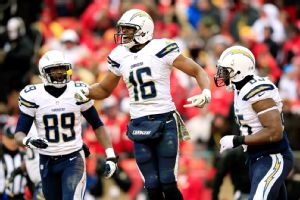 Jamie Squire/Getty ImagesSeyi Ajirotutu has taken advantage of the limited opportunities he's gotten at wideout this season.
"[Chris] Berman," he said. "There were a couple others, but it's all right. They've just got to read the manual and you'll be all right. It's a little challenging seeing nine letters in a last name. It's OK. It's happened since I was in kindergarten."
Ajirotutu is a popular interview subject this week after he hauled in the 26-yard game-winning touchdown against Kansas City. You can see a quiet intensity in Ajirotutu's face as the fourth-year wideout relegated to playing mostly special teams ponders the question: Is he a guy who can stretch the field?
"I feel like I can play," he said. "I feel like I can stretch it. I feel like I can do whatever they ask me to do. I can play."
Ajirotutu signed with the Chargers during training camp, the 26-year-old hasn't received much of an opportunity to prove he can be an impact player on the field.
But his reps likely will increase after making back-to-back impact plays for the Chargers. With slot receiver
Eddie Royal
unavailable due to a chest injury, Ajirotutu subbed in and did not miss a beat in terms of the playbook, catching a 26-yard touchdown pass from
Philip Rivers
on a fade route to seal a 41-38 win for the Chargers.
Two weeks ago with
Keenan Allen
out nursing a knee injury at the end of the game, Ajirotutu was called into duty again, catching back-to-back passes over the middle of the field to help San Diego move into scoring position against Miami. But that San Diego rally fell short, and the Chargers lost 20-16 to the Dolphins.
One thing Ajirotutu proved during both those late-game situations is that the moment is never too big for him.
"He's a pro," Chargers offensive coordinator Ken Whisenhunt said of Ajirotutu. "But more importantly, when his opportunities have come, he's stepped up and made plays. And that's what this league is all about. So I have a tremendous amount of respect for Tutu."
At 6-foot-3 and 215 pounds, Ajirotutu has the prototypical size the Chargers are looking for in a big receiver. He wasn't exactly a speedster coming out of Fresno State, running a 4.58-second time in the 40-yard dash at his pro day. But he was productive for the Bulldogs, finishing with 129 career catches and 12 touchdowns.
Ajirotutu originally joined the Chargers in 2010 as an undrafted rookie from Fresno State. He's played in 13 career games for the Chargers, and 14 for the
Carolina Panthers
in 2011. Last season, Ajirotutu played in three games with one start for San Diego, catching three passes for 45 yards. For his career, Ajirotutu has 17 catches for 311 yards and two touchdowns.
Ajirotutu leads the team in special-teams tackles with nine. But he has just three receptions for 64 yards and a touchdown this season. Ajirotutu would like to see that change. And given another opportunity, he'll be ready.
"I catch balls and work on the scout team," he said. "I'm always working on my craft, and I'm ready to go."
December, 4, 2012
12/04/12
10:23
PM ET
A report out of Chicago claims that the Raiders are "in talks" to
bring back Jon Gruden as coach
.

OK, OK, Raider Nation, quiet down. I can hear your squeals of delight from here.
But hold off a bit. I don't want to discount any report, but I am not going to get too much into this until there is more. I want to acknowledge it, but until there is more steam, I think we have to say it is a long shot. But anything can happen and it is worth keeping an eye on.
But I think, many, many things would have to happen before something so dramatic would occur. Gruden has said he is committed to ESPN's "Monday Night Football." This is not the first report about Gruden's future and it very likely won't be the last.
UPDATE:
This is Gruden's statement on open jobs:
"I don't have time to get into all that stuff. I like what I'm doing and I'm just trying to hang on to the job I have. Let's leave it at that."
In other AFC West news:
The Raiders' game against Denver on Thursday night will be televised locally.
Broncos linebacker
Wesley Woodyard
did not practice Tuesday with an ankle injury. He could be pressed to play Thursday at Oakland. He was hurt Sunday against Tampa Bay.
The Chargers placed receiver
Seyi Ajirotutu
(hand) and center
David Molk
(thumb) on injured reserve. In addition to center/guard
Colin Baxter
, San Diego signed guard/tackle
Stephen Schilling
to help its battered offensive line. Like Baxter, Schilling has played for the Chargers before.
Denver coach John Fox opened his press briefing Tuesday by expressing his condolences to Oakland coach Dennis Allen. His father, Grady Allen, died Tuesday. Allen was the Broncos' defensive coordinator last season.
November, 1, 2012
11/01/12
8:24
PM ET
The
San Diego Chargers
have just three healthy receivers Thursday night against Kansas City.


With
Eddie Royal
and
Robert Meachem
hurt,
Malcom Floyd
,
Danario Alexander
and
Seyi Ajirotutu
will be the Chargers' receivers; Alexander and Ajirotutu are new to the roster. This will be a challenge for struggling quarterback
Philip Rivers
.
San Diego defensive tackle
Antonio Garay
is playing for the first time this season. Linebacker
Larry English
, a first-round pick in 2009, is a healthy scratch for San Diego.
For Kansas City, defensive end
Glenn Dorsey
is back after dealing with a calf injury. Meanwhile,
Javier Arenas
will play cornerback in place of
Stanford Routt
, who suffered a hamstring injury in practice this week.
In other AFC West news:
Players are happy that the Raiders' offensive coaching staff is finally
incorporating some power-blocking schemes
to go along with the team's zone-blocking schemes. Oakland has had better ground success using the power-blocking schemes and I'm sure we will see more of it as the season goes on.
October, 31, 2012
10/31/12
5:10
PM ET
The San Diego Chargers' offense is facing another obstacle as it tries to get out of a slump.
Receiver
Eddie Royal
(hamstring) is doubtful and fellow receiver
Robert Meachem
(hamstring) is questionable to face visiting Kansas City on Thursday night. This isn't going to help an offense that has not scored a touchdown in the past six quarters.
Newly signed receivers
Danario Alexander
and
Seyi Ajirotutu
both should get a chance to see some action against the Chiefs.
For Kansas City, defensive end
Glenn Dorsey
(calf) and cornerback
Stanford Routt
(hamstring) are both questionable to play. They were both limited in practice Wednesday.
In other AFC West news:
Former San Diego kicker
Nate Kaeding
offers an interesting perspective on the team
in a radio interview
.
October, 29, 2012
10/29/12
9:40
PM ET
Catching up on the happenings in the AFC West after a travel day:
Kansas City Chiefs quarterback Brady Quinn did not practice Monday in preparation of a Thursday night game at the San Diego Chargers. He suffered a head injury against the Oakland Raiders on Sunday.
The team is not counting out Quinn for the San Diego game, but I think it will be a challenge for him to be ready in time. Matt Cassel may get another chance to start.
The Chargers brought back receiver Seyi Ajirotutu, who showed promise with the Chargers two years ago. They also placed receiver Richard Goodman on the injured reserve. Coach Norv Turner told reporters Monday he doesn't expect injured receiver Vincent Brown to be back from a broken ankle soon. It still may be a month for so.
For what it's worth, Turner said he has not talked to San Diego ownership about his job status. The Chargers have now lost three straight games.
Denver linebacker Joey Mays is likely out for the year with a broken leg he suffered Sunday against New Orleans. Mays is a key special teamer for Denver.
The Raiders are dealing with some
injuries after Sunday's win at Kansas City.
The NFL pushed the trade deadline from Tuesday to Thursday because of the major storms hitting the East Coast.
The Broncos weren't thrilled about a hit
on quarterback Peyton Manning against New Orleans.
The local television blackout has been lifted for Thursday's Kansas City game at San Diego.
September, 4, 2011
9/04/11
2:50
PM ET
This has to sting the
San Diego Chargers
a bit.

The San Diego Union Tribune reports
that two undrafted rookies the Chargers cut were claimed. Quarterback
Scott Tolzien
was claimed by San Francisco and center/guard
Colin Baxter
was claimed by the
New York Jets
.
It's not overly common for undrafted free agents to be claimed right after not making the 53-man roster. Tolzien and Baxter both had good summers.
The Chargers liked Tolzien a lot. The paper reported that the Chargers saw him as a potential future backup to
Philip Rivers
. Now, San Diego just has Rivers and backup
Billy Volek
in the program. That is all it needs, but it would have been nice for the team to develop Tolzien. Now that the gamble to try to stash Tolzien on the practice squad didn't work, the Chargers could look to add a young quarterback to the practice squad.
Baxter made a push to the make San Diego's 53-man roster. The Chargers liked him for his versatility.
While it hurts the Chargers to lose two prospects, this could be, in the big picture, a positive sign. The fact that the Chargers didn't find room on the 53-man roster for two talented players like this might be an indication of how deep the roster is.
Meanwhile, Carolina
reportedly claimed
defensive back
Stevie Brown
, who was cut by the Raiders. The 2010 draft pick was not eligible for the practice squad, so Oakland knew it was saying goodbye to Brown when it cut him.
UPDATE:
The Panthers have announced
the claiming of Brown and former San Diego receiver Seyi Ajirotutu. He showed promise at points last season. He reunites with Carolina head coach Ron Rivera, who was the Chargers' defensive coordinator. He was not eligible for the practice squad.
September, 3, 2011
9/03/11
7:20
PM ET
Check here
for a complete list of the
San Diego Chargers
' roster moves.

Surprise move:
There were some familiar names on the Chargers' cut list. Defensive end
Ogemdi Nwagbuo
was productive last year, and he was a popular member of the team. Receiver
Seyi Ajirotutu
also made some plays last season when the Chargers' receiving crew was depleted. There was also a thought that undrafted rookie quarterback
Scott Tolzien
would be kept after a strong summer. I'm sure the Chargers will try to put him on the practice squad.
No-brainers:
In the end, receiver/returner
Bryan Walters
and linebacker
Darryl Gamble
, an undrafted rookie, were too good to cut. Anyone who paid attention to San Diego in the preseason saw these two youngsters make play after play. Now, they have jobs. Expect them both to contribute on special teams this season.
What's next:
The Chargers
on Saturday signed
veteran linebacker
Na'il Diggs
. The 12-year veteran is a leader, and he could push for playing time at inside linebacker. San Diego will probably look at the waiver wire for help in the secondary, offensive line and receiver.
September, 2, 2011
9/02/11
8:30
AM ET
On a night many backups played extensively, second-year running back
Ryan Mathews
showed his team some flashes of why the Chargers gave up a truckload to trade up for him in the 2010 draft.


Mathews had a beautiful 56-yard touchdown run and he finished with 78 yards on five carries in a
20-17 loss to San Francisco
. He showed he is perhaps ready to take on a bigger role once the regular season starts next week against Minnesota.
Rookie running back
Jordan Todman
also was active as he had 46 yards rushing on 15 carries.
Third-string quarterback
Scott Tolzien
showed his potential as he completed 16 of 23 passes for 226 yards. The Chargers like him as a developmental player.
Receiver
Laurent Robinson
, who faces big odds of making the team, had six catches for 120 yards. Receiver
Seyi Ajirotutu
helped his cause with five catches for 41 yards.
The Chargers are worried about injuries
to rookie linebacker
Jonas Mouton
and
Andrew Gachkar
. It could affect who the team keeps at linebacker. Veteran
Stephen Cooper
-- who is playing with a torn biceps -- made his case to make the roster with seven tackles.
October, 23, 2010
10/23/10
4:45
PM ET
As expected, the
San Diego Chargers
promoted receiver
Seyi Ajirotutu
from the practice squad to the 53-man roster. He will likely be active Sunday against New England. He is a rookie free agent.
The Chargers will likely be without starting receiver
Malcom Floyd
and
Legedu Naanee
. They both have hamstring injuries and are both listed as doubtful on the injury report.
Buster Davis
and
Patrick Crayton
are expected to start at receiver. The Chargers also may be without star tight end
Antonio Gates
. He has a toe injury that kept him out of practice all week. Gates is listed as questionable and he is expected to be a game-time decision.
To make room for Ajirotutu on the roster. San Diego placed linebacker
Kion Wilson
on the injured reserve with an ankle injury. He is the fifth linebacker San Diego has put on the injured reserve this season.
September, 5, 2010
9/05/10
4:20
PM ET
The
San Diego Chargers
didn't waste any time in signing a veteran offensive tackle to give the team depth during Marcus McNeill's holdout.
San Diego inked massive tackle
Adam Terry
. He is 6-foot-8, 335 pounds. Terry was cut by Indianapolis on Friday. He was on the injured reserve last year and he spent his first five seasons with Baltimore. He has started 18 NFL games. He will likely be a backup as San Diego prepared to play without McNeill.
San Diego cut undrafted rookie tackle
Ryan Otterson
, one day after he made the 53-man roster. He could be a candidate for the practice squad. However, the Chargers now have a full eight-man practice squad. Here it is:
April, 26, 2010
4/26/10
3:25
PM ET
The Chargers signed 20 undrafted free agents: Here they are: