July, 28, 2011
7/28/11
6:20
PM ET
The San Diego Union Tribune reports
San Diego running back
Darren Sproles
will soon decide between playing for the Chargers, Saints and Eagles. I don't think the Chargers are going to offer the moon, so Sproles is probably looking at a smaller deal than expected. The Chargers could use him, but I think the team is also OK if he leaves.
Meanwhile, ESPN's Adam Schefter said San Diego receiver
Malcom Floyd
may be the next receiver to go off the board after
Santonio Holmes
and
Sidney Rice
have agreed to big-dollar deals. Schefter reports Minnesota, among other teams, may make a run at Floyd. The Chargers likely will not match a huge deal for Floyd.
The Chiefs just announced they signed six draft picks. They are:
Allen Bailey
,
Jalil Brown
,
Ricky Stanzi
,
Gabe Miller
,
Jerrell Powe
and
Shane Bannon
.
UPDATE:
Agent Joe Linta just told me second-round pick Rodney Hudson has agreed to terms with the Chiefs.
Here is another connection
between defensive tackle
Aubrayo Franklin
and the Chiefs. It would be a great fit.
The Saints have agreed to re-sign left tackle
Jermon Bushrod
. He had been connected to Kansas City.
Denver signed
second-round pick
Rahim Moore
and now have signed its top three picks.
The Lions have some interest in San Diego inside linebacker
Brandon Siler
.
The Bears will release
tight end
Brandon Manumaleuna
. The Chargers liked him when he was there. If he could come cheaply, I could see him coming back to San Diego. The Chargers missed him.
Guess we can forget that
Chad Ochocinco
-Hue Jackson reunion. The receiver is headed to the Patriots. Jackson coached Ochocinco in Cincinnati and the two remain close. Just a thought, but maybe the idea of New England getting another receiver will make the Jets ramp up their effort to sign
Nnamdi Asomugha
.
The Broncos have their eyes on one
of John Fox's former players to fill a key need.
UPDATE:
The Bengals agreed to terms with former Oakland starting linebacker Thomas Howard. He was a backup last year and he was not in Oakland's plans.
March, 10, 2011
3/10/11
5:05
PM ET
For whatever reason,
Thursday's AFC West chat
was dominated with Oakland and Denver questions.
Every week is different, but you folks drive the chat, so Thursday we spent plenty of time talking about the Broncos and the Raiders.
Much of the Denver questions revolved around the No. 2 pick in the draft. Oakland questions varied, but included a lot of quarterback talk. We did get to the Chargers and the Chiefs, including both teams' chances of landing free agent receiver
Sidney Rice
. Thanks to everyone who participated.
March, 9, 2011
3/09/11
12:21
PM ET
Mid-week mail call:
Tommy from Kansas City wants to know
if I think the Chiefs could make a run at former Denver tight end
Daniel Graham
:
Bill Williamson:
I do, Tommy. I think there will be interest from the
Kansas City Chiefs
. Graham played for the
New England Patriots
under Kansas City general manager Scott Pioli. Pioli has long been a fan of Graham. He is a fine blocking tight end and could fill a role for the Chiefs. The Chiefs have a pass-catching tight end in second-year player
Tony Moeaki
, but Graham would essentially be an extra offensive lineman in running situations. That is important for a team that was No. 1 in the NFL in rushing in 2010. I think teams such as the
Seattle Seahawks
,
Tennessee Titans
and
Washington Redskins
could also be interested in Graham. I'm not sure the Chiefs would break the bank for him, but I could see interest if the team thinks he is reasonably priced.
James Fairall from Azusa, Calif., wants to know
if I think Oakland could pursue free-agent receiver
Sidney Rice
.
BW:
I think other teams will make a bigger push for Rice. He will be very popular and very pricey. I'm not sure how much the
Oakland Raiders
will be able to spend because of all of its own free agents, many of whom have already re-signed. Oakland likely will look for a veteran, but one to be a complement to its promising young receivers. I think Rice could end up elsewhere, perhaps with the
San Diego Chargers
, especially if
Malcom Floyd
is an unrestricted free agent and he goes elsewhere.
Joey from Topeka, Kan., wants to know
if I think the Chiefs could pursue Oregon State defensive tackle
Stephen Paea
in the draft.
BW:
I think it's a possibility and he has been connected to the Chiefs before. Paea opened eyes at the combine last week when he set a combine record by doing 49 repetitions of the 225 pound bench press. He is a big man who plays in the middle of the defensive line. He'd fill a need for the Chiefs. But because there are so many good pass rushers, I think the Chiefs may look there first. But I do think Paea, who is recovering from a knee injury he suffered at the Senior Bowl, should be on the list of candidates in Kansas City.
February, 21, 2011
2/21/11
3:15
PM ET
The
Minnesota Vikings
' decision
to place the franchise tag
on linebacker
Chad Greenway
could have an effect on the AFC West.
The Vikings' decision to tag Greenway and not receiver
Sidney Rice
means the receiver position has gotten even more loaded in free agency. Rice joins strong free-agent receiver class that includes the likes of
Braylon Edwards
,
Malcom Floyd
,
Santonio Holmes
,
Steve Breaston
,
Randy Moss
,
Santana Moss
,
Steve Smith
(Giants, not Panthers)
Terrell Owens
and
Mike Sims-Walker
.
Rice is now at the top of the loaded class.
That should interest Kansas City and Oakland. I could see both teams adding a receiver in free agency. The Chiefs may be more aggressive. They need a No. 2 starter to pair with
Dwayne Bowe
. I could see Kansas City either spending a lot on a receiver or considering using the No. 21 pick on a receiver.
Oakland will likely look for an older receiver to complement its talented, but raw group of receivers that includes
Jacoby Ford
,
Chaz Schilens
,
Louis Murphy
and
Darrius Heyward-Bey
. Because Oakland likes its young receivers, I'm not sure it would spend big on a receiver but this class is now deeper and Oakland could get a veteran receiver at a better price.
San Diego has to be closely watching the receiver class as well. If Floyd leaves, the Chargers will need a receiver. Rice could be a very interesting fit if the Chargers (who recently put the franchise tag on
Vincent Jackson
) if they want to spend big money. I can see the Chargers adding at the position (perhaps early in the draft) even if Floyd is re-signed. Keeping Floyd may have gotten easier now that Rice has joined the free-agent class. Rice will likely be more sought after than Floyd, so it the Chargers may have an easier time keeping him if they don't decide to make a push for Rice.
I don't see Denver being major factors at the receiver position right now even though young receivers
Eddie Royal
(hip) and
Demaryius Thomas
(Achilles) are currently hurt. I think Denver will concentrate on fixing the NFL's worst defense.
September, 22, 2010
9/22/10
6:38
PM ET
The reason
Vincent Jackson
wasn't traded by the Chargers on Wednesday came down to two issues: No team met the trade demands of the Chargers and the bad timing of
Braylon Edwards
' DUI arrest early Tuesday morning, according to a source.
The NFL and the NFL Players' Association had agreed to a 4 p.m. ET deadline for San Diego to trade Jackson, which would have allowed him to be active by the fifth week of the regular season; Jackson is under a three-game suspension for past DUI offenses. When he did not sign his restricted free-agent tender, the Chargers placed Jackson on an exempt list, which prohibited him from playing for three more weeks.
[+] Enlarge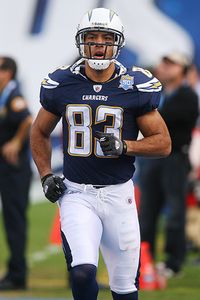 Icon SMINo team reached a deal with Chargers receiver Vincent Jackson by the 4 p.m. deadline. Now, Jackson will not be eligible to play until after Week 6.
Now, Jackson won't be eligible to play until after Week 6, and the likelihood a trade is remote because of the limited amount of time he would be available the rest of the season.
Here are the details of what didn't come together in the final 48 hours, according to the source:
During the offseason and his restricted free-agency period, the source said the Chargers didn't receive any phone calls on Jackson, who was available to teams for first-and third-round compensation. As the regular season approached and Jackson stayed out through training camp without signing his tender, trade interest started.
Initially, four teams expressed interest -- the
St. Louis Rams
,
Washington Redskins
,
Detroit Lions
and
Seattle Seahawks
. The Lions, according to the source, dismissed the notion of a trade quickly. The source judged the interest of the Rams and Redskins as only an outside chance of happening.
Chargers general manager A.J. Smith, who stopped talking about the Jackson situation July 30 and made sure everyone in the organization was quiet on the subject starting then, wasn't specific with teams about what he wanted. According to the source, he wanted two second-round picks, the price tag the Broncos acquired in trading wide receiver
Brandon Marshall
to the
Miami Dolphins
.
Once the regular season began, the
Minnesota Vikings
entered the mix. The Vikings had lost
Sidney Rice
to a hip injury for half the season and had migraine headache concerns with
Percy Harvin
.
The Vikings, according to the source, kept calling every three days or so and their interest increased over time. In trade conversations, Smith expressed a willingness to consider offers of a second- and a third-round choice or possibly a second- and a fourth-round choice, knowing Jackson would be available for a maximum of 12 games and could face a lengthy suspension if he had another DUI.
The Vikings kept increasing their offer, but it never reached Smith's demands.
The Edwards DUI arrest also had an impact on the trade discussions. According to the source, the Rams and Seahawks -- under orders from their owners -- pulled out of the discussions after the Jets receiver's arrest became public.
That left the Vikings as the only serious bidder, and it came down to the Chargers seeing if they could get the Vikings to reach their draft choice target level.
Smith, according to a source, was willing to make a trade if the Vikings signed Jackson to a one-year contract at $6 million and he received at least a No. 2 and a No. 4. That draft choice cost was too dear to the Vikings.
The fact that Smith hasn't come off his demands for either two No. 2s, a No. 2 and a No. 3 or a No. 2 and No. 4 probably means Jackson will sit out the season.
Smith is willing to let Jackson hit free agency next year with the hopes he signs with a team and the Chargers could receive a third-round compensatory pick in 2012. But with no CBA after the season, there is no guarantee there will be compensatory picks.
The next opportunity for the Chargers to trade Jackson would be right before the Oct. 19 trade deadline.
August, 27, 2010
8/27/10
6:20
PM ET
Earlier this week, Neil Schwartz and Jonathan Feinsod --
the agents
for San Diego holdout Pro Bowl receiver
Vincent Jackson
-- said that the Chargers have not given any team other than Seattle permission to talk to Jackson about a contract. According to the agents, the Chargers said there are certain teams they don't want to send Jackson to. Because of that, Schwartz and Feinsod don't think San Diego is serious about trading Jackson.
Friday,
the NFL Network
reported Jackson said he wants to remain in San Diego but he will hold out for the entire season if he has to.
Still, the easiest way out of this may be a trade, which I think is still an option. Ultimately, San Diego general manager A.J. Smith may decide to cut his losses and get something for Jackson instead of watching him sit out the entire season.
Here's a short list of potential trading partners for Jackson.
Buffalo
: The Bills need a playmaker and sending Jackson to a weak team would teach Jackson a lesson.
Chicago
: There has been interest, but the Bears don't have any more money to spend.
Cleveland
: The Browns could give Jackson a new deal and the Chargers a good compensation package.
Minnesota
: The Vikings have to be tempted with
Sidney Rice
out, but they would be reluctant to spend big on Jackson just because it has a temporary issue at receiver.
Seattle
: The Seahawks have talked to Jackson, but, so far, are reluctant to give him what he wants.
St. Louis
: Jackson would be a very nice welcome gift for
Sam Bradford
.
Washington
: This might be the best fit. Mike Shanahan has longed admired Jackson.
August, 24, 2010
8/24/10
2:50
PM ET
San Diego is in an interesting position when it comes to
Vincent Jackson
's holdout. They never know which team is going to get racked with injuries or get desperate and make a move to pursue the Pro Bowl receiver.
That may have just happened in Minnesota.
Standout Vikings receiver
Sidney Rice
is
likely out until November with a hip injury
. With fellow receiver
Percy Harvin
dealing with serious migraine headache issues, the Vikings are in a lurch at the position.
There are currently no intriguing names available on the open market, but there will be some decent players available Sept. 4 when teams make their final cuts. Minnesota can wait to see what pops up or it can go big and try to make a deal for Jackson and get a star.
The Vikings may be tempted to take a shot at since
Brett Favre
is back and they know this is their best shot for a Super Bowl title.
There are plenty of catches, though. The Chargers have only given Seattle permission to talk to Jackson about a contract. Still, if a team offers the Chargers enough goods, I'm sure additional permissions would be granted.
Still, the only way Jackson, who is facing a three-game NFL suspension, is going to report to any team is with a new contract. Jackson wants a contract similar to the deal Miami gave
Brandon Marshall
after getting him from Denver for two-second round picks in April. Marshall is being paid $50 million over five years.
Minnesota would likely have a difficult time swallowing that pill considering Rice and Harvin are both young players who have bright futures. Still, the Vikings' receiving crew is currently a mess. Jackson would solve the problem, starting in Week 4. Will it be worth it? Perhaps not.
But it wouldn't be shock if Minnesota considers it. Just like any team that may suffer a big injury at the position during Jackson's holdout.
July, 8, 2010
7/08/10
7:15
PM ET
Former NFL star receiver and current ESPN analyst
Cris Carter
told reporters in Minnesota that the Kansas City Chiefs' brass was aware he'd be attending the same camp as
Dwayne Bowe
. He indicated that he would try to help Bowe, who struggled last year.
The camp was run by Arizona star receiver
Larry Fitzgerald
in his native Minneapolis and attended by several NFL receivers.
The Minneapolis Star Tribune reported
that Bowe received tough love from both Carter and fellow former star receiver
Michael Irvin
.
"Some people in Kansas City as far as their administration kind of knew I was going to be here. We kind of let them know that I would be here for Bowe," Carter said.
The paper said Bowe made his debut at the camp Thursday and he was admittedly out of shape after taking some time off.
"Can you imagine your first day coming back to 14 [100-yard sprints]?" Bowe said. "Man, it was like college again. I've never done this intensive competing, conditioning and technique in one day."
Bowe said he was attending the camp because he saw the noticeable improvement Minnesota's
Sidney Rice
made last year after attending.
"You can tell [the potential impact] by the production that Sidney Rice had last year," Bowe said. "I know he had
Brett Favre
but still. I talked to him a week ago and he told me they competed and it made him [better] and he went to the Pro Bowl. Now I think it's my turn to take over."
The Chiefs have to feel the same way. Perhaps that's why they talked to Carter about Bowe. He is a talented player who took strides backwards last season. Bowe, a No. 1 pick in 2007, had a total of 156 catches in his first two NFL seasons. However, he had just 47 catches and was suspended for four games for using a banned substance in 2009.
While he has been in and out of coach Todd Haley's doghouse, the Chiefs are giving Bowe a clean slate. They have not given up on him, but they know this is a vital season for him. Perhaps his time with Carter, Irvin and Fitzgerald will help.