AFC West:

Stephanie Turner
May, 9, 2011
5/09/11
10:00
AM ET
I caught up with Stephanie Turner, the daughter of San Diego Chargers' coach Norv Turner. She is an actress and she has launched her football-based website,
Footballbrat.com
. She was gracious enough to answer some questions about the reasons behind her site and what it was like growing up as the daughter of an NFL coach.
[+] Enlarge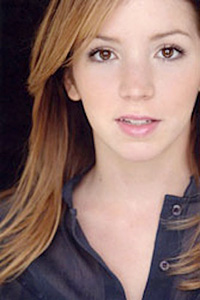 Courtesy of Stephanie TurnerStephanie Turner, the daughter of San Diego Chargers head coach Norv Turner, offers a unique insider's perspective of the NFL.
Bill Williamson:
Tell me a little about your reason to launch Footballbrat.com. What's your vision for the site?
Stephanie Turner:
"I would watch football on Sundays, listen to the pregame talk, and read coverage here and there. More and more I felt like the people who were hired as "insider analysts," were not offering football fans a truthful insider's perspective. I decided to start commenting on the media's interpretation of events in football; holding them accountable for the statements they make. I'm not writing with the intent of trying to convince people that I'm correct. All I can do is share what I know based on my experiences. My intention is to give them the perspective of someone who has grown up in NFL football facilities and has seen all the moving parts that go into a team. In my opinion, anyone can memorize plays and coverage schemes, but it's much more complex to understand what really goes into being a part of an NFL team. My family is the reason I know and love this game; my dad, brothers, uncles, and cousins are all involved with football at some level. I have no agenda; I would just like to share a different perspective."
BW:
What does your dad think about you joining the football blogging community?
ST:
"He is happy about it. I think he feels the same way that I do, that there's a lot of misinformation out there and that the perspective I have to offer is different than others. My dad knows that I'm not going to just say something about an issue without doing research on it. So I think he's excited about it. I do not intend the site to be affiliated with him or his team in any way. Obviously people are going to put two and two together and realize that I am his daughter, and that's fine. That's something that I'm very proud of."
BW
: I know you are an actress. What's your dream role?
ST:
"I enjoy playing unique or different characters, maybe someone with a dark past or an unusual life. I don't have a specific role that I'd like to play, but I would love to work on interesting films that make people think or that challenge popular opinion in some way."
BW:
What is your most vivid memory as an NFL coach's kid?
ST:
"I have so many great memories growing up going to games with my family, so many games … hundreds of games. My birthday is always right in the middle of training camp. So just about every year for my birthday we would go visit my dad at camp. My birthday celebrations growing up usually consisted of my parents, my brothers, the coaching staff, and various players here and there. They usually took place in the dining hall of a college dorm or maybe a dorm room or hotel room. It's an interesting thing having a coach as a dad, because he's kind of also a dad to a bunch of other grown men. The team and the other coaches' families become an extension of your own family. To be able to be together with what I thought of as my football-playing big brothers and football-coaching uncles was always very special. I have a lot of fun birthday memories at various training camps. Actually, there's a photo from my fourth birthday party at the Los Angeles Rams' training camp on footballbrat.com. I'm with my mom and dad, my godfather Hudson Houck and Ernie Zampese, a great friend and retired offensive mastermind."
BW:
What would be your dream NFL story to blog about on your site? A Chargers' Super Bowl victory perhaps?
ST:
"Well, even though I choose not to write about the Chargers … I will say that when the Chargers go to the Super Bowl, I would love to blog as their Super Bowl insider. Other than that, I would love to blog about the NCAA stepping up to make adjustments to their system in order to take better care of their student athletes. Seeing that organization move forward and acknowledge the holes in their system would make me very happy."
May, 4, 2011
5/04/11
2:35
PM ET
Despite the fact that the
San Diego Chargers
drafted two return men and a change-of-pace running back,
the San Diego Union Tribune reports
that coach Norv Turner said he wants to keep free-agent running back
Darren Sproles
.
Turner told the paper: "One of the guys I'm very interested in keeping on our football team and is a big part of what we do and will still be a big part of what we do if we keep him here is Darren Sproles. The fact we drafted a back and where he fits in would not affect our situation with Darren."
San Diego drafted defensive back/returner
Marcus Gilchrist
of Clemson in the second round. In the sixth round, San Diego took Connecticut running back/returner
Jordan Todman
, who is considered by many as a steal. It seems like San Diego is, at least, preparing for Sproles to leave.
Sproles will be pricey and he could be attractive on the open market. Regardless of what Turner said, preparing for Sproles' departure was the right call.
In other AFC West developments on Wednesday afternoon:
Football blogger
-- and Turner's daughter -- Stephanie Turner sticks up for the Chiefs' decision to draft Pitt receiver Jon Baldwin.
The Denver Post
has a look at the incredible story of third-round pick
Nate Irving
, who overcame an almost fatal car accident to become the starting middle linebacker in Denver.
Sports Illustrated's Peter King
thinks the Dolphins regret their trade of
Brandon Marshall
last year. Who didn't see this coming? Did you pay attention to Marshall's antics in Denver, Miami? Trading Marshall was Josh McDaniels' one gift to Denver.
While on "SportsCenter
" Wednesday, Jets coach Rex Ryan said he and his coaching staff are using the extra time because of the lockout to study the four AFC West teams and four NFC East teams that they will play this season.
In an Insider piece,

Mel Kiper thinks Kansas City third-round pick, pass-rusher
Justin Houston
, can be an impact player as a rookie.