July, 23, 2013
7/23/13
1:25
PM ET
As Denver star linebacker
Von Miller
appeals a four-game NFL suspension, the
Denver Broncos
released another veteran linebacker.
The team announced Tuesday morning it has cut
Joe Mays
. The inside linebacker was a popular, tough player, but his ability was limited. It has long been expected that the team may move away from Mays. He started 21 games in the past three seasons in Denver.
The team is turning to
Nate Irving
,
Stewart Bradley
and
Steve Johnson
at middle linebacker with Irving getting the first crack at winning the job. Denver reportedly saves $3.5 million in salary-cap room by cutting Mays.
In other AFC West notes:
The Football Outsiders think San Diego cornerback Shareece Wright is primed to have a breakout year .
The Football Outsiders think the Oakland Raiders have the worst collection of young talent in the league . I think that can change in the next couple of years if the current young talent develops and the team drafts well.
The Bengals cut veteran offensive tackle Travelle Wharton. He is versatile, and with most of the AFC West teams needing depth on the offensive line, he could be a name to keep an eye on if he can stay healthy. He is visiting Carolina on Tuesday.
Oft-injured Kansas City tight end Tony Moeaki has been cleared to begin training camp.
June, 24, 2013
6/24/13
8:00
AM ET
Our AFC West positional rankings continue with a look at a strong group of linebackers:
1. Von Miller, Denver:
A complete player. One of the top defensive players in the NFL.
2. Tamba Hali, Kansas City:
Still a strong pass-rush presence.
3. Justin Houston, Kansas City:
A dynamic player. His star is rising.
4. Derrick Johnson, Kansas City:
Steady, underrated tackles machine.
5. Donald Butler, San Diego:
He is flashing big-time skills. The Chargers need to re-sign him.
6. Dwight Freeney, San Diego:
The Chargers hope he can still be a sack master.
7. Wesley Woodyard, Denver:
He had a tremendous 2012 season. Good overall player.
8. Jarret Johnson, San Diego:
Hard-nosed player who fits the defense well.
9. Nick Roach, Oakland:
Raiders are thrilled about this free-agent acquisition. Defense could begin with him.
10. Manti Te'o, San Diego:
Chargers expect instant production from this instinctive rookie.
11. Shaun Phillips, Denver:
The Broncos think he can still help as a pass-rusher.
12. Kevin Burnett, Oakland:
Smart player who helps the Raiders.
13. Kaluka Maiava, Oakland:
He might not start, but will help.
14. D.J. Smith, San Diego:
Former Green Bay player could be a steal for the Chargers.
15. Miles Burris, Oakland:
Even if he doesn't start, he will find a way to help.
16. Danny Trevathan, Denver:
This kid looks like he could be a starter for years to come.
17. Sio Moore, Oakland:
I could see the 2013 third-round pick in the top 10 next year.
18. Nate Irving, Denver:
He gets first crack in the middle for the Broncos.
19. Nico Johnson, Kansas City:
The Chiefs like the fourth-rounder -- and he could start.
20. Stewart Bradley, Denver:
He's there if Irving fails.
21. Larry English, San Diego:
Clock is ticking for the 2009 first-round pick.
22. Akeem Jordan, Kansas City:
Could be insurance if Nico Johnson isn't ready.
23. Steve Johnson, Denver:
At the very least, he's a solid special-teamer.
Second-year San Diego outside linebacker
Melvin Ingram
would have been ranked in the top eight to 10 had he not suffered a torn anterior cruciate ligament in May.
May, 9, 2013
5/09/13
3:00
PM ET
The Football Outsiders offer their post-draft red-flag areas

for each AFC West team. Let's review.
Denver Broncos
Red flag:
Middle linebacker
My thoughts:
It is a potential problem. But the Broncos feel like they will find a suitable option from among free-agent signee
Stewart Bradley
and youngsters
Nate Irving
and
Steve Johnson
. It is not a position that Denver puts a ton of emphasis on.
Kansas City Chiefs
Red flag:
Wide receivers
My thoughts:
I think it depends on
Donnie Avery
,
Jon Baldwin
and
Dexter McCluster
. The team is high on all three. If two of them can complement No. 1 receiver
Dwayne Bowe
, Kansas City will be fine in this area.
Oakland Raiders
Red flag:
Interior offensive linemen
My thoughts:
The Raiders have plenty of holes and there are bigger issues than this area. As for the biggest red flag, I'd say it's the pass rush. Oakland was weak in the area last season and there are no reliable, experienced options here other than
Andre Carter
-- and he is a situational player.
San Diego Chargers
Red flag:
Offensive line
My thoughts:
Most certainly. In particular, left tackle is the problem. The Chargers will try to fix it, perhaps by signing
Max Starks
. He wouldn't be great, but he'd still represent an upgrade.
May, 5, 2013
5/05/13
12:00
PM ET
Weekend mail call:
Brad from Kansas City wants to know
if I think the
San Diego Chargers
and
Kansas City Chiefs
could swing a deal for left tackle
Branden Albert
.
Bill Williamson:
I think is a long shot, but perhaps it could develop if other opportunities continue to dry up. The Albert-to-Miami talks are not officially dead with Miami agreeing to terms with right tackle Tyson Clabo. The Dolphins will move
Jonathan Martin
to left tackle. As for the Chargers, they badly need a left tackle. I'm sure they'd love to get Albert. He'd solve a huge problem. But there are two issues in the way of a trade. I'm not sure these two AFC West rivals would want to deal with each other and I'm not sure the Chargers have the money right now to give Albert a long-term contract. So, while a fit is there on paper, there are some big obstacles.
Adam wants to know
if I think
Taiwan Jones
could play safety for the
Oakland Raiders
.
BW:
I doubt it. The team is planning to move Jones from running back to cornerback. He is a former cornerback and he has the skill set and speed to perhaps make it work. Safety is a different animal. I just don't think Jones has the size to be a safety. If it is going to work for the former fourth-round pick in Oakland it appears it will be at cornerback.
Dan from Fort Collins, Co. wants to know
if I think the
Denver Broncos
could pursue free-agent middle linebacker
Brian Urlacher
.
BW:
I think if that happens it would be later in the summer. The Broncos have free-agent signee Bradley Stewart and youngsters
Nate Irving
and
Steve Johnson
. They think they are good there. But if these guys falter in training camp and the preseason, I think Denver could then be open to Urlacher. Remember, the Broncos signed middle linebacker
Keith Brooking
late in camp last year. A similar situation could potentially arise this year.
February, 26, 2013
2/26/13
11:00
AM ET
Denver vice president John Elway says he believes the team may have their next starting middle linebacker on the roster.

As of now, the Broncos are considering having young players
Nate Irving
and
Steve Johnson
compete for the starting job.
This, however, is a strong draft class for middle linebacker. The Broncos own the No. 28 pick in the first round.
Please vote in our poll and let us know whether you think the Broncos should draft a middle linebacker or let Irving and Johnson battle for the job. We will review the poll results Wednesday.
February, 18, 2013
2/18/13
6:55
PM ET
The Denver Post had an interesting nugget
Sunday when it mentioned that the
Denver Broncos
plan to fill one of their biggest needs in-house and not in free agency or in the draft.

The newspaper reported the team plans to allow third-year player
Nate Irving
and second-year player
Steve Johnson
to compete for the middle linebacker job.
Joe Mays
began last season as the starter and
Keith Brooking
took over early in the season. Brooking, a summer addition, played well and was a leader on the defense. But he is 37. Brooking is a free agent.
Both Irving and Johnson are interesting players, but it is a bit of a risk relying on one of those two players as being a starter. It is a strong rookie class at middle linebacker and the Broncos could conceivably take a player at the position with the No. 28 overall pick.
In the end, I think Denver will at least consider adding another starting competitor at the position. I asked Matt Williamson of Scouts Inc. what he thinks of the current plan. Like me, he is skeptical that it will come down to simply Irving versus Johnson.
"Denver's middle linebacker is really just a two-down player," Williamson said. "Still, I also don't believe them when they say they will stick with these two. Someone will be added at some point."
But for now, it seems both Irving and Johnson will get a chance to impress the team.
February, 17, 2013
2/17/13
2:10
PM ET
If the
Kansas City Chiefs
are going to use the No. 1 overall pick on a quarterback, that player better start impressing the team.
So far, it hasn't happened. There have long been indications the Chiefs are leaning toward finding their new starting quarterback in either free agency or the trade market. In an interview with
the Kansas City Star
, new Chiefs' general manager John Dorsey admitted there is currently not a quarterback who the team thinks is worthy of the being the top pick.
"There is no quarterback where personnel guys can definitely say, 'He's a first-round pick,' " Dorsey told the paper. "There were so many inconsistencies in the collective group. There was not one guy that stood up and said, 'I'm the guy in the position this year.' There really wasn't one clear-cut guy."
Of course, that could change at the combine. The only quarterback who likely has a chance to show he is worthy of being a top pick is West Virginia's Geno Smith. But, as Dorsey explained, Smith isn't there yet.
I know the idea of Kansas City not drafting a quarterback in the first round bothers some Chiefs fans. But if the team doesn't think quarterback is worthy of the top pick, they shouldn't force it. Nothing sets a franchise back like a whiffing on a quarterback at the top of the draft.
That's the last thing Dorsey and new coach Andy Reid want to do as their first act in Kansas City.
In other AFC West news:
In an Insider piece, Mel Kiper has some ideas for three AFC West teams to
replace aging stars in the draft.
The Chiefs are reportedly
signing safety
Husain Abdullah
. He has NFL experience and he has a chance to make the roster.
U-T San Diego looks at the Chargers' options at left tackle in the draft and in free agenc
The Denver Post reports that the team plans on letting Nate Irving and Steve Johnson battle for the starting middle linebacker job.
The National Football Post reports that Denver running back Knowshon Moreno could be salary cap cut. I'd think should try to keep him. The 2009 first-round pick finally delivered in 2012. Why get rid of him now that he is producing?
July, 29, 2012
7/29/12
12:00
PM ET
ENGLEWOOD, Colo. -- A veteran Denver Bronco was relaxing after the first training camp practice of a monumental season for the franchise.
He shook his head.
"When was the last time we had something like
this
here?" he asked. "This is something."

This
is No. 18.
This
is
Peyton Manning
.
Everything has changed for the Broncos.
With one phone call from Manning to Denver leader John Elway in March, the landscape of the organization changed. The Broncos are no longer a league curiosity caused by
Tim Tebow
-mania. They are now relevant because Manning, who missed last season with a neck injury, is
the
story in the NFL.
The Broncos, though, aren't consumed by being a popular story. They are focused on the impact Manning, at age 36, will have on the team. In public and in private, the Broncos are not worried about Manning's health. They are simply in awe that he is on their side.
The organization feels it's time to make a major push because of Manning.
"It's very similar to the Super Bowl year we had in New Orleans," said new Denver cornerback
Tracy Porter
, a former Saint. "We have extremely high expectations on this team, starting with Peyton, all the way down to the last guy on the roster. Our expectations are not just to hopefully get to the playoffs. Our expectations are to get back to New Orleans to play for the Super Bowl and win the Super Bowl."
THREE HOT ISSUES:
1. Manning's health:
The Broncos operate as if Manning will be ready for the Sept. 9 opener against visiting Pittsburgh, but they won't know if he will be fully healthy until he takes a few hits. Again, all indications are that Manning should be fine. He is throwing well, he hasn't suffered a setback and he is practicing at a strong tempo. He is on pace to be ready for the season.
[+] Enlarge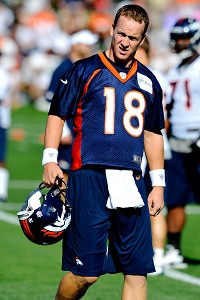 Ron Chenoy/US PRESSWIREThe Broncos won't know exactly what they have with Peyton Manning until he starts taking some hits.
2. Defensive readiness:
The Broncos' defense is still a work in progress. It went from No. 32 to No. 20 in the NFL last season under the guidance of head coach John Fox and defensive coordinator Dennis Allen. Allen parlayed the success into the Raiders' head-coaching job. Former Jacksonville head coach Jack Del Rio, Fox's defensive coordinator in Carolina in 2002, stepped in to replace Allen. The Fox-Del Rio pairing is strong, but this unit must continue to improve. It will have to play the first six games of the season without weakside linebacker
D.J. Williams
because of an NFL suspension, and pass-rusher
Elvis Dumervil
could face a short suspension for a recent gun arrest. So, the team will have to get a lot of players ready during camp as the Broncos try to continue the upward defensive swing.
3. Young receivers:
Third-year receivers
Demaryius Thomas
and
Eric Decker
will be in the spotlight throughout camp. Both are talented players who have a lot of promise. Playing with Manning should hasten their learning curve. But there is not a quarterback in the NFL who is as particular about his receivers as Manning, and both must adjust to Manning's game. The early word is that both players are earning Manning's trust.
REASON FOR OPTIMISM
The Broncos have a terrific head coach in Fox, whose presence and impact should not be discounted. He is an upper-echelon coach who has a firm grip on this program. His players love him and the overall spirit of the franchise is probably as high as it has been since the back-to-back Super Bowl-winning years in the late 1990s. Fox did a wonderful job last season turning a 4-12 weakling into an 8-8 team that won a playoff game. In Fox's second season in Carolina, he led the team to the Super Bowl. Will it happen again in Denver? We'll see, but his players fully believe in him, and that's a huge head start.
REASON FOR PESSIMISM
We do not yet know if the Broncos are loaded enough with talent to make a long playoff run. There are a lot of questions.
Will the team be able to run the ball enough to help Manning now that the Broncos aren't using the Tebow-led option? Are the youngsters on the offensive line ready to protect Manning? Will they be good enough at defensive tackle and safety?
This team is far from a finished product and it faces a brutal schedule. Still, expectations are high because of Manning. But the truth is, Denver must build itself around Manning very quickly -- the chief challenge of training camp.
OBSERVATION DECK:
Players rave about Del Rio. They love his toughness and the fact he is a former NFL player. Many players said Del Rio understands what they are going through and they feel they are on the same page with him already. The word around Denver's camp is that the Fox-Del Rio relationship has taken up where it left off in Carolina.

[+] Enlarge

AP Photo/Eric BakkeNew Broncos defensive coordinator Jack Del Rio held the same position for John Fox in Carolina.

Watch for rookie running back Ronnie Hillman, a third-round pick, to get plenty of chances to prove himself. Denver sees him as an explosive threat as a runner and as a receiver out of the backfield.

Former Chicago quarterback Caleb Hanie has the inside track to be Manning's backup. Still, Adam Weber or rookie Brock Osweiler could pull off the surprise and beat him out.

The Broncos are high on undrafted rookie linebacker Steven Johnson. The Kansas product could get some looks at middle linebacker in the preseason.

The Broncos will look at a lot of punt return options. Having Decker do it may be risky. I think it is an area Denver will look to upgrade on the waiver wire.

While guard Chris Kuper is slowly coming back from a severe ankle injury suffered in Week 17 in 2011, the Broncos expect him to continue to make progress.

Running back Knowshon Moreno, the No. 12 overall pick in 2009, is back after suffering a torn ACL last season. Still, he has an uphill battle to impress this staff.

Keep an eye on fourth-round pick Omar Bolden, a cornerback. He was highly rated out of Arizona State, but he missed all of last season with a knee injury. He looks like a keeper.

The Broncos rave about linebacker Von Miller, the 2011 NFL Rookie of the Year. The pass-rusher is working diligently to improve his overall game. Coaches and teammates laud Miller for his desire to improve.

The Broncos would like to see middle linebacker Joe Mays shore up his tackling in camp. He is a solid player, but he whiffed too many times last season.

The Broncos love what they see in Porter. Because of his talent, experience and confidence, Porter should be able to handle the pressure of playing opposite Champ Bailey, according to the Broncos. Second-year safety Rahim Moore opened with the first-team defense. He will compete with fellow second-year safety Quinton Carter.

Veteran defensive tackle Ty Warren was working with the first-team defense. Before Warren re-committed to the team in June, Sealver Siliga worked with the first team. Mitch Unrein got some work with the first-team defensive line early in camp as Denver looked for the right rotation.

Defensive lineman Ben Garland is making an impression. He is athletic and has great feet and could make the team.