July, 21, 2014
Jul 21
8:30
AM ET
ENGLEWOOD, Colo. --
Von Miller
was the first player drafted by the
Denver Broncos
in John Elway's tenure as the team's chief football decision-maker. Miller, at his best, has shown the potential to be in the conversation as the league's Defensive Player of the Year every year.
But Miller has also shown some immaturity, accumulating some off-the-field baggage along the way.
And while Miller says he has shed the troubles of last season and is re-committed to becoming one of the league's chief on-field disrupters again, it is
Danny Trevathan
who just may best represent Elway's vision of the Broncos' developmental curve over the long haul.
"I hope he feels that way, I hope he sees me as a success," Trevathan said. "I have big dreams. I had them coming in and I have them now and I feel like I can do the work to make them be and help this team win big games."
[+] Enlarge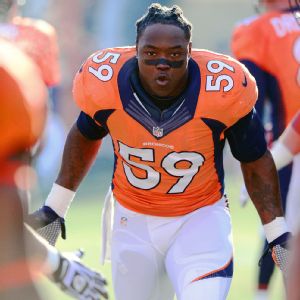 Ron Chenoy/USA TODAY SportsA sixth-round pick in 2012, Danny Trevathan has the look and work ethic of a future captain.
Despite the free-agency shopping spree of this past March, Elway has consistently said his plan for the Broncos in the long term is a draft-built team with the depth to survive a spate of injuries. He wants a team that can put itself in the title conversation "year after year" with an occasional free agent added to the mix "when we feel like there is a guy out there who can really add to what we build in the draft."
The Broncos certainly feature that approach at linebacker with Trevathan looking exactly like the home-grown gem that separates the teams that know what to do in the draft and those that don't. The sixth-round pick in 2012 was the defense's most consistent player last season with 129 tackles with 3 interceptions, 4 forced fumbles and 2 sacks.
Trevathan looks poised for more this season and then some. Because of his get-after-it approach to go with his production, I believe he has the look of a future team captain. But overall the Broncos will likely feature three starting linebackers who were all drafted by the team in Miller, Trevathan and whoever wins the job in the middle between
Nate Irving
(third round, 2011) and rookie
Lamin Barrow
(fifth round, 2014).
It's all part of a position-by-position look at where things stand with the team.
Today: Linebackers.
How many coming to camp:
13.
How many will the Broncos keep:
The 2013 season signaled a bit of a change from the two previous seasons. Last year the Broncos kept six linebackers as they exited the preseason with Miller having begun the year on a six-game suspension for violating the league's substance-abuse policy.
But when Miller returned to the lineup in Week 7 the Broncos kept the total at six linebackers. That was after they had kept seven linebackers in the initial cut to 53 players in 2012 and seven in 2011.
This year the Broncos seem intent on searching for depth, having invited 13 linebackers to camp. It's the same as the number of combined defensive linemen they have invited at two positions. Miller is still working his way back from ACL surgery and it's still a question as to whether or not he will be ready for his usual allotment of snaps when the regular season begins.
Miller is on track in his return and says he's dropped weight from last season, but the Broncos will play it safe with their Pro Bowl linebacker as they move through training camp and the preseason.
That may impact how many they keep here in the cut to 53, but the number almost certainly comes down at six or seven.
Break it down:
The Broncos like their potential depth here and the battle for the final spots on the depth chart will be fierce. As will the potential battle for middle linebacker.
The Broncos have consistently lauded Nate Irving's work in the offseason, he worked as the middle linebacker with the starters in organized team activities and minicamp, but they have tried him in the middle before only to move on to other options. Irving has performed well as Miller's backup on the strong-side, but to stay in the middle he simply has to show he can consistently square up blockers in the run fits, shed and move to the ball.
In the past, including in college, he has tried to run around blocks and left running lanes in his wake that offenses have taken advantage of.
The Broncos will take a look at the athletic Barrow in the middle as well. Barrow was under-rated by many on this year's draft board for his ability to take on blocks and work toward to the ball. If Barrow shows the ability to play mistake-free, assignment football, he will make a significant push for the job. It will take Irving's best to hold him off when the decision is made.
In the end the Broncos want to find the guy who can man the middle in the base, which isn't the primary formation any longer, but also play along-side Trevathan in the nickel when Miller bumps down to defensive end. At minimum Barrow looks primed for that job, an important decision since the nickel is the formation the Broncos played the most last season.
But the scrap for the final spots with the likes of
Steven Johnson
, a quality special teamer, and
Lerentee McCray
, who was set to make the roster last season as undrafted rookie before an injury ended his season, as well as
Shaquil Barrett
,
Jamar Chaney
and
Brandon Marshall
, will bear watching.
December, 11, 2013
12/11/13
7:00
AM ET
ENGLEWOOD, Colo. -- It's a short week for the Broncos as they have already turned their attention to the
San Diego Chargers
. The Broncos can go a long way toward clinching the AFC West title with a win -- they will clinch if the
Kansas City Chiefs
lose Sunday -- and Denver is still on the inside lane for homefield advantage in the AFC.
But there are still some things to glean from Sunday's win over the
Tennessee Titans
and after a long look at the video from Sunday night's loss, here are some thoughts on how things went:
For an offense that has scored so many points -- they lead the league with 515 -- and has run the ball so effectively inside the opponents' 20-yard line, the Broncos had plenty of trouble on the doorstep of the end zone Sunday despite 51 points. They ran a staggering 11 plays in the game from the Titans' 1-yard line or 12 percent of the Broncos' total. The Broncos had a pass for no gain, two runs for no gain, four incomplete passes, a defensive penalty on the Titans to go with two touchdown plays -- one run, one pass. It all still resulted in 17 points -- two touchdowns and a 19-yard field goal -- but it was a lot of energy expended down in close from an offense that has scored in a wide variety of ways by a long list of players. They threw on seven of the plays, both out of a two-tight end look and three wide-receiver set, and ran on just four. Montee Ball was stopped for no gain twice while Knowshon Moreno scored on a 1-yard run among those rushing attempts. It all needs at least some attention because a lost opportunity at the 1-yard line in the postseason is exactly the kind of thing the Broncos would think about all through an offseason that doesn't end with confetti around them.
Broncos rookie cornerback Kayvon Webster is big enough, fast enough and confident enough to step up and play NFL receivers in press coverage. But he still can't let his technique get away from him. Webster "opened the gate'' as the coaches say when he didn't maintain his position on Titans wide receiver Justin Hunter on a 57-yard pass play up the left sideline in the first quarter Sunday. Webster played too far toward Hunter's inside shoulder right from the snap and when he turned to move out of the backpedal to run with Hunter, he essentially surrendered the outside lane. At last February's scouting combine Webster clocked a slightly faster 40-yard dash time than Hunter did. Webster came in at 4.34 while Hunter was at 4.36. That's top-shelf speed for both, but Webster negated his when he didn't maintain his positioning. Once Hunter got the step, Webster could not make up the ground. It's all part of the learning curve for the Broncos rookie and why quarterbacks have taken their shots at him as will Philip Rivers Thursday night. Webster has shown the kind of bounce-back ability that is a priority for a young cornerback, but he should be ready for action down the stretch and into the postseason.
The Titans found some room to work in the run game against both the Broncos' short-yardage package as well as the base defense. The Titans scored three times against the Broncos short-yardage package -- one of the places defensive tackle Kevin Vickerson's absence will be felt -- and the Titans also converted a fourth-and-1 against. On the conversion the Titans put quarterback Ryan Fitzpatrick on the move and hit running back Chris Johnson for a 25-yard catch-and-run around the right side. The Broncos got pinned inside and linebacker Danny Trevathan couldn't make up the ground to track Johnson down. On the next snap, against the Broncos base defense, Titans tight end Taylor Thompson fired out to get middle linebacker Paris Lenon and fullback Quinn Johnson pushed safety Mike Adams out of the play and Shonn Greene went for 23 yards. The Broncos have usually prevented, by virtue of their own high-scoring ways, teams from simply pounding away at their defense out of a power-first profile. Those teams who can hang in long enough to do it, could create some issues for the Broncos.
Last season the Broncos special teams units had just one "illegal block above the waist,'' or block in the back as it is often referred to on game day. This season they have had eight, including three in Sunday's game alone -- by Dominique Rodgers-Cromartie, Steven Johnson and Webster. Webster's negated what would have been a 104-yard kickoff return for a touchdown by Andre Caldwell.
After going 3-of-3 in fourth-down conversions Sunday, the Broncos are now 7-of-7 on fourth down for the season.
After this weekend's games, there are 21 players who have scored at least 60 points this season. Five are Broncos. Kicker Matt Prater is second in the league in scoring with 119 points, Knowshon Moreno is 18th with 72 points, Julius Thomas and Demaryius Thomas are tied at 19th with 66 points while Wes Welker is 21st with 60 points.
November, 27, 2013
11/27/13
7:00
AM ET
ENGLEWOOD, Colo. -- When the Broncos roared through the first six games of the season, piling up the points and wins, Broncos interim head coach Jack Del Rio often preached composure to his defensive players, that how they went about their business week to week was far more important than getting swept up in the team's successes.
It is the same tact Del Rio has taken as he addresses the whole team these days in the wake of Sunday night's loss in New England. That the players should keep the ebb and flow of opinions about the Broncos' postseason prospects on the outside and get to work inside the building.
"I know everyone is going to ride that roller coaster, last week we're the greatest, this week not so good," Del Rio said. "We'll just keep working at it."
And after a long look at the video from Sunday night's win, here are some thoughts on the team's defense and special teams:
Del Rio has said he would prefer to use a lot of personnel combinations to both improve the Broncos' ability to create the match-ups they'd like on defense as well as to keep everyone in the defensive meeting rooms engaged and involved through each week with the lure of at least some playing time. Nowhere has that been more evident of late than in the secondary. Against the Patriots, Del Rio used a variety of groupings, even before Dominique Rodgers-Cromartie left the game at halftime with a shoulder injury. Del Rio used Rodgers-Cromartie and Chris Harris Jr. at the cornerback spots in the base defense at times and used Harris Jr. and Quentin Jammer at the two cornerback spots in the base as well against some of the Patriots' bigger personnel groupings. And Del Rio had used both combinations at cornerback in their base 4-3 look before the Broncos had played 10 snaps in the base in the game. The Broncos also had a grouping in the base defense on a first-and-10 play early in the game that didn't include either linebacker Von Miller or Rodgers-Cromartie. The play was an incomplete pass. Miller then entered the game on the next snap, sacking Brady and forcing a fumble. Wesley Woodyard was only linebacker who was on the field for every defensive snap for the Broncos -- 87 in all. That first quarter snap was the only one Miller was held out. But Woodyard, Miller, Danny Trevathan, Nate Irving and Steven Johnson all played snaps at linebacker at varying times in the game, Irving, with 15 plays, usually when Miller was moved into a defensive end spot while Johnson played one snap.
[+] Enlarge

AP Photo/Elise AmendolaPatriots players celebrate Nate Ebner's recovery of a muffed punt in overtime.

Given the success the Patriots had after halftime with pick plays -- with the receivers as well as wheel routes from their running backs hooking out of the backfield -- the Broncos can expect more of the same in the coming weeks. Few coaches bring out the copycats like Bill Belichick. The Patriots made a concerted effort to free their receivers against the Broncos' man-to-man coverage with a few more high-traffic routes, something the Broncos do on offense regularly to get their receivers free. The Patriots were particularly effective getting tight end Rob Gronkowski free by crossing him with another receiver, especially down the field when the Broncos were trying to cover him with one of the safeties.
The Patriots were down to a third-string right tackle in the first quarter after Marcus Cannon left with an ankle injury. With Sebastian Vollmer already on injured reserve and Cannon out of the lineup, the Patriots moved Will Svitek into the right tackle spot. Even with that the Broncos were not particularly effective generating pressure from that side of the formation, even when they flipped Miller to that side in longer down-and-distance situations. After sacking Brady three times in the first half, two of those before Cannon left the lineup, they did not sack Brady in the second half or overtime. The Patriots did use two tight ends at times to help things along and Svitek is no newbie -- it's his eighth year in the league -- but the Broncos should have been able to make a little more of the situation whether it was from Miller, Robert Ayers or Shaun Phillips.
It was a raw and difficult night for punt returners -- both teams lost possession on a muff from their top punt returner -- but the Broncos' Trindon Holliday has now muffed a punt against Indianapolis, San Diego, Kansas City and New England over the past five games. The Broncos only lost possession on the one against the Patriots', but it was obviously a trend headed the wrong way before Sunday night. Things are tighter down the stretch and into the postseason and few things change momentum like a special teams gaffe, both for the team that forces it or commits it. Holliday spent plenty of extra time in training camp and the offseason catching punts and perhaps it's time to break out the JUGGS machine again. The Broncos need him to be decisive about when he is or isn't going to field a punt, and to keep his elbows in when the makes the catch.
Many offensive coaches around the league would prefer for Denver not to be in their base defense -- because of the Broncos' team speed and their bigger front. In their first seven snaps in base defense against the Patriots the Broncos forced two fumbles to go with a sack. They scored on one of the fumbles -- Miller's 60-yard return -- and Terrance Knighton returned the other fumble to the Patriots' 10-yard line. The Broncos scored two plays later.
The play that gave the Patriots the field position for their game-winning field goal in overtime came down to both communication and execution. Wes Welker had to make the call sooner -- the Broncos use the word "Peter" to signify everyone needs to get away from a kick -- to make sure all of his teammates had a chance to stay clear. And Tony Carter, whose leg the ball hit, has to be aware of where he is on the field. He was moving laterally in front of Welker just before the ball hit his leg. He had an opportunity to see he was close enough, even if Welker waited slightly too long to make the call. Or as Del Rio put it; "Certainly, Wes would say, 'Hey I've got to be more emphatic getting the guy out of there' and then Tony I'm sure would say, 'Hey I've got to be more aware there.' ... It's just one of those fluke deals that can occur. We work hard and practice that to ensure it doesn't and it just got us -- it bit us there."
October, 3, 2013
10/03/13
4:15
PM ET
ENGLEWOOD, Colo. --
Denver Broncos
linebacker
Danny Trevathan
, who was carted off the practice field with a knee injury Wednesday afternoon, was back on the field Thursday with teammates joking about his quick rebound.
Broncos coach John Fox said Trevathan was a full participant in the workout, and the linebacker looked fairly comfortable going through drills during the open period. The Broncos were initially concerned Trevathan's injury was significant, but an MRI Wednesday afternoon showed no damage, and the Broncos were optimistic Wednesday evening that Trevathan would be able to return to practice. The Broncos will watch him through the week to see how much duty he'll be ready for Sunday in Dallas.
Steven Johnson
would likely play in Trevathan's weak-side linebacker spot in the base defense if Trevathan did not play.
"I think it was a miraculous recovery," Fox said. "He's fine and … sometimes in awkward landings in this game, and we were fortunate, he was fortunate."
Broncos kicker
Matt Prater
was limited Wednesday with a right calf injury -- his kicking leg -- and the Broncos will keep an eye on him through the week.
Wide receiver
Eric Decker
, who was held out of Wednesday's practice, returned Thursday and took part on a limited basis. The rest of the injury report remained unchanged as cornerback
Champ Bailey
(left foot) and linebacker
Paris Lenon
(thigh) were limited. Tight end
Joel Dreessen
(knee), center
Manny Ramirez
(ribs), defensive tackle
Mitch Unrein
(neck), and guard
Chris Kuper
(ankle) all participated fully.
October, 1, 2013
10/01/13
7:00
AM ET
ENGLEWOOD, Colo. -- The Broncos pushed themselves to 4-0 Sunday with another record-setting day from quarterback
Peyton Manning
as they scored a franchise-record 52 points in the win over the
Philadelphia Eagles
. And after a long look at the video from Sunday's win, here are some thoughts on the
Denver Broncos
defense and special teams:
When the Broncos prepared for their first look at first-year Eagles coach Chip Kelly's offense, Denver's coaches said they were using video largely from the regular season's first three games. Which is why running back Chris Polk may have been a bit of a surprise to the Broncos game-planners. When Polk pounded his way for 4 yards through the middle of the Broncos defense for the Eagles' first touchdown of the day, it was Polk's first carry of the season. He was a player the Broncos had looked at before the 2012 draft, because at 222 pounds he was one of the more productive big backs on the board. But an extensive medical file, including left shoulder surgery in both 2008 and 2009 to go with knee surgery in 2011, likely kept him from being draft. Polk signed with the Eagles last season as an undrafted rookie.
The Broncos were fairly effective using a "spy'' on Eagles quarterback Michael Vick on many third-down situations to try to contain Vick in the run game. The Broncos used a variety of players for the job, including linebacker Wesley Woodyard and defensive end Shaun Phillips. The Broncos then played man coverage in the secondary on many of those third-down plays. And they were far more successful, far more disciplined in the second half. After surrendering 101 yards rushing in the first half Sunday, including 39 from Vick, the Eagles rushed for 65 in the second half with just two of those yards coming from Vick.
With as much as the Cowboys have thrown the ball to running back DeMarco Murray, the Eagles' success in getting the ball to the running backs in the passing game at times against the Broncos will certainly get a look from the Dallas coaches. Five of Vick's 14 completions in the game went to running backs and one in particular is the kind of play that could be a concern for an aggressive defense like Denver's. With just under 4:30 left in the second quarter, the Broncos sent five rushers at Vick on a second-and-7. But instead of keeping running back LeSean McCoy into block to help block, McCoy released immediately and the closest Broncos linebacker or defensive back was 8 yards away. McCoy caught a little flip pass, thrown over the rush, and went 21 yards for the first down. Running back Bryce Brown had 35-yard catch-and-run on a similar play in the game.
Broncos defensive coordinator Jack Del Rio has used safety David Bruton far more on defense than all of his predecessors did on the job during Bruton's time with the team, but when the Broncos signed their special teams captain to a three-year, $4.5 million deal in the offseason they had plenty of other duties in mind. Bruton is consistently one of the team's best, and most active players in kick or punt blocking units. But Sunday he also showed he can block in the open field when asked in kickoff returns as well. It was Bruton's and cornerback/safety Omar Bolden's blocks that set Trindon Holliday free for a 105-yard kickoff return for a score in the first quarter. Bolden picked off Eagles wide receiver Jeff Maehl, creating the initial lane and Bruton knocked down Eagles cornerback Jordan Poyer at the 45-yard line and that left Holliday with only the kicker to beat. Bruton locked on and drove Poyer to the ground. "I mean (Holliday) is a tremendous talent, but he needs people blocking for him,'' said Broncos coach John Fox.
Steven Johnson's blocked punt, scoop of the loose ball and 17-yard return for a touchdown was the result of Eagle's long snapper Jon Dorenbos simply making a poor choice. At the snap, with Johnson lined up in the gap off his right shoulder, Dorenbos inexplicably looks left as soon as he lets the ball go and comes out of his stance, where there is no rusher. Dorenbos briefly puts his right hand on Johnson, but Johnson is already well into the gap on his way to punter Donnie Jones. "I knew I might get in there when he let me go,'' Johnson said.
September, 30, 2013
9/30/13
6:10
PM ET
ENGLEWOOD, Colo. -- If it was Monday, it must have been time for Broncos coach John Fox to perform the football eclipse and just block out the sunshine.
And in working his way through a recap of Sunday's 52-20 win over the
Philadelphia Eagles
that pushed the Broncos to 4-0 and brought another round of historical benchmarks the team has surpassed on offense along the way, Fox delivered an off-handed missive that won't be great news to the team's upcoming opponents.
"We left points out on the field [Sunday]."
And with that Fox kept to his weekly ritual of trying to turn down the flame on the Broncos' start in which the quarterback has thrown 16 touchdown passes without an interception, more touchdowns than every other team in the league has scored overall, and the Broncos lead the league in scoring by 52 points over No. 2 Chicago.
[+] Enlarge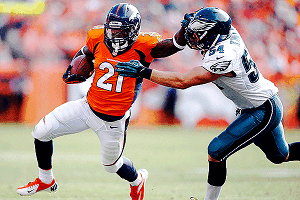 Chris Humphreys/USA TODAY SportsWill Ronnie Hillman and the run game be reliable if Denver is in need of tough yards in a close game?
"We'll just continue to get better," Fox said. " … And I expect us to get better. People look at me funny when I say that. There's still a lot of areas we need to improve at, we can improve at."
In reality, even with quarterback
Peyton Manning
on the current torrid pace, the Broncos will need, at some point, to run the ball with more authority, especially when in close-out mode. They rushed for just 37 yards on 12 carries in the fourth quarter Sunday. That's 3.1 yards per carry against a defense that was both demoralized and visibly fatigued. While that looks like a BB off a battleship in a 32-point win, there will be a day when the Broncos need more to grind one out.
It will be intriguing to watch how the Broncos attack the Cowboys defense, with longtime NFL assistant Monte Kiffin in his first season calling the shots on that side of the ball in Dallas. Especially since the Broncos will have the video of how their offensive coordinator from 2012 -- current Chargers coach Mike McCoy -- handled it this past Sunday in the Chargers' 30-21 victory. Kiffin has long played a 4-3 look, with the defensive linemen playing the run as they move up the field toward the quarterback with two deep safeties. He forces quarterbacks to play with patience with a combination of coverages designed to keep plays in front of the defensive backs. Fox knows it well from his time in Carolina and Kiffin's long run as the Buccaneers' defensive coordinator, while Manning certainly knows it from his time in Indianapolis when Tony Dungy used the defense with the Colts (Kiffin was Dungy's defensive coordinator in Tampa). But that doesn't always help, or as Fox put it: "Everybody in this league has either played for or coached with Monte.'' One of the biggest challenges for the Broncos will come up front where Kiffin's four-man front is often stunting and moving into the middle of the field as well, working the gaps between the center and guards. That will surely mean a test for Manny Ramirez, as well as Zane Beadles and Louis Vasquez.
Fox said he was sitting face-to-face with Broncos defensive coordinator Jack Del Rio Sunday night when the University of Houston tennis coach, Patrick Sullivan, posted on his Twitter account he had "spotted" Del Rio at Los Angeles International Airport. Fox and the Broncos coaches were at a local steakhouse at the time. "I was actually at Del Frisco's when that came out," Fox said. Asked if he was checking his Twitter feed at the time, Fox said: "I don't even know how to spell Twitter." Del Rio has already been linked to the vacant USC coaching job -- he played at USC -- but couldn't start a new job until the Broncos season is over, including any postseason games. Del Rio's contract is up following the season. Following Sunday night's game, Del Rio said: "There isn't anything to say. It's all speculation at this point, I've got a job to do here, my focus is right there." Monday, Fox said: "Like always there's 8,000 candidates, when it gets serious potential, we'll keep you posted."
The Broncos equipment staff saved linebacker Steven Johnson the football from his first career touchdown in Sunday's win. Johnson blocked a punt early in the fourth quarter, scooped up the ball and returned it 17 yards for the score. Johnson got the ball Monday afternoon. "After I blocked it, I was shocked and I was like, 'Oh shoot,' you know? I slowed down, took a deep breath and just picked it up and scored and then celebrated with my teammates."
Following Sunday's game, in which Trindon Holliday had his sixth return for a touchdown in his 16 games with the Broncos, Holliday said he believed he has become more reliable catching the ball. Fox hasn't always allowed Holliday to catch punts deep in Denver territory and Holliday has had some nerve-wracking bobbles in his brief time with the Broncos. But Monday Fox agreed with Holliday's assessment saying Holliday was "fielding the ball way more consistently.'' It could mean Holliday gets a few more opportunities in games, particularly as a punt returner. On Holliday's run with the team Fox said: "I joked with him that if he'd won the Baltimore game, he might have been the guy on Dancing with [the] Stars.'' Holliday became the first player in league history to return a kickoff and a punt for touchdowns in the same playoff game last January. But the Broncos didn't hang on and lost to the Ravens. And Ravens wide receiver Jacoby Jones was chosen to appear on "Dancing with the Stars."
Fox said Monday the Broncos suffered no major injuries in Sunday's game. Defensive tackle Mitch Unrein and linebacker Danny Trevathan each left the game, but returned.
September, 25, 2013
9/25/13
7:00
AM ET
ENGLEWOOD, Colo. – The
Denver Broncos
opened division play with a focused, well-appointed effort against the
Oakland Raiders
on Monday night. And after a long look at the video from the 37-21 victory, here are some thoughts on the Broncos' defense and special teams:
More and more offensive coordinators around the league, seeing defensive formations filled with defensive backs to stop the pass, are running at those smaller formations in some down-and-distance combinations that might not have called for runs in the past. But the Broncos were able to defend the Raiders' read-option attack, as well as traditional run plays, with their nickel (five defensive backs) and dime (six defensive backs) packages. The longest run the Raiders had over Monday's first three quarters against either the Broncos nickel or dime was a 9-yard run by quarterback Terrelle Pryor late in the second quarter. "We wanted to just contain him and not get started with his feet,'' said Broncos linebacker Wesley Woodyard.

With his 16-yard pass for a touchdown to fullback Marcel Reece in the third quarter, Raiders running back Darren McFadden has now scored rushing, receiving and passing against the Broncos in his career.

It's no wonder defensive-backs coaches have such a difficult time trying to figure out what officials will or will not call in the secondary from one week to the next, one officiating crew to the next. A week after the Broncos saw eight penalties called against defensive backs against the Giants -- among 13 penalties overall -- no Broncos defenders were flagged against the Raiders. The referee Monday night was Jerome Boger, who graded out highly enough to have earned the Super Bowl assignment this past February.

[+] Enlarge

AP Photo/Joe MahoneyThings are coming a little more easily now to Broncos DE Robert Ayers in his fifth NFL season.

In some ways it shouldn't be a surprise that Robert Ayers took a slightly longer route to where he is now -- which is leading the Broncos in sacks, with three. Ayers started just one full season in his career at Tennessee. And the teams that were high Ayers before the 2009 draft -- in which Josh McDaniels made him the 18th overall pick -- liked his variety of moves when working toward the quarterback. Ayers worked to the inside more than most prospects in that draft, a must for a young pass-rusher. But Ayers couldn't quite break through as he played for three different defensive coordinators in his first three season, each of whom wanted a little something different from him. Jack Del Rio pushed Ayers hard last season, Del Rio's first with Denver, even moving Ayers out of the starting lineup at times to get the message across. Ayers has responded to getting more quality snaps -- and to a second consecutive season under Del Rio. Ayers was consistently active against the Raiders, showing quality handwork to get himself free and flashing a variety of moves against Oakland's rebuilt offensive front. His two sacks came on 30 snaps' worth of work.

Against some of the Raiders' bigger offensive personnel groupings -- up to six offensive linemen -- the Broncos used some different combinations at linebacker. Paris Lenon played one snap, the final play of the first quarter, when the Raiders went beefy up front. The Broncos stopped McFadden for just a 1-yard gain. The Broncos then used Woodyard, Nate Irving and Steven Johnson at linebacker for one snap in the third quarter. Pryor completed a 15-yard pass to Jacoby Ford on the play.

With his 53-yard field goal in the first quarter Monday, Matt Prater is now 16-of-21 on attempts longer than 50 yards in his career. With his three field goals Monday, Prater has not attempted a kick shorter than 40 yards this season and has not missed any of his five attemps.
August, 10, 2013
8/10/13
2:45
PM ET
It's been nine years now so one more makes an even decade. Nine years of playoff teams and the 4-12 crater that was 2010, a depth of franchise despair the Broncos still look to be clawing their way out of at times.
But in each of the last nine seasons the Broncos have had an undrafted rookie make the opening day roster.
Some no longer call the NFL home like
Wesley Duke
(a Broncos undrafted rookie in 2005) and
Selvin Young
(2007), some are starting elsewhere like
Tyler Polumbus
(2008) and
Cassius Vaughn
(2010) and some are starting for the Broncos like
Chris Harris
(2011) and
Wesley Woodyard
(2008).
It's testament to the constraints of the salary cap -- an undrafted rookie is, by nature, usually the most cap-friendly player on the league's landscape -- but also a willingness to hit the road and scout prospects who possess the holy trinity of attributes (height, weight, speed). It's a chance to find those edge-of-the-radar guys who fit what the Broncos do.
[+] Enlarge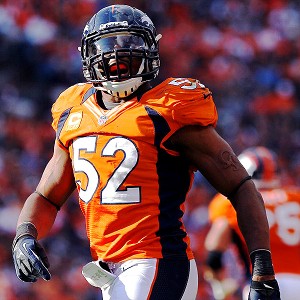 Ric Tapia/Icon SMIUndrafted linebacker Wesley Woodyard became just the 12th player in the last three decades to finish a season with at least 100 tackles, five sacks and three interceptions in the same season.
"Usually if a guy makes it as an undrafted rookie, it's an indication of his work ethic, that he put in the time, studied and didn't let the moment be too big for him,'' said Broncos executive vice president John Elway. "But they also have to fit what you do. You may like him for some things and other people wouldn't. I'm sure we like some players other people may not like as much, but the job isn't to find players for everybody else, it's is to find the best players to be
Denver Broncos
."
The Broncos current streak started with University of Washington cornerback
Roc Alexander
, who was kept by Mike Shanahan in September of 2004 and then rotisseried by current Broncos quarterback
Peyton Manning
in Denver's loss to Indianapolis in the wild-card round to close out that season. Three undrafted rookies made the 2008 roster -- Shanahan's last year with the team -- in Polumbus, Woodyard and punter
Brett Kern
.
Two -- long snapper
Aaron Brewer
and linebacker
Steven Johnson
-- made the Broncos last year (a team that finished 13-3) out of training camp.
The list of the league's best over the past nine years at finding those undrafted gems includes several perennial playoff teams. Indianapolis leads the way with 14 consecutive years with an undrafted rookie making the roster. Manning was behind center for most of the streak since it started in 1999 and the team has made the playoffs 12 times in that span.
Kansas City has had an undrafted rookie make the roster in 10 consecutive years, while Baltimore and New England are tied with the Broncos at nine consecutive years. That's some fairly heady company.
Sometimes it's simply a result of the seven-round draft. An undrafted player now would have been selected in the eighth, ninth or 10th rounds in years gone by.
Sometimes it's just a bit of a whiff. Woodyard led the SEC in tackles in his final season at Kentucky, and while personnel people around the league thought he may be undersized for a linebacker and too big to be a safety, the fact he led the nation's power college conference in tackles should have likely given him a more stout résumé than many players drafted ahead of him.
Last season Woodyard became just the 12th player in the last three decades to finish a season with at least 100 tackles, five sacks and three interceptions in the same season. Oh, and he was somehow passed over by his peers, the league's coaches and in the fan voting as even a Pro Bowl alternate.
"I'm just trying to outlast every guy drafted before me, I'm just being honest with you," Woodyard said. "I think it's a combination of talent, confidence, work ethic, everything. You can't let yourself worry too much because you're not making the picks so you can't worry about that. Play every day like it's your last day, study, make some plays, you got a chance. Just give yourself a chance."
Harris, at 5-10, was simply declared too short by many scouts, but was also stuck on a struggling defense and moved to safety to close out his career at Kansas because the team needed him to.
He has since won over folks like
Champ Bailey
, who called the shot early on in Harris' first training camp in 2011 when Bailey said; "that kid has got it, he's making this team.''
Harris has since started 16 games, having played both outside and been the go-to guy in the slot when the team goes to the nickel package.
"When it happens you wonder how a whole draft could go by and they don't call your name," Harris said. "But after that, you just want to get somewhere and show them why they and everybody else made a mistake. When I first got here I really believed what the coaches all say that it doesn't matter where you're picked or whatever and I just wanted to produce."
But an undrafted rookie was often a tick slow on somebody's stopwatch, a little short on somebody's tape measure, a little light or perhaps and little too much of a problem wherever he was before someone in the league gave him a look.
This year's Broncos crop includes a player or two who could make it 10 years in a row for the team. Linebacker
Lerentee McCray
had a sack in the preseason opener Thursday night and at 6-foot-3, 249 pounds is one of the biggest linebackers on the Broncos roster. McCray is unpolished in some of his techniques, but is disruptive when chasing the ballcarrier.
Wide receiver/kick returner
Quincy McDuffie
has already flashed some special teams chops as well before a hamstring injury kept him out of the game against the 49ers Thursday night. Wide receiver
Lamaar Thomas
made the most of his time in the game against the 49ers with some quality work in the second half.
"In the end the young guys who make it, whether you draft them or not, make it because they compete every day, no matter what,'' Elway said. "The bounce back from mistakes and they don't make the same ones over and over. They study and they work. It's not all that magical or anything. They have some ability and they put in the work."
March, 13, 2013
3/13/13
8:39
PM ET
The
Denver Broncos
continued plug away with some impressive signings.

Denver followed up the
Wes Welker
deal by signing Jacksonville defensive tackle
Terrance Knighton
. He played for Denver defensive coordinator Jack Del Rio in Jacksonville and there is mutual respect. Knighton and the re-signed
Kevin Vickerson
should make for an imposing tackle pairing for Denver.
Denver could always use the No. 28 pick in the draft on a defensive tackle, but they are in pretty good shape. Knighton is a good run stuffer and that what's Denver was looking to improve upon.
Meanwhile, the addition of middle linebacker
Stewart Bradley
gives the team someone to compete with Ante riving and
Steven Johnson
for the starting job. Thus, the chances of the team getting a middle linebacker in the first round has lessened even though I expect
John Elway
to stick to his plan of taking the best available player.
Meanwhile, Denver is visiting with Eagles' cornerback
Dominique Rodgers-Cromartie
. The Broncos are also reportedly interested in
Nnamdi Asomugha
. Denver would only sign one of the cornerbacks.
The Denver Post reports the team is expected to decide Friday whether or not to cut pass-rusher
Elvis Dumervil
. The team wants to him to take a pay cut and he has been reluctant to do so.
August, 31, 2012
8/31/12
8:40
PM ET
Click
here
for the complete list of
Denver Broncos
' roster moves.

Most significant move:
The Broncos kept newly signed veterans, linebacker
Keith Brooking
and safety
Jim Leonhard
. They have both been dealing with injuries. Both should fill rotational roles as well as offer leadership. It is a bit surprising Denver cut veteran cornerback
Drayton Florence
. The Broncos beat several teams to sign Florence this year. In the end, the Broncos liked their young cornerbacks such as
Chris Harris
,
Tony Carter
and rookie
Omar Bolden
. Watch for San Diego to make a full-court press to sign Florence. The team tried to sign the former Charger before Denver signed him and it needs a cornerback.
Onward and upward:
Two interesting players who were kept in Denver were running back
Knowshon Moreno
and tight end
Julius Thomas
. Moreno, a first-round pick in 2009, had a decent preseason after coming back from an ACL. There was speculation he could be traded. But Moreno will be given a chance to help Denver off the bench. Thomas, a fourth-round pick last year, was considered on the bubble. But the former college basketball player turned NFL player will get more time to develop. The Broncos will likely try to sign
Ben Garland
to the practice squad. The defensive tackle from Air Force has a lot of promise and the team loves his spirit. I could potentially see quarterback
Adam Weber
being put on the practice squad again. Denver likes him. He is not going to leapfrog backup
Caleb Hanie
or No. 3 quarterback, second-round pick
Brock Osweiler
, but Denver may want him to stick around.
What's next:
The Broncos will likely look for linebackers. They are young and thin there, especially on the outside with
D.J. Williams
facing, at least, a six-game NFL suspension. Denver will likely look for experienced veterans, who could, at least, log some situational time on defense. Denver did keep undrafted rookie
Steven Johnson
. He was a preseason star and he should help on special teams, so the need for more linebacker help is still necessary. I could see Denver being interested in defensive players regardless of the position if they are the right fit and I think it can look for help on the offensive line as well. Expect Denver to make, at least, a couple of moves in the next couple of days.
August, 31, 2012
8/31/12
2:34
AM ET
A look at the Broncos'
16-13 victory
Thursday night at Arizona:


It was a night for the backups for the Broncos in a game that Arizona coach Ken Whisenhunt decided to tie with a short, final-minute field goal instead of going for it and ending the misery of a fourth preseason game. Really, coach?
However, Denver kicker
Matt Prater
saved the world from preseason overtime by hitting a 44-yard field goal at the end of regulation to give the Broncos the win.
Nice night for rookie cornerback
Omar Bolden
. He took a kick return 103 yards for a touchdown in the town where he had to sit out last season at Arizona State due to a torn anterior cruciate ligament. Bolden looks like a keeper.
Quarterback
Brock Osweiler
, Denver's second-round pick and also a Sun Devils product, was 3-of-6 passing for 36 yards, tossing an interception as he returned to Phoenix. Expect Osweiler to be the No. 3 quarterback this season. He is very much a developmental player.
Ronnie Hillman
had a nice night with 68 yards on 14 carries. He will play a lot when it counts.
Tight end
Virgil Green
had two catches for 45 yards. He now faces a four-game NFL suspension for using a banned substance.
Tight end
Julius Thomas
, a fourth-round pick in 2011, didn't have a catch. I wonder if he makes the 53-man roster Friday.
Even though it was a backup show, Denver's run defense was much improved in this game.
Defensive tackle
Ben Garland
had a sack. It will be interesting to see if Garland, a team favorite, makes the final roster. He's probably headed to the practice squad.
Former first-round pick
Knowshon Moreno
completed a strong preseason with 49 yards on seven carries. There has been talk that he could be cut or traded, but if the Denver brass thinks Moreno can help this team, it will likely keep him.
Linebacker
Danny Trevathan
, a sixth-round pick, had seven tackles in the first half. I could see him making a serious playing-time push soon at a position the Broncos are looking for a spark.
Veteran safety
Jim Leonhard
started. He has been injured, so the Broncos wanted to get a good look at him.
Undrafted rookie linebacker
Steven Johnson
had another solid game. He is on the bubble, but I have a feeling the Broncos might be tempted to keep a promising player at a need position.
August, 26, 2012
8/26/12
7:59
PM ET
A look at the Broncos'
29-24 home loss
Sunday:


Earlier we looked at the
great, but short, outing
by Denver quarterback
Peyton Manning
.
Here are other thoughts: Starting receiver
Eric Decker
looked good against a strong defense as he had two touchdown catches from Manning. Decker is a competitor who fights for everything he gets.
Backup
Caleb Hanie
had his moments but ended up 8-of-12 passing for 92 yards. Expect Hanie to start the season as Manning's backup while rookie
Brock Osweiler
continues to develop.
Denver's first-team defense looked active and strong early in the game aside from a few big plays for the 49ers.
Denver kicker
Matt Prater
nailed a 53-yard field goal.
Denver's reserves did not look good for the second consecutive game -- the second consecutive game in which the Broncos didn't score in the second half. Depth is necessary, so the team might need some bottom-of-the-roster tweaking.
Denver running back
Knowshon Moreno
looked decent. At this point, I think, he has a good shot to make the 53-man roster.
Denver was penalized eight times for 81 yards. Not ideal.
It was extremely hot on the field, which will benefit both teams when they play in the early-season heat.
Manning's preseason line: 30-of-42, 343 yards, two touchdowns, three interceptions and a quarterback rating of 96.9. That's nice work other than the picks.
Denver undrafted rookie linebacker
Steven Johnson
continued to look good and he has a real chance to make the 53-man roster.
May, 1, 2012
5/01/12
5:45
PM ET
While so much attention is paid to NFL draft picks, college free agents are often overlooked simply because they weren't drafted.
Every year, one or two undrafted free agents seem to make each 53-man roster. I asked college prospect guru Steve Muench of Scouts Inc. to rank the best undrafted free agents who signed with AFC West teams. The
Oakland Raiders
have not announced their class, but several of the players who have agreed to terms with them have been reported, but still they remain unofficial at this point.
Muench appears to love what the
Denver Broncos
and Raiders have done in undrafted free agency. At the very least, perhaps we will see some of these players on practice squads come September. Here are Muench's rankings:
1. Denver, Coryell Judie, CB ,5-11 190, Texas A&M
Judie has had problems staying healthy and he's coming off a disappointing senior season but he flashed decent man-to-man cover skills and the potential to develop into a playmaker in 2010.
2. Denver, Jamie Blatnick, DE, 6-3 265, Oklahoma State
Blatnick doesn't have the burst or closing speed teams covet in edge rushers and he needs to play with better pad level as a run stopper. He is, however, a hard worker who is strong enough to set the edge and can get to the quarterback with effort.
3. Oakland, Lucas Nix, OG, 6-5, 317, Pittsburgh
Nix is a mauler who makes up for limited athletic ability with tenacity. He is big enough to engulf smaller defensive tackles and strong enough to anchor in pass protection.
4. Oakland, Aaron Henry, S, 6-0 208, Wisconsin
Henry is a corner/safety hybrid who doesn't have great cover skills for a corner and is an inconsistent tackler for a safety. On the other hand, he has the potential to develop into an effective sub-package safety that can line up over the slot. He is also physical in coverage making him a good fit for Oakland's scheme.
5. Denver, Steven Johnson, LB, 6-1 237, Kansas
Johnson is a two-down linebacker at this point. He is an effective run defender who can shed blocks and shows decent range. He just doesn't offer much as a pass-rusher and he can't consistently match up in coverage.
6. Oakland, Conroy Black, CB, 5-11 185, Utah
Black's recovery speed masks his average-at-best instincts and discipline. He flashes the ability to make plays in coverage and his ability to turn and run makes him a good fit for the Raiders' scheme.
7. Denver, Anthony Miller, TE, 6-4 260, California
Denver has a number of quality receiving tight ends. They needed a blocking tight end and they may have gotten one in Miller. Miller gets into position, locks on and blocks trough the whistle.
8. Denver, Gerell Robinson, WR, 6-4 222, Arizona State
Robinson is a big bodied receiver with above average ball skills. While he'll have some difficulty separating from man coverage, he is a zone buster who can shield defenders from the ball.
9. Kansas City, Tyson Hartman, S, 6-3, 206, Kansas State
Hartman doesn't have great cover skills for a safety but he is a smart football player who steps up in run support and can contribute on special teams.
10. San Diego, Christian Tupou, DE, 6-2 289, USC
Durability is a concern and he doesn't have ideal arm length for a defensive end prospect, especially in a 3-4 scheme. However, he has the low center of gravity and core strength to develop into a tough run stopper.
Other Notables:
Denver,
Jerry Franklin
, LB, 6-1 245, Arkansas
Kansas City,
Dexter Heyman
, MLB, 6-3 238, Louisville
Oakland,
Chaz Powell
, CB, 6-0 203, Penn State
Oakland Dominique Hamilton DT 6-5 313 Missouri
Oakland,
Thomas Mayo
, WR, 6-1 207, Cal (PA)
San Diego,
Jarrett Lee
, QB, 6-2 208, LSU
San Diego, Michael Willie, WR, 6-2 218, Arizona State