November, 3, 2013
11/03/13
9:03
PM ET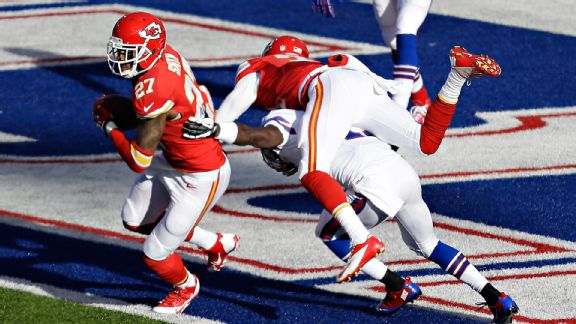 AP Photo/Gary WiepertThe defense scored both of the Chiefs' touchdowns -- including a Sean Smith pick-six in the third quarter.
ORCHARD PARK, N.Y. -- Brilliant football minds can watch all the video they want but they have no explanation for why the NFL's best teams are not just good but lucky as well.
They can have no justification for what happened early in the third quarter Sunday at Ralph Wilson Stadium, where the
Kansas City Chiefs
and their unbeaten season were teetering on the brink against the
Buffalo Bills
.
With Buffalo at the Kansas City 2, the Chiefs blew a coverage and left Buffalo's best and most accomplished receiver,
Stevie Johnson
, uncovered in the end zone. The ball did not go to Johnson but in another direction and eventually the hands of Chiefs cornerback
Sean Smith
.
One hundred yards later, Smith scored a touchdown himself and rather than falling behind by 14 points for their first double-digit deficit of the season, the Chiefs tied the score. They went on to
win 23-13
to go 9-0 and remain as the NFL's only unbeaten team.
"We make mistakes while we're in there," said linebacker
Tamba Hali
, who in the fourth quarter scored Kansas City's second defensive touchdown of the day. "We blow coverages. There's a lot that happens but we just focus on the positive. Sometimes things are going their way and we just keep playing and [then] things happen to go our way. Our guys are just strong-minded men."
Football purists might not like Hali's answer but it better captures what's happening with the Chiefs than any other reasoning. The Chiefs won't be able to get away with leaving receivers open in the end zone in their next game against
Peyton Manning
and the
Denver Broncos
, the following week against
Philip Rivers
and the
San Diego Chargers
or in the subsequent game, a rematch against the Broncos.
The fact remains that Sunday they were playing against the Bills and undrafted rookie quarterback
Jeff Tuel
. He is Buffalo's fourth-string quarterback, playing only because of injuries to the three quarterbacks ahead of him.
On the game's most important play, Tuel didn't go to Johnson but tried to force the ball into coverage instead. The whole stadium was shocked by his decision, Smith included.
"So surprised," Smith said. "It was like Christmas. You know, you go downstairs as a little kid and there's a big box right there? That's how I felt.
"Those are the plays that you always wish happens to you when you're watching on TV. It was my day."
It was the Chiefs' day, really. But all the days this season have belonged to the Chiefs and particularly in the fourth quarter. They again won the final period, which began with the score tied at 13.
The Chiefs scored both of their touchdowns on defense and managed just three field goals with their offense. But that's not a crazy thing for them. They have five defensive and two special teams touchdowns this season and coach Andy Reid didn't have to go back too far in his memory to recall winning a game in a similarly bizarre fashion.
"We've had a couple this year," Reid said. "We're not making excuses for it."
Nobody is asking them to, but if the Chiefs think they can compete against the Broncos playing as they did against the Bills, they're only fooling themselves. They were outgained in total yards Sunday 470-210 by a 3-6 opponent playing its fourth-string quarterback.
Yet if the Chiefs have proved one thing, it's that it's risky to underestimate them. They are on an amazing roll that goes beyond X's and O's.
Take the two touchdowns scored by Hali this season. Both have come from short range. He intercepted a pass in the season opener in Jacksonville and returned it 10 yards for a touchdown.
Hali on Sunday scooped up a fumble and returned it 11 yards for the touchdown that put the Chiefs ahead for good.
The Chiefs were fortunate it was Smith called to go 100 yards and not Hali, who is one of the NFL's best pass-rushers and a relentless player who gives a maximum effort on every play. He's just not built to go long distances, something he jokingly acknowledged.
"With blocking, I can run 100 yards if you're not going to chase me," he said.
Smith is much better equipped to go the long haul. In truth, though, his touchdown return was so well-blocked that indeed even Hali could have scored.
"Do you know," Smith said, "how long 100 yards is in the cold?"
For the Chiefs, no distance has been too long, no hurdle too big. After going deep into the fourth quarter the past three weeks before outlasting under-.500 teams from Houston, Cleveland and now Buffalo, the Chiefs don't appear they will pass any smell test.
Conventional wisdom will undoubtedly hold that they'll have trouble against the high-scoring Broncos in two weeks, after their bye. But little to happen this season to the Chiefs has followed conventional wisdom.
That Nov. 17 game in Denver will probably fall into that category as well.
September, 12, 2012
9/12/12
7:50
PM ET
One of the best personnel matchups in the AFC West in Week 2 will develop in Buffalo when the Chiefs visit the Bills.
Kansas City safety
Eric Berry
tore his ACL in Week 1 last season when he was blocked by the Bills'
Steve Johnson
. Many people, Berry included, wondered if Johnson's block was too low. Johnson has denied any wrongdoing.
"It is going to be fun," Johnson said Wednesday when asked about facing Berry. "It is going to be interesting. We will see what happens. However he feels is however he feels. I already said it before that I have never been a dirty player and I never try to take somebody out. I know the work put in to get where he is and where I am. I have said it before but it is enough already. We will meet up on Sunday."
I haven't seen any quotes from Berry this week about the situation, which is not surprising. Kansas City coach Romeo Crennel downplayed the situation Wednesday. He said he doesn't expect it to be an issue this weekend.
"I know Eric has mentioned that last year, during the offseason, I think it was," Crennel said. "He hasn't mentioned anything this year other than trying to win the game."
While this is a potentially juicy storyline, I bet once the game starts, it will be a normal game for both Berry and Johnson. Berry is a smart player. I don't see him going out of way to pay Johnson back or anything. But, of course, if the opportunity for a clean hit on Johnson arises, I'm sure Berry will gladly take it.
September, 9, 2012
9/09/12
5:00
PM ET
A look at the Chiefs' disappointing
40-24 loss
in the season opener:


What it means:
This outcome was not surprising at all. Teams won't win many games when missing four defensive starters. I picked the Chiefs to win the AFC West and I'm not concerned about them after this game. Defensive starters
Tamba Hali
,
Brandon Flowers
,
Kendrick Lewis
and
Anthony Toribio
were out and linebackers
Derrick Johnson
and
Jovan Belcher
were banged up going into the game. That is too much missing talent against a strong offense like Atlanta's. Yes, the Chiefs are 0-1. But I expect this team to come together quickly.
Bad second half for offense:
Despite the defensive issues, the Chiefs were in this game at halftime, trailing 20-17. The offense was clicking in the first half. Yet, the wheels fell off in the second half. Kansas City missed a field goal, quarterback
Matt Cassel
fumbled and then he was picked off twice. This coincided with the Falcons' offense continuing to score at a high level. The Chiefs just couldn't keep up.
Nice homecoming for Gonzo:
Former Kansas City tight end
Tony Gonzalez
-- one of the best and beloved Chiefs of all time -- scored a touchdown in his first trip back to Kansas City since being traded to the Falcons in 2009.
Nice day for Charles:
In his first game back after tearing the ACL in his knee in September 2011, Kansas City running back
Jamaal Charles
had 87 yards on 16 carries. He looked good, and I expect the Chiefs to continue to increase his workload. All told, the Chiefs had 152 yards rushing on 33 carries. Free-agent pickup
Peyton Hillis
had just 16 yards on seven carries. I would think Hillis' workload (and success) will increase.
McCluster looks good:
Third-year player
Dexter McCluster
, who went from receiver to running back and then back to receiver this year, performed well. He had six catches for 82 yards. He was targeted 10 times. It is clear the Chiefs want to work McCluster into a major role. Meanwhile, 2011 first-round pick
Jon Baldwin
didn't register a catch.
What's next:
The Chiefs play at Buffalo, which got hammered by the Jets on Sunday. Kansas City safety
Eric Berry
tore his ACL in Week 1 last season when he was blocked by the Bills' Steve Johnson. Many people, Berry included, wondered if Johnson's block was too low. Johnson denied any wrongdoing.
April, 17, 2012
4/17/12
7:38
PM ET

Breakdown:
Tony Gonzalez
is coming back to Kansas City in Week 1. In his first meeting against his former team, the superstar tight end will try to ruin the opening game of the permanent Romeo Crennel era.
The Chiefs have an interesting stretch after their Oct. 21 bye. They host Oakland on Oct. 28 and then play in a prime-time game at San Diego four games later on Nov. 1. After a long layoff, the Chiefs are back in prime time in their lone Monday night game -- in Pittsburgh on Nov. 12. The Chiefs face former head coach Todd Haley, who is now the Steelers' offensive coordinator.
Then, the Chiefs have three straight home games -- against Cincinnati, Denver and Carolina -- before playing three of their final four on the road.
Complaint department:
The Chiefs' schedule has two trouble spots. Playing back-to-back prime-time roadies at San Diego and Pittsburgh is not ideal. Having one home game in the final quarter of the season is challenging as well. The Chiefs must enter the final stretch in good shape.
Berry-Johnson meeting:
There will be some juice involved in the Chiefs' Week 2 trip to Buffalo. Kansas City star safety
Eric Berry
suffered a torn ACL when he was hit by
Stevie Johnson
in Week 1 last season. Berry has openly questioned the hit. Johnson has denied that it was dirty. Expect emotions to be high.
Chiefs Regular-Season Schedule (All times Eastern)
Week 1:
Sunday, Sept. 9, Atlanta, 1:00 PM
Week 2:
Sunday, Sept. 16, at Buffalo, 1:00 PM
Week 3:
Sunday, Sept. 23, at New Orleans, 1:00 PM
Week 4:
Sunday, Sept. 30, San Diego, 1:00 PM
Week 5:
Sunday, Oct. 7, Baltimore, 1:00 PM
Week 6:
Sunday, Oct. 14, at Tampa Bay, 1:00 PM
Week 7:
BYE
Week 8:
Sunday, Oct. 28, Oakland, 4:05 PM
Week 9:
Thursday, Nov. 1, at San Diego, 8:20 PM
Week 10:
Monday, Nov. 12, at Pittsburgh, 8:30 PM
Week 11:
Sunday, Nov. 18, Cincinnati, 1:00 PM
Week 12:
Sunday, Nov. 25, Denver, 1:00 PM
Week 13:
Sunday, Dec. 2, Carolina, 1:00 PM
Week 14:
Sunday, Dec. 9, at Cleveland, 1:00 PM
Week 15:
Sunday, Dec. 16, at Oakland, 4:15 PM
Week 16:
Sunday, Dec. 23, Indianapolis, 1:00 PM
Week 17:
Sunday, Dec. 30, at Denver, 4:15 PM
April, 17, 2012
4/17/12
4:45
PM ET
Kansas City Chiefs safety Eric Berry once again questioned whether Buffalo Bills receiver Steve Johnson intentionally hurt him in Week 1 last season. The hit cost Berry the entire season after he tore an ACL.
When asked again if he thought Johnson deliberately hit him low on an open-field block
Berry said on Tuesday
, "You can look at the tape and make your own opinion about that. I mean, my opinion is my opinion."
Last month, Berry tweeted that he wondered whether the Bills had offered incentives to hurt him. Tuesday, Berry said the tweet was "pretty much a joke." Johnson has denied the hit was intentional.
What do I think of Berry's reaction?
His opinion is his and he can feel any way he wants to feel. But his focus must remain on his rehabilitation and improving off his special 2010 rookie season. Berry is reportedly on target and should be back to start the 2012 campaign.
By the way, the Chiefs visit Buffalo this season.
In other AFC West news:
Todd McShay looks at some potential second day draft steals

for the Broncos and the Raiders.
The Chiefs signed defensive back Mikail Baker. He was a seventh-round pick by St. Louis out of Baylor last year and was cut in October. Baker will have an uphill battle to make the Chiefs' 53-man roster.
In a radio interview,
Kansas City coach Romeo Crennel talks about missing out on Peyton Manning in free agency and preparing for the challenge of facing Manning twice a season.
To clarify, the Chargers will open their offseason program next week. They were eligible to start Monday. Denver and Kansas City began their offseason program Monday and the Raiders started two weeks ago because they have a new coach. The Chargers' offseason program will extend a week longer than the Broncos' and Chiefs' programs.
September, 12, 2011
9/12/11
6:10
PM ET
NFL.com thinks
Nick Novak is a prime candidate to replace Nate Kaeding as the Chargers' placekicker. Kaeding was lost for the season on Sunday. The team plans to work out kickers Tuesday and then sign one. He has been with San Diego before.
Kansas City quarterback Matt Cassel didn't fare well in
Sunday's total QBR standings.
Buffalo receiver Stevie Johnson is
defending his block
on Kansas City star safety Eric Berry, who was lost for the season with a torn ACL in his knee on the play.
New Denver football leader John Elway plans to watch the game Monday night from Denver's coach's box, according to ESPN's Chris Mortensen. Also, Elway texted Mortensen – in response to Mortensen's question of who Elway's wife, Paige, will be rooting for – that the Mrs. has "converted from the dark side." Paige Elway is a former Raiders' cheerleader.
After being hard on Denver quarterback Tim Tebow this summer,
ESPN analyst Merril Hoge
lauds rookie linebacker Von Miller, who makes his NFL debut Monday night after being the No. 2 overall draft pick.
AFC WEST SCOREBOARD
Thursday, 11/20
Sunday, 11/23