AFC West:

Stock Watch 2010
October, 27, 2010
10/27/10
1:00
PM ET
»
NFC Stock Watch
:
East
|
West
|
North
|
South
»
AFC
:
East
|
West
|
North
|
South
FALLING
1. Denver Broncos:
Yes, the whole dang team. The entire club has to be embarrassed after Denver was beaten 59-14 at home by the previously 2-4
Oakland Raiders
, who were playing their backup quarterback. Losing by 45 at home is a horrible experience for a franchise that can hover for the rest of the season. Denver is 2-5 and you have to wonder if it can bounce back from this type of traumatic defeat.
2. Josh McDaniels, Denver coach:
McDaniels deserves his own category this week. While the entire team has to take accountability, McDaniels was in charge of preparing the Broncos for the game. The nature of the loss is ultimately his fault. McDaniels has been a whipping boy on Denver talk radio this week and after this historic defeat, he deserves the heat.
3. Richard Goodman, San Diego wide receiver:
Every receiver remembers his first NFL catch. Goodman surely won't forget his first catch, but for all the wrong reasons. The undrafted rookie made a nice grab on a 25-yard pass from
Philip Rivers
. Goodman looked like he belonged in the NFL. Then he simply left the ball on the grass -- without being downed by a New England defender. The Patriots jumped on the ball. It was a critical turnover in a three-point loss for the Chargers. The first thing that will keep a player off the field is dumb mistakes. Goodman will be lucky if he's in the Chargers' game plan anytime soon after that gaffe.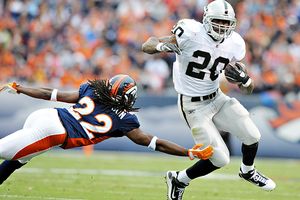 Kirby Lee/US PresswireDarren McFadden rushed for 165 yards and three touchdowns in a 45-point rout of the Broncos.
RISING
1. Oakland Raiders:
Yes, the whole dang team. The Raiders deserve major props for what they did at Denver. Teams just don't win by 45 points on the road. This was a tremendous team effort. For a franchise rich in tradition, it was Sunday's game that set the Raiders' all-time single-game scoring record. A lot of the credit goes to coach Tom Cable. He had his team prepared for this game after a poor showing in San Francisco the previous week. Times have been tough for Oakland in recent years, but the Raiders showed great life in this win.
2. Thomas Jones, Kansas City running back:
The veteran is showing why the Chiefs made him a priority this offseason. Jones had 125 yards rushing in the Chiefs' win over Jacksonville on Sunday. He had a 70-yard run in the game. Jones and
Jamaal Charles
are leading the best running game in the NFL. This is a big reason why the Chiefs are 4-2 and have the look of a team that will be in the playoff picture all season long. Jones is giving this offense a toughness it didn't have in the past.
3. Antwan Barnes, San Diego linebacker:
The Chargers have been looking for a new pass-rusher since they determined that the soon-to-be released
Shawne Merriman
couldn't be counted on to stay healthy enough to be a factor. Barnes may be that player. He has two sacks Sunday against New England and he showed a great pass-rush burst all game. The former Raven and Eagle was signed during the season because of injuries at linebacker. Barnes showed that he has a chance to be an impact player on passing downs for the Chargers.
October, 20, 2010
10/20/10
1:00
PM ET
»
NFC Stock Watch
:
East
|
West
|
North
|
South
»
AFC
:
East
|
West
|
North
|
South
FALLING
1.
Ryan Harris, Denver Broncos right tackle:
It looks like Harris is losing his starting job. Second-round pick
Zane Beadles
took over last week and probably will play against the Raiders on Sunday. It is a surprise because Harris is a solid young player who has a future in the league. He suffered a foot injury last October and was essentially out for the year. He suffered an ankle injury in the fourth preseason game this year and he was terrible at Baltimore last week when he finally played. He was rusty. Denver moved to a power-blocking scheme from its long-time zone-blocking look this year, so Beadles may be a better fit. But the light, athletic Harris is too talented to stay on the bench.
2. Jason Campbell, Oakland Raiders quarterback:
That was fast. Campbell was on the rise last week after he helped Oakland beat San Diego, ending a 13-game losing streak to the Chargers. Campbell spelled
Bruce Gradkowski
in the game and was 13-of-18 passing for 159 yards. The prevailing thought was that Campbell learned from his poor start to the season. That is no longer the case after Campbell was horrible in a loss to the previously winless 49ers. Campbell had a passer rating of 10.7. If Gradkowski's injured shoulder isn't ready, No. 3 quarterback
Kyle Boller
may start Sunday at Denver. Campbell has a sore knee, but he also doesn't have the confidence of the organization. It's early, but it sure seems like trading for Campbell in the offseason wasn't the solution Oakland thought it would be.
[+] Enlarge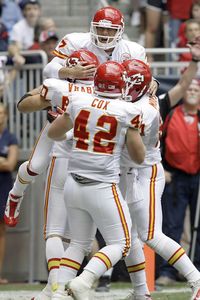 Brett Davis/US PresswireThe Chiefs celebrated linebacker Mike Vrabel's 10th career receiving touchdown on Sunday.
3. San Diego Chargers' offensive line:
In
Marcus McNeill
's first game at left tackle since ending his holdout, this unit was a mess. San Diego allowed seven sacks after being very strong in the first five games. It was clear the entire line was affected by the move. McNeill is a good player and the unit will jell, but the change from
Brandyn Dombrowski
to McNeill hurt the Chargers as they fell to 2-4 with a loss at St. Louis.
RISING
1. Mike Vrabel, Kansas City Chiefs offensive machine:
Somebody needs to learn to stop Mike Vrabel. Here's a hint, NFL: If the 35-year-old linebacker is on the field when the Chiefs' offense is near the goal line, you might want to cover him. Vrabel caught his 10th career touchdown pass Sunday at Houston. It is an NFL record by a defensive player.
2. Tim Tebow, Denver Broncos red zone weapon:
This is what Tebow did at Florida: He took the ball and found the end zone. Sunday, seeing the field for the second time this season, Tebow gave Denver a much-needed spark with a 5-yard touchdown run against the Jets. He had six carries for 23 yards. Denver coach Josh McDaniels has said that for Tebow to be truly effective as a role player, he will need to be a passing threat as well as a running threat. Don't expect to see Tebow in every game. But he is a weapon who proved he can help his team.
3. Kansas City Chiefs' passing game:
Quarterback
Matt Cassel
threw three touchdown passes and receiver
Dwayne Bowe
caught two of them. Bowe had six catches for 108 yards against Houston. Both players have been under fire in Kansas City. Sunday, they showed they can be effective.
October, 13, 2010
10/13/10
1:00
PM ET
»
NFC Stock Watch
:
East
|
West
|
North
|
South
»
AFC
:
East
|
West
|
North
|
South
FALLING
1. Steve Crosby, special teams coach, San Diego Chargers:
San Diego head coach Norv Turner has said Crosby will not be fired because of his unit's follies and the issues may not all be Crosby's fault, but the truth is, his unit is killing the Chargers. Despite the fact that San Diego is the No. 1-ranked offense and No. 2-ranked defense in the NFL, it is 2-3. The reason: San Diego has allowed 30 points on special teams in three losses. It's getting ridiculous, especially after Sunday's performance in which Oakland scored nine points on two blocked punts in the first five minutes of the game.
2. Oakland Raiders' pass defense:
Lost in the thrill of Oakland's stunning win over San Diego was the fact that the Raiders were savaged by
Philip Rivers
. Rivers threw for 431 yards. He had 380 yards at the end of the third quarter. That has to be cleaned up. Oakland has the No. 31-ranked run defense. If the pass defense, which is ranked 10th, falters, Oakland will be in big trouble.
3. Kansas City Chiefs' third-down offense:
Kansas City converted one of 10 third-down plays in a 10-point loss to the Colts, wasting a fine defensive effort. The Chiefs have to learn to extend drives and find the end zone. Kansas City had to settle for three field goals in the game. This is a team on the rise, but it has to find a way to keep drives alive.
[+] Enlarge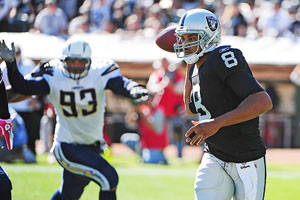 Kyle Terada/US PresswireQuarterback Jason Campbell helped guide the Raiders to a victory on Sunday.
RISING
1. Jason Campbell, quarterback, Oakland Raiders:
Campbell showed his new team he can make plays to help it win. Campbell spelled an injured
Bruce Gradkowski
and led Oakland to two fourth-quarter touchdowns in a 35-27 win. After playing terribly in his first six quarters in Oakland, Campbell redeemed himself in his second chance.
2. Kansas City Chiefs' defense:
Usually teams are not excited after 10-point defeats, but the Chiefs should be encouraged after losing 19-9 to the Colts, even though it was the team's first loss. Romeo Crennel's defense made Colts quarterback
Peyton Manning
work for what he got.
3. Malcom Floyd, receiver, San Diego Chargers:
Floyd showed why the Chargers' offense is ranked No. 1 without holdout receiver
Vincent Jackson
. Floyd had 213 yards receiving against Oakland. He is growing as a No. 1 receiver. He is fast and he can make the impossible catch. Floyd and Rivers can be a special combination.
October, 6, 2010
10/06/10
1:00
PM ET
»
NFC Stock Watch
:
East
|
West
|
North
|
South
»
AFC
:
East
|
West
|
North
|
South
FALLING
Denver Broncos running game:
A season-long issue is getting worse. The Broncos had 19 yards on 20 carries at Tennessee. They are ranked No. 32 in the NFL in rushing. Denver is averaging 2.2 yards per carry and 55 yards on the ground per game. Denver is literally getting nothing from its ground game.
Oakland Raiders run defense:
The Raiders spent a lot of time and resources on improving one of the worst run defenses in the league. Oakland has had its moments, but overall it is still an issue. After being benched to start the game, Houston's
Arian Foster
ripped apart Oakland. He had 131 yards on 16 carries, adding a 74-yard touchdown run. Oakland is just not closing gaps well enough on a consistent basis.
Steve Gregory, San Diego Chargers, safety:
The Chargers' starting strong safety is suspended by the NFL for the next four games for using a performance-enhancing substance. Gregory said he did not knowingly take the substance.
Paul Oliver
will take the place of the play-making Gregory.
[+] Enlarge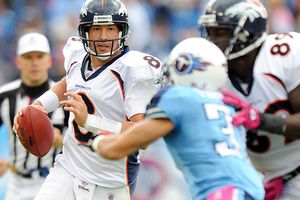 Don McPeak/US PresswireThrough four games Kyle Orton has completed 118 of 175 passes for 1,419 yards.
RISING
Kyle Orton, Denver Broncos, quarterback:
Orton is playing out of his mind. He is making up for Denver's bad running game with stellar performances. He has thrown for 1,419 yards. It is the second highest yardage total after four games in the history of the NFL.
San Diego Chargers defense:
The Chargers have allowed four touchdowns in four games. San Diego had nine sacks, including four by linebacker
Shaun Phillips
, in a win over Arizona. Like San Diego's offense, its defense is ranked No. 1 in the NFL.
Zach Miller, Oakland Raiders, tight end:
Miller is one of the best young offensive players in the league. He had 11 catches for 122 yards in a loss to Houston. Miller is a favorite target of Oakland quarterback
Bruce Gradkowski
and he is a great safety net for an offense that has an unreliable receiving crew.
September, 29, 2010
9/29/10
1:00
PM ET
»
NFC Stock Watch
:
East
|
West
|
North
|
South
»
AFC
:
East
|
West
|
North
|
South
FALLING
1. San Diego Chargers special teams:
The Chargers could easily be 3-0, but their special-teams coverage units are killing them. San Diego has given up three return touchdowns in three games -- two touchdown returns for scores in a seven-point loss to Seattle in Week 3 and a punt-return score for a touchdown in a seven-point loss to the Chiefs in Week 1. The Chargers dearly miss special teams ace
Kassim Osgood
, who is now in Jacksonville.
2. Sebastian Janikowski, Oakland Raiders kicker:
This offseason, Janikowski signed a contract that made him the richest kicker in NFL history. He had only three misses last season before Oakland gave him gold. This season, Oakland has to be wondering what is going on. Janikowski has missed five of 13 field goal attempts. Most important, he missed a 32-yard chip shot at the end of Sunday's 24-23 loss at Arizona. Janikowski has been streaky in his career. He is definitely trending the wrong way.
3. Denver Broncos' red zone offense:
The Broncos took themselves out of contention in Sunday's 27-13 loss to Indianapolis with porous play in the red zone. Denver had a first-and-goal situation at the Colts' 1 and couldn't punch the ball in. In the fourth quarter, Denver failed on fourth down and three from the Colts' 12. This team needs to find some weapons in the red zone or it will not make strides.
RISING
[+] Enlarge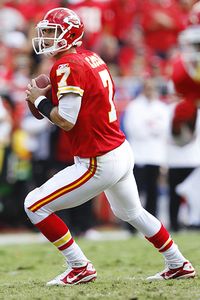 Joe Robbins/Getty ImagesMatt Cassel has quarterbacked the Chiefs to a 3-0 start.
1. Matt Cassel, Kansas City Chiefs quarterback:
Many Chiefs' fans were calling for Cassel's head despite a 2-0 start. Cassel was struggling and many in Kansas City wanted the Chiefs to trade for
Kevin Kolb
. Perhaps a strong effort by Cassel in a rout of San Francisco in Week 3 will quiet the critics. Cassel threw the ball very well and ended up with thee touchdown passes. The Chiefs are hot and now, so is their quarterback.
2. Tamba Hali, Kansas City Chiefs linebacker:
The knock against the Chiefs in the past two seasons since
Jared Allen
was traded was that they had no pass rush. And there was evidence of that. In 2008, Kansas City set an NFL record for the fewest sacks in a season with 10. However, the Chiefs are playing inspired defense. Hali is leading the way. He had three sacks against the 49ers. Hali has long hurried the quarterback well. Now, he's getting to the quarterback and bringing him down.
3. Marcus McNeill, San Diego Chargers left tackle:
McNeill ended his holdout and reported to the team Saturday. He will start playing in Week 6 at St. Louis. McNeill made a poor decision by staying away and it cost him nearly $3 million. But now that he is back where he belongs, don't be surprised if the Chargers ultimately give McNeill the long-term deal he desires.
September, 22, 2010
9/22/10
12:30
PM ET
»
NFC Stock Watch
:
East
|
West
|
North
|
South
»
AFC
:
East
|
West
|
North
|
South
FALLING
[+] Enlarge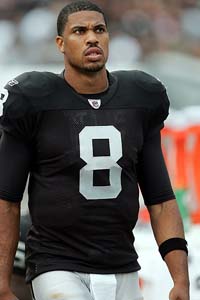 AP Photo/Paul Jasienski)Jason Campbell was pulled for Bruce Gradkowski on Sunday.
1. Jason Campbell, Oakland, quarterback:
Campbell's status in Oakland took a huge hit Sunday. He was replaced by
Bruce Gradkowski
in the second half against St. Louis. Campbell was benched after six ineffective quarters. Gradkowksi came in and led Oakland to a comeback victory. The Raiders haven't said who will start Sunday at Arizona, but it would be a surprise if Gradkowski didn't get the start. Expectations were high for Campbell in Oakland. Now, his status there is cloudy at best.
2. Knowshon Moreno, Denver, running back:
Moreno had 51 yards on 24 carries in Denver's win over Seattle. The No. 12 overall pick in the 2009 draft has to get better. He is coming off an injury and Denver's offensive line is battered. But still, Moreno, who did have a nice run on a 45-yard catch, won't be trusted as a rusher long if he duplicates this effort a few more times.
3. Ryan Mathews' ball security:
Mathews has been stripped of the ball in both of his NFL games. He said he is not worried about the issue, but he must get better at holding onto the ball. Mathews, the No. 12 overall pick in 2010, has run the ball well. But ball security is crucial. Opposing defenses will try to strip the ball until he proves he can hold onto it. And they'll try again. So, he needs to address the issue now.
RISING
1. Bruce Gradkowski, Oakland, quarterback:
Gradkowski has a growing legend in Oakland. He is an instant sparkplug for this offense. It can't be denied. Oakland coach Tom Cable hasn't said who'll be his quarterback in Week 3, but it has to be Gradkowski. At this point, he gives the Raiders the best chance to win.
2. Todd Haley, Kansas City, head coach:
The second-year man is going to get himself some coach of the year votes at this rate. Even though the Chiefs are still a work in progress, Haley has his team playing very hard and they clearly believe in his system. Haley had a gutsy call on fourth-and-inches that sealed the win at Cleveland on Sunday. The Chiefs, who won a total of 10 games the past three seasons, are 2-0 for the first time since 2005.
3. Demaryius Thomas, Denver, receiver:
Denver's top draft pick made an instant impact in his NFL debut. Thomas had eight catches for 97 yards and a touchdown in Denver's win over Seattle. Thomas showed flashes of dominance in training camp, but he was dealing with a foot injury. In his first NFL game, the No. 22 overall pick showed his great potential.
September, 15, 2010
9/15/10
12:00
PM ET
»
NFC Stock Watch
:
East
|
West
|
North
|
South
»
AFC
:
East
|
West
|
North
|
South
FALLING
Oakland's offensive line:
We didn't have very high expectations for this unit going into the season. Expectations have dropped dramatically after Week 1. The line was atrocious in a 38-13 loss at Tennessee. The unit gave new Oakland quarterback
Jason Campbell
very little time and Campbell was sacked four times. He lost a fumble on one of the sacks. From the second quarter on, all Campbell was doing was checking down and finding receivers for very short pass plays. Oakland could never get the deep passing game going. The Raiders will continue to struggle on offense until the offensive line improves its protection.
San Diego's offense:
The Chargers' offense was expected to be much more in sync than it was in it 14-point performance. Many of San Diego's problems were caused by terrible weather, but that is no excuse. A lot of people will pin this poor effort on the holdouts, receiver
Vincent Jackson
and left tackle
Marcus McNeill
. There are numbers to support that Rivers missed Jackson. According to ESPN Stats & Information, Rivers completed five of 15 pass attempts for just 60 yards in three-receiver sets. Jackson's absence did affect San Diego when the primary target, tight end
Antonio Gates
, was being double-teamed. It's something San Diego must adjust to playing with because Jackson isn't coming back any time soon.
Denver's pass defense:
The Broncos were third in the NFL against the pass last year. However, they allowed Jacksonville quarterback
David Garrard
to throw three touchdowns in a 24-17 Jaguars' win on Sunday. Overall, the pass unit wasn't bad against Jacksonville. But the three touchdown passes were a killer. With a date with
Peyton Manning
and Indianapolis looming in Week 3, Denver has to fix this issue.
RISING
The Kansas City Chiefs:
Yep, the whole dang team is rising. You have to give Kansas City credit. After winning a combined 10 games in the past three seasons, Kansas City looked revived in a 21-14 win over four-time defending AFC West champion San Diego.
The Chiefs played hard on both sides of the ball, made big plays and were much improved on defense. This is suddenly a team to watch.
[+] Enlarge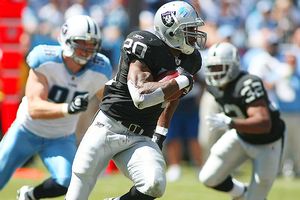 Greg McWilliams/Icon SMIOn Sunday against the Titans, running back Darren McFadden was the weapon the Raiders were hoping for when they drafted him in 2008.
Darren McFadden, Oakland running back:
He was one of the few bright spots for Oakland in its blowout loss at Tennessee. McFadden ran hard and looked like the player Oakland drafted him to be with the No. 4 overall pick in 2008. McFadden consistently broke tackles and showed great burst. He had 95 yards rushing and 55 yards receiving. He showed he can be a weapon for Oakland.
Glenn Dorsey, defensive lineman, Kansas City:
Dorsey was taken one pick after McFadden in 2008. Like McFadden, Dorsey was mostly disappointing in his first two NFL seasons. However, like McFadden, Dorsey was terrific in Week 1. It was his best NFL game. In the summer, Dorsey said he was finally comfortable playing in a 3-4 defense after adjusting last season. Dorsey sure looked comfortable Monday night. He was all over the field. Dorsey had six tackles and one-half of a sack. He also put heat on quarterback
Philip Rivers
on San Diego's final play of the game, a poor pass from Rivers on fourth-and-goal from the 6 with 39 seconds to go.