AFC West:

Super Bowl XLVIII Media Day
January, 28, 2014
1/28/14
8:15
PM ET
By
Lyle Crouse
| ESPN.com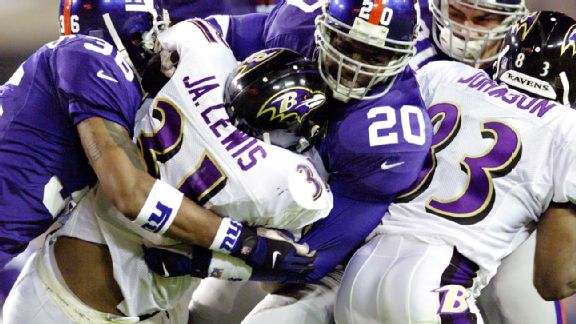 Brian Bahr/ALLSPORT Sam Garnes (20) and the Giants fell behind quickly and never recovered in Super Bowl XXXV.
NEWARK, N.J. --
Sam Garnes
is trying to help the
Denver Broncos
win a Super Bowl, yet he was asked Tuesday about his experience losing the NFL's championship game.
And the former safety didn't backpedal from the line of questioning.
"No, no," he insisted. "That's
real
."
In five trips to the Super Bowl, the
New York Giants
have lost only once. Garnes, a Bronx native, was the starting strong safety for that team, which fell 34-7 to the
Baltimore Ravens
in January 2001.
So Garnes, Denver's assistant secondary coach, imparts a clear message to the Broncos as they prepare for Super Bowl XLVIII against the
Seattle Seahawks
: You don't want to know what it feels like to lose this game.
[+] Enlarge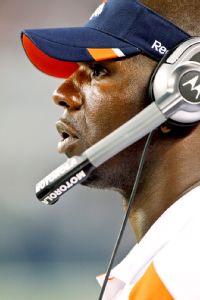 AP PhotoGarnes is in his third year on the Broncos' coaching staff.
"I tell my players, we're not interested in having fun for two weeks between the AFC Championship Game and the Super Bowl," Garnes said at Super Bowl media day. "We want to have a great time for several months [afterward]."
That approach has remained constant for Super Bowl teams through the years. Other aspects of the experience have changed, including media day.
"It's amazing. You've got fans here," he said as he surveyed the scene. "We didn't have fans in Tampa Bay's stadium [13 years ago].
"And now we're playing a cold-weather game, which at that time was unheard of."
Ah, yes, the cold-weather Super Bowl in East Rutherford, N.J. Cold, hot, whatever -- Garnes, 39, is just happy to be home.
"Selfishly, I wanted to be here when they said the Super Bowl was in New York," said Garnes, who attended DeWitt Clinton High School in the Bronx and played for both the Giants and
New York Jets
during his seven-year playing career.
"Selfishly, I wanted to be here, and I will admit that, because this is a place I love. All my players and coaches, they know much I love where I'm from."
Garnes -- who was quick to clarify that the Super Bowl is in the "Greater New York area; there's no disrespect to Jersey" -- looks forward to making the short trip to the Bronx from the Broncos' hotel in New Jersey.
"Right now we're busy," he said, "but as the week winds down, I'll have time to go over there and get me some of that good ol' Bronx pizza and get me some Chinese food."
He'll likely get a warm welcome wherever he goes. "I have a lot of family still in the area," he said. It's the perfect setting for Garnes' return to the NFL's marquee event.
"To come back to your home area and be a part of the Super Bowl," he said, "is a great feeling."
January, 28, 2014
1/28/14
7:15
PM ET
NEWARK, N.J. -- Meet Greg Wilson, the most unlikely player at Super Bowl XLVIII.
Two weeks ago, he was a salesman with a solar power company. Today, he's a member of the AFC champion
Denver Broncos
.
It's one heck of a homecoming for the 23-year-old, who played his final two seasons of college football at nearby Fordham University.
[+] Enlarge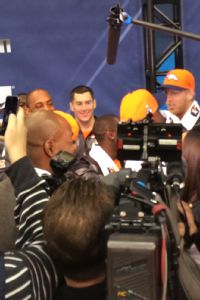 Kieran Darcy/ESPNMedia day isn't as glamorous for practice-squad players like Broncos WR Greg Wilson, center.
"It's been a blessing. It's been crazy," Wilson said Tuesday at Super Bowl media day. "Going from a desk job and sitting at home, watching the games on the weekends to being out here and playing with the guys, it's just been great."
A California native, Wilson transferred to Fordham from Diablo Valley Community College in 2011. He was a two-year starter for the Division I-AA Rams. His senior season he caught 41 passes for 545 yards and four touchdowns.
Undrafted this past spring, Wilson was invited to a
San Francisco 49ers
rookie minicamp but ultimately didn't make the team.
He got a part-time job at Sunrun, which provides residential solar electricity, in San Francisco, but he continued to stay in shape, not giving up on his NFL dream. In November, the Broncos brought him in for a workout but did not sign him. Then, Wilson's phone rang Wednesday morning, Jan. 15 -- five days before the AFC Championship Game.
"My agent called me, [and] said the Broncos want to sign you to the practice squad," Wilson said. "I stood up from my job, said, 'Hey, I'm outta here,' left, went home, packed a bag and flew out that night."
Wilson admitted being a little nervous upon his arrival in Denver, but he was quickly put at ease. "The whole locker room is very welcoming," Wilson said. "It was definitely a little intimidating meeting a guy like
Peyton [Manning]
at first. But at the end of the day, he's another teammate, and he's a good guy."
Being a practice-squad player, Wilson doesn't get to work with Manning, but he is playing an important role this week, acting as one of the
Seattle Seahawks
' receivers on the scout team.
Wilson won't get to play in Super Bowl XLVIII at MetLife Stadium, but he did get to participate in media day at the Prudential Center -- even if it was hard to find him, standing behind several teammates who seemed more eager to attract attention.
Wilson seemed satisfied just taking it all in and will have lots of stories to share with his family and friends. "They're all so happy for me," Wilson said. "They know how hard I've worked and how bad I want it, so for them to see me get the opportunity, I think they're all thrilled."
There are no guarantees Wilson's time with the Broncos, or in the NFL, will extend beyond Sunday. His size -- 6-foot, 180 pounds -- won't do him any favors. But whatever happens next, no one can take away this experience.
"I'm just working to give the defense a good look," Wilson said. "If that leads to a contract in the future, that's great. But right now, my focus is just on getting this defense prepared for Seattle."
He's been a Bronco for less than two weeks but sounds like a team player.
January, 28, 2014
1/28/14
7:15
PM ET
NEWARK, N.J. -- After being held out of practice for a week because of an illness,
Denver Broncos
kicker
Matt Prater
made his first public appearance Tuesday since the team arrived to the New York/New Jersey area.
Prater participated in the team's media day event at the Prudential Center and is on track to practice Wednesday when the Broncos conduct a workout at the
New York Jets
' practice facility. Prater said he felt "a lot better" and spent his time Tuesday answering the usual questions for kickers about potential Super Bowl game winners and bad weather for Sunday's Super Bowl XLVIII.
Asked how weather might affect the game, Prater said, "You know me. I'm not a huge thinker about too much. It's just one of those things where I think no matter what, if you hit the ball well, it's going to go straight and it's going to go far. I'm not worried about it too much. I don't think it's going to be too windy. If anything, the wind affects it more than the cold. As long as it's not too windy, I think we'll be fine to get the touchbacks, hopefully limit their return game."
The Broncos held Prater out of practice Thursday, Friday and Saturday, in part, for Prater to recover and to avoid passing the illness to other players a week out from the title game. Broncos coach John Fox has said repeatedly Prater would be fine for Sunday's game.
Prater led the NFL in touchbacks on kickoffs during the regular season and was 25-of-26 on field goal attempts, including 6-of-7 from 50 or more yards, including an NFL record 64-yarder Dec. 8 against the
Tennessee Titans
.
Prater is 5-of-6 in the postseason, including a 4-of-4 performance in the AFC Championship Game last Sunday.
January, 28, 2014
1/28/14
5:35
PM ET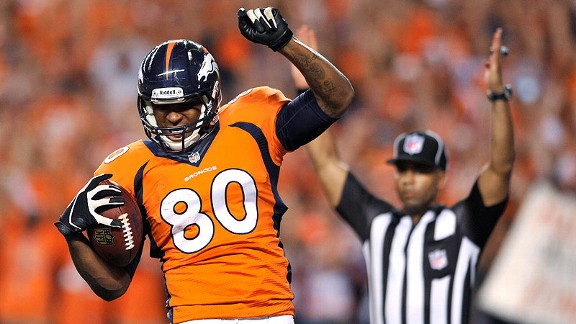 AP Photo/Jack DempseyJulius Thomas has come a long way since living with Brady Quinn to learn the Broncos playbook.
NEWARK, N.J. -- It was the spring of discontent in the NFL. The lockout was on, two sides dug in for a nasty corporate spat over money, benefits with each trying to find the public relations high ground.
And
Julius Thomas
, with all of one season's worth of college football experience on his résumé, had just been selected in the fourth round of the 2011 draft by the
Denver Broncos
. But Thomas was a Broncos player in name only. He had no contract, no contact with his new coaches beyond a short post-draft how-do-you-do? session, no access to the team's weight room and no way to use anything the Broncos had inside of their complex that could help him.
"At that point, the lockout was kind of frustrating for a guy like me," Thomas said. "I needed the OTAs [organized team activities], I needed practice, I needed meetings, I needed to be around it. I didn't know what my role was going to be in the NFL or what kind of player I could be. I just knew I thought I had a lot of work to do and wanted to get started."
Now, Thomas is a Pro Bowl tight end, a key piece in an offense that set an NFL scoring record this season with 606 points. But in April, May and June of 2011, he was a Broncos draft pick adrift, with more questions than answers with just one season of football at Portland State after his four-year basketball career has concluded.
Thomas was raw, bristling with potential and in search of help.
Enter
Brady Quinn
, a Broncos backup quarterback at the time who hoped to compete for the starting job if and when the labor posturing ended. Quinn was one of many Broncos players who took part in on-their-own workouts during the lockout, a group that included several current Broncos such as
Zane Beadles
,
Chris Kuper
,
Eric Decker
and
Demaryius Thomas
, as well as former Broncos safety
Brian Dawkins
.
And Quinn, the guy with the best grasp of the team's playbook in those workouts -- having never met Thomas before, having been introduced to the then-rookie by a friend -- offered Thomas a place to stay as well as a seat in a Football 101 classroom of sorts. Thomas gladly accepted, paid his own way -- before he even had an NFL paycheck -- and got to work.
"But just to go live with someone he didn't even know, to sacrifice whatever he was doing in his life right to start a career you're just beginning, all during a lockout, I think it took a lot for a young guy," said Quinn, currently a
St. Louis Rams
quarterback recovering from back surgery in California. "But you just saw that desire, that work ethic."
Quinn also saw what the Broncos saw in pre-draft workouts, what the team saw in Thomas' first two seasons in the NFL despite struggles with ankle issues, including surgery following the 2011 season. But even through those first two seasons -- when Thomas had just one catch -- the Broncos believed in the potential Quinn saw from almost the first pass he threw to the kid.
The veteran quarterback set things up like Thomas would see once he was allowed to join the team. The two had installation sessions with the team's playbook, then they would discuss what Thomas had just been shown and head to the field to see if Thomas could turn the information into action.
"And the thing that struck you right away was his ability, that wow factor, just watching him move. You're like, 'holy crap,'" Quinn said. "And I know it's going to sound crazy, but to me, it was like if
LeBron [James]
played football. I really thought to myself, even in those first workouts, this is what it might look like if LeBron James played football. You saw that size, running like a wide receiver. That wingspan, the way he ran routes with power and agility and to look so smooth and effortless to go with the way he just snatched the ball when he caught it."
"I think about it from time to time, for sure, but I've always appreciated what Brady did for me," Thomas said this week. "Here I am, a young guy, coming out of college, lockout is going on, and Brady opened up his home to me. And he didn't just open his home to me, he sat down every day and worked with me on the playbook. He was my first real introduction into the NFL, my first real glimpse of being a pro."
Quinn said after he would throw to Thomas and some of the others in the on-field work, he would quiz Thomas about things in the playbook they had discussed or worked on that day "just to see what he retained."
Coaches often say good habits, developed early in a career, will serve a player well, maybe even help beat the league's short-term odds. Two years after his work with Quinn, Thomas was also one of the first of the Broncos' youthful group of players on offense to find his way into workouts with
Peyton Manning
after the quarterback signed in March 2012.
Thomas quickly developed the on-field chemistry with Manning, and it could be seen in his 65-catch, 12-touchdown season.
"It showed [Thomas] didn't have much of a football background at that point. He knew some of the things he was going to have to do to be in this business to be a pro," Broncos tight end coach Clancy Barone said. "He was living on Brady's couch basically. That was his first step. I'll be honest, he's still got a great upside to go, still plenty of work to do, and that's a great thing, to have that kind of skill set now and still have some room to grow. I think it shows what he could be if he continues to do those things."
"He's just smart. He picks things up easily. He understood football right away even though he didn't have much of a history with the game," Quinn said. "It was almost innate. You just didn't have to teach him too much about the routes. He seemed to just understand how to do it. It was almost like he had a feel of how to set up a guy who was covering him."
So here's Thomas now, a star in waiting and a matchup nightmare who is being described as an X factor in a Super Bowl. An unlikely road traveled, in at least some way, right from Brady Quinn's house.
"I can't tell you how much I appreciate what he did for me," Thomas said. "I'll always appreciate it, I'll always be grateful for it and I'll always remember it."
January, 28, 2014
1/28/14
10:00
AM ET
By
ESPN.com staff
| ESPN.com
Join our ESPN.com NFL experts for Super Bowl XLVIII media day. We'll cover all the highlights through live updates, photos and videos to keep you up to date on the wackiness of media day.
The Denver Broncos will hit the podium at 10:30 a.m. ET followed by the Seattle Seahawks at 12:45 p.m. ET. Contribute your thoughts and questions at 10:30 a.m. ET. Also, be sure to stop by our
NFL Nation Blitz page
for even more social commentary and photos. See you there.