AFC West:

Tarvaris Jackson
September, 10, 2011
9/10/11
4:00
PM ET
DENVER -- It was weeks into John Elway's new role in his old home and he was explaining how he could best help the
Denver Broncos
take advantage of having the No. 2 overall draft pick.
While taking a break from scouting players at the NFL combine, the legendary quarterback stood in an Indianapolis hotel and said he thought he knew how to evaluate pass-rushers as well as any position on the field (quarterback and receiver included) because those were the players he spent all his time studying to beat.
There was no pass-rusher –- or any player regardless of position -– available in the 2011 draft who would have worried Elway the quarterback more than
Von Miller
. That's why Elway, the lead decision-maker of the Broncos, jumped at the opportunity to make Miller the centerpiece of his organization -- a team that no longer resembles the perennial contender of Elway's heyday.
As the Elway-John Fox era officially begins when the Broncos host the
Oakland Raiders
in the second half of an ESPN "Monday Night Football" doubleheader (kickoff is set for 10:15 ET), all eyes will be on No. 58. Miller picked the number of his hero, the late
Derrick Thomas
. The
Kansas City Chiefs
' Hall of Fame linebacker sacked Elway 26 times, the most of any player in Elway's career. This time, though, Elway won't mind seeing that No. 58 drop the quarterback.
[+] Enlarge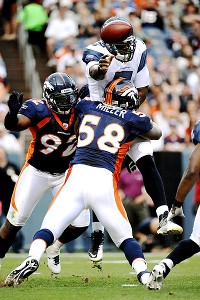 Garrett W. Ellwood/Getty ImagesVon Miller was drafted to revitalize a defense that ranked last in the NFL in 2010.
Elway -- who was hired by owner and close friend Pat Bowlen to bring stability to an organization that fired two head coaches in less than a two-year span -- is trying to fix the defense that was ranked last in the NFL last season and had a league-low 23 sacks in 2010. A team that is usually focused on offense hired Fox, one of the more respected defensive specialists in the NFL.
The Broncos zeroed in on several defensive players, including Alabama defensive tackle
Marcell Dareus
, LSU cornerback
Patrick Peterson
and Auburn's
Nick Fairley
. But in the team's meetings, everything pointed to drafting Miller.
Denver concluded that Miller was the most sure of all the prospects. He starred on the field at Texas A&M. He had strong character. He stole the show during the Senior Bowl week. He blew away scouts at the combine with his size, speed and power. Elway told people his explosiveness was off the charts. And the Broncos marveled that someone could run like a cornerback while being built like a prototypical pass-rusher.
On the eve of the regular season, the Broncos are not regretting the pick. Big things are expected from Miller,
including by ESPN's panel of experts
.
During training camp, I asked Fox about Miller's development. He gave the typical coach party line that Miller was a work in progress. Then, I asked whether Miller's ability was as advertised. Fox didn't hesitate. "Oh yeah, he's going to be a player," Fox said.
Miller dominated the preseason. He had three sacks in limited action. He knocked down Seattle quarterback
Tarvaris Jackson
four times in the third preseason game. Denver believes the pass-rush combination of defensive end
Elvis Dumervil
(who led the NFL with 17 sacks in 2009 before missing all of last season with a pectoral injury) and Miller will immediately improve the defense.
If the Broncos have any chance of beating the Raiders -- who won 59-14 in Denver last season -- Dumervil and Miller have to knock Raiders quarterback
Jason Campbell
onto the Mile High ground a few times.
Miller knows what is expected of him in Denver. He is not shying away from the task of changing the defensive atmosphere in Denver.
"I've been ready since a few weeks ago," Miller said earlier this week. "Every week is game week for me, but these are the ones that are really going to count and you can definitely feel it in practice. It's a little more tense."
Miller, known for being a team-oriented player in College Station, has impressed the Broncos by acting like an undrafted free agent. He studies the playbook diligently and doesn't act like he's already arrived. He is bent on fixing mistakes.
"Every week I have to take a step to get better and that is what I have been trying to do," Miller said. "I feel as if there is still a lot of room to improve. I need to improve my practice habits. I could run a little bit better in the games and get my assignments down. I can get my assignments down; you can't have a guy out there who is inconsistent. That is one of the things I'm working on now, getting my plays down and being there for my team in crunch time."
Crunch time begins Monday night, as does a new defensive era in Denver.
"I like him a lot," future Hall of Fame cornerback
Champ Bailey
said. "You can see every day why he was the No. 2 pick. I'm glad he's the guy we took."
March, 20, 2009
3/20/09
6:29
PM ET
Posted by ESPN.com's Bill Williamson

I played along with our quarterbacking ranking feature.
It was an interesting exercise. I learned it's a pretty good league for quarterbacks these days. Some of the players I had ranked low are quality players and are winners.
Here's my list:
1. Peyton Manning, Indianapolis: Manning may be the best quarterback ever to play.
2. Tom Brady, New England: OK, Brady is 1b.
3. Ben Roethlisberger, Pittsburgh: Big Ben isn't pretty, but he's a winner.
4. Drew Brees, New Orleans: Brees has had his share of doubters. Not anymore. He's got the goods.
5. Philip Rivers, San Diego: Rivers is a winner. End of story.
6. Carson Palmer, Cincinnati: A good quarterback in a lousy situation.
7. Jay Cutler, Denver: He is not elite yet, but he's on his way.
8. Matt Ryan, Atlanta: What he accomplished as a rookie was astounding.
9. Tony Romo, Dallas: He may need to focus better, but he's a big-league talent.
10. Kurt Warner, Arizona: A future Hall of Famer.
11. Eli Manning, New York Giants: Peyton's little brother has proven he can win.
12. Donovan McNabb, Philadelphia: He isn't perfect, but McNabb's a solid player.
13. Matt Hasselbeck, Seattle: Hasselbeck is a gamer.
14. Aaron Rodgers, Green Bay: He'll be a Pro Bowler by 2010.
15. Chad Pennington, Miami: A gutsy, hard-nosed player.
16. Matt Cassel, Kansas City: We'll see how he does outside of the Patriots' bubble.
17. Trent Edwards, Buffalo: He has a chance to be very good.
18. Joe Flacco , Baltimore: He has a chance to move up this list quickly.
19. Jason Campbell, Washington: This is a big year for him.
20. Matthew Stafford: Detroit may be wise to take him with the top pick.
21. Matt Schaub, Houston: I expect a big year from him.
22. Mark Sanchez: He has a chance for fast success.
23. Jake Delhomme, Carolina: He's slipping, but he's had a nice career.
24. Kerry Collins, Tennessee: He's finishing his career strong.
25. Jeff Garcia: He still has something left in the tank.
26. Brady Quinn, Cleveland: He will move up this list soon.
27. David Garrard, Jacksonville: He doesn't make many mistakes.
28. Tarvaris Jackson, Minnesota: He's still raw and he needs to improve.
29. Marc Bulger, St. Louis: The end is near.
30. JaMarcus Russell, Oakland: The jury is still out, but he hasn't been impressive yet.
31. Derek Anderson, Cleveland: He needs a fresh start.
32. Kyle Orton, Chicago: He's just so-so.
33. Shaun Hill, San Francisco: Same with this guy.