October, 31, 2011
10/31/11
7:30
PM ET
October, 29, 2011
10/29/11
8:05
PM ET
I have arrived in Denver for Sunday's Broncos-Lions game to find predictably bad injury news for the Chargers.
As expected, standout linebacker
Shaun Phillips
is out for the Chargers' crucial Monday night game at Kansas City with a foot injury. He didn't practice all week. Rookie
Darryl Gamble
is expected to see a lot of playing time in his place. Phillips will join standout guard
Kris Dielman
on the sideline. Dielman suffered a concussion and had a seizure on the flight home from last Sunday's game against the Jets. He is expected to miss at least two games, but is expected to recover fully.
Running back
Mike Tolbert
is doubtful with a hamstring injury. He could miss a couple of games.
Receiver
Malcom Floyd
is questionable with a hip injury. Tight end
Antonio Gates
is improving and he is probable. He played last week for the first time in a month because of a foot injury.
The Chargers have been dealing with a number of injuries since last week and will have to try to beat the streaking Chiefs – winners of three consecutive games – with a limited roster. If the Chiefs (who are healthy) win, there will be a three-way tie at 4-3 atop the AFC West between the Chiefs, Chargers and Raiders (who have a bye). It would be the first time in the NFL that there was a three way tie at 4-3 in 22 years.
Meanwhile, Dallas cut running back
Tashard Choice
. I could see Denver considering claiming him — it needs a boost in the run game.
February, 26, 2010
2/26/10
9:00
PM ET
The Denver Post
has an account of Brandon Marshall's intense testimony at the
Darrent Williams
murder trial on Friday. Marshall pointed out suspect
Willie Clark
as a man who argued with Marshall and Williams on the night Williams was murdered.
Witnesses said Marshall was involved in an argument with Clark and that evening at a nightclub and Marshall admitted he had words with Clark. Marshall later broke down on the stand.
Marshall may be on his way out of Denver, but this day will be remembered for a long time.
The Cowboys have
no intention
of trading running back
Tashard Choice
to San Diego.
Marshall and Denver's other restricted free agents, including
Elvis Dumervil
and
Kyle Orton
, are expected to get
one-year tenders
and not long-term deals at this point.
NFL prospect
Golden Tate gave high marks to new Kansas City offensive coordinator Charlie Weis and Tate's former coach at Notre Dame.
Oakland has hired former safety
Eddie Anderson
in an undetermined role. Anderson is expected to work with players off the field.
Kent State will retire the basketball No. 44 of San Diego tight end
Antonio Gates
on Saturday night. Gates was an honorable mention All-American in 2003.
The University of North Florida honored Kansas City coach Todd Haley on Friday night as part of an alumni achievement event. Haley is at the combine in Indianapolis and was unable to attend the event.
February, 26, 2010
2/26/10
12:00
PM ET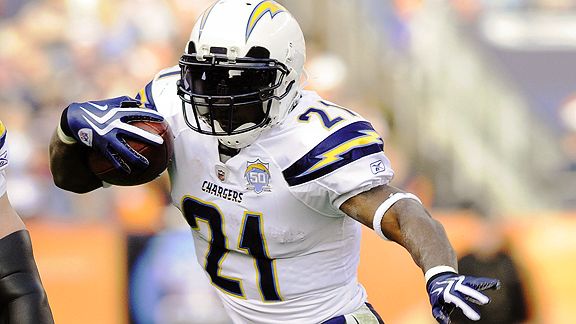 Icon SMIThe Chargers need to find an answer at running back now that LaDainian Tomlinson is no longer with the team.
One of the top story lines of the NFL offseason will be what San Diego does at running back.
The Chargers probably will bring in at least two new running backs. The team released legend
LaDainian Tomlinson
this week after he showed -- in his ninth NFL season -- that he could no longer be a reliable lead running back. San Diego may need another tailback to replace change-of-pace standout
Darren Sproles
, who appears
headed to free agency.
San Diego was 31st in rushing last season. It has to find a new spark. Watch for the Chargers -- who are at the NFL scouting combine this week working on improving the position -- to explore trades, free agency and the draft. Expect the draft to be a major option because the current list of available veteran talent is fairly unimpressive.
Here's a list of running backs who could be headed to San Diego:
Jahvid Best, California
How:
Draft
The skinny:
Best will be closely looked at by San Diego. If he checks out medically --- he had head and neck issues at the end of last season --- the dynamic Best should be available late in the first round. San Diego has the No. 28 pick and may be able to get in on Best. He is a fast, game-breaker type and would work well if San Diego grabbed a big back. But Best also could fit well if the Chargers kept Sproles.
Ahmad Bradshaw, New York Giants
How:
Trade
The skinny:
There has been
some thought
that the Giants could dangle either Bradshaw or
Brandon Jacobs
in a trade for San Diego cornerback
Antonio Cromartie
, who is being shopped. Bradshaw could be the more likely of the two to be dealt. He'd be a decent rotational option.

Bush
Reggie Bush, New Orleans
How:
Free agency
The skinny:
If Bush is cut, the only way San Diego would be interested in this native son is if Sproles left. This is a long shot.
Tashard Choice, Dallas:
How:
Trade
The skinny:
I get the feeling Choice is the Chargers' top choice among the veteran lot. San Diego inquired about the Cowboys' backup in the Cromartie conversations. However, Dallas is reluctant to give up Choice. If that changes, San Diego may pounce on him.
Jonathan Dwyer, Georgia Tech
How:
Draft
The skinny:
Dwyer is a big, strong back. The combine is important for him. If he does well, he could sneak into the first round. If he is average, Dwyer could be had in the second or third round, where San Diego would consider him if it also gets a veteran back.
Toby Gerhart, Stanford
How:
Draft
The skinny:
Gerhart seems like a player who would intrigue San Diego general manager A.J. Smith. He was a very productive college player and has a big upside. He could be a steal in the third or fourth round. The Southern California native is big and rugged. If he and a veteran were brought in, and Sproles was kept, it could be an exciting time in San Diego.

Jones
Thomas Jones, New York Jets
How:
Free agency
The skinny:
Jones is not free yet, but he is expected to be cut. If so, put him at the top of San Diego's veteran wish list. Even though he is 31 and past his prime, Jones is a tough runner who could help for a year or two. Add Jones with a rookie and Sproles, and San Diego's run offense would surely improve in 2010.
Ryan Mathews, Fresno State
How:
Draft
The skinny:
Mathews had a productive season and is one to keep an eye on. He will surely be in San Diego's mix along with Mississippi State's
Anthony Dixon
and USC's
Joe McKnight
.
Willie Parker, Pittsburgh
How:
Free agency
The skinny:
He shouldn't be high on the list. Parker is on the decline, but there aren't many high-quality running backs on the market yet. He could be a backup plan.
C.J. Spiller, Clemson
How:
Draft
The skinny:
He is expected to be the class of the rookie crop. If he does what is expected of him in the next two months, Spiller could be a top-15 pick, which would be difficult for San Diego to get to. If for some reason he fell into the 20s, expect the Chargers to make a draft-day run at this potential difference-maker.

Taylor
Chester Taylor, Minnesota
How:
Free agency
The skinny:
Taylor is 30, but he has fairly low mileage. The most carries he's had in a season was in 2006 when he had 303 and ran for 1,216 yards. He hasn't had more than 160 carries in any of his other seven seasons. It's unclear how he would do if given the opportunity to carry the ball 20-25 times a game.
Pierre Thomas, New Orleans
How:
Free agency
The skinny:
The restricted free agent would be intriguing if he hit the open market. Thomas may not be the answer as the primary back, but he'd help as a rotational back.
LenDale White, Tennessee
How:
Trade
The skinny:
If the Titans were to let go of White at a decent price, San Diego might be tempted. He's big and strong and he can get the job done if not too much is asked of him. Add him to a backfield that included a rookie and Sproles and San Diego would be able to get by nicely.