December, 20, 2013
12/20/13
8:00
AM ET
ALAMEDA, Calif. --
Oakland Raiders
wideout
Rod Streater
is far from your typical No. 1 NFL receiver. For one thing, he was not drafted. For another, he's anything but your stereotypical diva.
And yet, the second-year pro is closing in on a milestone that defines the upper echelon of pass-catchers, as Streater is 154 receiving yards away from reaching 1,000 for the season.
"There's something about that number you want to get to as a receiver to be considered one of the good ones for the year," Streater said recently. "That's what I'm reaching for and also to get these last … wins."
[+] Enlarge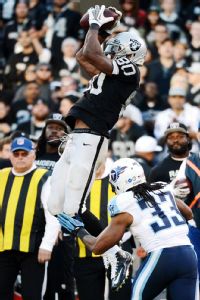 Kyle Terada/USA TODAY SportsRod Streater is poised to become the Raiders' first receiver to reach 1,000 yards in a season since 2005.
If he gets there, Streater, who has a team-high 54 catches, would be the first Raiders pass-catcher with a 1,000-yard season since
Randy Moss
in 2005.
Streater needs to average 77 yards receiving over the Raiders' final two games to get there. He has hit that mark seven times in his nascent career, three times since
Matt McGloin
became Oakland's starting quarterback five games ago. Streater had a career game at the
New York Jets
two weeks ago, catching seven passes for 130 yards, including a 48-yard touchdown.
In fact, Streater's current total of 846 yards is the third most by a Raiders receiver since Moss went for 1,005 yards eight years ago, behind only Jerry Porter's 942 yards in 2005 and
Darrius Heyward-Bey
's 975 yards in 2011.
So how does a guy who caught 19 passes as a senior at Temple get to the cusp of becoming, according to The Associated Press, just the 19th undrafted player since the 1970 merger to author a 1,000-yard receiving season?
"It's part of who he is," said Raiders receivers coach Ted Gilmore. "The kid has a will, a drive to compete. He's self-motivated, and I think that's his edge. He wants to be great."
Of course, there were doubts initially. There had to be after he went undrafted.
"You go back to looking at his tape, prior to the draft, and you're like, 'OK, what's wrong with this picture?'" Gilmore said with a laugh. '"There's got to be something wrong. What's wrong with him?'
"Nothing. Once you do all your homework, you realize there's nothing wrong with him. He's just a product of [Temple's run-based] system."
After Streater's first minicamp, Gilmore said it was obvious to the coaching staff that Streater would make the team.
Even if it was not so clear to Streater himself.
"Getting a jersey, that's all I wanted," he said. "Now you have to continue to set the bar high. Now that I'm here, I want to keep going up."
As long as he keeps grinding, that should not be an issue. His 15.7 yards per catch leads all AFC West receivers with at least 50 catches.
But Streater, who has also been seeing time in the slot of late, is not satisfied. Nor has he reached his ceiling.
"He can get better from a technique standpoint, running routes, getting out of breaks. There's still a lot he can learn," Gilmore said. "He's a sponge.
"He's taking advantage of his opportunities. He's a guy that's not talking about numbers, not talking about stats. He's never had a chip on his shoulder about how many balls he's gotten or did not get. And that's rare for a receiver. That's very rare. He just keeps doing his job."
October, 23, 2013
10/23/13
8:00
AM ET
ALAMEDA, Calif. --
Juron Criner
went home to Las Vegas during the Raiders' bye weekend and, with the way the receiver's second pro season has gone thus far, would you be shocked if he hit a certain table in the gambling mecca and crapped out?
Criner, the second of Oakland's two fifth-round draft picks in 2012, has yet to be active for a game this season ... after appearing in 12 games last year and catching 16 passes for 151 yards and a touchdown.
"I'm not really sure what it is," Criner said this week. "I just come out, work hard and do what I'm supposed to do and wait for my number to come up.
[+] Enlarge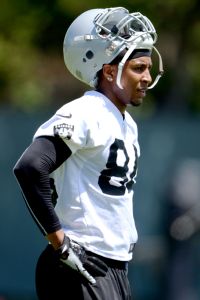 Kirby Lee/USA TODAY SportsJuron Criner has not seen the field during the 2013 regular season.
"It's frustrating but you can't let it frustrate you. I'm a young guy, I'm a young receiver, I got time. They have other options that they're going with right now. I can't do anything but respect that. But if I let it get me down, it will only put me further under. It won't help me any."
Since being selected out of Arizona, the purported physical red zone target who has size (6-feet-3, 221 pounds) and soft hands has been surpassed on Oakland's depth chart by the undrafted
Rod Streater
, 2013 seventh-round draft pick
Brice Butler
and free-agent pickup
Andre Holmes
, who had to serve a four-game suspension for a failed PED test.
And yet, as one league source wondered aloud, who is Criner going to play ahead of on the Raiders now?
"I think he's got to continue to do something on a day-in and day-out basis to catch the attention of myself and the offensive coaches," said Raiders coach Dennis Allen. "Really when you look at it, the players really determine who plays. The guys that go out and practice the best, the guys that make the most plays in practice then make the most plays in the game, those are the guys that go out there and play."
Criner was a rookie camp star two springs ago as a member of general manager Reggie McKenzie's first draft class and also shined in the first round of OTAs.
Then, something happened.
"They're confident in what I can do with my abilities," Criner said. "But I can always practice harder, run faster everywhere. There's always little things you can do.
"My practice habits are definitely getting a lot better, so I feel like it's really helping me a lot being in this situation and having to take practice a lot more serious. So, it's definitely helping me as a player."
Criner said his becoming a forgotten man in the Raiders receiving corps was not necessarily a reflection of a poor work ethic, that the coaching staff simply decided to go another route with the pass catchers at their disposal.
While Allen's earlier words would seem to contradict that train of thought, the Raiders obviously still like something about Criner. Otherwise, he would have been cut long ago, right?
"Yeah, he's an athletic guy," Allen said. "He's a big guy. He's got good hands. But he's got to be able to do it on a more consistent basis, day-in and day-out."
Criner said he realizes this, while acknowledging he needs to keep his not dressing on Sundays from bringing him down mentally.
"Just stay positive," he said. "All the receivers are good guys. We're all tight, we're all friends. So, just having a positive attitude a lot around me, it helps me."
And yes, Criner said he has approached receivers coach Ted Gilmore for advice.
"At the end of the day," Criner said, "all I could do is still wait."
February, 8, 2012
2/08/12
1:10
PM ET
The Oakland Raiders continue to go back to their recent -- and unsuccessful -- past to fill out their offensive coaching staff all the while keeping an experienced hand.
NFL.com is reporting
that 2011 Oakland offensive coordinator Al Saunders is staying with the team as a senior assistant. The report said Saunders had a year added to his contract that will run through 2013. Saunders won't be offensive coordinator or quarterbacks coach, two roles he covered last year. His specific role is unknown.
Still, I think it is good that he is being retained in some role. This is a young staff. Saunders is an NFL veteran. His experience will help even if it is not in a major role.
Meanwhile, ESPN's Adam Schefter reports the team has hired John Defilippo as its quarterbacks coach. He was Oakland's quarterback coach in 2007-08, which were JaMarcus Russell's first two seasons. Defilippo has been the quarterbacks coach at San Jose State the past two years.
He reunites with offensive coordinator Greg Knapp. He was the offensive coordinator in Oakland in 2007-08. Yes, Oakland's offense was anemic those years, but the talent was depleted. The two coaches are inheriting much better talent now.
New Oakland coach Dennis Allen (who worked with Knapp in Atlanta) is clearly comfortable with Knapp and Knapp is comfortable with Defilippo.
Meanwhile, the Raiders
reportedly hired
USC receivers coach Ted Gilmore for the same position. He worked for former Oakland coach Lane Kiffin at USC.
UPDATE:
Ole Miss secondary coach Keith Burns has
reportedly been added
to Oakland's staff. He has a long history with Allen. His role has been specified, but it could be as an assistant secondary coach. The word is former Kansas City assistant Tim Krumrie is a candidate to be Oakland's defensive line coach.
UPDATE:
The Raiders just formally announced Saunders will be retained as a senior offensive assistant.