May, 2, 2013
May 2
2:00
PM ET
Thursday marks the one year anniversary of the death of San Diego legendary linebacker Junior Seau.
Seau committed suicide on May 2, 2012. He was 43.
Seau's death shocked the NFL and particularly hit San Diego hard. Not only was Seau one of the greatest players in Chargers' history, he was a native of the area. To mark the anniversary,
U-T San Diego put together a tremendous remembrance of Seau complete with memories from NFL greats
.
Also, ESPN analyst and former Seau teammate Tedy Bruschi remembers Seau in this video: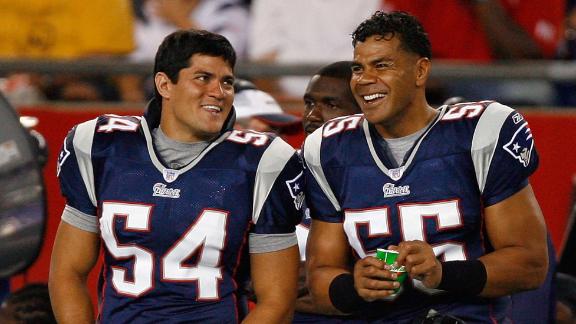 March, 11, 2013
Mar 11
6:40
PM ET
The "Madden NFL 25" cover vote
is now on in SportsNation.
This year, there is a new-school and old-school competition.
In the new-school vote, there are some tough assignments for some AFC West players.
San Diego's
Antonio Gates
is a No. 16 seed. He goes against top seed
Colin Kaepernick
of San Francisco. Oakland's
Carson Palmer
is a No. 15 seed and he is facing No. 2 seed, NFL MVP
Adrian Peterson
. Denver's
Von Miller
is a No. 6 seed, but he faces the popular
Victor Cruz
of the Giants, a No. 11 seed. Kansas City's
Jamaal Charles
is a No. 6 seed and he is facing
Darrelle Revis
of the Jets, a No. 11 seed.
In the old-school vote, this one will upset some folks. Marcus Allen is representing the Chiefs and not the Raiders. The Hall of Fame running back played 11 years for the Raiders and five years for the Chiefs. He is a No. 6 seed and faces No. 11 Tedy Bruschi of the Patriots.
Oakland's Tim Brown is a No. 6 seed and he faces Chad Johnson of the Bengals. Denver's Terrell Davis is a No. 10 seed and faces Buffalo's Jim Kelly, a No. 7 seed. San Diego's LaDainian Tomlinson is a No. 10 seed and he faces Randall Cunningham of the Eagles.
April, 29, 2012
4/29/12
9:00
AM ET
ESPN's Tedy Bruschi brought up a good point during the NFL draft on Saturday.
Bruschi said we shouldn't expect
Peyton Manning
to be a mentor to
Brock Osweiler
right away. Denver signed Manning in March and drafted Osweiler with the No. 57 pick.
Manning

Osweiler
One of the benefits of drafting Osweiler is that he can sit and learn from Manning for the next three years or so without having to play. But Bruschi said Manning shouldn't play the mentor role to Osweiler because he has more pressing concerns. Manning's chief priority will be to learn the offense and win games in Denver. Mentoring a young quarterback will not and shouldn't be high on Manning's to-do list, Bruschi said.
I agree.
Manning is in Denver to win, not baby-sit.
However, I think the Manning-Osweiler relationship can grow and Osweiler can learn from Manning without Manning putting too much effort in it or making Osweiler's development a priority.
Osweiler can learn from Manning from simply watching him. During an interview with ESPN on Saturday, Osweiler said he is planning on buying a huge notebook. He wants to jot down Manning's every move. That's perfect.
Just by being Peyton Manning, Manning can help Osweiler grow.
August, 29, 2011
8/29/11
10:00
AM ET
The Denver Broncos' decision during training camp to make star left cornerback
Champ Bailey
the nickel cornerback is getting rave reviews.
On "SportsCenter" recently, former New England linebacker
Tedy Bruschi
said he loves the move. He said he believes Bailey is physical and intelligent enough to star in the area. Often the nickel back blitzes, so Bailey will get some chances for sacks. That shouldn't be a problem. Bailey has long excelled against the run and he prides himself as being one of the NFL's best tackling cornerbacks.
As part of their new aggressive style of play in Denver under coach John Fox and defensive coordinator Dennis Allen, the likely future hall of fame cornerback is undergoing the change at the age of 33, months after he signed a four-year contract extension to stay in Denver.
In many NFL cities, the nickel cornerback is a young, up-and-coming player. Bailey is a 10-time Pro Bowl player. Bailey is not the only star cornerback to play nickel. It's working out pretty well for
Charles Woodson
in Green Bay. Bailey will still play left cornerback on first down and on running downs
Matt Williamson of Scouts Inc. thinks Bailey can have similar success as Woodson as the nickel.
"I do think Bailey can handle it," Williamson said. "When Denver signed Bailey, I said it made sense because I see him eventually moving to a deep center-field type safety role in time."