September, 4, 2013
9/04/13
8:30
PM ET
It was 236 days ago when
Joe Flacco
threw that fateful, 70-yard touchdown pass to
Jacoby Jones
, leading the
Baltimore Ravens
to a double-overtime playoff win at the
Denver Broncos
. The Ravens went on to win the Super Bowl, and the Broncos were left to think of what might have been. Flacco and the Ravens return to Denver's Sports Authority Stadium on Thursday night to kick off the 2013 season in a rematch of two of the top teams in the AFC.
The stakes are different, and so are the teams. Gone are
Ray Lewis
,
Ed Reed
and
Anquan Boldin
from the Ravens. Baltimore is expected to have 10 different starters from the team that hoisted up the Lombardi trophy, and that doesn't include former Broncos defensive standout
Elvis Dumervil
, who is expected to play in passing situations.
The Broncos won't have Dumervil or
Von Miller
, who has been suspended for six games, rushing after Flacco this time. But
Peyton Manning
is back, along with the addition of
Wes Welker
to an already dangerous wide receiver group.
Broncos team reporter Jeff Legwold and Ravens team reporter Jamison Hensley discuss whether the opener will be a repeat of that memorable AFC divisional playoff game.
Hensley
: Much has been made of the 50-foot Flacco banner hanging at the Broncos' stadium. Flacco has embraced the hate, saying it's not a bad thing for opposing fans to dislike you. The Ravens' focus, as it has been all offseason, has been to move forward. It's the start of a different era in many ways for the Ravens in their first game without Lewis and Reed. But it's easier to move forward when you're the ones sitting on top of the football world. How much will the "revenge factor" play into this game for the Broncos?
Legwold
: Broncos coach John Fox, much like John Harbaugh with his "What's Important Now" mantra to leave the championship season behind, has tried to leave the past in the past. But questions about the kneel-down in the waning seconds despite Manning at quarterback and two timeouts in hand, as well as a third-and-7 running play late in the game, have trailed him all through the offseason. A lot of the Broncos players are willing to say memories of the playoff loss pushed them through the tedium of May and June. But over the past two weeks, they've stuck to the script -- that it's a new year, a new team -- but deep down they all know they let a potential Super Bowl trip, home-field advantage and a seven-point lead with less than a minute to play get away. And Dumervil's departure does add a little spice as well. How has Dumervil fit in and what kind of year do you think he'll have?
Hensley
:
Terrell Suggs
has talked about Dumervil having the right mentality to play for the Ravens, and Harbaugh commented how Dumervil is already taking a leadership role. He really is a perfect fit for the Ravens on the field, too, where they have never had an elite pass-rusher to pair with Suggs. Over the past six seasons, Suggs has had only one teammate record more than seven sacks in a season. And being a pass-rusher is Dumervil's primary role. The Ravens will use
Courtney Upshaw
on early downs to set the edge against the run, which should keep Dumervil's legs fresh in pass-rushing situations. The Ravens have a familiarity with Dumervil because inside linebackers coach Don Martindale was Denver's defensive coordinator in 2010 and was Dumervil's position coach in 2009, when the linebacker-end led the NFL with 17 sacks. Baltimore is catching a break Thursday night with Dumervil now wearing purple and Miller serving his suspension. How are the Broncos going to generate a pass rush on Flacco?
[+] Enlarge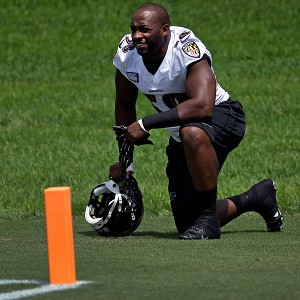 AP Photo/Patrick SemanskyPass-rusher Elvis Dumervil was one of the Ravens' high-profile offseason acquisitions, and has become a leader on the field and off for Baltimore.
Legwold
: That is the $380,687.50 question, which is how much of Miller's base salary he'll surrender during the six-game suspension. But without Miller (18.5 sacks in '12) and Dumervil (11.0 last season), the Broncos will mix and match on a variety of down-and-distances.
Derek Wolfe
is a key player, because of his ability to play inside and outside along the defensive line and still create matchup problems. Jack Del Rio believes Wolfe is ready to take an enormous step in his development, and among the defensive linemen only Dumervil played more snaps up front than Wolfe did as a rookie last year. The Broncos will ask
Shaun Phillips
, who they think has plenty left to give after 9.5 sacks for the struggling Chargers last season, to be a spot rusher. And
Robert Ayers
, who was a first-round pick in 2009, has always said he could put up the sack numbers if given the chance. He's played through four different coordinators -- Del Rio is his first to be on the job for two consecutive seasons -- but has just 6.5 career sacks. Now is his time. On Flacco, how has he dealt with all that comes with a Lombardi trophy and a nine-digit contract?
Hensley
: The money and increased notoriety haven't really affected Flacco. If anything, he's become more vocal. There was a playful trash-talking exchange during training camp between Flacco and Suggs, who told his quarterback that the defense's "swag is on a thousand million." Flacco responded: "Then what's my swag at? I get paid more than you. A lot more!" What has really changed is the wide receiver group around Flacco. This unfamiliarity led to four interceptions in six quarters of work this preseason. His top two receivers from a year ago won't be there Thursday. Boldin was traded to San Francisco, and tight end
Dennis Pitta
is out indefinitely with a dislocated hip. They accounted for 36 receptions in the postseason, which was nearly half of Flacco's completions. That being said, it was
Torrey Smith
and Jones who did the most damage in the playoff game in Denver. The Ravens are hoping wide receiver
Brandon Stokley
can move the chains on third downs and tight end
Ed Dickson
(hamstring) can contribute in the season opener. There has to be more confidence in the Broncos' passing attack with Manning and his bunch of talented receivers.
Legwold
: There is plenty of confidence in what the potential can be with Welker in the mix. The Broncos loved Stokley as a slot receiver, but Welker is younger and offers a bigger upside in terms of production. Welker will also have the best receivers to his outside shoulders in
Eric Decker
and
Demaryius Thomas
, the best combo he's had since the Patriots decided they didn't want
Randy Moss
around any longer. The 229-pound Thomas and the 214-pound Decker make the Broncos a tough matchup for any secondary. In the preseason, teams simply backed off into coverage and took their chances they could allow the catch and make the tackle before too much damage was done. The pace, especially at altitude, is a little something new as well. The Broncos ran 49 plays, excluding penalties, in the first half alone against the Rams in the preseason. They won't always go that fast, but if they get the look they want from a defense, they'll put the pedal to the floor and not allow a substitution. The key issue will be protection: Left tackle
Ryan Clady
missed plenty of the preseason after offseason surgery, and Denver has surrendered pressure in the middle of the field at times. The three-wide look is what the Broncos want their base formation to be on offense, but they can't do it if they can't protect Manning. It has to be a strange thing for a Baltimore defense that has been the franchise's signature for so long to have so many changes.
Hensley
: There were a lot of changes to the Ravens' defense, but there were necessary changes. The Ravens weren't a top-10 defense for the first time since 2002. This defense had slumped to No. 17 in the NFL. It's never easy to part ways with the likes of Lewis and Reed. But the Ravens aren't replacing two Hall of Fame players in their prime. Baltimore had to replace two aging players who weren't the same playmakers from a few years ago. The additions of Dumervil, defensive lineman
Chris Canty
, linebacker
Daryl Smith
and safety
Michael Huff
have made this a stronger and more athletic defense. The Ravens' defense is going to be significantly better in two areas: stopping the run and pressuring the quarterback. The biggest concern, especially when you're starting two new safeties, is the communication in the secondary. One mistake there and Manning will burn you for a touchdown. How is the Broncos' secondary holding up this summer?
Legwold
: The Broncos would feel better if Bailey felt better. Bailey did not practice Sunday or Monday because of a left foot injury he suffered in the preseason loss in Seattle and is still a major question mark for Thursday's game. Bailey has been on the field for practice, but has not participated in any of the drills. The end result means
Dominique Rodgers-Cromartie
would likely line up much of the time in Bailey's left cornerback spot. Rodgers-Cromartie is one of the more athletic sidekicks the Broncos have had for Bailey since Bailey arrived in 2004.
Chris Harris
and
Tony Carter
, the player who gave Jones a free release off the line of scrimmage on the game-tying bomb last January, will play in the nickel and dime as well. But overall the Broncos kept 11 defensive backs -- six corners, five safeties -- and can mix and match for almost every situation. They have flexibility and use it, so every defensive back in uniform Thursday night could see some action in the defense.
January, 11, 2013
1/11/13
10:00
AM ET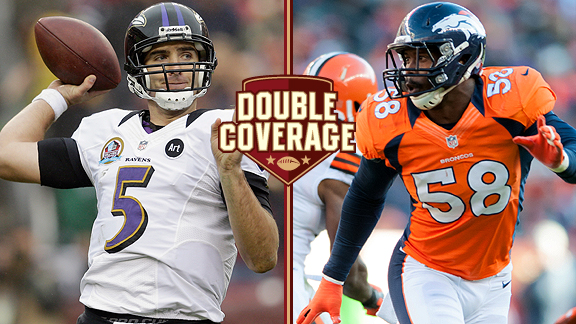 Getty ImagesThe Ravens must do a better job of protecting Joe Flacco, left, from Von Miller and the Broncos pass rush than they did during the team's meeting last month.
This feels like Double Coverage déjà vu. It was only four weeks ago when we were talking about these same two teams. If you don't remember, or you're a Ravens fan trying to forget, the Broncos rolled to a
34-17 win in Baltimore
.
Since that time, the Ravens regrouped with a 33-14 win over the Giants and delivered an emotionally charged 24-9 playoff win over the Colts in the wild-card round. Baltimore has now won at least one game in each of the past five postseasons.
The Broncos finished out the regular season with 11 straight wins to capture the top seed in the AFC. In the previous 42 seasons, there have been eight teams to enter the playoffs with an active win streak of at least 10 games, and half of them made the Super Bowl.
AFC West blogger Bill Williamson and AFC North blogger Jamison Hensley discuss whether Saturday's AFC divisional playoff game will be a repeat of the regular-season rout.
[+] Enlarge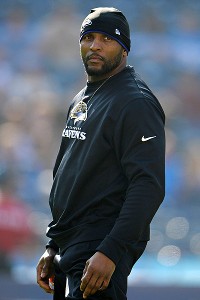 Kirby Lee/US PresswireTeam leader Ray Lewis was not in uniform for the regular-season meeting between the Ravens and Broncos, a 34-17 Denver win.
Hensley
: The Ravens are decided underdogs in this game, and they should be. Baltimore hardly looked like a playoff team in getting beat by 17 points by Denver last month, and
Peyton Manning
didn't even have a great game. The Ravens believe the outcome will be different because they're healthier. Middle linebacker
Ray Lewis
and the Ravens' top two tacklers (safety
Bernard Pollard
and linebacker
Dannell Ellerbe
) will play this time after missing the last game against the Broncos. The Ravens' best offensive lineman, guard
Marshal Yanda
, will also be back in the lineup. This, at least, gives the Ravens some hope.
Williamson
: There's no denying this: The
Denver Broncos
are confident going into this game. They should be. They are 13-3. They have won a league-high 11 straight games. They pounded the Ravens in Baltimore four weeks ago in their best overall game of the season. But be sure of this: Denver respects Baltimore. It is not overlooking this game because of a potential Manning-
Tom Brady
showdown in the AFC title game. The key to Denver's winning streak has been its focus on the upcoming game and its ability not to get ahead of itself. As Jamison said, the Ravens are healthier this week than they were in December, and the Broncos know it. They have spoken of that fact all week. This is a good approach for Denver. The Broncos feel good about themselves, but they are focused on the Ravens. Let's face it, the Broncos should win this game, but an upset is not out of the question. Jamison, what do you think are some keys to this matchup?
Hensley
: The biggest matchup is one the Ravens lost badly the first time. It's the Ravens' offensive line against the Broncos' pass rush.
Joe Flacco
was sacked three times, and he's not the same quarterback when he gets hit early. Pressure on Flacco often results in turnovers. It's kind of a running theme, but the Ravens hope it will be different this time because their line looks different. For the wild-card victory Sunday, the Ravens put
Bryant McKinnie
at left tackle, moved
Michael Oher
to right tackle and shifted
Kelechi Osemele
to left guard. McKinnie allowed one quarterback pressure against the Colts, and the Ravens gave up one sack. As you know, Bill, it's an entirely different challenge with
Von Miller
and the Broncos. What's the key matchup from the Broncos' standpoint?
Williamson
: I think it starts here. I don't know if the Ravens are going to have an answer for that. Sure, they did some line shuffling last week. But that is a sign of desperation. Denver's pass rush is top-notch. It was all over Flacco last month. It set the tone for the game. Expect Denver to bring the heat early. The Broncos are well coached, but there isn't a lot of mystery. They focus on what they do well, so don't expect any funny business. Denver knows it got to Flacco easily four weeks ago and it will try to do the same thing. Miller is one of the best pass-rushers alive. According to ESPN Stats & Information, Miller had 11.5 of his 18.5 sacks on third downs in 2012. It was the highest total in the NFL in 20 years. But Denver's pass rush is much more than the menacing Miller.
Elvis Dumervil
is a standout, and Denver gets great push from the defensive front. According to ESPN Stats & Information, the Denver defense has sacked or put the quarterback under duress on 28 percent of opponent dropbacks this season. It was the highest rate in the NFL. Against Baltimore, Denver put Flacco under duress 33 percent of the time. That is extremely taxing for an offensive line and quarterback. It is something Baltimore will have to account for.
[+] Enlarge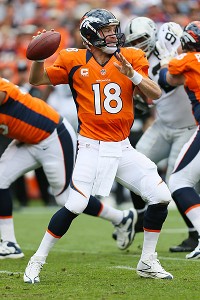 Rich Gabrielson/Icon SMIPeyton Manning has a less-than-stellar playoff record, having gone 9-10 in postseason games.
Hensley
: Bill, there's no doubt the Ravens have to keep the pressure off Flacco. Baltimore's pass rush, which had its moments against
Andrew Luck
last Sunday, has been hampered by
Terrell Suggs
. Injuries to his Achilles and biceps this season have kept him from looking like the reigning NFL Defensive Player of the Year. Suggs has only two sacks this season and made one tackle against Denver.
Paul Kruger
has been the Ravens' best pass-rusher this season. He had a career-high nine sacks in the regular season and added 2.5 more in the playoff game. But the biggest pressure on Manning might not involve Suggs or Kruger. Since he won the Super Bowl, Manning has been one-and-done in three of his past four postseasons. Manning has had a reputation of faltering in the playoffs. Now, with the Broncos being the top seed and Manning being an MVP candidate, all of the pressure is on No. 18. Bill, do you see that being a factor?
Williamson
: The guy has been so spectacular all season, I don't see a lot of pressure. I mean, this is a 36-year-old man who missed all of the 2011 season because he had four neck surgeries. His recovery was the story of the NFL offseason. He responded with one of his best NFL seasons in a new setting and he is a top MVP candidate. I think the pressure is off. Now, it's true that he has not been great in the postseason. He is 9-10 in his career. If Denver loses Saturday, it will certainly be a major storyline. But I don't think there is a lot of worry in Denver about Manning's playoff history. Maybe because everyone is so confident in how he fits with this team and the supporting cast around him. This is arguably the best team he's played on.
Hensley
: Well, Bill, I'm not breaking new ground by saying this isn't the best defense Lewis has played on. No one will be making any comparisons to the 2000 record-setting defense, but the 2012 defense is better than what people think. The Ravens were the second-best red zone defense in the NFL this year and stopped the Colts on all three trips inside the 20-yard line last Sunday. Over the final six games, Baltimore allowed the NFL's fourth-fewest yards per game. But the best defense against Manning might be the weather. Bill, do I need to bring my snow shovel?
Williamson
: You might want to pack an ice scraper, but nothing too serious. The forecast calls for a chance of snow. I think the biggest issue will be the cold. That could help the defense. Interesting that you mention the Ravens' defensive success in the red zone. There have been times when Denver's offense has stalled in the red zone. For Baltimore to win this game, it needs to hold Denver to three points more often than not and create big plays on defense. I don't think it is out of the question that Baltimore wins this game, but the truth is that Denver is balanced and rolling. The Broncos will need to make an unusual amount of mistakes and the Ravens will have to cash in every time. I'm not sure if that will happen. I think this game will be closer than the last meeting, but I still give Denver the edge.
December, 16, 2012
12/16/12
11:41
AM ET
BALTIMORE -- His duties and the tone of the home crowd will be different for John Elway in just his second trip to Baltimore in an NFL capacity on Sunday.
Elway is the executive vice president of football operations for the 10-3
Denver Broncos
as they head into a pivotal AFC game against the Ravens on Sunday. I'm sure the home crowd isn't too overly concerned about Elway's presence Sunday.
That wasn't the case the last time Elway was in Baltimore early in his rookie season in 1983 as the quarterback of the Broncos. The opponent was then the Baltimore Colts and Elway was Public Enemy No. 1 in Charm City.
Elway famously spurned the Colts when he was drafted with the No. 1 pick and essentially forced their hand into trading him. The Broncos won the race to trade for Elway (Al Davis and the Raiders were in hot pursuit as well). As expected, it wasn't a pleasant day for day Elway as Baltimore fans heartily booed him.
Nearly 30 years have passed. The Colts are gone, as is much of the anti-Elway sentiment in Baltimore. Of course, few Baltimore faithful will be rooting for Elway to be successful in his role as an executive.
-- Meanwhile, the Ravens will have linebacker
Terrell Suggs
, who has been battling a biceps injury, playing against Denver. Suggs' presence will be especially important since the team will still be without linebacker and inspirational leader
Ray Lewis
. The team had hoped to activate Lewis this week, but he'll have to wait another week.
It is overcast in Baltimore. However, the forecast for rain doesn't call for it to start until after the game.
December, 14, 2012
12/14/12
5:30
PM ET
The
San Diego Chargers
,
whose already faint playoff hopes took a hit Thursday night when the Bengals beat the Eagles,
got some good news when rookie left tackle
Mike Harris
was listed as probable.
That means the Chargers will play Sunday against Carolina likely with just two starting offensive linemen out. Right tackle
Jeromey Clary
(knee) and guard
Tyronne Green
(hamstring) are listed as doubtful to play Sunday. Harris, Clary and Green all missed last week's win at Pittsburgh.
Rex Hadnot
will play for Green and
Kevin Haslam
will play for Clary.
Linebackers
Donald Butler
(groin) and running back
Ronnie Brown
(hamstring) are listed as doubtful and linebacker
Demorrio Williams
(ankle) is out for Sunday's game.
In other AFC West news:
Denver guard
Chris Kuper
(ankle) and linebacker
Wesley Woodyard
(ankle) are listed as questionable to play at Baltimore on Sunday. Both players missed last week's game at Denver and both were limited all week in practice.
Kansas City offensive linemen
Ryan Lilja
(knee) and
Branden Albert
(back) are questionable and safety
Abram Elam
(quad) is doubtful to play at Oakland on Sunday.
For Oakland, safety
Tyvon Branch
(neck) and defensive tackle
Richard Seymour
(hamstring) were limited Friday and both are listed as questionable to play Sunday. They will be game-time decisions.
ESPN.com columnist Ashley Fox makes the case
for Denver linebacker
Von Miller
winning the NFL Defensive Player of the Year award.
Baltimore linebacker
Terrell Suggs
will be a game-time decision on whether he will play against Denver on Sunday with a biceps injury.
The forecast for Baltimore for Sunday's critical AFC game between the Broncos and the Ravens is for rain. Thus, the running games for each team will be paramount. That could give an edge to the home team.
In an Insider piece,
Chris Sprow looks at possible free agents in 2013.

Oakland's home game against Kansas City has been ruled a sellout and it will be shown on local television. It is Oakland's last home game of the season.
May, 3, 2012
5/03/12
1:35
PM ET
New Oakland head coach Dennis Allen
told the Bay Area News Group
that if the Raiders use a 3-4 defense that
Tommy Kelly
would be the nose tackle. Allen has yet to commit to a base defense and he has said Oakland will use multiple fronts.

There have been indications that the 4-3 defense will be the team's base, but I do expect some 3-4 looks.
Matt Williamson of Scouts Inc. thinks Oakland should use multiple looks and he thinks Kelly could fill the nose tackle role in some instances.
"I think it would be foolish for Oakland not to be multiple and I am sure they know that is the plan," Williamson said. "With defensive linemen like
Lamarr Houston
and, especially,
Richard Seymour
and Kelly, they have a lot of versatility where they line up up front. … Looking over the roster, the Raiders do lack a true plugger early down nose tackle. Kelly would fit that mold best."
In other AFC West news:
Former Chiefs and Chargers coach Marty Schottenheimer
mourns the death
of Junior Seau.
New Denver quarterback
Peyton Manning
hit the field with his new teammates and coaches
for the first time.
Bill Barnwell thinks the Raiders and Chargers are among the teams still
with a glaring hole.
Baltimore star pass-rusher
Terrell Suggs
could miss the entire season with a torn Achilles. The Ravens play the AFC West this season.
February, 23, 2012
2/23/12
7:00
PM ET
INDIANAPOLIS -- The
Peyton Manning
-to-Kansas City rumors have taken the next step.
Kansas City radio personality Bob Fescoe tweeted
that he has heard that Manning's agent and the Chiefs have already talked twice and signing Manning is a good financial fit for the Chiefs.
Here we go.
My thoughts?
Well, first, the league has tampering rules, so if Manning's agent has talked to the Chiefs, that will get the Chiefs in trouble. Plus, I'm not sure the Chiefs -- or any team -- would talk about any about a contract until a team can take a look at Manning's physical state. He has yet to be cut by the Colts, so the Chiefs cannot get a look at Manning's neck.
However, I do think the Chiefs and Manning would be a good financial fit and there are plenty of football reasons why it is a good fit. So, I think he should stay tuned.
But it is impossible to think this potential pairing is close to being a reality.
In other AFC West news:
January, 4, 2012
1/04/12
4:30
PM ET
Pittsburgh quarterback
Ben Roethlisberger
said he suffered
"a little setback"
in his recovery from an ankle injury when he played against Cleveland on Sunday.
"I had a little setback early in the third quarter," Roethlisberger told reporters in Pittsburgh on Wednesday. "We're working really hard with the trainers and doctors to get back to even where we were before the Cleveland game. I felt pretty good going in and moved a little bit at the beginning of that game. It's a little setback but we'll get moving."
Roethlisberger and the Steelers play at Denver in a wild-card game Sunday. The 12-4 Steelers are heavy favorites against the 8-8 Broncos, who have lost three straight games. Yet, the Steelers are already playing without running back
Rashard Mendenhall
and safety
Ryan Clark
. With Roethlisberger still gimpy, perhaps the home team has some hope.
There's no doubt Roethlisberger's play has been affected by the injury. Since the injury he has completed 56 of 96 passes (58.3 percent) for 729 yards. He has thrown one touchdown and four interceptions for a 68.4 passer rating.
In other AFC West news:
January, 5, 2011
1/05/11
4:00
PM ET
I caught up with Matt Williamson of Scouts Inc. to address the
Kansas City Chiefs
' matchup against Baltimore in a wild-card game Sunday.
Williamson thinks the key will be to stop Baltimore defensive linemen
Terrell Suggs
and
Haloti Ngata
. The Chiefs' offensive line is coming off its worst game of the season. Quarterback
Matt Cassel
was sacked seven times and was on the run nearly every play against Oakland in a 31-10 Raiders win.
Still, Williams thinks the Chiefs have a chance Sunday:
"I think Kansas City left tackle Branden Albert is their best lineman and he has to deal with Suggs, who is much more than just a good pass-rusher. He's really good against the run and he's just a tremendous player. Kansas City also has to deal with Ngata. This is more than a nose tackle -- he moves all over the line. Kansas City has to be ready for it.

In some ways, Oakland's defensive front is like Baltimore's because they have guys who move around. So, the Chiefs have to use the tape as a learning lesson. It has to improve there.

But this Baltimore defense isn't as good as many people think. They are old and they get tired. If the Chiefs can stick with their running, it could really pay off in the second half. I think the Ravens should win, but the Chiefs have a chance. I don't think the Ravens will dominate them."
November, 6, 2009
11/06/09
4:00
PM ET
»
NFC Final Word
:
East
|
West
|
North
|
South
»
AFC
:
East
|
West
|
North
|
South
Posted by ESPN.com's Bill Williamson
Five nuggets of knowledge about Week 9.
| | |
| --- | --- |
| | |
| | Kyle Terada/US Presswire |
| | Philip Rivers goes head to head with Eli Manning on Sunday. |
Rivers-Manning I:
When does a San Diego crowd treat an opposing quarterback worse than a New York crowd would? When he spurns them. There is little chance Chargers quarterback
Philip Rivers
will be booed Sunday like Giants quarterback
Eli Manning
was booed when he played in San Diego in 2005. Rivers will likely just get the usual treatment an opposing star gets from Giants fans. New York doesn't hold anything against Rivers. It was Manning's reluctance to play in San Diego that spurred the draft-day trade in 2004 that sent Manning to New York and Rivers to San Diego. Manning was the No. 1 overall pick and Rivers was the No.4 pick. Manning has been a public enemy in San Diego since, while Rivers has grown into the face of the franchise. This will be the first time in the NFL these two players started against each other.
Run Jamaal, run:
The Chiefs are just looking for a reason to lessen
Larry Johnson
's load.
Jamaal Charles
could be the reason. Charles will likely get several carries Sunday in Jacksonville while Johnson sits out during a one-game team suspension. Charles played well in the Chiefs' last game, Oct. 25 against San Diego. The second-year player is a speedster who is intriguing. With Johnson's situation tenuous, Charles could increase his work load the rest of the season with a good performance Sunday.
Can Chargers benefit from the curse of Antonio Pierce?
Ever since Pierce blasted the Raiders, the Giants have been awful. Call it the Curse of Pierce. The Chargers are hoping it lasts another week. The Giants have lost three straight games, twice by more than 20 points, since beating Oakland 44-7. After that game, Pierce said playing the Raiders was like playing a "scrimmage," and he was amazed by how listless Oakland's players were. The words offended several Oakland players and the Giants haven't won since.
Tough test for Denver tackle:
Denver right tackle
Tyler Polumbus
will make his first start Monday night against Pittsburgh. His first challenge:
LaMarr Woodley
, who had 11.5 sacks last season. Polumbus probably also will see some of reigning NFL defensive player of the year
James Harrison
. Good luck, kid. Polumbus got a taste of life in the NFL last week when he subbed for the injured
Ryan Harris
. Polumbus had to deal with Baltimore's
Terrell Suggs
, and did decently. Polumbus could be in the lineup for three weeks.
Tough stretch for San Diego begins:
The Chargers got back on the winning track with wins over lackluster Kansas City and Oakland teams to improve to 4-3. Now, life gets a little tougher as the Chargers start a stretch in which they play at New York, host Philadelphia and then at Denver. If the Chargers are going to get back in the AFC West race (Denver leads San Diego by two games), they will have to play well during this stretch.
February, 19, 2009
2/19/09
1:39
PM ET
Posted by ESPN.com's Bill Williamson

Stay tuned Thursday for movement on the Nnamdi Asomugha situation in Oakland. There were some strong indications Wednesday night and early Thursday that a long-term deal between the shutdown cornerback and the Raiders could be done at any time.
This would be huge news for the Raiders.
The Denver Post is reporting linebacker Boss Bailey may not be salary-cap causality. With five defensive starters already jettisoned and with more than $25 million in cap room freed up, Denver certainly doesn't need to create any more cap space.
New Kansas City coach Todd Haley said he hasn't named exact positions for several new assistant coaches because he hasn't figured it all out yet.
The Oakland Tribune is reporting that receiver Ronald Curry has been informed he will be cut.
The Chargers are hoping to secure LaDainian Tomlinson, Philip Rivers and Antonio Gates this offseason. Keeping his own has long been a mantra of San Diego general manager A.J. Smith.
The Ravens' decision to put the franchise tag on linebacker Terrell Suggs could affect both Denver's and Kansas City's plans. Both teams have plenty of cap room and both teams could have used a pass-rusher like Suggs.
The Chargers may be quietly bummed that the Raiders re-signed punter Shane Lechler. Many in San Diego believe their punter, Mike Scifres, is the best punter in the AFC but he keeps getting bypassed in favor of Lechler for the Pro Bowl. Some in the San Diego organization may have been hoping Lechler would go to an NFC team which would open a spot on the Pro Bowl roster for Scifres. My take on that one: Both Lechler and Scifres are the real deal.
Former Oakland wide receiver Tim Brown will coach the receivers in an alumni game featuring Notre Dame players in Tokyo this July.