June, 7, 2014
6/07/14
11:05
AM ET
SAN DIEGO – Upon his arrival at Chargers Park, rookie receiver
Tevin Reese
was greeted with something he'd never had to deal with in his football playing career – a phone-book thick playbook.
At Baylor, the speedy receiver did not use a playbook under head coach Art Briles. Instead, Briles and his assistants taught his team's up-tempo offense through a lot of repetitions on the field and film study on an iPad.
It worked, with Baylor averaging a Football Bowl Subdivision-best 52.4 points per game in 2013.
[+] Enlarge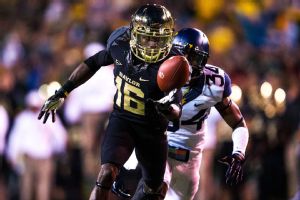 Jerome Miron/USA TODAY SportsTevin Reese set a Baylor record with 21 career touchdowns of 40-plus yards.
Although a little daunting at first, Reese says he's slowly getting comfortable in San Diego's complex offense.
"The first couple weeks was probably just out of this world, with all of these plays coming at me at one time," Reese said. "I never had a playbook my whole life. But just studying the playbook and being around the vets, they are teaching me the ropes. I'm starting to get it, and it's becoming second nature."
Helping in that transition for Reese has been another young receiver, second-year pro
Keenan Allen
.
"I try to make him feel as comfortable as possible," Allen said. "I know that was my problem when I came in, I wasn't as comfortable as I wanted to be. So you tend to make mistakes, you tend to think too much. So I just try to calm him down, make sure they're playing their game and they feel comfortable."
What Reese brings to San Diego's offense is explosiveness. Reese set a school record and led the NCAA with 21 career touchdowns of 40-plus yards.
Reese said he patterns his game after another explosive playmaker in the NFL – electrifying return man
Ted Ginn
Jr.
Reese has not worked on the field as a returner since high school. But like riding a bike, Reese says he's more comfortable catching returns in practice.
At 5-foot-9 and 165 pounds, Reese also knows he has to put on more weight in order to handle the pounding he will take in the NFL. However, Reese does not shy away from contact. He was a 140-pound tight end in high school, using cut blocks to take down defensive ends and linebackers in the run game.
"I've always been small my whole life, and I've found a way to make it work," Reese said. "And I'm still going to do that in the NFL.
"You can't tackle what you can't catch, and that's what I live by."
One thing Reese will have to do is consistently beat press coverage – with bigger cornerbacks attempting to negate his speed by slowing him down at the line of scrimmage. But the confident Reese believes he can win those one-on-one battles with proper technique.
"Beating press isn't all about being big and strong – a lot of technique comes into play," he said. "So if you have great technique, you can't beat anybody at press off the line. So once I beat the press, it's kind of hard to catch up to me."
Reese said he saw a lot of press at Baylor, and was able to beat press coverage with shiftiness, technique and speed.
"He's amazingly fast," Allen said. "He can go. To see him run is amazing, and when he catches the ball, he's gone. He's a great pickup."
June, 4, 2014
6/04/14
1:00
PM ET
SAN DIEGO -- I wanted to share leftover notes from the only open session for the
San Diego Chargers
' organized team activities this week.
The Chargers have another OTA practice closed to reporters Wednesday but will open things up to the media again Monday.
Oliver impresses:
Undrafted rookie free-agent running back
Branden Oliver
caught my eye again Monday. The University of Buffalo product does not have elite top-end speed, running a 4.56-second, 40-yard time at his pro day. But he consistently showed good vision and quickness through the hole during 11-on-11 drills, with the ability to make defenders miss. Again, take this with a grain of salt because guys do not have pads on and no one is tackling anybody. But Oliver looks like he belongs so far running with the second and third units.
Depth at defensive end:
The Chargers have a pretty good defensive end combination with
Corey Liuget
and
Kendall Reyes
but not much depth behind those two.
Lawrence Guy
provided good minutes and had an impact as a spot guy last year.
Sean Lissemore
can slide out from nose guard and play defensive end. The Chargers also are hopeful
Damik Scafe
can stay healthy and play to his potential. The Boston College product had chance to make the final roster last season but suffered a foot injury and was released with an injury settlement. The Chargers brought Scafe back on the practice squad at the end of last season and signed him to a futures contract in January. Undrafted rookie free agent
Tenny Palepoi
also has shown flashes at times during practice.
Open competition at returner:
San Diego has a lot of bodies competing for punt return duties so far during offseason work. Rookie receivers
Brelan Chancellor
,
Javontee Herndon
and
Tevin Reese
, along with veterans
Eddie Royal
and
Keenan Allen
, caught punts during the specialty period. I wouldn't rule out Royal or Allen handling punt return duties come September. Royal started 2013 as San Diego's main punt returner but yielded to Allen during the second half of the season due to a nagging toe injury. And Allen has said that he'd like to return punts again, although San Diego coach
Mike McCoy
might not like the idea of his No. 1 receiver fielding punts for a second straight year.
Competition at punter:
A player to keep an eye on is undrafted rookie free-agent punter
Chase Tenpenny
, whose presence is viewed as a move to save veteran punter
Mike Scifres
' leg during the offseason. At 6-foot-3 and 252 pounds, the Nevada product looks more like a defensive end than a punter. Tenpenny, a left-footed punter, averaged 44 yards a boot at Nevada and finished with 30 punts out of 100 attempts downed inside the 20-yard line. Scifres had a solid 2013 season. He was among the best punters in the NFL in placing the ball inside the 20-yard line, finishing with a league-best 30 of 56 punts inside the 20. He can also kick field goals in a pinch. But Scifres turns 34 in October and is set to earn the second-highest salary among punters for the upcoming season at $3.25 million. Competition at the position could have Scifres thinking about taking a pay cut.