AFC West:

Thomas Dimitroff
February, 25, 2014
Feb 25
2:10
PM ET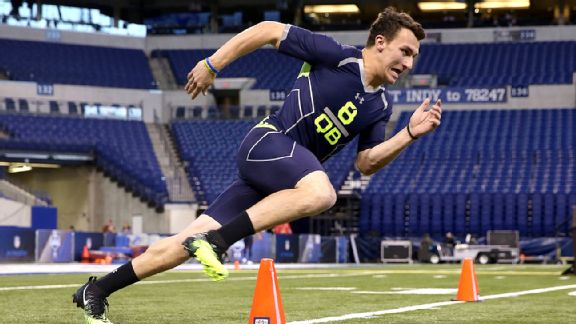 AP Photo/Ben LiebenbergWhile the combine has evolved into a big event, it remains just a piece of the puzzle for NFL teams.
INDIANAPOLIS -- Back before there were signs at an airport that is no longer used, before it was broadcast live and before it was one of the most publicly dissected parts of an NFL offseason, the scouting combine was simply a no-frills piece of the draft puzzle, conducted in the peace and quiet of relative anonymity.
"The first one I was at was the second one at Arizona State -- obviously held outdoors,"
New England Patriots
coach Bill Belichick recalled this week. "One of the days ended, not in total darkness, but certainly past dusk. I still have the image of Refrigerator [William] Perry doing the vertical jump out there ... in the middle of the Arizona State field, in almost total darkness."
And now that the combine has exploded into a live broadcast where runs and jumps are on-the-scroll news in a 24/7 cycle, the combine is still a piece of the draft puzzle for those who make the decisions around the league. Just a piece of the puzzle, likely no bigger than it used to be, even though so much of the results are now a big part of the public discourse on the draft.
"It is a tool," Broncos executive vice president of football operations/general manager John Elway said. "It's useful to have all of these players in one place to see them, meet them, talk to them. But overall, it's just part of the big picture. Decisions are made by the work the scouts have done all year getting to know these guys, on the road and by what they've done on the field. ... The combine is one of the things you consider."
So, as
Jadeveon Clowney
,
Michael Sam
and
Johnny Manziel
had their workouts beamed coast to coast, there is a perception that a prospect's draft status can undergo a substantial improvement or decline after what happens in Lucas Oil Stadium. Especially as combine ratings soar and apparel companies such as Under Armour work to outfit the prospects and Adidas drops $100,000 on Oregon State wide receiver
Brandin Cooks
for his 40-yard dash time posted in its shoes.
But the swing after the combine is far less drastic inside most NFL teams' draft meetings.
"It's up to us to rely on all of the information that we've gotten over the last 12, 13, 14 months,''
Atlanta Falcons
general manager Thomas Dimitroff said. "If you trust your system and if you trust your scouting staff and you trust basically your budget and everything that you've put into your scouting process, then you shouldn't be swayed by all of the other noise out there or the projections or the prognostications."
The irony in all of the interest in the combine? For the teams, the most important parts of the annual event are still the ones that remain unseen to the outside world: the medical exam and the face-to-face interviews prospects have with team officials.
Of all the things that happen at the combine, the medical exam is likely the most important. Medical staffs from every team get the opportunity to examine all of the prospects invited to the combine, and every prospect is put through a full battery of X-rays.
Any players with previous injuries or injuries/issues discovered during their medical exam at the combine are sent to a local hospital for more tests, including MRIs. Several scouts at the combine over the last week said Alabama tackle
Cyrus Kouandjio
may have had his draft status affected the most of any prospect at this year's combine, for example, when knee troubles were revealed.
Kouandjio acknowledged being sent for additional tests this past weekend, but said he had "no issues" with his knee.
"But the medical, that's probably where you get the most information you don't have about a guy," Broncos coach John Fox said. "You check their backgrounds and you can see what they've done on the field, that's on the film, but the medical is something you haven't seen until that point."
The face-to-face interviews, both in the form of formal, scheduled 15-minute blocks each night of the combine, or informal as coaches and prospects pass in the stadium concourses before and after the workouts, are also a chance for personnel executives, as well as coaches, to zero in on a few specific topics. They are able to ask prospects, face to face, about everything from an off-the-field arrest to explain specific plays from their seasons.
Some teams ask prospects, especially quarterbacks, to break down a play or explain what should happen in various situations. Teams record the interviews, as well, and review them later with some teams going as far as to have behavioral experts evaluate the video.
In the end, however, no matter how often 40-yard dash times are thrown into the public domain or vertical jumps mulled over, the games still mean the most. What happened on the field and the rest becomes added on to formally set the player's draft value. And even though their quiet, little gathering is anything but, the combine remains what it once was to those who will make the picks in May's draft.
"You have to take the best player,"
Philadelphia Eagles
general manager Howie Roseman said. "And you have to build your team for the long term and look at the draft as long-term decisions for your football team. That's how we want to build. Have a core group of players going forward that are together and in this together. That the names on the back of the jerseys will mean something, because obviously the name on the front of the jersey means something to all of us.''
September, 7, 2012
9/07/12
7:45
PM ET
Oakland receiver
Denarius Moore
(hamstring) practiced well Friday and he is expected to play Monday night against San Diego unless there is a setback. Oakland receiver
Jacoby Ford
(foot) is still not practicing and he very likely will not play Monday.
Meanwhile, San Diego running back
Ryan Mathews
remained limited. He is not expected to play Monday with a broken clavicle.
In other AFC West news:
Kansas City general manager Scott Pioli and Atlanta general manager Thomas Dimitroff talk about their long relationship
in a radio interview.
Their teams play each other Sunday.
San Diego tight end
Antonio Gates
talks about the sense of urgency for the team
in a radio interview.
The Redskins
are meeting
with tight end
Chris Cooley
next week. There has been some talk the Raiders (who could use a veteran tight end) could look into Cooley. But, clearly, he is going to wait and see what happens with the Redskins before even thinking about another team if there is, indeed, interest.
Pittsburgh star linebacker
James Harrison
is listed as questionable to play Sunday night at Denver because of a lingering knee injury. There is a report that says he won't play. Denver coach John Fox is taking a wait-and-see approach on Harrison's availability.
"We'll kind of wait and see when the thing comes out officially and we'll make that judgment then," Fox said Friday. "We're prepared for whoever they line up at outside backer to his side and we'll go from there."
ESPNW has a look
at the off-field passion of Oakland fullback
Marcel Reece
.
March, 22, 2010
3/22/10
6:20
PM ET
Did Atlanta general manager Thomas Dimitroff tip off the Chiefs' plan with their No. 5 draft pick in an
interview with Sports Illustrated?
Dimitroff relayed a conversation he had with Kansas City general manager Scott Pioli. The two worked together in New England. Here is what Dimitroff told Pioli about Tennessee safety Eric Berry:
"I was talking to Scott Pioli about Berry, and I said, 'Scott, this guy's your pick.' And he said, 'You know how I feel about safeties that early.'''
This doesn't necessarily mean the Chiefs won't take Berry if he's available at No. 5. Many observers believe the top choices for Kansas City are Berry and Oklahoma State left tackle Russell Okung.
However, it suggests Pioli subscribes to the age-old theory that safeties are not worth a top pick. Or Pioli, a very smart guy, could be sending out false information.
I'd hope the Chiefs are open to picking a safety early in the draft. Avoiding safeties early is an outdated thought and recently, dominant safeties such as Ed Reed in Baltimore, Troy Polamalu in Pittsburgh and Bob Sanders in Indianapolis transformed entire defenses. Tell Polamalu that safeties aren't important.
Berry is the top safety prospect in several years. He can change a defense and I think he'd be well worth the No. 5 pick. Only time will tell if Pioli agrees.
January, 14, 2009
1/14/09
6:25
PM ET
Posted by ESPN.com's Bill Williamson

Oklahoma quarterback Sam Bradford's decision to return to school for another year could affect Kansas City's draft plans.
The Chiefs will likely consider taking a quarterback with their top pick. Kansas City has the No. 3 pick. The Chiefs have greater needs on defense but new general manager Scott Pioli could be enticed to kick things off in Kansas City by taking a franchise-type quarterback rather than trying to develop current quarterback Tyler Thigpen.
Pioli's former New England colleague, Thomas Dimitroff, took Matt Ryan with the No. 3 pick in 2008 in his first draft in Atlanta, and that looks like a genius move after one season. That cannot be lost on Pioli as he strikes out on his own.
With Bradford out of the mix, it could be difficult to take a quarterback at No. 3. Georgia's Matthew Stafford will likely be a top pick. But Detroit, which has the No.1 overall pick, will also likely be in the market for a signal-caller. If the Lions were to take Stafford, there may not be a quarterback worth taking at No. 3.
USC's Mark Sanchez is reportedly planning to declare for the draft and if he has a good workout season, he could rise through the ranks to become a top-three pick. But there are no guarantees.
There will be a lot of developments that affect the draft board in the three-plus months before the draft. But Bradford's decision could affect Kansas City's plans if quarterback is the direction in which the organization wants to go.
January, 13, 2009
1/13/09
7:25
PM ET
Posted by ESPN.com's Bill Williamson
Scott Pioli's first order of business when it comes to his new roster in Kansas City will be on the offensive side of the ball.
Two major issues need to be cleared on offense and Pioli, whether he keeps head coach Herm Edwards or not, needs to tackle them. Pioli needs to clear up the Tony Gonzalez situation and he needs to figure out if Tyler Thigpen will be the team's quarterback in 2009 or if a franchise quarterback will be pursued.
Gonzalez could ask to be traded and he did in October. He said last month that he'd want to return to the Chiefs if they were committed to winning in 2009. The Pioli hiring has to impress Gonzalez.
Pioli needs Gonzalez. He is coming off one of his best NFL seasons. At 32, Gonzalez can still play. Pioli needs to convince him the Chiefs can win soon.
The Thigpen situation will be interesting. Because he is a no-huddle, spread offense player, Thigpen's style is an acquired taste. Pioli may not want to continue with Thigpen and may want to start the future now.
The Chiefs have the No. 3 pick in the draft so the team could go get a franchise quarterback such as Sam Bradford or Matthew Stafford. It would make sense if Pioli's first move in Kansas City was to try to answer the quarterback issue. His former colleague in New England, Thomas Dimitroff, did just that in his first year in Atlanta last year when he drafted Matt Ryan with the No. 3 pick. That move worked out fairly well, didn't it?
There isn't much deliberation time needed on the Kansas City defense. The questions on defense are simple. It needs a whole lot of help, particularly on the defensive front seven. The Chiefs' concentration in free agency and the draft will likely be on improving the defense.
Pioli has a lot on his personnel plate, but it starts with the Gonzalez and Thigpen questions.