October, 20, 2011
10/20/11
6:20
PM ET
Hue Jackson is
still not saying
whether or not
Carson Palmer
will start Sunday against Kansas City.
Palmer

Jackson
ESPN's Adam Schefter has reported the Raiders plan to start Palmer, who was acquired on Tuesday from Cincinnati, in the game. If Palmer, who has been practicing this week, doesn't start, backup
Kyle Boller
will. Jackson indicated he may not make his decision public anytime soon. His final mandated media session is Friday afternoon.
This is what Jackson told reporters Thursday: "There's no decision. Again, everybody's wondering who is going to start. I am not going to make that decision; I don't have to anytime soon. Sometime maybe tomorrow evening I will figure it out. Right now, I am not in a rush. There is no reason to rush.
"I got more friends right now than I've ever had in my life. There's more media here than ever, my phone will not quit buzzing. I got people saying, 'I'm your friend from way back when,' you know? Like I'm going to tell somebody something. I ain't telling anybody anything. So, you guys can all stop."
I think if Boller was going to get the start. He'd get nearly all the snaps in practice to prepare. I think Jackson doesn't want to commit to Palmer publicly yet because he wants to make sure Palmer is physically and mentally ready to play. He hasn't played since Jan. 2. If Palmer feels comfortable by Friday, I'd imagine the Raiders wil go with him.
Thursday on "SportsCenter", ESPN NFL analyst
Tim Hasselbeck
gave some great insight that adds to the idea that Palmer will start. He said he played a game with Washington nine days after he joined the team. His offensive coordinator was Hue Jackson. He said Jackson simply took plays out of the first game's plan that Hasselbeck wasn't yet comfortable with. So, Jackson has been down this road before.
Anything can change, but count me as among the surprised if Palmer doesn't play Sunday.
Meanwhile, the contract numbers of Palmer's renegotiated deal (which was part of the trade) have been filed. As expected, Palmer took a pay cut for the rest of this season. Palmer will make an average of $10.75 million through 2014. His salary cap number for this season is $2.499. He will make $12.45 million in base salary next year with $5 million guaranteed.
June, 13, 2011
6/13/11
6:35
PM ET
On ESPN's "NFL Live" earlier Monday, analyst
Tim Hasselbeck
listed the
San Diego Chargers
as one of the teams that should consider signing receiver
Plaxico Burress
, who was recently was released from prison.
Does it make sense?
First of all, he will be 34 and he has missed the past two NFL seasons. I'm not sure San Diego general manager A.J. Smith would be interested. Smith has often stayed away from players with character issues.
Plus, depending on the rules of free agency, the Chargers could have
Vincent Jackson
and
Malcom Floyd
as their starting receivers. If that doesn't develop, San Diego would be on the lookout for a receiver. The Chargers reportedly are planning to monitor Carolina veteran receiver
Steve Smith
after the lockout. Smith could potentially be made available through a trade.
If the Chargers were looking for a veteran, Burress could be a better fit than Smith, scheme wise. He is 6-foot-5, 230 pounds. Smith is 5-foot-9. The Chargers prefer bigger receivers and Burress could look good in San Diego's receivers' meeting room.
Still, I would be surprised if San Diego makes Burress a priority when free agency begins unless it expects big changes at the position.
November, 5, 2010
11/05/10
12:00
PM ET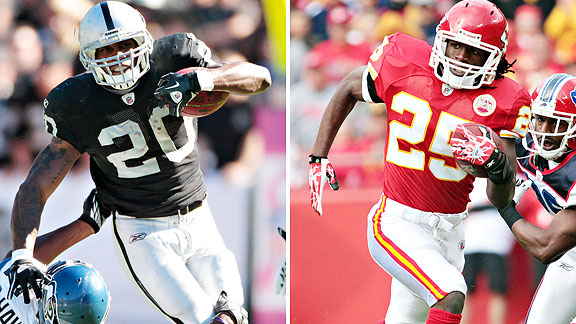 US PresswireThe running of Darren McFadden, left, and Jamaal Charles is one reason the Raiders and Chiefs are having success this season.
Get over it, NFL: The AFC West is the center of the universe this week.
Yes, I know, Halloween is over. Still, it can't be denied that the most intriguing matchup of the Week 9 slate will be in Oakland. The suddenly resurgent
Oakland Raiders
(4-4) play host to the surprise of the first half of the season, the
Kansas City Chiefs
. The Chiefs lead the AFC West with a 5-2 record.
Earlier this week on ESPN's "SportsCenter," NFL analyst Tim Hasselbeck was chuckling that he couldn't believe it, but this game is the matchup of the week. The Chiefs and Raiders have played plenty of crucial games against each other in decades past. But relevant games between these rivals from the AFL days have been rare in recent seasons.
But Hasselbeck is right: This game looms large. This is the latest in the season both Kansas City and Oakland have been at least .500 since 2002. In that season, both teams were 4-4 heading into Week 9.
This game is an opportunity for each team to make a statement heading into the second half of the season. If Kansas City wins, it will have a huge lead in the division, showing it can win a tough game on the road. If Oakland wins, it will be the Raiders' third straight win and they would have defeated each AFC West opponent this season. The Raiders would be a half-game out of first place as they head into their bye week.
"We haven't experienced this in the last six, seven years around here,'' Oakland left guard
Robert Gallery
told reporters this week. "It's supposed to be fun. We're supposed to be in games like this. We've got to keep doing what we've been doing the past two weeks and we have a shot to do some good stuff this year.''
This is the biggest game in the division since San Diego won at Denver in Week 11 last season. This game might just be a celebration of a power shift in the AFC West. The Raiders haven't won more than five games in a season in the past seven years. The Chiefs won a total of 10 games from 2007 to 2009.
The Chiefs and the Raiders have been the story of AFC West. The Chargers (3-5) have been floundering because of mistakes, and 2-6 Denver doesn't look like a team ready to make a difference in the second half of the season. The change has shown in
ESPN.com's Power Rankings
. The Chiefs are No. 11, while Oakland is No. 16, San Diego is No.22 and Denver is No. 28.
Oakland has opened eyes around the NFL the past two weeks. After a sluggish start, the Raiders have hit their stride in a big way. Oakland outscored Denver and Seattle by a combined score of 92-17. It scored a franchise-record 59 points at Denver. (The Raiders had scored only 52 points in three games in September.) Oakland has amassed more than 500 yards of offense in back-to-back games for the first time in team history. That's why Oakland has won back-to-back games for the first time in 24 games.
Oakland has the second-ranked running game in the NFL (behind Kansas City), led by third-year running back
Darren McFadden
, who is enjoying a breakout season. McFadden is no longer dancing at the line of scrimmage. He is always moving forward and is excelling in the outside and inside games. According to ESPN Stats and Information, the Raiders' running success is opening up the play-action pass. In the past two seasons, Oakland averaged 8.1 yards per pass on play-action plays. This year, the Raiders are averaging 9.4 yards per play. Their passer rating using play-action is 105.6 this season compared with 65.8 the past two seasons.
Oakland is eighth in the NFL in total offense, fourth in points per game and eighth in time of possession. All of those are dramatic improvements from last season.
The offensive line has made major strides in recent weeks and is a big part of the improvement. The key has been the return of Gallery from a hamstring injury and the emergence of third-round draft pick
Jared Veldheer
at left tackle. He is much better suited at that position, as opposed to center, where he started the season.
"You have to be impressed by Oakland the past couple of weeks," Matt Williamson of Scouts Inc. said. "They've made big strides on each side of the ball. ... This is an interesting game for the Raiders this week."
As impressive as Oakland has been in the past two weeks, the Chiefs have shown improvement all season. It starts with the NFL's best running game. The Chiefs are averaging 190.4 yards per game.
Jamaal Charles
and
Thomas Jones
are wearing down defenses. Jones' presence has helped keep Charles fresh and it has given Kansas City ground toughness. ESPN Stats and Information reports the Chiefs are averaging 4.7 yards a carry while running up the middle. They averaged 3.1 yards up the middle through the first seven games of the season in the past two seasons. Kansas City has earned 24 first downs this season compared with 14 in the past two seasons through seven games.
Kansas City quarterback
Matt Cassel
is benefiting from the strong running attack and he is not making mistakes. In the past five games, Cassel has thrown nine touchdown passes and only one interception. The offensive line has improved dramatically and this unit is well-coached by Todd Haley and coordinator Charlie Weis. Fine coaching has helped the defense as well. Coordinator Romeo Crennel's unit is not allowing teams to score much; it is rushing the passer well and is strong against the run and the pass.
"This roster is really impressive," Williamson said. "It's well-coached and it is young. This is a team to watch for the immediate future and down the line. ... Things may be changing in the AFC West."
And that's why Sunday's game in Oakland deserves to be in the spotlight.