October, 18, 2011
10/18/11
4:07
PM ET
The
Oakland Raiders
are Hue Jackson's team.
One of the biggest questions in the NFL since the Oct. 8 death of Al Davis has been who would lead the Raiders? Davis, the most hands-on owner in sports, had held control of the franchise since the 1960s. The answer is their 45-year-old rookie head coach.
[+] Enlarge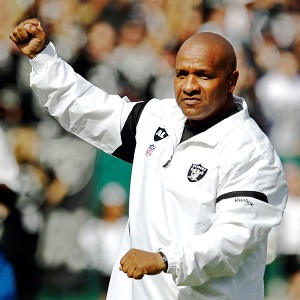 AP Photo/Paul SakumaThe Carson Palmer trade is a clear indication that the Raiders are now Hue Jackson's team.
The Raiders' trade for Cincinnati quarterback
Carson Palmer
shows that Jackson has been the given the power to do what he thinks Oakland needs to do.
After looking through an awful list of available quarterbacks (
Todd Bouman
,
Todd Collins
,
Trent Edwards
and
Josh McCown
were among those the Raiders considered) and deciding against going with backup
Kyle Boller
, Jackson plucked the flashiest quarterback left. Jackson coached Palmer at USC and in Cincinnati, and he's clearly the player Jackson thinks can keep the 4-2 Raiders in the playoff mix after
Jason Campbell
broke his collarbone.
The price is steep. The Raiders are sending their first-round pick in 2012 and a conditional first (and at least a second-round pick) in 2013 to the Bengals. The 2013 pick becomes a first-round choice if the Raiders win their first playoff game in nine years this season.
This is an extremely risky deal. Palmer will turn 32 this season and he has been in a decline. The Raiders probably could have gotten veterans
Kyle Orton
or
Donovan McNabb
for much cheaper than the rusty Palmer, who hasn't played this season. The trade means Oakland doesn't have a pick until the fifth round next year (although it probably will get a couple of compensatory picks, which start at the end of the third round, for lost free agents), and it puts the Raiders in a tight salary-cap spot.
I'm sure Jackson is not worried about the trade risks. In his first six games as the head coach in Oakland, Jackson has made several aggressive calls and often pulls out trick plays. This is how Jackson rolls, by rolling the dice. If Palmer is awful and the Raiders don't make the playoffs, this trade will be Jackson's legacy in Oakland.
But the point is, Jackson has been given the opportunity to make a legacy pick. This is a tremendous opportunity and responsibility for a man who was brought to Oakland to be the offensive coordinator in 2010. Since Davis' death, Jackson has said Davis trained him to make personnel decisions, and Jackson has made it clear in the past week-plus that he is the leader of the organization.
There have been reports that Davis' son, Mark Davis, would look to hire a general manager, probably after the season. ESPN's Adam Schefter has reported that Mark is relying on advice from former Raiders employees and Al Davis confidantes John Madden, Ron Wolf and Ken Herock.
Jackson said Monday that every decision he makes includes input from Mark and Raiders CEO Amy Trask. It will be Mark who ultimately decides the structure of the Raiders' front office. But it is clear the first person to get the chance to lead the Raiders is Jackson and, if his moves work out, he probably will stay in the power chair.
October, 17, 2011
10/17/11
6:35
PM ET
ESPN's Adam Schefter reported that it doesn't appear
Trent Edwards
is interested in returning to the Raiders at this point. He was cut this summer when
Kyle Boller
beat him out for the No. 2 job behind starter
Jason Campbell
. Campbell is out for several weeks, and perhaps the season, with a broken collarbone.
I think the only way the Raiders would bring back Edwards is if he was a backup to Boller. Oakland coach Hue Jackson
said Monday
the team is preparing to go with Boller, but it will continue to look at other options.
Meanwhile, Cincinnati coach Marvin Lewis
reiterated that quarterback Carson Palmer
is retired in the eyes of the organization. The Raiders reportedly have tried to acquire Palmer. The trade deadline is Tuesday. With
David Garrard
unavailable because of a back injury, it appears the Raiders' best bets are either sticking with Boller or trading for
Kyle Orton
from Denver.
UPDATE:
NFL.com is reporting
the Raiders will work out quarterback Todd Bouman this week. He is 39. I'm sure it's simply as a backup. It is another indication the team is leaning toward going with Boller.
In other AFC West news:
Denver defensive lineman
Ryan McBean
was
arrested on stalking charges
.
The Raiders had
a memorial for Al Davis on Monday.
Jackson told reporters
that defensive end
Matt Shaughnessy
may be out for an extended time. He's missed the past three weeks with a shoulder injury.
October, 25, 2010
10/25/10
12:00
PM ET
Here are some areas the
Kansas City Chiefs
need to focus on after a 42-20 home win over the
Jacksonville Jaguars
:
Recap:
The Chiefs have to be pleased with the way they handled their business in this game. The Jaguars were playing third-string quarterback
Todd Bouman
. This was a very winnable game for Kansas City. It did everything it needed to do and continued to make strides in this season of growth. The AFC West-leading Chiefs are now 4-2.
Biggest area to fix:
pass rush. Kansas City had just one sack. It has improved in that area this season, but if the Chiefs are going to be a contender, it needs a better pass rush.
Biggest area to build on:
run offense. This is an excellent running team. The Chiefs had 236 yards on the ground, led by
Thomas Jones
' 125 yards. Great teams win on the ground. The Chiefs may be heading in that direction by dominating the rush.
What to watch for:
The Chiefs host Buffalo on Sunday. The Bills played well against the Ravens, but the Chiefs should handle Buffalo. This is a golden opportunity for Kansas City to improve to 5-2. That would be a huge win for a team that went 4-12 in the previous season.
October, 24, 2010
10/24/10
5:58
PM ET
Taking a few moments to look back at
a nice win
for the
Kansas City Chiefs
.


What it means:
The Chiefs are back in the winner's circle. After competing well at Indianapolis and in Houston, but losing both games, the Chiefs are now 4-2. Yes, the Jaguars played a third string quarterback in
Todd Bouman
, but the Chiefs did what they had to do to win. The Chiefs look like a quality team after six games, no doubt about it.
Tomorrow's talker:
The Chiefs are scoring points. After putting up just nine points in Indianapolis two weeks ago, there was talk that the Chiefs just didn't have to the offense to be a contender. Well, they have scored 73 points in the two games since. This offense can find the end zone.
Trending;
Kansas City's run game is for real. That will be the reason why the Chiefs compete all season. Veteran
Thomas Jones
was strong as he had 125 yards on 20 carries, including a 70-yard run.
Jamaal Charles
added 71 yards. These two are wearing down defenses.
What's next:
Kansas City hosts Buffalo. Yes, the Bills looked good Sunday, but this is still a golden opportunity for the Chiefs to jump out to a 5-2 record.
October, 22, 2010
10/22/10
8:15
PM ET
The
Denver Broncos
will get their first look at Oakland rookie middle linebacker
Rolando McClain
on the field.
However, the Broncos are very familiar with McClain. The star from Alabama was on Denver's list of prospects before the draft. The team met with McClain at the NFL Combine and brought McClain in for a pre-draft visit. Oakland took McClain at No. 8. Denver then wheeled and dealed and ended up with reciver
Demaryius Thomas
and quarterback
Tim Tebow
in the first round.
Denver coach Josh McDaniels was very complimentary of his experience with McClain on Friday.
"I did (like him). He wouldn't have played the same position as (LB) D.J. (Williams) plays," McDaniels told reporters in Denver. "He would have been a middle linebacker for us. But, I don't know if I have ever interviewed a more intelligent defensive player at the combine or in person here in our building than Rolando McClain. He was off the charts, and he's a guy that plays physical, he is big and he is a good player in the run game. They have kept him on the field every snap — he's not coming off on third down and he is in there in the dime. You can tell how much he is communicating and for a rookie to be able to do that his first year against all the different looks he is seeing and all the different packages, I think what he showed us has really transferred over and he's using it now for them. We liked him a lot. It was definitely part of the consideration as a guy that you would have to look at to take that high, and he is definitely going to be an impact player for them for a long time. So, he was definitely part of our (draft) consideration."
In other AFC West news and notes:
Kansas City coach Todd Haley
told reporters
in Kansas City that defensive end
Tyson Jackson
was healthy enough to play last week in Houston but he didn't because of a coach's decision. He injured his knee in Week 1 and hasn't played since. Clearly, Jackson didn't practice well enough for the team since regaining his health. It will be interesting to see if the No. 3 overall pick in 2009 plays Sunday against Jacksonville. Haley likes to push player's buttons and this seems like a prime example of that.
Kansas City rookie safety Kendrick Lewis is questionable to play Sunday against Jacksonville with a hamstring injury.
The depleted Chargers' receiver crew may get some help for Sunday's game against New England.