September, 19, 2013
9/19/13
6:27
PM ET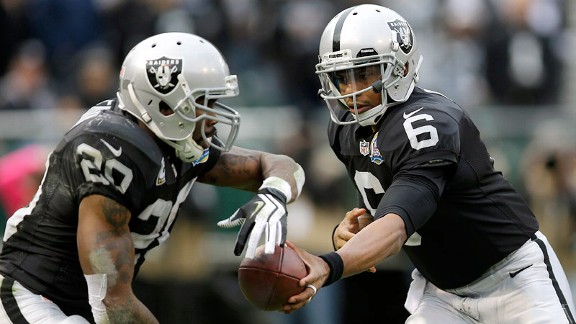 AP Photo/Marcio Jose SanchezTerrelle Pryor and Darren McFadden will bring Oakland's brand of the read-option offense to Denver.
ENGLEWOOD, Colo. -- Dennis Allen was the
Denver Broncos
defensive coordinator when the Broncos dropped the read-option offense, with
Tim Tebow
at quarterback, into the NFL's lap.
The Broncos did it, for the first time in that 2011 season, in a November game against the Raiders. Denver rushed for 299 yards in a 38-24 win where the Oakland defenders were repeatedly fooled. Allen will bring the Raiders' own version of the scheme to Denver Monday night with
Terrelle Pryor
at quarterback.
"It's probably good we've seen a lot of that type of offense,'' said Broncos cornerback
Chris Harris
. "Against that type of offense, you just have to do your job, don't get out of your spot because you're trying to do something else. You just have to keep your eyes right.''
The Raiders arrive in Denver leading the league in team rushing yards -- 198.5 yards per gam. Pryor has contributed 162 of those yards. Changes in the playbook has kick-started running back
Darren McFadden
as well, who's 177 rushing yards (4.9 yards per carry) is ranked fourth in the league.
"[McFadden] is an explosive weapon for us and we realized that was something we had to figure out how we were going to get him the ball, get him in space and get him opportunities to create some explosive plays for us,'' Allen said.
The decision to add Pryor to that mix was a bit of a surprise given the Raiders traded two draft picks (a fifth-rounder in the 2014 draft and a conditional pick in 2015) to Seattle to acquire
Matt Flynn
. At the time Allen said Flynn had the skillset of a starting quarterback and would benefit from the change of scenery where Flynn had been beaten out by then-rookie
Russell Wilson
for the job with the Seahawks.
But the Raiders went to Pryor to open the regular season and with that came the team's current approach. The Raiders will test the discipline of the Broncos' defenders, particularly defensive ends
Derek Wolfe
,
Robert Ayers
and
Shaun Phillips
.
"I always thought I would start for the
Oakland Raiders
, I just didn't know when,'' Pryor said. "I know the process, I just had to take it one day at a time and get better and keep bringing a spark to the offense.''
"It was really one of those decisions where the more you sat back and watched it, you just saw when he was in the game, he moved the offense down the field, we were able to score some points and it gave some energy to our whole football team,'' Allen said. "I just felt he was a guy … he gave us the best chance to move the team, he gave us the best chance to win some football games, it was simple as that really.''
Pryor has an intriguing take on facing Broncos' quarterback Peyton Manning. After two weeks this season Manning has nine touchdown passes and the Broncos have topped 40 points in each of their first two games. "I will say this as I watch the games, of the other quarterbacks they look like they're pressing to match Peyton Manning,'' Pryor said. "You do that, you'll come up short because Peyton's a great quarterback. It reminds me of Tiger Woods, competitors going against him they kind of fold because they press, try to press the ball, not take what the defensive is giving them. I've just got to stay away from doing that.'' Eli Manning threw four interceptions last Sunday and in the opener Raven quarterback Joe Flacco threw two interceptions.

Broncos guard Chris Kuper, who has spent a year and a half battling back from a fractured/dislocated ankle he suffered in the 2011 regular-season finale to go with an infection that followed as well as a second surgery on the joint, practiced fully Thursday. It was the first time Kuper has been listed as a full participant in a practice since during the 2012 season.

With left tackle Ryan Clady, who was one of the offensive team captains, now on injured reserve, the players re-voted Thursday morning to select another captain and chose wide receiver Wes Welker. Manning, Wesley Woodyard, Champ Bailey and David Bruton are the other captains. The coaches also picks one additional captain for each game. "I think it's one of the greatest honors you can have on a football team,'' Welker said.

Manning was asked Thursday about the impending retirement of Colorado Rockies first baseman Todd Helton -- the two are long-time friends. He highlighted Helton's longevity (17 years), toughness and his role in helping Manning return from a missed 2011 season following multiple neck surgeries. "During the lockout (in 2011), when I was in a strange injury situation, for him to get on the phone and call me and invite me out here to work out with the Rockies, in private, and use the Rockies trainers -- I'll always be indebted to him,'' Manning said. "I was kind of in a weird place, an unknown, I had really nobody to turn to medically because of the lockout. What Todd did, that really gave me some good direction, I'll always be indebted to him for that.'' Helton was a University of Tennessee quarterback as well as high-profile baseball player for the school when Manning arrived as a freshman.

Allen on trying to rush Manning; "You've got to be careful with anything you do against Peyton Manning … It's hard to get to Peyton sometimes, just on air.''
June, 13, 2012
6/13/12
4:25
PM ET
ENGLEWOOD, Co. -- More thoughts from Denver's minicamp as well as some thoughts from around the division:
Manning
Denver quarterback
Peyton Manning
looked top notch Wednesday. Observers said it was his best offseason practice that the media has been allowed to watch this offseason.
Manning was impressive in front of his former Tennessee teammate and close friend, Todd Helton, the first baseman of the Colorado Rockies. Manning and Helton have spent a lot of time together since Manning has signed with the Broncos.
New Denver cornerback
Tracy Porter
's thoughts of playing opposite of sure Hall of Famer
Champ Bailey
: "I'm in awe of playing with Champ." By the way, Porter looks good and the Bailey-Porter combination should be a good one.
In other AFC West notes:
Oakland rookie linebacker
Miles Burris
was working with the
first team
with
Aaron Curry
nursing an injury. Burris getting work so early is a good sign. I expect him to be a special-teams contributor early, but it is clear the coaching staff thinks he is going to be getting significant early work.
San Diego tight end
Antonio Gates
is getting in
better shape
as he enters the twilight of his career.
While fifth-round pick
Juron Criner
has been an offseason star for Oakland, free-agent rookie
Rod Streater
, who is from Temple,
is getting in good work as well
. Oakland has a crowded receiving group.
The Chiefs are putting tight end
Martin Rucker
on injured reserve with a torn ACL. He was a long shot to make the team.