AFC West:

Tom Cable fired
January, 5, 2011
1/05/11
8:00
AM ET
Fired Oakland coach Tom Cable had the support of the Raiders' locker room. Several players stood up for Cable in the past couple of weeks.
When he was fired Tuesday, predictably, some players were upset. Two players, punter
Shane Lechler
and guard
Robert Gallery
,
told the Oakland Tribune
that they were not pleased with the move.
Lechler suggested that several key free agents could leave because of the instability. Here's what Lechler told the newspaper:
"It's going to influence a lot of guys' decisions on free agency," Lechler said. "You're going to for darned sure lose Robert Gallery now. You're going to lose Michael Bush now, for sure. You're going to lose a bunch of guys that are great football players and just because of this move ... I already know what those guys are going to do. I've talked to them, I'm friends with them, and I know what's going on.

"It's going to be a huge setback because you heard the locker room just like I did. It's hard to understand how or why the decision was made when it seemed it was in the best interest of players and we finally felt like we were headed in the right way, and owner goes and pulls the [plug]."
This is what Gallery told the paper:
"I really haven't processed [the possibility of leaving] yet," Gallery said. "It's definitely something to think about. Coach Cable and everyone else knows how I feel about him and the things he did as far as getting my career back on track. He's a guy I wanted to play for. We'll have to see what happens when free agency does come."
It's reactions like this that show this could be a bad move. Oakland's players are tired of the instability. They liked Cable. They saw improvement. It is clearly disheartening for many Oakland players.
Perhaps Oakland owner Al Davis underestimated the power of Cable's influence on the locker room. I'm sure Oakland's players will get over this and move on, but it's another sign to them that this is still an unpredictable franchise.
Meanwhile, Cable's
agent said his client
is already getting interest around the NFL. I bet his best chances for a new job will be as an offensive line coach or as an offensive coordinator.
January, 5, 2011
1/05/11
12:45
AM ET
The
San Francisco 49ers
sealed Tom Cable's fate on Tuesday when they asked permission to talk to Oakland offensive coordinator Hue Jackson about their vacant head-coaching opening.
Apparently, Oakland owner Al Davis felt he had no choice but to respond by creating a head-coaching opening of his own.
Hours after the 49ers began their pursuit of Jackson -- who was immensely successful as Oakland's offensive coordinator in his first season with the team in 2010 -- Davis announced Cable would not be brought back even though the Raiders finished 8-8, their best record since 2002.
Call it a coincidence if you like, but the reason Cable is out is because Davis didn't want to lose Jackson to the 49ers.
Davis likely couldn't stand the thought of seeing Bay Area rival San Francisco have a resurgence with Jackson as head coach. It's been rumored since Jackson was hired as offensive coordinator last offseason that Davis wanted to make him the head coach. So, with the threat of another team coming after Jackson, Davis began the process of making him his coach.
While I don't think Cable deserved to be canned
after the progress Oakland made this season, the only reason this move can make some sense is if Jackson is hired as head coach. It will be a disaster if Oakland is left without Cable
and
Jackson.
I'm not sure if Jackson will make a great head coach, but he made a great impact on Oakland's offense this season. Oakland was sixth in the NFL in points and 10th in yards gained in 2010. In 2009, it was 31st in points and 31st in yards. The combination of the release of quarterback
JaMarcus Russell
and the addition of Jackson paid dividends for Oakland.
Oakland's running game flourished, especially third-year running back
Darren McFadden
. The Raiders were more aggressive on offense and attacked defenses unlike in recent seasons. Like Jackson himself, the Oakland offense was loud and brassy. Still, the quarterbacks and receivers were inconsistent and the Raiders committed too many penalties. Jackson will have to work on those areas if he is the next head coach.
If Oakland had to make a change, it must ensure it will maintain the same momentum Cable started and keep Jackson. Perhaps in two years, we'll look back and say that Jackson is one of the best head coaches in the NFL and it was a master stroke by Davis.
But if Jackson were to become a successful NFL coach elsewhere and the Raiders have to start over with another system, we'll look at the decision to not keep Cable much differently.
January, 4, 2011
1/04/11
11:50
PM ET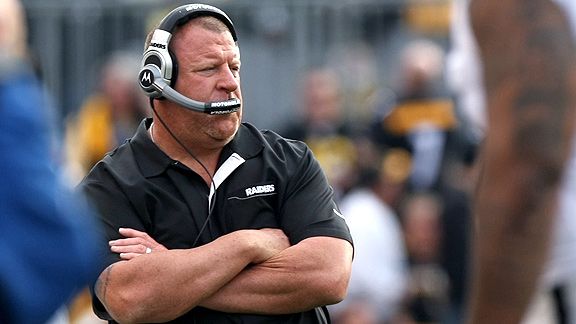 Jason Bridge/US PresswireTom Cable was fired despite having his best season as Oakland's coach.
If this was going to be his fate, the Oakland Raiders should have fired Tom Cable a year ago.
Canning
him now
, after a season of true progress, is just another sign of dysfunction in Oakland. The only thing good about this move is that it was quick.
Last year, Cable twisted in the wind for weeks while Oakland pondered whether to fire him after a 5-11 season. Cable was retained and the Raiders improved under his watch. They finished the season 8-8, the first time they have finished .500 or better since 2002, when the team went to the Super Bowl. Oakland was 6-0 against the AFC West this season.
On Sunday and Monday, Cable said he was elated about the progress the team has made and talked about its chances of improving in 2011. Apparently, Cable didn't do enough to keep the job beyond this season.
What was Oakland looking for?
If the Raiders really thought they'd make the playoffs this season, they were fooling themselves. This season was all about making improvements and the Raiders met that goal under Cable.
Yes, the Raiders still have problems and yes, they were the most penalized team in the league this season. But Cable, who finished with a 17-27 record as Oakland's coach, wasn't going to solve those issues overnight.
What kind of message does this send to the team?
The job will likely go to offensive coordinator Hue Jackson --
if he doesn't go to the San Francisco 49ers first
. You can't deny Jackson's impact on the team. But Cable also deserves credit.
He was a players' coach who was extremely enthusiastic. He was often too much of a cheerleader and he often bordered on being delusional about his team. But the Raiders bought in.
Throughout the season, players complimented Cable for giving the team fire and making it believe. During the past week, many Oakland players stood up for Cable. Pro Bowl punter Shane Lechler said it would be a "shame" if Cable wasn't brought back.
One of the biggest problems in Oakland has been the lack of stability. By moving away from Cable, the Raiders have compromised their continuity, even if Jackson becomes the coach. There will be more changes on this staff and there will be yet another adjustment period for the players. The Raiders will be hiring their sixth head coach since the start of the 2002 season.
I just don't understand the timing. If Oakland owner Al Davis didn't think Cable could lead Oakland to the playoffs, he should have just fired Cable a year ago, fresh off the Randy Hanson assault allegations.
I wonder if the Raiders really have a plan or if their 2010 progress came despite their front-office leadership. Cable will likely go back to being an offensive line coach in the league and the Raiders will continue to look for something only Davis can explain.
January, 4, 2011
1/04/11
10:13
PM ET
The Oakland Raiders have formally announced that coach Tom Cable has been fired.
Here is the news release:
The Oakland Raiders will not extend the contract of Tom Cable for the position of Head Coach.

Cable was informed that his contract would not be extended on Tuesday.

Cable, whose contract expired at the conclusion of the 2010 season, posted a 17-27 regular season record as Head Coach of the Raiders. He served as offensive line coach for the Raiders from 2007-September 30, 2008, when he was named interim head coach.

The Raiders express gratitude to Tom Cable for his contributions in his four seasons as an assistant and as Head Coach of the Silver and Black.
January, 4, 2011
1/04/11
10:01
PM ET

Cable
ESPN's Adam Schefter is reporting
the
Oakland Raiders
have fired coach Tom Cable.
The Raiders finished 8-8 under Cable this season. It was the first time they were at least .500 since 2002 when they went to the Super Bowl.
Cable's fast firing could mean the Raiders will try to promote offensive coordinator Hue Jackson to head coach. The Raiders had given Bay Area rival San Francisco permission to talk to Jackson earlier Tuesday.
I will have more reaction later.