July, 17, 2012
7/17/12
11:20
AM ET
By
ESPN.com staff
| ESPN.com
Denver Broncos
Police say the arrest of defensive end Elvis Dumervil was
preceded by a road-rage incident
.
Dumervil's arrest, writes the Denver Post's Mike Klis, is the
latest stain on the Broncos' image
.
Kansas City Chiefs
Could not agreeing to a long-term deal with Dwayne Bowe
prove costly for the Chiefs
?
The
Chiefs are No. 28
on Forbes' list of the world's most valuable sports teams.
Oakland Raiders
Tom Flores
touched on several topics in a recent interview
, including the AFC West race and the Raiders' place in the division. Flores: "The Raiders have a very young team. Very fast but very young, and they need to grow up. ... Last year, there were about two or three games they dominated for three quarters and then lose it in the fourth and that kept them out of the playoffs."
San Diego Chargers
Nick Canepa of U-T San Diego
: "The Chargers for the first time have decided to allow their fans to choose a member of their Hall of Fame, the patrons being asked to go to the Bolts' website and by Sept. 17 select between punter Darren Bennett, tailback Natrone Means and receiver Anthony Miller."
Fan access to the Chargers-Cowboys joint practices next month
will be limited
.
February, 2, 2012
2/02/12
12:00
PM ET
One of the biggest storylines of the Super Bowl week is that
New York Giants
quarterback
Eli Manning
has a chance to all but secure a place in the Pro Football Hall of Fame.
The general consensus is if a quarterback wins a second Super Bowl, he is all but guaranteed to make it to Canton. For the most part, that is true. Then there is former Raiders' quarterback Jim Plunkett.
Of the five quarterbacks who won the Super Bowl twice who are eligible for the Hall of Fame, four are in. Plunkett is not. The other quarterback who has won two Super Bowl rings is current Pittsburgh quarterback
Ben Roethlisberger
. The three Hall of Fame eligible quarterbacks who have won more than two Super Bowl rings have been inducted.
"False premise," Plunkett said this week with a laugh. "If winning two makes you a shoo-in, well, that's just not the case."
Plunkett led the Raiders to wins in Super Bowls XV and XVIII. Yet, he is not in Canton. He is considered by many as a journeyman. But the truth is, he was a leader who willed his team to two titles. And it may never change. There hasn't been a big recent push for Plunkett to get into the Hall of Fame. He has never been a finalist.
"I had my up and downs, I struggled early in my career," said Plunkett, who noted he played during an era in which running the ball was at a bigger premium than it is now. "I was very fortunate to play on two very good teams."
Plunkett said he believes his Raiders' coach, Tom Flores, should be in the Hall of Fame. Flores coached the Raiders to two Super Bowl wins. Like Flores, Plunkett, 64, may have hope. He could someday get in as a Senior Committee selection.
"I really don't think about (not being in the hall of fame) too much," Plunkett said. "My family and my friends do. I might get ticked off about it once in a while, but I don't think about it every day."
Perhaps the talk centering on Manning's quest for a second ring will ignite talk amongst voters to revisit Plunkett's candidacy.
November, 7, 2011
11/07/11
8:05
PM ET
Catching up on some AFC West news after a day of travel:
We got some hints Monday whether two injured running backs will be ready to play in a key AFC West game Thursday night.
The early indications are
that Oakland star running back Darren McFadden may not be ready to play during a short week at San Diego. McFadden wasn't at the Raiders' walk-through practice Monday. Oakland coach Hue Jackson wouldn't commit to whether McFadden would be able to play Thursday.
He suffered a foot injury early in Week 7. The Raiders are 0-2 since McFadden's injury and their offense looks out of sorts without him.
Meanwhile, San Diego running back Ryan Mathews was on the field for a workout on Monday, according to the
San Diego Union Tribune.
He missed Sunday's loss to Green Bay with a groin injury. His status for Thursday's game looks good at this point.
In other AFC West notes:
The Chargers have announced the Raiders' game is a sell out and it will be shown on local television.
A Yahoo! Sports column
pokes holes at the Chargers' roster, including tight end Antonio Gates
Former Raiders' coach Tom Flores will be heading back to the
sideline for a day.
The San Diego Union Tribune
reports the Chargers will go back to Antoine Cason at cornerback Thursday. He successfully preplaced struggling rookie Marcus Gilchrist late Sunday against Green Bay. Gilchrist played poorly in two starts as a replacement for Cason.
Tight end Kevin Boss joined receiver Darrius Heyward-Bey as an
unexplained limited participant
for the Raiders' offense against Denver.
October, 10, 2011
10/10/11
6:10
PM ET
The speculation of what happens
in Oakland in the post-Al Davis world has already begun. Expect to hear more speculation in the immediate future.
Former Oakland coaches John Madden and Tom Flores remember Davis in
a radio interview
with a San Diego station. Madden referred to Davis as his best friend. Expect to continue to hear speculation that Madden could help assist the Raiders as they adjust to a new era. Don't be surprised if you also hear speculation about Ron Wolf and Bill Parcells in the future. Wolf worked for Davis and Davis and Parcells have a long history.
Here's a look at how
the Raiders' search for a stadium may change after Davis' death.
The Raiders were touched
when they saw about 500 fans waiting for them at their facility later Sunday night upon their arrival from their victory in Houston. No, this was not an ordinary regular-season win.
October, 8, 2011
10/08/11
4:55
PM ET
It's fitting
that CEO Amy Trask and head coach Hue Jackson are likely to play key roles for the
Oakland Raiders
as they adjust to working in the wake of Al Davis' death on Saturday.
Davis would surely be proud to see them take his beloved organization to the next level. Davis was always a champion of diversity.
Trask is the first and only woman CEO in the NFL. Jackson is one of seven African-American head coaches currently in the NFL.
Davis, the Jewish kid from Brooklyn, was truly color blind. He made Tom Flores the first Hispanic head coach in the NFL and he made Art Shell the first African-American head coach of the modern era of the NFL.
He had African-American quarterbacks when it was uncommon in the league. Countless African-American players from the Raiders' glory days of the 1970s said they had a comfort level with Davis that they sometimes didn't feel with other people.
Davis let people be people. "Just Win, Baby" and let's do it together.
The Raiders are at the forefront of embracing diversity. Numerous people of color hold important positions with the Raiders and the organization often celebrates several ethnic cultures at games each year. They even broadcast radio games in Native American languages.
The Raider Nation is a melting pot which will always be part of Davis' incredible legacy.
June, 25, 2010
6/25/10
11:15
AM ET
Notable players:
QB Ken Stabler, FB Mark van Eeghen, WR Fred Biletnikoff, WR Cliff Branch, TE Dave Casper, OT Art Shell, G Gene Upshaw, DL John Matuszak, DL Otis Sistrunk, LB Phil Villapiano, LB Ted Hendricks, CB Willie Brown, S George Atkinson, S Jack Tatum, P Ray Guy.
[+] Enlarge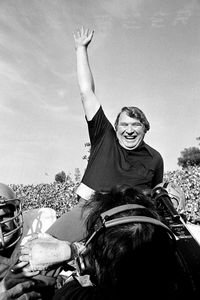 AP PhotoJohn Madden's 1976 season was nearly perfect -- culminating in a Super Bowl win over the Vikings.
Analysis:
This championship season was in the works for some time. Oakland owner Al Davis and coach John Madden put together a great team.
The Raiders didn't have the titles that Miami, Dallas and Pittsburgh had, but they were a dominant team in the 1970s. If you were going to win the Super Bowl, you probably had to go through the madcap marauders of the East Bay.
Wild, free-spirited and wickedly clutch on the field, the Silver and Black was a special fabric of the NFL in the 1970s. They were always known for close calls, but in the end not having enough to be complete the championship journey.
That all changed in 1976. The Raiders had plenty. They were, by far, the class of the NFL and they have the hardware to prove it.
Led by a stunning group of players, this team had depth on offense and defense. Stabler was the engineer, as he seemingly rolled out of bed and led the Raiders to one last-minute win after another. He had great receivers in Biletnikoff, Branch and Casper. The offensive line was anchored by future Pro Football Hall of Famers Shell and Upshaw.
Defensively, the Raiders were nasty with first-year Raider Matuszak and Sistrunk up front, Hendricks in the middle and Brown and Tatum anchoring the unit.
It was enough for Oakland to nearly go unbeaten. After New England thrashed the Raiders in Week 4, Oakland didn't lose another game. Oakland went 13-1 in the regular season (despite having a five-game trip spanning Weeks 2-6) and then won home playoff games against New England and Pittsburgh before toying with Minnesota in Super Bowl in XI.
It was a culmination of a great run in Oakland. In the end, this team will be remembered as one of the NFL's great all-time teams.
Most impressive win:
A 32-14 victory over Minnesota in Super Bowl XI. The Raiders showed their dominance on offense and defense by completely suffocating the Vikings. It was a fitting day to end a near-perfect season. No one in Oakland will forget the sight of a jubilant Madden being carried off the Rose Bowl field by his victorious Raiders. Davis surely never will.
Crazy start:
The Raiders had some memorable battles with Pittsburgh. This special season started with a classic battle between the two 1970s powerhouses in Oakland.
The Steelers led 28-14 with five minutes to go. However, Oakland made a furious comeback to tie the score. Oakland then got the ball back and won it with a short field goal with 18 seconds remaining, sending the home crowd into a wild celebration.
Nothing like beating the hated Steelers on opening day. It set the tone for Oakland's best season of all time
.
Honorable mention:
1967:
The Daryle Lamonica-led Raiders were 13-1 in the regular season before being worn down by Green Bay in Super Bowl II.
1980:
The Raiders became the first wild-card team to win a Super Bowl. The 11-5 Raiders were led by coach Tom Flores and spunky, resurgent quarterback Jim Plunkett.
1983:
The Raiders' third Super Bowl champion was a dominant unit. Led by a great defense and young running back Marcus Allen (1,014 yards rushing, 11 TDs), this was a special team.
June, 4, 2009
6/04/09
12:30
PM ET
Posted by ESPN.com's Bill Williamson
Denver
New coach Josh McDaniels is working the quarterbacks hard.
My take: Quarterbacks are McDaniels' specialty. This is how he made his mark at such a young age. McDaniels' success in Denver depends on whether his quarterbacks are productive. Thus, expect McDaniels to keep the heat on Kyle Orton and Chris Simms.
Kansas City
Glenn Dorsey discusses Todd Haley's no-nonsense approach.
My take: Dorsey is a big key. The Chiefs may use him at end or tackle, but he is one of the team's best young talents. Forget the trade talk of the spring for now. Dorsey is staying in Kansas City and he is a raw talent. He and Haley need to grow together.
Oakland
A Hall of Fame push for Tom Flores.
My take: Flores deserves a look. He won two Super Bowls as a coach and he is a major part of the Raiders' history. But he doesn't get much of Hall of Fame buzz. With such a backlog of worthy candidates, Oakland fans shouldn't expect Flores to get the nod any time soon.
San Diego
The Chargers remember Rodney Harrison.
My take: It's good to see a rundown of Harrison's San Diego days. He spent his first nine NFL seasons with San Diego and he was a fine player there. Harrison will likely be remembered nationally for his New England days, but a large part of his legacy was built in San Diego.
August, 21, 2008
8/21/08
7:54
PM ET

Posted by ESPN.com' s Bill Williamson

Here is reaction from some key figures in Gene Upshaw's NFL career who I caught up with today:
Former Oakland Raiders coach Tom Flores: "He was one of the all-time greats. He had it all. He became a leader and earned the respect of all of his teammates. True, die-hard Raiders fans remember Gene Upshaw as a dominant player."
Former Denver linebacker Tom Jackson: "It's a sad day for the NFL. Gene and John Hannah where the greatest guards I've ever faced. A lot of older players say they wish they would have played now because of the money difference. But I am honored to have played against a player like Gene Upshaw. The game was more pure then and Gene was a part of that. Gene played at 260 pounds but he was big for those days. He was big. Very rarely are the emotional leaders of a team the offensive linemen. But Gene was the emotional leader of those great Raiders' teams. He was a respected guy."
Former Denver linebacker Randy Gradishar: "Playing against Gene was always a difficult challenge. I took great pride in playing against the Raiders and I took great pride in playing against Gene Upshaw. Playing against Gene was a mind game. He could overpower you but he was very intelligent so he could outsmart opponents as well."
Former Minnesota defensive tackle Jim Marshall: "I had a lot of respect for Gene Upshaw as a player and as a person. As an older player we didn't all always agree with Gene but we knew he did his best. He did a lot of great things inside and outside of the game. My deepest sympathies go out to his wife and children. Gene was a good man."
AFC WEST SCOREBOARD
Thursday, 9/5
Sunday, 9/8
Monday, 9/9