February, 27, 2014
Feb 27
6:20
PM ET
The
Denver Broncos
are in need of some help at linebacker and -- with enough salary cap room to take a look at a proven veteran player at the position -- they are on linebacker
D'Qwell Jackson
's travel itinerary in the coming days.
The Broncos are selling the prospect of a Super Bowl team with
Peyton Manning
at quarterback, but they will have plenty of competition for Jackson.
Jackson
The 30-year-old Jackson was released, in large part, by the
Cleveland Browns
Wednesday because he had a $4 million roster bonus due March 16. Jackson had signed a five-year contract extension with the Browns two seasons ago when current Broncos' pro personnel director Tom Heckert was the team's general manager.
Jackson also played alongside Broncos safety
Mike Adams
during Adams' tenure in Cleveland. Adams is one of the Broncos' 16 unrestricted free agents this year.
Two league sources said Thursday Jackson was expected to begin what was initially described as a five-team tour on Friday. But the
Tennessee Titans
are first on the list and have to be considered the leader for Jackson before he even steps on a plane. Jackson's former defensive coordinator in Cleveland, Ray Horton, is on Ken Whisenhunt's staff in Nashville and is expected to play much the same scheme there as Horton ran with the Browns.
The Broncos are scheduled to get their chance Monday and project Jackson as a middle linebacker.
The Broncos are poised to give plenty of attention -- in both free agency and draft -- to the team's defense. At linebacker alone,
Wesley Woodyard
and
Paris Lenon
are free agents and the team has six defensive backs who are either restricted or unrestricted free agents. And Jackson fits the profile Broncos executive vice president of football operations/general manager John Elway believes free agency should have.
"With free agency, we're always trying to get ourselves in a position where when we go into the draft -- we don't have a glaring weakness where we are reaching for somebody in the draft,'' Elway said in recent days. "So I think it's important for free agency, in my opinion, to try to pick up the places where you think you have glaring holes and fill those holes and then when you go to the draft be able to draft the best players that you hope are going to have great careers in the NFL."
Jackson, who will turn 31 in September, has had five 100-tackle seasons in his career. He missed all but six games in the 2009 and 2010 seasons because of torn chest muscles, but has started 16 games in four of his seasons.
He was a second-round pick by the Browns in the 2006 draft.
August, 9, 2013
8/09/13
4:40
PM ET
Turns out Thursday could be a busy day for the Denver Broncos.
Not only are they scheduled to formally "break'' camp that day before leaving for Seattle on Friday, and not only is it the day linebacker
Von Miller
's appeal is scheduled to be heard by league officials, but it is also the day director of pro personnel Tom Heckert is eligible to return to the team.
Heckert was suspended for month without pay in the wake of his June 11 drunk driving arrest in Parker, Colo. Heckert was hired by the Broncos just 36 days before his arrest.
The Broncos also suspended director of player personnel Matt Russell indefinitely on the same day the organization handed down Heckert's penalty.
Broncos executive vice president of football operations John Elway said earlier in training camp that rather than hiring an outside consultant or former general manager to help with player evaluations during the suspensions, the duties would be divided among other members of the Broncos' personnel department such as Lenny McGill, the team's assistant college scouting director, and assistant pro personnel director Anthony "Champ" Kelly.
The Broncos play in Seattle on Saturday night and Heckert could make the trip.
July, 25, 2013
7/25/13
6:20
PM ET
The first pick will be the last to sign in the AFC West.

The
Denver Broncos
announced they signed first-round pick, defensive tackle
Sylvester Williams
. He missed Thursday morning's first practice, but he will be able to catch up quickly. Williams, the No. 28 overall pick in the draft, is expected to be an instant contributor for Denver.
With Williams secured, the lone remaining unsigned pick in the division is Kansas City offensive tackle
Eric Fisher
. He was the No. 1 pick in the draft. It is no surprise he is not signed.
However, there have been reports that finalizing the deal will not be difficult, and it should be done soon. The Chiefs' rookies started practice Tuesday, but the first full-squad workout is Friday.
In other AFC West news:
San Diego linebacker
Jonas Mouton
was taken off the field at Thursday's first practice with an injury. There is no immediate word on his status. Mouton is fighting for a roster spot,
Denver executive John Elway
expressed his thoughts on the recent spate of trouble
key members of the organization have gotten into. The team will stay in-house when it deals with the suspensions of front-office executives Matt Russell and Tom Heckert.
Pass-rusher
John Abraham
signed with Arizona. He has long been linked to Denver and Oakland, but nothing materialized.
July, 23, 2013
7/23/13
2:40
PM ET
I wanted to circle back to a couple of the major AFC West storylines that occurred while I was on vacation:
Denver arrests:
The Broncos were in the national spotlight after the drunk driving arrests of executives Matt Russell and Tom Heckert. Both are serving suspensions. Everything I've heard jibes with reports -- the Broncos are beyond upset at these two guys because they embarrassed the franchise.
While Heckert is out a month, Russell will have to try hard to regain the trust of the organization to work in Denver again. The Broncos love Russell professionally, as he's a young and bright executive, but this incident has really hurt his career. The franchise wants to make sure Russell's life is in order before he returns to work.
The left tackles:
The Broncos signed left tackle
Ryan Clady
to a long-term deal. The division's other franchised left tackle,
Branden Albert
went unsigned. Earlier in the offseason, it appeared Albert had a better chance of being secured to a long-term deal than Clady, but as with many contract dealings, the process is fluid.
From what I hear, Albert would rather have a long-term deal now. But he understands he is making nearly $10 million in 2013. Thus, he realizes he is not being treated unfairly. The two sides will decide after the season if they want to continue their relationship. If not, No. 1 overall pick
Eric Fisher
will move from the right side to the left side in 2014 and Albert will walk in free agency.
July, 19, 2013
7/19/13
11:50
AM ET
By
ESPN.com staff
| ESPN.com
Denver Broncos
NFL.com spoke with coach
John Fox about the team's plans
regarding executives Matt Russell and Tom Heckert after the two were suspended following DUI arrests.
The Broncos' team site breaks down
Denver's specialists
and also features a Q&A with special-teams
coordinator Jeff Rodgers
.
Meanwhile, defensive coordinator Jack Del Rio aims to
keep Peyton Manning guessing
throughout training camp.
Kansas City Chiefs
CBSSports.com's Pat Kirwan argues that the NFL should bring back the 300-carry workhorses that were prevalent 10 years ago. Kirwan lists 13 backs he says are capable of the feat and writes that
Jamaal Charles is clearly capable of reaching that goal
.
Oakland Raiders
San Jose Mercury News columnist Tim Kawakami reports that some NFL executives say the
Raiders' roster could be worse
than it was last season.
San Diego Chargers
In an interview with TD Daily
quarterback Philip Rivers spoke
about his recent struggles and the team's outlook this season. "I don't ask for any sympathy and because I'm the quarterback I'm responsible, especially for the mistakes I make. But I'm also excited because I know that I can play better and that I will play better."
CBSSports.com runs down all the training camps
in this preview
and wonders whether Rivers will "get back to winning."
July, 12, 2013
7/12/13
11:45
AM ET
By
ESPN.com staff
| ESPN.com
Denver Broncos
Wideout Eric Decker doesn't think
the recent DUI arrests of director of player personnel Matt Russell and director of pro personnel Tom Heckert will distract the players
, writes Mike Klis of the Denver Post. "This is a great organization," Decker said. "They'll find the right manner to handle it. As players, our focus is on getting ourselves ready for a great season."
It's unclear how the team will discipline Russell and Heckert, but Broncos president Joe Ellis said Thursday that
any apologies from the two men are not enough
. "We're not perfect. We've made our errors. We admit," Ellis told AP via NFL.com. "You can say we apologized for it -- but I think an apology rings hollow when you run into the back of a police car or you're blowing a blood-alcohol limit that's three times the legal limit. I don't think fans, I don't think the public, I don't think anybody wants to hear an apology."
NFL.com's Marc Sessler
profiles cornerbacks Chris Harris and Dominique Rodgers-Cromartie
in his series on players poised to "make the leap" next season.
Kansas City Chiefs
How will the Chiefs do in their first season under new coach Andy Reid? The Kansas City Star's Sam Mellinger has
game-by-game
predictions
for the 2013 season.
Running back Jamaal Charles, scheduled to earn $3 million in cash compensation this season, is
the best bargain on the Chiefs' roster
, writes Brian McIntyre of Yahoo! Sports.
Oakland Raiders
The team's official website takes a look at
the matchups between the Raiders and the Chicago Bears
-- a preseason opponent of Oakland's -- through the years.
San Diego Chargers
Rookie offensive tackle
D.J. Fluker talks with Bleacher Report
about the emotions of being drafted, buying his mother a house and how money isn't going to change him.
"The Chargers' championship window has closed, and there's
not much reason to be excited for their 2013 prospects
," writes Frank Schwab of Yahoo! Sports in his preseason preview of the Chargers.
July, 11, 2013
7/11/13
10:14
AM ET
By
ESPN.com staff
| ESPN.com
Denver Broncos
The Broncos
need to get a long-term contract done
with All-Pro left tackle Ryan Clady, writes Mark Kiszla of the Denver Post.
The Broncos
are not providing a timetable
as to when Matt Russell, 40, and Tom Heckert, 45 -- the top two assistants to football operations boss John Elway -- will be disciplined for their recent DUI arrests. Mike Klis of the Denver Post has the story.
Former Denver center Tom Nalen, recently named to the team's Ring of Fame,
ripped the Broncos for the handling of Heckert's DUI arrest
. Ryan Wilson of CBSSports.com has the story.
Kansas City Chiefs
The Chiefs and offensive tackle Branden Albert have until 3 p.m. Monday
to come to an agreement on a multiyear contract extension
, writes Randy Covitz of the Kansas City Star. After that time, players who have been designated with the franchise tag cannot sign an extension until after the final game of the 2013 regular season.
Oakland Raiders
Maui Prosecuting Attorney John Kim says Raiders linebacker Kaluka Maiava and his 30-year-old brother, Ilima Maiava,
have been charged
with misdemeanor assault and criminal property damage, a petty misdemeanor, in connection with a brawl at the bar Life's a Beach on March 17.
The decade-by-decade breakdown of the Raiders' history with their 2013 opponents by the team's website continues
with a look at the Saints
.
San Diego Chargers
Charlie Whitehurst and the Chargers
won't be pleased with this ranking
of the league's backup quarterbacks by Marc Sessler of NFL.com.
July, 10, 2013
7/10/13
10:40
AM ET
By
ESPN.com staff
| ESPN.com
Denver Broncos
Denver's director of pro personnel, Tom Heckert,
was arrested on DUI charges last month
. Jeff Legwold and Ryan Parker of the Denver Post have the story. This news comes one day after news broke that the team's director of player personnel, Matt Russell, was arrested on DUI charges in Summit County last weekend. Russell and Heckert face punishment from the legal system, and also the Broncos and the NFL in terms of suspensions and fines. A rehabilitation program is also likely to be mandated.
Of the arrests, Mike Kiszla of the Denver Post writes: There will be no
self-righteous wagging of the finger by me
at the NFL franchise whose every move affects the heart of Denver. But the sobering truth is: The Broncos must do something more than say they're sorry.
Broncos strength and conditioning coach Luke Richesson
talks about getting the team ready for the 2013 campaign
. Stuart Zaas of the team's website has the story.
Kansas City Chiefs
Cornerback Brandon Flowers told NFL Network's "NFL AM" crew on Wednesday that
the Chiefs "have the pieces
to be the best secondary in the NFL." Marc Sessler of NFL.com has the story.
Oakland Raiders
Former Raiders middle linebacker Rolando McClain, now retired,
filed not guilty pleas to charges of disorderly conduct and resisting arrest
Tuesday through his attorney, writes Aaron Wilson of the Baltimore Sun. During the arraignment in his hometown of Decatur, Ala., McClain was assigned a Dec. 12 court date.
The team's website takes a decade-by-decade look at the Raiders' history with their 2013 opponents,
beginning with the Cowboys
.
San Diego Chargers
Ricky Henne of the team's website
answers questions from readers
regarding changes to the field, injuries and the new-look defense.
May, 31, 2013
5/31/13
6:55
PM ET
Demetrius Harris is far from a small-dunk to make the Kansas City Chiefs' roster, but the undrafted rookie has impressed head coach Andy Reid.
Asked if any young players were standing out in organized team activities and Reid named Harris to reporters Friday.
"Harris has done a nice job," Reid said. "He came in as a basketball player and has just gotten better and better every day. You see him out here making plays. I'm sure you guys noticed that. I'm proud of him for the way he's worked, that's not an easy transition."
That is encouraging for Harris and the Chiefs. Kansas City signed the former University Milwaukee-Wisconsin basketball player after the draft as a project. Several teams looked at Harris, but he signed with the Chiefs partly because general manager John Dorsey showed early interest in him. Harris had a chance to play football at Arkansas State and he was standout in high school.
It will be a long road for the 6-foot-7, 230-pound Harris to make the transition from college hoopster to NFL tight end, but has been done before. Reid just wants to see the youngster continue to work.
"To learn, just learn," Reid said when asked what Harris needs to do moving forward. "We saw the athleticism. John Dorsey, that was his guy and he saw the ability there. He had been a real good high school receiver so you bring him in and give him a shot. That's what those are all about -- those tryout positions. He came in and stayed in and made the most of it so far."
Unless he completely falls off, I bet Harris is going to be earmarked for the practice squad where he can continue to grow in the Kansas City program. He will definitely be a player to monitor during training camp.
In other AFC West notes:
New San Diego offensive coordinator Ken Whisenhunt is
excited about working
with quarterback Philip Rivers.
Kansas City star running back Jamaal Charles had his toe stepped on during an OTA practice Friday. ESPN's Ed Werder reports Charles is expected to be fine. The Kansas City Star reports X-rays came back negative.
The Denver Post reports the Broncos have hired John Spytek to their scouting department. He was the Browns' director of college scouting under Tom Heckert, who is now in Denver's front office.
The Patriots released guard Tyronne Green. He was a starter on the Chargers last season and had recently signed with New England. The new San Diego brass didn't have interest in him this offseason.
Here's a piece of history every
Broncos' fan might (or might not) want. A game-day barrel worn by the actual Barrel Man, the most famous Bronco fan of them all. It's all yours on eBay. Go get bidding (or not).
May, 6, 2013
5/06/13
10:15
PM ET
The
Denver Broncos
are adding an interesting name in the front office.
The NFL Network is reporting the Broncos are adding former Philadelphia and Cleveland executive Tom Heckert to the front office, the team did not renew the contract of personnel man Keith Kidd. Heckert will likely fill Kidd's role.
Heckert will not have a position of major power in Denver with John Elway leading the football operations and Matt Russell also playing a key role.
But Heckert does give the Broncos value because of his experience as a decision maker. He was a longtime successful personnel man in Philadelphia and he spent the past three years as the general manager in Cleveland.
January, 9, 2013
1/09/13
8:30
PM ET
ESPN's Adam Schefter reports
that new Kansas City coach Andy Reid is interviewing former Minnesota head coach Brad Childress for a role on his staff. Childress, currently the Cleveland Browns' offensive coordinator, has been linked to the Chiefs since Reid was hired. He was offensive coordinator under Reid in Philadelphia, so it won't be a surprise at all if he ends up in Kansas City.
The Kansas City Star has a look
at three men in the running to become the Chiefs' general manager: John Dorsey, Tom Gamble and Tom Heckert. Dorsey is considered a top candidate.
Denver left tackle
Ryan Clady
(shoulder) and left guard
Chris Kuper
(shoulder) practiced fully Wednesday and seem ready to play Saturday against the Ravens. Backup cornerback
Tracy Porter
(concussion) did not practice.
In an Insider piece,
Steve Muench looks at the top pass-rushers

available in the draft. One of these players could end up being Oakland's pick at No. 3.
In another Insider piece,
Mel Kiper re-does the 2007 draft

. No,
JaMarcus Russell
didn't make the cut this time.
January, 4, 2013
1/04/13
3:55
PM ET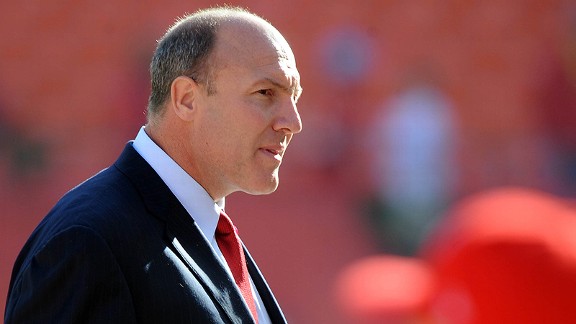 John Rieger/US PresswireOn the same day the Chiefs hired their new coach in Andy Reid, they parted ways with GM Scott Pioli.
Some Chiefs fans became so dissatisfied with GM Scott Pioli this season that they hired a plane to carry a banner over Arrowhead Stadium on game days with the message to fire Pioli. There's no need to go to such lengths anymore.
The most reviled man -- whether it's deserved or not -- in Kansas City sports is no longer in the picture.
As part of the movement to bring high-powered coach Andy Reid to the Chiefs, the organization has parted ways with Pioli.
This is not the way it was supposed to happen.
As excited as Kansas City is to welcome Reid, the fans were just as excited when ownership hired Pioli nearly four years ago. He was the top GM candidate available in 2009 and the Chiefs were given a lot of credit for bringing him on board.
He was well-respected for being part of New England's success as Bill Belichick's right-hand man.
But, in the end, Pioli didn't succeed as the main decision-maker in Kansas City. The Chiefs made the playoffs just once in Pioli's tenure (in 2010) and they flatlined in 2012 with a 2-14 record, earning the No. 1 pick in the April draft.
As the 2012 season unraveled it became evident that ownership likely would have no choice but to fire both Pioli and coach Romeo Crennel. However, Pioli was kept on Monday after Crennel was jettisoned.
Owner Clark Hunt was open to keeping Pioli, perhaps in a similar role to the one he had in New England. But the franchise will move forward with Reid as the main decision-maker. He is expected to bring in his own general manager who he can work closely with. The favorites are John Dorsey and Tom Heckert. Reid has a history with both men.
This is the right way to go. I don't think it would have worked between Reid and Pioli. Starting a new era without Pioli makes sense for everyone.
[+] Enlarge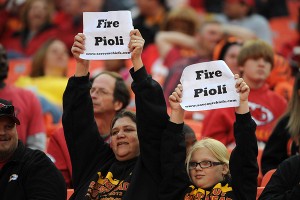 John Rieger/USA TODAY Sports Fans became fed up with Scott Pioli's leadership after suffering through the third losing season in the past four.
Pioli said in a statement that he leaves Kansas City knowing he didn't get the job done. Ultimately, Pioli will be remembered in Kansas City for failing at his two biggest tasks: Finding a quarterback and a coach.
In Pioli's first move big move as Chiefs GM, he traded for quarterback
Matt Cassel
from New England. He thought Cassel could enjoy the same success in Kansas City as he did as
Tom Brady
's injury replacement in 2008. Cassel was good in 2010, but his play slipped in 2011.
Instead of finding a replacement (the Chiefs were rebuffed by
Peyton Manning
early in the process and they bypassed quarterback
Russell Wilson
in the draft), Pioli rode with Cassel again. The quarterback struggled and was benched during the 2012 season.
Pioli also failed with two coaching hires in Todd Haley and Romeo Crennel.
These moves made it very difficult for Pioli to succeed. They weren't his only failures, though. He drafted just one Pro Bowl player --
Eric Berry
in the first round in 2010. Four of the Chiefs' five Pro Bowl players were on the roster when Pioli took over. He also failed to take advantage of a strong salary-cap situation.
Pioli also has a reputation for not being easy to work with. Haley went as far as to say he thought Pioli spied on him and there were accounts of other employee uneasiness.
Friday's decision has been met with celebration by much a fan base that was fed up with a franchise that hasn't won a playoff game in 20 years. Like his hiring did four years ago, Pioli's dismissal brings hope to the fan base.
In the end, Pioli is still a smart football man and I can see him getting looks at other spots. If he doesn't become a candidate for other openings, he could end up in Atlanta, Chicago or New England. He has ties to all three places.
As for the Chiefs, it is now all about Reid's leadership. The Chiefs hope he has enough success to keep any flying protests grounded.