March, 12, 2012
3/12/12
11:30
AM ET
NFL free agency begins Tuesday at 4 p.m. ET. Here is the complete list of unrestricted free agents for each team in the division:
Denver Broncos:
S
Brian Dawkins
, DT
Brodrick Bunkley
, LB
Mario Haggan
, TE
Daniel Fells
, DE
Derrick Harvey
, OL
Russ Hochstein
, DE
Jason Hunter
, FB
Spencer Larsen
, LB
Joe Mays
, DT
Ryan McBean
, QB
Brady Quinn
, WR
Eddie Royal
, DT
Marcus Thomas
, TE
Dante Rosario
, CB
Jonathan Wilhite
, WR
Matthew Willis
, LB
Wesley Woodyard
, G
Manny Ramirez
.
Kansas City Chiefs:
RB
Jackie Battle
, LB
Jovan Belcher
, CB
Brandon Carr
, S
Jon McGraw
, QB
Kyle Orton
, DB
Travis Daniels
, DE
Wallace Gilberry
, DL
Amon Gordon
, NT
Kelly Gregg
, S
Reshard Langford
, FB Le'Ron McClain, TE
Anthony Becht
, RB
Thomas Jones
, OT Ryan O'Callaghan, TE Jake O'Connell, QB
Tyler Palko
, S
Sabby Piscitelli
, TE
Leonard Pope
, OT
Barry Richardson
, WR
Jerheme Urban
, C
Casey Wiegmann
.
Oakland Raiders:
RB
Michael Bush
, LB
Quentin Groves
, OT
Stephon Heyer
, QB
Jason Campbell
, DE
Jarvis Moss
, C
Samson Satele
, WR
Chaz Schilens
, DL
Trevor Scott
.
San Diego Chargers:
WR
Vincent Jackson
, G
Nick Hardwick
, OT
Jared Gaither
, RB
Mike Tolbert
, RB
Jacob Hester
, NG
Antonio Garay
, SS
Steve Gregory
, DL
Tommie Harris
, ILB
Na'il Diggs
, OLB
Everette Brown
, SS
Bob Sanders
, SS
Paul Oliver
, WR
Patrick Crayton
, OG
Tony Moll
TE
Randy McMichael
, ILB
Stephen Cooper
.
February, 13, 2012
2/13/12
7:45
PM ET
The
San Diego Chargers
put out a statement to express their grief over the sudden passing of the wife of free agent defensive tackle
Tommie Harris
. Ashley Harris died Sunday in Oklahoma at the age of 29 after suffering a stroke or a brain aneurysm, the team said.
"The Chargers family is saddened by the sudden loss of one of our very young members," the team said in a statement. "Tommie Harris' wife Ashley was just 29 and leaves behind a loving husband and two young children. Our prayers are with the Harris family during this most difficult time."
Funeral arrangements are pending. Harris played in 13 games with San Diego in 2011. As we mentioned in a previous post, our condolences go out to the Harris family.
February, 13, 2012
2/13/12
2:25
PM ET
Fox Sports
reported
that Texas A&M's Terrell Williams was hired as Oakland's defensive line coach. Williams played at the school with new Oakland coach Dennis Allen. Former Kansas City defensive line coach Tim Krumrie was also a candidate. Like at Stanford, Texas A&M ran a 3-4. Oakland just hired Stanford's Jason Tarver as defensive coordinator.
Allen was noncommittal about whether the Raiders will use the 4-3 or 3-4 defense as their base defense. He ran the 4-3 in Denver and Oakland ran the 4-3 prior to Allen being hired. Allen has said the Raiders will show multiple looks.
Also around the AFC West:
November, 6, 2011
11/06/11
11:30
PM ET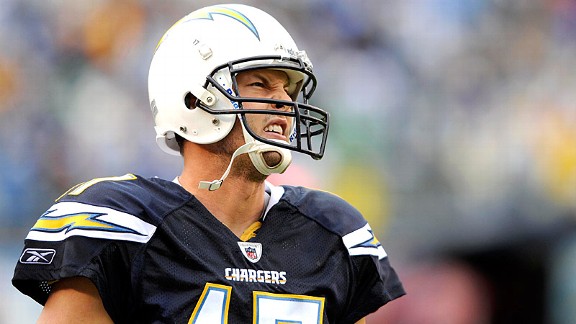 Christopher Hanewinckel/US PresswireFor the first time in his NFL career, Chargers QB Philip Rivers threw three interceptions.
SAN DIEGO -- Here come the
Denver Broncos
?
Why not? It's the AFC West and everything appears to be on the table.
With half the NFL regular season remaining, anything is possible in what is developing into the NFL's wildest race. It is plausible that any team in the AFC West could win the division crown and any team could finish in last place.
On a day the
Kansas City Chiefs
and
Oakland Raiders
could end up long regretting, the Chargers, Chiefs and Raiders started in a three-way tie and ended in a three-way tie after all three teams lost home games. They are all 4-4 at midpoint of the season. Denver -- yes, Denver -- looms at 3-5.
Week 9 has to be particularly disheartening for Kansas City and Oakland. Both teams had to be looking forward to improving to 5-3 Sunday and seeing if the other teams in the scrum would keep up. Kansas City was entertaining winless Miami and the Raiders were hosting hapless Denver, fresh off a 35-point home loss to Detroit.
"You never know what is going to happen," San Diego defensive lineman
Tommie Harris
said after the Chargers lost 45-38 to Green Bay on Sunday. "That's why we just have to bounce back quickly."
The Chiefs – who came into Week 9 on a four-game win streak -- were dismantled 31-3 by the Dolphins. Oakland, in the first start of the
Carson Palmer
era, was run over 38-24 by the Broncos.
Both the Chiefs and the Raiders may be guilty of looking ahead. The Chiefs came out of a huge Monday night win over the Chargers last week thinking they'd be 6-3 after home dates against Miami and Denver. After starting 4-2, the Raiders had designs on going 6-2 with home games against Kansas City and Denver on the horizon.
Things can quickly change.
Just ask the Chargers. Three weeks ago, they were defending their somewhat shaky play by pointing out they were 4-1. Now, they are simply another shaky .500 team after three straight losses that featured critical fourth-quarter miscues by struggling quarterback
Philip Rivers
.
Rivers threw three interceptions (for the first time in his NFL career), including two that were brought back for touchdowns in the first quarter and another one that scuttled a potential game-tying touchdown drive in the final minute in a wild loss to unbeaten Green Bay.
Had the Chargers been able to come back to beat Green Bay, they would be looking good at 5-3 in this division. Instead, the three-way logjam continues.
None of these three teams can say they are currently a good team. All three have issues moving into the second half of the season.
If I had to peg a favorite to emerge from the AFC West heap right this moment, I'd probably say the Chargers -- who host the Raiders in a critical division game Thursday night.
It just seems that they currently have fewer major questions than the other teams in the division. The Chargers are skidding, but they aren't playing terribly. San Diego needs some tweaking, but it doesn't seem to be in any major upheaval. The Chargers could have won any one of the three past games.
While Rivers is clearly making way too many crucial mistakes, he is still making a lot of plays. It's not like his game is in total disarray. If he can clean up the problems, the Chargers should be fine.
What's worrisome about Kansas City is that on Sunday it reverted to the poor form of the first two games of the season when it was beaten by a combined score of 89-10. No contending team should be hammered like that at home by a bottom feeder like Miami. Plus, the Chiefs' schedule gets extremely difficult in Weeks 11-15. They have road games at New England, the Jets and Chicago and home games against Pittsburgh and Green Bay.
The Raiders are a bit of a mystery right now.
They are 0-2 since trading two premium draft picks for Palmer. He has thrown six interceptions in six quarters with the Raiders. Oakland has problems on defense and its offense is clearly out of sorts with the sudden quarterback change from
Jason Campbell
to Palmer. The Raiders have loads of talent, but they have to quickly get their house in order.
The Broncos are the least talented team in the division, but the truth is, they are still in the hunt. Truly, anything can happen out West in the next two months.
Count the Chargers among those who are grateful to be in the race.
"Whether we're 8-0, 2-6 or 4-4, we're tied for first place," safety
Eric Weddle
said. "That's all that matters … let's see what happens after 16 games."
There's no question that this muddled, imperfect race has the feel of one that will go the distance.
October, 7, 2011
10/07/11
6:35
PM ET
September, 28, 2011
9/28/11
6:15
PM ET
You have to think
Bob Sanders
' NFL career is over.
[+] Enlarge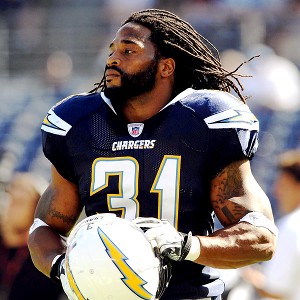 Christopher Hanewinckel/US PresswireBob Sanders' NFL career may be over after being put on the injured reserve.
After playing just nine games total in the past three years for the
Indianapolis Colts
, Sanders' season with the
San Diego Chargers
ended after two games. Sanders, who missed Sunday's game against Kansas City, was put on the injured reserve Wednesday because of a knee injury. That means four straight seasons have ended on the injured reserve for the hard-hitting, playmaking safety. He has played just 11 games since the 2007 season when he was the NFL Defensive Player of the Year.
San Diego general manger A.J. Smith made it clear in a statement that the Sanders' experiment is over in San Diego.
"All we wished for Bob was good health and hoped to turn him loose to do his thing, which was being one great, physical, highly-competitive player," Smith said. "It didn't work out for him or us, and we wish him the very best. He was with us a very short time, but made a positive impact with our team in many ways, and I'll always appreciate that."
The Chargers knew they were taking a chance on Sanders and the deal was very team friendly. But they liked Sanders and they wanted him to be a big part of the defense. They expected him and fellow safety
Eric Weddle
to
create a special tandem.
When I spoke to Smith about Sanders, Smith said all Sanders needed was "health." He didn't get it. I met Sanders during the summer and he is easy to root for. He said he was due for some good health and he was thrilled to get the chance in San Diego. When healthy this summer, Sanders was fast and he looked good.
But, in the end, his body betrayed him again.
The Chargers, who are getting used to injuries, will use
Steve Gregory
with Weddle along with some other young players. Gregory is serviceable, but a healthy Sanders could have been special.
Meanwhile, the Chargers brought in another veteran defender. Defensive tackle
Tommie Harris
replaces Sanders on the roster.
Harris was cut both by Chicago and Indianapolis this year. The Chargers want a veteran to fill the gap in the rotation for the next few weeks.
Luis Castillo
will be out for several weeks with a broken leg and
Jacques Cesaire
will be out for several weeks with a knee injury. Rookie defensive wend
Corey Liuget
missed last week's game with an ankle injury. He was practicing some Wednesday. Still, it is not known if he can play against the Dolphins. The Chargers will take anything Harris can give him at this point.
September, 28, 2011
9/28/11
4:41
PM ET
The
San Diego Chargers
just put safety
Bob Sanders
on the injured reserve with a knee injury and signed former Chicago defensive lineman
Tommie Harris
because of concerns on the defensive line.
You have to think Sanders' career may be over. I will be back later with analysis on this news. I am finishing another post, but I wanted to pass this news along.
September, 3, 2011
9/03/11
3:25
PM ET
Check here
for a complete list of the
Denver Broncos
' roster moves.

Surprise move:
The cuts of defensive lineman
Jeremy Jarmon
and safety
Kyle McCarthy
were unexpected. Jarmon was brought in through a trade from Washington for
Jabar Gaffney
. He was expected to be part of Denver's defensive-line rotation. McCarthy was working with the first-team defense for parts of camp. But in the end, 2010 draft picks
David Bruton
and
Darcel McBath
were kept over McCarthy.
No-brainers:
There was talk that
Derrick Harvey
could be cut. But the team needs to keep him, especially with Jarmon out. The former No. 8 overall pick from Jacksonville is needed on Denver's tenuous line. While he probably will never live up to his lofty draft position, Harvey is solid against the run and could help Denver. Also, I'm not shocked that Denver kept only rookie tight ends
Julius Thomas
and
Virgil Green
behind starter
Daniel Fells
. They cut
Dante Rosario
and
Dan Gronkowski
. The Broncos really like their three tight ends.
What's next:
The Broncos have the No. 2 waiver priority. Expect them to use it often. Denver probably will look at defensive linemen, cornerbacks, offensive linemen and running backs on the waiver wire. The Colts cut defensive tackle
Tommie Harris
. DT is Denver's greatest need, but the Broncos might be reluctant to pursue a player who has been cut by the Bears and Colts this year. Recently cut defensive linemen
Jacob Ford
(Tennessee) and
Marcus Harrison
(Chicago) could be appealing to Denver.
June, 23, 2011
6/23/11
7:30
PM ET
Matt Williamson of Scouts Inc. has been high on Oakland second-year defensive lineman
Lamarr Houston
for some time. Williamson made Houston his Raiders' recipient in his
"soon to be stars" feature in May.
Houston
I wanted to pick Williamson's brain more on why he is so high on Houston. The following are reasons why Williamson thinks so highly of Houston, a second-round 2010 pick from Texas. He had 39 tackles and five sacks as a rookie.
Limitless future:
"One of the best things about Houston is how good he can be. I think there is no ceiling for him. I think he can be one of, if not, the best defensive lineman in football."
Versatile:
"He can play anywhere on the line. That's another beautiful thing about Houston. He can play in a 3-4 or in a 4-3; he can do anything you ask."
Top youngsters:
"I wouldn't take him over
Ndamukong Suh
or
Gerald McCoy
, but those guys were the No. 2 and No. 3 picks in the draft. But Houston is not too far behind those guys. It's closer than the average fan thinks."
Great help:
"I love that he gets to work with
Richard Seymour
. Seymour can really help Houston early in his career. That's a big thing for him to learn from a great player like Seymour."
Comparison:
"I can see him being like
Tommie Harris
in his prime. He can dominate like that … I've watched a lot of film of Houston and I really expect big things from him. The Raiders have a star."
March, 1, 2011
3/01/11
10:10
PM ET
The
New Orleans Saints
have signed defensive tackle
Shaun Rogers
to
a one-year deal.
The
Kansas City Chiefs
were also trying to sign Rogers.
The massive defensive tackle visited with the Chiefs after being cut by Cleveland. Rogers played for Kansas City defensive coordinator Romeo Crennel in Cleveland.
The Chiefs want to bring in two new defensive tackles to add to their rotation. The team was high on Rogers because of his experience and for his ability to stuff the run.
Kansas City will surely address the position in the draft and in free agency -- whenever it begins -- after a new collective bargaining agreement is agreed upon. With Rogers out of the continue, the Chiefs could turn to defensive tackle
Tommie Harris
. He was cut by the Bears on Monday. However, Harris lost his starting job last season and may be on the downside of his career.
February, 28, 2011
2/28/11
9:25
PM ET
I could see teams like Denver and Kansas City considering defensive tackle
Tommie Harris
, who
was cut by Chicago.
But don't expect him to be a high priority for either team. Harris' skills have eroded some and he lost his starting job last season.
I don't see any team in the AFC West making a big run at running back Clinton Portis, who was cut by Washington. He will be 30 this year and he had just 227 rushing yards last season. The end is near.
Update:
The agent for Oakland linebacker Kamerion Wimbley
said he will sign his franchise tender.
It will pay Wimbley $11.3 million for 2011, assuming the franchise tag will be part of the new CBA.

AFC WEST SCOREBOARD
Friday, 8/22
Saturday, 8/23
Sunday, 8/24