September, 30, 2013
9/30/13
6:10
PM ET
ENGLEWOOD, Colo. -- If it was Monday, it must have been time for Broncos coach John Fox to perform the football eclipse and just block out the sunshine.
And in working his way through a recap of Sunday's 52-20 win over the
Philadelphia Eagles
that pushed the Broncos to 4-0 and brought another round of historical benchmarks the team has surpassed on offense along the way, Fox delivered an off-handed missive that won't be great news to the team's upcoming opponents.
"We left points out on the field [Sunday]."
And with that Fox kept to his weekly ritual of trying to turn down the flame on the Broncos' start in which the quarterback has thrown 16 touchdown passes without an interception, more touchdowns than every other team in the league has scored overall, and the Broncos lead the league in scoring by 52 points over No. 2 Chicago.
[+] Enlarge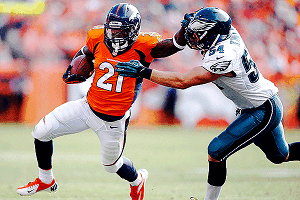 Chris Humphreys/USA TODAY SportsWill Ronnie Hillman and the run game be reliable if Denver is in need of tough yards in a close game?
"We'll just continue to get better," Fox said. " … And I expect us to get better. People look at me funny when I say that. There's still a lot of areas we need to improve at, we can improve at."
In reality, even with quarterback
Peyton Manning
on the current torrid pace, the Broncos will need, at some point, to run the ball with more authority, especially when in close-out mode. They rushed for just 37 yards on 12 carries in the fourth quarter Sunday. That's 3.1 yards per carry against a defense that was both demoralized and visibly fatigued. While that looks like a BB off a battleship in a 32-point win, there will be a day when the Broncos need more to grind one out.
It will be intriguing to watch how the Broncos attack the Cowboys defense, with longtime NFL assistant Monte Kiffin in his first season calling the shots on that side of the ball in Dallas. Especially since the Broncos will have the video of how their offensive coordinator from 2012 -- current Chargers coach Mike McCoy -- handled it this past Sunday in the Chargers' 30-21 victory. Kiffin has long played a 4-3 look, with the defensive linemen playing the run as they move up the field toward the quarterback with two deep safeties. He forces quarterbacks to play with patience with a combination of coverages designed to keep plays in front of the defensive backs. Fox knows it well from his time in Carolina and Kiffin's long run as the Buccaneers' defensive coordinator, while Manning certainly knows it from his time in Indianapolis when Tony Dungy used the defense with the Colts (Kiffin was Dungy's defensive coordinator in Tampa). But that doesn't always help, or as Fox put it: "Everybody in this league has either played for or coached with Monte.'' One of the biggest challenges for the Broncos will come up front where Kiffin's four-man front is often stunting and moving into the middle of the field as well, working the gaps between the center and guards. That will surely mean a test for Manny Ramirez, as well as Zane Beadles and Louis Vasquez.
Fox said he was sitting face-to-face with Broncos defensive coordinator Jack Del Rio Sunday night when the University of Houston tennis coach, Patrick Sullivan, posted on his Twitter account he had "spotted" Del Rio at Los Angeles International Airport. Fox and the Broncos coaches were at a local steakhouse at the time. "I was actually at Del Frisco's when that came out," Fox said. Asked if he was checking his Twitter feed at the time, Fox said: "I don't even know how to spell Twitter." Del Rio has already been linked to the vacant USC coaching job -- he played at USC -- but couldn't start a new job until the Broncos season is over, including any postseason games. Del Rio's contract is up following the season. Following Sunday night's game, Del Rio said: "There isn't anything to say. It's all speculation at this point, I've got a job to do here, my focus is right there." Monday, Fox said: "Like always there's 8,000 candidates, when it gets serious potential, we'll keep you posted."
The Broncos equipment staff saved linebacker Steven Johnson the football from his first career touchdown in Sunday's win. Johnson blocked a punt early in the fourth quarter, scooped up the ball and returned it 17 yards for the score. Johnson got the ball Monday afternoon. "After I blocked it, I was shocked and I was like, 'Oh shoot,' you know? I slowed down, took a deep breath and just picked it up and scored and then celebrated with my teammates."
Following Sunday's game, in which Trindon Holliday had his sixth return for a touchdown in his 16 games with the Broncos, Holliday said he believed he has become more reliable catching the ball. Fox hasn't always allowed Holliday to catch punts deep in Denver territory and Holliday has had some nerve-wracking bobbles in his brief time with the Broncos. But Monday Fox agreed with Holliday's assessment saying Holliday was "fielding the ball way more consistently.'' It could mean Holliday gets a few more opportunities in games, particularly as a punt returner. On Holliday's run with the team Fox said: "I joked with him that if he'd won the Baltimore game, he might have been the guy on Dancing with [the] Stars.'' Holliday became the first player in league history to return a kickoff and a punt for touchdowns in the same playoff game last January. But the Broncos didn't hang on and lost to the Ravens. And Ravens wide receiver Jacoby Jones was chosen to appear on "Dancing with the Stars."
Fox said Monday the Broncos suffered no major injuries in Sunday's game. Defensive tackle Mitch Unrein and linebacker Danny Trevathan each left the game, but returned.
January, 9, 2013
1/09/13
7:30
PM ET
Now, that the
San Diego Chargers
have hired former Indianapolis executive Tom Telesco to take over as general manager, the search is fully focused on finding the team's new head coach.
The plan is to make a hire by the end of next week. The Chargers, who fired general manager A.J. Smith and coach Norv Turner on Dec. 31, have started the coaching search, but Telesco takes over.
There have been several names connected to the job including former Chicago coach Lovie Smith, Indianapolis offensive coordinator Bruce Arians, UCLA coach Jim Mora and former Seattle and Green Bay coach Mike Holmgren.
I think Smith and Arians may be the favorites of that group, although anything could happen.
Two more names could be part of the team's list as well. Cincinnati offensive coordinator Jay Gruden could interest the team. Telesco played at John Carroll University with San Francisco offensive coordinator Greg Roman. Cincinnati defensive coordinator Mike Zimmer could also be part of the process.
While the Chargers' immediate ends are on offense, Telesco has worked in programs that have been led by both offensive and defensive-minded head coach.
Arians has long been considered a favorite for this job. the fact that he and Telesco were key parts of the team's wonderful turnaround likely won't hurt his chances. But I'm not sure if it increases the chances of Arians being hired because I think Telesco will be open minded.
Telesco is also connected to Smith in a round-about way. Telesco was with the Colts when Tony Dungy coached there. Smith is part of Dungy's coaching tree. Overall, I think everything is one the table for San Diego as it fully concentrating on replacing Turner now that Telesco is in place.
UPDATE:
ESPN's Adam Schefter reports Arians will tentively is set to interview with the Chargers on Monday.
September, 4, 2012
9/04/12
1:05
PM ET
ESPN.com's Stephania Bell reports
Pittsburgh safety
Ryan Clark
will miss his third game in Denver in the past few years on Sunday night because of health risks spurred by Denver's high altitude.
Clark has the sickle cell trait. It is a genetic abnormality which can affect red blood cells. While playing Denver in 2007, Clark had a bad reaction to the high altitude and had to have his spleen and gall bladder removed.
Meanwhile, Pittsburgh receiver
Mike Wallace
, who recently ended his holdout, has been working with the first unit and he should play extensively against the Broncos.
In other Denver notes:
Peyton Manning's former Indianapolis coach Tony Dungy, was a visitor at the Broncos' practice Monday.
Arizona signed receiver Gerell Robinson to its practice squad. Denver recently cut the Arizona State product.
The Broncos added former Mississippi State center Quentin Saulsberry to their practice squad.
March, 2, 2012
3/02/12
12:00
PM ET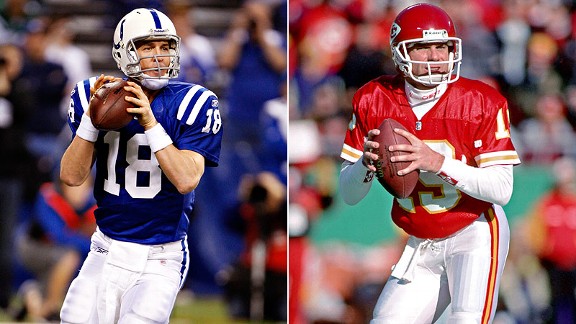 US PresswireWill the Chiefs go after Peyton Manning following an injury as they once went after Joe Montana?
The
Peyton Manning
saga will surely be the story of the NFL offseason. The question in the AFC West is, will the Kansas City Chiefs be the story along with the legendary Indianapolis Colts quarterback?
As of now, we have to think it is a real possibility that the Chiefs will heavily pursue Manning -- who may be cut by the Colts as soon as next week -- if he becomes a free agent. Manning, who will turn 36 on March 24, missed all of last season with a neck injury and there is no certain date when he will be 100 percent, although there have been reports he will be ready to play in 2012.
If the Chiefs end up signing Manning, it won't be the first time the organization
brought in a living legend
at the end of his career after he suffered a serious injury. The Chiefs traded for San Francisco's Joe Montana in 1993.
The Chiefs have been connected to Manning in recent weeks. A Kansas City radio station has even reported that the team has had multiple conversations with Manning's agent about finances and that the Chiefs feel comfortable about what Manning may want. That would constitute tampering and it is highly unlikely any team would talk finances with Manning before giving him a physical and knowing more about his recovery timetable. Still, the Chiefs have a load of salary-cap room and they can easily construct a deal for Manning in addition to making other improvements.
Of course, Kansas City coach Romeo Crennel did nothing to take the scent off a potential Chiefs-Manning pairing when he said this at the NFL combine last Saturday: "With a talent like that, I would be crazy not to consider it if he's available. I'll leave it at that."
The Chiefs are not necessarily looking for a new starting quarterback. At the combine, Kansas City general manager Scott Pioli wouldn't say the job is open. He said the starter is
Matt Cassel
. However, there will be competition at every position. The translation is the Chiefs expect Cassel to be the starter, but if a better option comes along, they will consider it. There's no doubt a healthy Manning would be a better option.
[+] Enlarge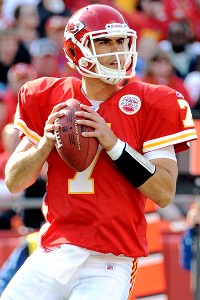 Dak Dillon/US PRESSWIREMatt Cassel may find himself backing up Peyton Manning next season if the Chiefs make a move.
If the Chiefs do want to go deep into the Manning sweepstakes,
they will have competition
, likely beginning with Miami and Washington. There will surely be other teams that show interest in the player who many consider one of the greatest NFL players of all time.
In addition to their interest and financial means, here's another reason the Chiefs could be favorites to land Manning: They may be the best team interested in him. That would surely appeal to Manning when he is making his choice. I'm not sure many of the interested teams can offer Manning a better supporting cast.
The Chiefs have a strong running game and Manning would have plenty of receiving options. No. 1 receiver
Dwayne Bowe
is expected to be franchised, 2011 first-round pick
Jonathan Baldwin
is a potential game-changing deep threat and
Steve Breaston
is a solid possession receiver. Tight end
Tony Moeaki
is expected to be healthy after missing the 2011 season with a knee injury. He was terrific as a rookie in 2010.
In addition to appealing offensive weapons, the Chiefs have the makings of a strong defense. A healthy Manning would immensely help any team. But Manning could be a difference-maker in Kansas City. Matt Williamson of Scouts Inc. said adding Manning would make the Chiefs -- who finished 7-9 in 2011 despite major injury issues -- "the clear favorite to win the AFC West" in 2012.
Putting Manning in the Heartland would make many teams in the AFC nervous.
I would think Manning would also be fine with working with Crennel and Pioli. He is close with New England quarterback
Tom Brady
and Brady won Super Bowls with both men. I'm sure Brady would give Manning glowing reports on both of his potential bosses. And don't think Manning would have trouble working with a defensive-minded coach like Crennel. Remember, the man Manning won his Super Bowl ring with, Tony Dungy, was a defensive-minded coach.
Cassel is also a factor in this scenario. Because Manning will be signed before there are any guarantees he'll be ready to play, any team that signs him must have a good fallback plan. There are fewer better fallbacks than Cassel.
If Manning is signed and he has a setback, the Chiefs can rely on Cassel, who shined as Brady's injury replacement in 2008. While Cassel wouldn't be thrilled with the idea of backing up Manning, I'm sure he'd understand the Chiefs taking advantage of a rare opportunity to pick up a future Hall of Fame player.
There are a lot of reasons this pairing makes sense. If it happens, the Chiefs will be at the center of the NFL universe.
October, 11, 2010
10/11/10
10:10
PM ET
The Denver Post is reporting
that Denver linebacker Robert Ayers is out for 2-3 months with a broken foot.
This is a blow for Denver. Ayers, the No. 18 overall pick in 2009, was the Bronco's best pass rusher with linebacker Elvis Dumervil out for the season with a chest injury.
Expect Denver to scour the waiver wire for help at outside linebacker, but there is little available. Also, safety Brian Dawkins is out for the next 2-3 weeks. Dawkins is Denver's leader and the loss will also hurt the team.
The Chargers announced left tackle Marcus McNeill has been activated. It was expected since he had to spend three games on the roster exempt list after ending his holdout. Cornerback Fred Bennett and safety C.J. Spellman were cut.
San Diego coach Norv Turner
shot back at a comment
made by Tony Dungy with some pretty funny scoreboard material. My take: good for Turner. Defend yourself.
Matt Williamson
of Scouts Inc.
has a look at how strong Kansas City linebacker Tamba Hali has been playing.
The Chargers will not fire special teams coach Steve Crosby,
Turner said.
The special teams have allowed 30 points on special teams in five games.
The Football Outsiders
look at how strong Denver quarterback Kyle Orton has been.
November, 19, 2009
11/19/09
12:20
PM ET
Denver safety
Brian Dawkins
has been named to a prominent players group by NFL commissioner Roger Goodell.
Dawkins joins a player advisory forum along with Baltimore's
Ray Lewis
and Arizona's
Kurt Warner
. Former NFL coach Tony Dungy will lead it.
The forum will provide input to Goodell on polices, programs and issues that affect players in all aspects of life, the league said in a release.
Dawkins, in his first season with Denver, has long been known for his leadership on and off the field. He is one of the most respected players in the league, so this appointment appears fitting.
October, 21, 2009
10/21/09
1:00
PM ET
Posted by ESPN.com's Bill Williamson
Mark from Newport News, Va.
, wants to know if I thought Tony Dungy advising
Michael Vick
against signing with Oakland was a bad idea because he would have a better chance of playing in Oakland than in Philadelphia.
Bill Williamson:
I think this year is about getting Vick acclimated to playing in the NFL again, and, frankly, getting him acclimated to being a free man again. If Dungy thought Oakland wasn't a stable place for Vick, then Vick should have listened. I don't think Oakland was all that interested, anyway, so it is kind of a moot point.
---
John from Albany, N.Y.,
wants to know if Kansas City linebacker
Derrick Johnson
is underperforming.
BW:
Johnson lost some playing time to
Demorrio Williams
because the Chiefs thought Williams was playing better. Chiefs head coach Todd Haley has talked up Williams instead of ripping Johnson. Still, there is room for Johnson in Kansas City. But if he doesn't play up to Haley's expectations, Johnson will be back in the doghouse.
---
Connor Willsey from Kansas City
wants to know if I think former Chiefs defensive end
Jared Allen
is overrated.
BW:
I think the answer is whether the Chiefs miss him or not. Of course they do. Allen is a premier pass-rusher who strikes fear in opponents. Every Minnesota opponent has to game plan for Allen. That was the case before his 2008 trade in Kansas City as well. He is a game-changer. The Chiefs desperately miss his presence. So, no, Allen is not overrated.
October, 16, 2009
10/16/09
3:00
PM ET

Posted by ESPN.com's Bill Williamson
We had a close call in this week's "you pick it" feature for the story of the week in the AFC West.
The winner in a tight race was Denver coach Josh McDaniels beating mentor Bill Belichick and the
New England Patriots
to go to 5-0. It edged out Tony Dungy saying he advised
Michael Vick
against signing with the Raiders. The other candidate was San Diego general manager A.J. Smith calling the Chargers soft and linebacker
Shawne Merriman
saying Smith's comments were unnecessary.
I think the story of the week was McDaniels beating Belichick. Denver is the story of the NFL right now and the win over the Patriots was huge.
Below are some of your responses. Thanks to everyone who participated:
Cristian from Modesto, Ca:
hey bill i think the story of the week is Dungy telling Vick not to go to Oakland. I think that he should have let him go because the Raiders really need a good QB right and need to get rid of the bust JaMarcus Russel. As a raider fan i would have loved to see Vick in a Raiders uniform. Josh McDaniels beating Bill Billicheck is not as surprising i knew his team was going to win.
Scott Seals from Fresno, CA:
McDaniels tops mentor - Wow - what a finish to that chess match. It's not often that teams are able to beat the Patriots in the final moments of a game...much less OT. Matter a fact,
Tom Brady
was unbeaten in OT if im not mistaken. I'm certainly not a Denver fan...but Congratulations to McDaniels and team for finishing off the Patriots!!Dungy advising Vick to stay out of Oakland didn't take a Dr. Phil session to figure out...that's a no brainer. The team and the night life in the bay are more trouble than he needs.
Shane from Denver, Co:
I think the story of the week is Tony Dungy's comments. The Denver story has been played out in the national media, and there is really nothing else there to explore. The San Diego story just isn't that interesting. One of the all-time great guys in the NFL advising one of the all-time worst guys in the NFL not to go to a franchise because it would not be good for him is really interesting. The Raiders have been thought as a destination for castoffs and bad boys, and now it seems like that image is going to start hurting them in free agency instead of helping them. This has been talked about a little by NFL analysts who have either never played, or by analysts who have been away from the game for a long time. It really resonates when someone of Dungy's stature says something like that.
Jason from Parker,CO:
McD over the pat's is the obvious choice for this week.So far, McD has taken a team with no heart and turned them into a team that may not be the best on paper, but looks like one of the best on the field!!This win over the pat's just continues to solidify that as the "NFL EXPERTS" all continue to eat crow for thinking the team would be 4-12
Aaron from Fort Collins, CO:
McDaniels beating out his mentor is the top story. Going into the season the Broncos were expected to be under .500 and after four weeks, everyone expected the "real" Broncos to show up and get dominated. Nolan gets half credit if it were me, not allowing either Dallas or New England to score a point in the second half- not too shabby.
Mike from Virginia Beach, VA:
BW, the you pick it has to be the surprising 5-0 start of J. McDaniels and the Broncos! No one saw this coming and being a Broncos fan, I was merely hoping it would happen. As far as the Chargers go, and Smith calling them soft, sometimes the truth hurts. Same with Dungy telling him not to go to Oakland. Who would want to go to Oakland? Nothing good comes out from there and look at the chemistry they have going on. He did Vick a favor.
Chris from Littleton, CO:
Just because it has been so under reported, the fact that Tony Dungy said on national television that he told Vick not to play for the Raiders is huge. There has been no response from the Raiders (that I have seen online) and little commentary. We all know the Raiders have turned into a joke, but this really solidifies it. When is the NFL going to step in and send Al to a retirement home?
Derrick Mann from Golden, CO:
I'm a Broncos fan, but I'd have to pick the Smith/Merriman storyline as the most intriguing. If the Bolts don't respond well to the adversity I don't see how their season can be salvaged. As you said, this isn't a totally must-win game for them, but they at least need a moral victory here. Get blown out at home, where they are favored by 4 points, and you might as well stick the proverbial fork in them.
October, 14, 2009
10/14/09
12:00
PM ET

Posted by ESPN.com's Bill Williamson
The candidates are:
Smith's calls his team soft:
San Diego general manager A.J. Smith criticized his team last week. In a response, San Diego linebacker
Shawne Merriman
said he didn't appreciate the comments.
McDaniels tops mentor:
The Broncos improved to a surprising 5-0 as they beat New England in overtime, giving first-year head coach Josh McDaniels a win over mentor Bill Belichick.
Dungy says he advised Vick against Oakland:
Tony Dungy said he told
Michael Vick
that he didn't think Oakland would be a good spot for him during the summer before he signed with the Eagles.
Pick your story of the week and
hit my mailbag
with your reason why. I will post some of your responses later in the week.
October, 11, 2009
10/11/09
11:40
PM ET

Posted by ESPN.com's Bill Williamson
Tony Dungy said Sunday night on NBC that he advised
Michael Vick
not to sign with the
Oakland Raiders
before he inked a deal with the Eagles.
"I advised Michael Vick not to go there," Dungy said. "I said, 'Mike, you might be able to start there but that is not a good place for you.'"
It is unclear if the Raiders made a pitch to Vick. But if Dungy advised Vick against Oakland, there had to be some interest. Very intriguing.
Dungy went on to say Al Davis has to give up control of the 1-4 Raiders for the team to turn around their fortunes.
"It starts with the organization and Al Davis needs to cede this over to someone else," Dungy said. "Every coach that has been there has felt that they have been hamstrung a little bit (by ownership)."
Dungy he doesn't see a top-flight head coach ever going to Oakland under the current situation.
"I don't think they will unless you can get total autonomy and I don't think that's going to happen," Dungy said.
June, 4, 2009
6/04/09
6:10
PM ET
Posted by ESPN.com's Bill Williamson

Jay Cutler may be gone from the AFC West, but his controversial exit continues to be a topic.
There were a lot of whispers about Cutler's maturity during the saga which led to his departure from Denver in a blockbuster trade to Chicago. However, we now have a credible league voice -- Tony Dungy -- wondering the same thing about Cutler.
As a result of his trade from Denver, Cutler's maturity will be the most questioned part of his makeup. Many, like Dungy did, will wonder if Cutler can handle being an NFL quarterback. He has shown he has all the physical skills, but people want to know if he can handle every aspect of being an NFL quarterback.
Cutler was upset after he caught wind that Denver was considering trading him in a deal for Matt Cassel and never forgave Denver for not leveling with him initially. Denver felt it had no choice but to trade Cutler after 33 days of consternation.
Fair or not, Cutler is going to have to deal with the perception that he is immature. I think he'll deal with it just the way he deals with most things publicly -- by not showing any emotion.
Cutler is as even kneeled as any player I've been around. He gives off the vibe that he is not affected by anything. Is that immaturity or aloofness? I'm not sure. Whether he cares or not, things like Dungy's assessment are bound to continue until Cutler shows otherwise.
October, 2, 2008
10/02/08
6:49
PM ET
Posted by ESPN.com's Bill Williamson

Courtesy of the Denver Broncos' PR staff, here are excerpts from Brandon Marshall's press briefing today:
Brandon Marshall on ...
The Tampa Bay defense: "This year they are mixing it up. They are definitely known for a Tampa-2 especially when Coach [Tony] Dungy was there. Now they are mixing it up and playing a little bit of three deep. Last week, they threw a little Cover-8 in there. They are doing very little of [Cover] 2 in there but I expect some 2. If we get it, we will be ready and prepared."

The adjustments they will make if he is double covered: "We are going to continue to do the same thing. If they want to do that then I would be happy to ride Brandon Stokley and Eddie Royal to the playoffs with them catching a bunch of balls and moving the chains. Like I said before the season, they have to play fair. Last week Eddie Royal had nine catches for 100- something yards [104] but we had four turnovers. When you lose that battle it is tough to win the game."

People saying the first three weeks were a fluke: "It is the National Football League and we have no excuses. Excuses are a tool of incompetence used by those who have nothing else better to say. I have something to say. I am not going to make any excuses but it is the National Football League. We are going to get it done this week and we have to come every week to play."

His eagerness to get back on the field: "I couldn't sleep Tuesday night. I was anxious and I was looking forward to practice. Just getting out there and being able to polish up some things. They threw two at me a little bit last weekend. I didn't prepare myself as I should of. This week I am excited to have another weekend, another opportunity. Going back to my college days, whenever I have a so-so game or a bad game, I am hard on myself. My expectations are a little bit different than everybody else's. I always go back to the drawing board which is practice and go back to the field and work harder. I busted my butt yesterday and I am going to bust my butt today and Friday. It is just working on technique, how to release against a Cover-2, push them outside or push them inside. I am just going to polish up some things."

Establishing a running game: "We are still doing very well with the run. I think we are averaging over 120 yards per game. Whenever you have over 100 yards rushing during a game then you have a chance to win the ball game. Fortunately we have so many receivers and so many different weapons that we are going to spread it out and create mismatches to take advantage of."

His fumble during the Kansas City Chiefs game: "I feel like, if I didn't fumble, it would have been a totally different game. Unfortunately, that was the way that they won Sunday. We have to do our best to eliminate those mistakes and those turnovers. Personally, I took it pretty rough."

How the fumble changes his preparations this week: "It just shows me that I have to work harder on ball security. Since college my wide receivers coach, Coach [D.J.] McCarthy, used to tell me that ball security is job security, both yours and mine. If I want to continue to be a wide receiver in the NFL, I have to have ball security."


AFC WEST SCOREBOARD
Saturday, 12/20
Sunday, 12/21
Monday, 12/22