April, 8, 2011
4/08/11
12:00
PM ET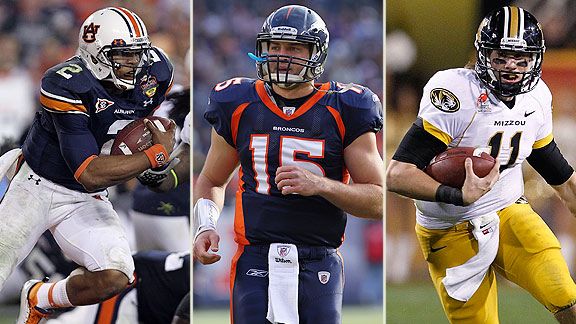 Getty ImagesMany scouts are saying they'd take Cam Newton, left, or Blaine Gabbert, right, over Tim Tebow.
The
Tim Tebow
debate rages on one year after he was the most dissected prospect in the 2010 NFL draft.
Last year, the
Denver Broncos
shocked the NFL by taking Tebow with the No. 25 overall pick. Now, it is the Broncos who are considering Tebow's future.
The Broncos are working out or visiting with several of the top quarterback prospects in the draft. Legendary Denver quarterback and new Broncos vice president of football operations John Elway has said Denver's interest in quarterbacks is not a smokescreen to confuse other teams. Yet Elway also said the team's interest in quarterbacks doesn't mean the team is not sold on Tebow. Elway insists the Broncos simply don't want to bypass a franchise quarterback if he's available.
Earlier this week,
ESPN's John Clayton said he thinks Elway might take a quarterback in the second round
and admit that the Tebow pick -- which was made by former Denver coach Josh McDaniels -- was a mistake. With Tebow's future perhaps unclear again, we polled several draft experts and experienced NFL scouts about what they think Denver should do and how Tebow stacks up against the better quarterback prospects of 2011.
[+] Enlarge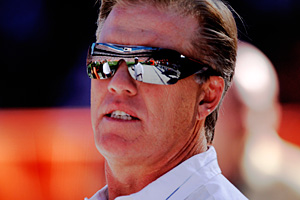 AP Photo/Barry GutierrezJohn Elway and the Broncos may be looking for Tim Tebow's replacement already.
Tebow remains a polarizing figure. The experts are divided. Some think Tebow is a born leader. Others wouldn't touch him because of an unrefined throwing motion.
ESPN draft guru Mel Kiper still has a difficult time grading Tebow because he doesn't think he can be a pro-style quarterback. Kiper thinks Tebow would likely be a fourth-round pick in 2011. Former NFL scout Gary Horton of Scouts Inc. thinks Tebow is the answer in Denver because he projects better to the NFL than Auburn quarterback
Cam Newton
, who could be the No. 1 overall pick by Carolina. Horton said it would be "ridiculous" and Denver would be "absolutely crazy" to draft Newton or Missouri's
Blaine Gabbert
at No. 2 and ignore its massive defensive needs after drafting a quarterback in the first round last year.
The other quarterbacks who could be taken in the first three rounds are Washington's
Jake Locker
, Arkansas'
Ryan Mallett
, TCU's
Andy Dalton
, Florida State's
Christian Ponder
, Nevada's
Colin Kaepernick
and Iowa's
Ricky Stanzi
. Kiper and Scouts Inc.'s Matt Williamson and Steve Muench think most of them are better NFL quarterback prospects than Tebow.
"Tim Tebow is interesting because so many people have different opinions about him," Muench said. "That's what Denver is probably trying to figure out right now. In a lot of ways, I'd say there are a lot better options than Tebow, but then, I wouldn't be surprised if Tim Tebow succeeds because of what kind of person and leader he is. … It's not easy."
Muench said Scouts Inc. had Tebow rated as a late second-round or an early third-round prospect last year. He was the fourth-rated quarterback on Scouts Inc.'s list behind
Sam Bradford
(who went to St. Louis at No. 1),
Jimmy Clausen
(No. 47, Carolina) and
Colt McCoy
(No. 85, Cleveland). Muench said this year's quarterback class is much better than the 2010 class. Thus, he thinks Tebow would be a fourth-round prospect, and a similar prospect to Virginia Tech's
Tyrod Taylor
. Some teams think Taylor is best-suited for another position. Last year, Kiper looked at Tebow as an H-back prospect (and perhaps some teams did, as well). Kiper's thoughts haven't changed.
"I don't think many teams would look at him in the second or third rounds," Kiper said. "He's not up there with Newton and Gabbert, then he'd be behind second-level guys like Andy Dalton. Ponder is moving like crazy. … I think Tebow would certainly be the fourth or fifth, sixth or seventh quarterback on teams' boards."
[+] Enlarge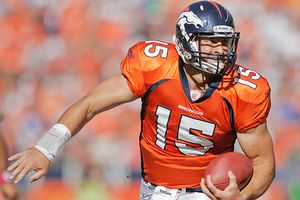 Justin Edmonds/Getty ImagesSome scouts thought Tim Tebow would be better served as an H-back in the NFL.
Still, Horton would rather have Tebow than Newton, who'll certainly be a top-12 pick.
"There are football questions about Tebow, but there's also football questions about Newton," Horton said. "There are no intangible questions about Tebow. But there are intangibles questions about Newton."
Horton thinks Denver should either let veteran quarterback
Kyle Orton
start the season and replace him with Tebow when the season goes south or go with Tebow to start the season. Horton reasons that quarterbacks emerge as top draft prospects every year and there will be plenty of options next year if Tebow fails, perhaps even Stanford gem
Andrew Luck
.
"If it doesn't work with Tebow, well, then you move on, but you have to see what he can do," Horton said. "Tebow was drafted as a developmental guy. Don't run out of patience with him before he gets a chance to develop."
Williamson said he never thought it was a good idea for Denver to draft Tebow and he would support Elway's decision to pull the plug now. He thinks there are several second-round type prospects who would be better options than Tebow in Denver.
"I would certainly rather have Gabbert, Newton and Ponder over Tebow, in that order. And there could be an argument made for the others," Williamson said. "I would take Mallett for sure over [Tebow]. Tebow and Locker are similar -- big, strong guys with suspect accuracy/passing skills, but Locker is further along coming out of school than Tebow."
However, former Carolina and St. Louis draft executive Tony Softli said he had Tebow ranked as a low second-round pick last year when Softli was with the Rams. He said he wouldn't draft a quarterback this year. He believes in Tebow. Softli raved about Tebow's leadership ability, his history as a winner and his intelligence. Softli said Tebow,
Matt Ryan
, Bradford and
Josh Freeman
were the brightest quarterback prospects he's seen in the past 10 years when it came to working on the grease board and breaking down the game.
"I understand why Denver is looking at quarterbacks -- they're doing their homework and that's smart -- but I think Tebow is going to be the guy," Softli said. "I think the Broncos should forget about his throwing motion and just let him be who he is. His intangibles are off the charts. When it's Tebow time, he'll show he's the answer."
It's clear. The Tebow debate is not over.
April, 1, 2011
4/01/11
12:00
PM ET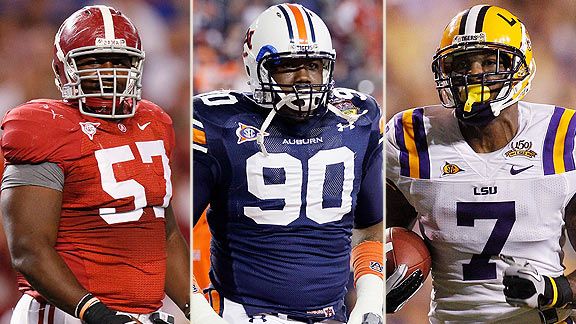 Getty ImagesMarcell Dareus, Nick Fairley and Patrick Peterson are all options for Denver at No. 2.
There wasn't a debate in the Carolina Panthers' draft room in 2002.
The Panthers' brain trust was certain it had identified the player who best fit their needs. All they had to do was wait to see what direction the one team in front of them would take.
"It was stressful because we knew what we wanted, but we still had to wait," former Panthers executive Tony Softli said. "At No. 2, you can almost control what you want to do, but not totally."
Softli and the rest of the Carolina brass were overjoyed when the
Houston Texans
used the No. 1 pick to take quarterback
David Carr
. That left the Panthers to take their top choice, and they grabbed defensive end
Julius Peppers
. They survived their short wait.
That was John Fox's first year as the Panthers' coach. That experience of having the No. 2 pick ended happily for Fox. Will it happen again? In his first season as the Denver Broncos' coach, Fox also has the No. 2 pick.
"Knowing John, he'll want defense," Softli said. "We'll see what happens with picking at No. 2 again."
The Broncos have been busy this offseason studying players at several positions in their attempt to get it right at No. 2. The only team in Denver's way is Carolina, which has the No. 1 pick. No matter what the Panthers do with the No. 1 pick, the Broncos know they must get this pick right. The Broncos were 4-12 in 2010 and haven't made the playoffs since 2005. They need an infusion of talent.
[+] Enlarge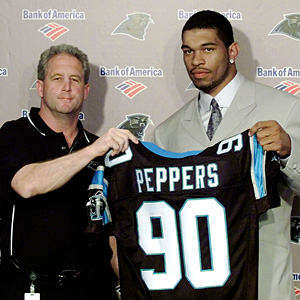 AP Photo/Rick HavnerJohn Fox found success the last time he had the No. 2 pick in the draft -- in 2002 when he and the Carolina Panthers took Julius Peppers.
"We know that the key thing is -- and we have talked about the fact that we have to be good in the draft -- we cannot miss in the draft, especially with where we are," said John Elway, the Broncos' new vice president of football operations. "We have to be dead on. … We cannot miss in the draft. We have to be good there."
Added Fox: "There'll be a player there who's worth that pick in this draft. Some years you don't want to be there, but there's a lot of players there in this draft."
Softli knows plenty about picking at No. 2. In addition to being in Carolina in 2002, Softli was an executive with the
St. Louis Rams
in 2008 and 2009 when they had the No. 2 pick.
"Picking No. 2 is a great place to be if there are multiple players to pick from at the spot," Softli said. "This is a good year to be at No. 2. There are a number of high-quality players. Denver can't go wrong."
Softli said it will help the Broncos that there is a chance the Panthers will take a quarterback at No. 1. The Panthers have been linked to Auburn's
Cam Newton
and Missouri's
Blaine Gabbert
.
The Broncos finished last in the NFL in total defense and points allowed. The draft is stacked with top defensive prospects. If the Panthers take a quarterback, Denver would have its pick of any defensive player on the board.
"I think a great spot to be in is No. 2 and not need a quarterback if there is a top quarterback available," said Matt Williamson of Scouts Inc. "The stud quarterback is going No. 1. If you pick No. 2 and you really need a quarterback, you probably aren't going to get him. But otherwise, it's a solid place to be."
There haven't been many quarterbacks taken at No. 2 in recent history. Since 1990, only three quarterbacks have been taken with the No. 2 pick. Each time, a quarterback was taken No. 1. The last time it has happened was 1999, when Philadelphia took
Donovan McNabb
at No. 2 after Cleveland took
Tim Couch
No. 1. In the same time span, a quarterback has been picked at No. 1 12 times.
"Usually, there aren't two quarterbacks worthy of the first two picks," Softli said. "So, the presence of a quarterback can really make a difference between one and two. If you pick No. 1 and you need a quarterback, you usually take one. That can help the team picking No. 2."
While the failures of the team picking No. 1 are most remembered, success at No. 2 has been far from guaranteed. There have been epic failures at No. 2 in the past 20 years.
Ryan Leaf
, taken by the Chargers in 1998, is considered one of the greatest draft busts in NFL history. The Colts took
Peyton Manning
at No. 1 that year. Other major busts since 1990 at No. 2 include Jets running back
Blair Thomas
(1990), Seattle quarterback
Rick Mirer
(1993, taken after New England drafted
Drew Bledsoe
) and Detroit receiver
Charles Rogers
(2003).
There have been plenty of draft hits at No. 2 in the time span. Some of the solid picks in that spot include running back
Marshall Faulk
(Colts, 1994), McNabb, Peppers, receiver
Calvin Johnson
(Lions, 2007) and defensive tackle
Ndamukong Suh
(Lions, 2010).
Softli was with the Rams last year when they picked No. 1. Softli said he feels there is nearly as much pressure drafting No. 2 as there is at No. 1.
"It's almost as hard," Softli said. "I know everyone concentrates on the No. 1 pick, but an owner will look at you funny if you mess up the No. 2 pick, too."
March, 11, 2011
3/11/11
2:15
PM ET
Our ESPN blog network has put together some good reading material for the
Denver Broncos
.
The Broncos will likely consider doing something that has never been done in the NFL's modern era: taking a cornerback with the No. 2 overall pick.
But
Patrick Peterson
may be the type of prospect who changes tradition and unwritten rules. Peterson was one of the fastest players at the NFL combine last month and he is huge for a cornerback at 219 pounds. Oh, and he can flat-out play. Mel Kiper Jr. has him
No. 1 on his Big Board
.

Peterson is expected to be one of the several players Denver considers
and there have been many mock drafts that have Peterson pegged as Denver's choice. If Peterson is the choice in Denver, he'd be a ground-breaker. Just twice in the past 20 years has a cornerback been taken at No. 3 as
NFC West blogger
Mike Sando points out.
NFC South blogger Pat Yasinskas looks
at whether Peterson is worthy of the No. 1 overall pick.
"Peterson is the best player in this draft, period,'' Tony Softli, who worked as a high-ranking personnel official for the
Carolina Panthers
and
St. Louis Rams
told Yasinskas. "There's nobody who's even close.''
Times may be changing. A cornerback may stand above everybody in the draft. If Peterson gets past Carolina, Denver will have to decide whether to make history.