AFC West:

Trent Richardson
January, 3, 2014
1/03/14
10:00
AM ET
Something will have to give when the
Indianapolis Colts
and the
Kansas City Chiefs
meet in an AFC wild-card playoff game at Lucas Oil Stadium on Saturday.
The Chiefs have lost seven straight playoff games, tying them for the longest playoff losing streak in NFL history. The Colts have lost three straight wild-card playoff games.
This is the second time the teams will meet in a three-game period. The Colts, who are on a three-game winning streak, beat the Chiefs 23-7 at Arrowhead Stadium on Dec. 22.
ESPN.com Colts reporter Mike Wells and Chiefs reporter Adam Teicher break down the matchup.
Teicher
: The Colts were wobbling coming into Kansas City a couple of weeks ago but seem to have righted themselves that day. What can you point to as the reasons?
Wells
: Most fans would say it's because of quarterback
Andrew Luck
. Don't get me wrong, Luck has been as good as expected, but the change has been led by the defense. The Colts have 12 sacks and have forced eight turnovers, including four against the Chiefs in Week 16, during their three-game winning streak. That's where Luck and the offense come in. You give Luck a short field to work with, and the odds are pretty good that he'll lead the Colts to a score. They scored a quick 17 points in the first quarter against Jacksonville last week.
Chiefs coach Andy Reid decided to rest most of his starters against San Diego in the finale. Do you think that was the right thing to do?
Teicher
: Undoubtedly. The Chiefs didn't get a bye in the playoffs, but Reid created one for eight defensive and seven offensive starters who didn't play against the Chargers. I would expect that to be reflected in how those guys play against the Colts. Momentum going into the playoffs is overrated. The NFL is such a week-to-week deal that it's almost impossible for a team to carry anything over from one game to the next, and even at that, the starters were able to get in some practice time last week. Not that this is a huge thing with the playoffs beginning, but the Chiefs got a good look at some of their backups under game conditions against an opponent that needed to win. In several cases, they liked what they saw.
Donald Brown
was the Colts' playmaker against the Chiefs a couple of weeks ago. He obviously is fast and has more power than you would think by looking at him. Why don't the Colts use him more as their featured back and why did they trade for
Trent Richardson
?
Wells
: Brown took over the starting spot from Richardson against Tennessee on Dec. 1 because Richardson was having a difficult time finding a rhythm. I still think the Colts made the right move in trading for Richardson, because Brown has been inconsistent for most of his five seasons with the Colts up until now. Richardson is still the future for the Colts; they have no intention of parting ways with him after the season. They still envision him and Luck having a great future together. And Brown said it best earlier this week, "There are only a handful of teams that only use one running back. We're going to need two, three running backs to get through the playoffs."
Speaking of running backs, it looked like
Jamaal Charles
was going to have a huge game against the Colts (not that 106 yards is a bad game) after the first series. He ended up with only 13 carries. How come the team's best player didn't have more carries or more catches, for that matter?
Teicher
: Reid messed up that one and he beat himself up for it afterward. You can count on that not happening again this time around. Charles was given the ball 18 times (13 carries, five receptions) against the Colts two weeks ago. That actually wasn't a season low for him. He had 16 touches (and a monster game) the week before in Oakland and 18 touches in two other games (both Chiefs losses). Another thing to remember is the Chiefs had only 53 offensive plays against the Colts, their second-lowest total of the season. They didn't have the normal amount of opportunities to get him the ball. But whether or not the Chiefs have a limited amount of snaps on Saturday, they will get him the ball more often. He's their best offensive player, so they're making a huge mistake if they don't.
Linebacker
Jerrell Freeman
is another player who had a big game for the Colts when they played against the Chiefs. Has he had other games like that this season? Give us a little scouting report on his strengths and weaknesses.
Wells
: You have to credit Colts general manager Ryan Grigson for finding Freeman. Grigson is known for finding players in different parts of the world. He'd probably go to Antarctica to scout if there were a football team there. Freeman is a former Canadian Football League player. He led the Colts in tackles as a rookie and would be the team's defensive MVP if not for a player named
Robert Mathis
. Freeman reached double figures in tackles in 12 of the 16 games this season. He has no problem being matched up against a running back out of the backfield, a tight end or even a wide receiver if he has to, because he's athletic enough to defend them. An argument could be made that Freeman deserved a Pro Bowl nod.
This is not a knock against Charles, but how come the Chiefs had a running back lead them in receiving this season? I would have said
Dwayne Bowe
led them in receiving if you asked me to take a guess on their leading receiver this season.
Teicher
: It's a number of factors. The Chiefs wanted to use Charles more in the open field and get him in favorable one-on-one matchups, and it's easier to do that by throwing him the ball. Ideally, the Chiefs would go down the field to their wide receivers more often, but Bowe,
Donnie Avery
and
Dexter McCluster
haven't been able to get open consistently and have delivered few plays. Quarterback
Alex Smith
has tended to do the safe thing and opt for the checkdown to Charles rather than take a chance down the field. It's something the Chiefs will need to correct next season. They'll find another receiver or two in the draft or through free agency.
October, 14, 2013
10/14/13
10:15
AM ET
SAN DIEGO --
Andrew Luck
has a new weapon at his disposal that was unavailable to him during his rookie season -- a running game.
Heading into the "Monday Night Football" matchup against the
San Diego Chargers
, the
Indianapolis Colts
are averaging 142 rushing yards a contest on the ground, No. 4 in the NFL.
[+] Enlarge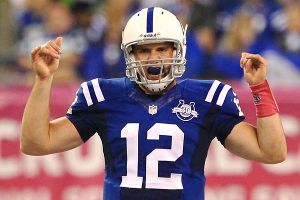 Pat Lovell/USA TODAY SportsThanks to an improved run game, Colts QB Andrew Luck has more offensive options this season than he did in his rookie campaign.
Last season, the Colts averaged just 104.4 rushing yards a game, No. 22 in the league. The Colts experienced a makeover on offense this season, with Luck's offensive coordinator at Stanford, Pep Hamilton, taking over as the Indianapolis offensive coordinator for the departed Bruce Arians, who now serves as the head coach of the
Arizona Cardinals
.
Luck said this year's offense under Hamilton is more of a run-based approach, with the fullback being more often.
In 2012, Indianapolis relied much more on Luck creating big plays through the passing game. And the results were a good, but not great rookie season for Luck. He threw for 4,374 yards and 23 touchdowns, but he also had 18 interceptions and a pedestrian 76.5 passer rating. Luck was sacked 41 times, and completed just 54 percent of his passes.
This season, Luck is completing 62.2 percent of his passes through five games, with seven touchdowns and just two interceptions. He's been sacked 12 times, and has a 94.1 passer rating.
"For the quarterback, the more he's handing it off, the less hits he's taking, No. 1," Indianapolis coach Chuck Pagano said. "No. 2, it opens up everything in the pass game for him, too. If you're having success on the ground, people are going to have to commit more guys to the box to stop the run, and hopefully open up things for you in your pass game on the outside."
Added Luck: "When the run game's going, that's great for the quarterback. It slows down the pass rush, and it helps the passing game get going as well."
The Colts made a big trade in order to give their run game a boost, giving up a first-round pick in next year's draft to Cleveland for running back
Trent Richardson
. It proved a wise move, with
Ahmad Bradshaw
recently being placed on the injured reserve with a season-ending neck injury.
Richardson has just 151 yards and two touchdowns through three games for the Colts. But more important, he's added a physical toughness lacking in the Indianapolis running game before he arrived.
"It's been a great addition," Luck said. "He's a phenomenal runner. He always falls forward. He's a great teammate, so we're thrilled and very happy that he's here."
The Colts also have
Donald Brown
, who serves a change-of-pace back to Richardson. And with the team's success running the football, Luck has been more effective pushing the ball down the field in the play-action game.
San Diego defensive coordinator John Pagano understands his defense will have its hands full trying to slow down the Colts' running game.
"They're doing such a great job with their running attack because it's power football," John Pagano said. "It's downhill, and Trent Richardson coming in there and to be able to bring in Donald Brown, you can really see that they are very committed to the run and want to run the football.
"It's an attack that you have to be physical at the line of scrimmage with, and you have to hold the point and win those one-on-one matchups. At the end of the day you have to tackle, and that is something, as a defensive unit, that we haven't been doing well at. We have to go out there, tackle and then stop the run."
November, 30, 2012
11/30/12
1:30
PM ET
»
NFC Final Word
:
East
|
West
|
North
|
South
»
AFC
:
East
|
West
|
North
|
South
Five nuggets of knowledge about Week 13:
Could be a special weekend for John Elway:
The Broncos, 8-3, can clinch their second consecutive AFC West title with a victory over visiting Tampa Bay or a San Diego home loss to Cincinnati on Sunday afternoon. The last time Denver won back-to-back division titles was 1986-87, when Elway was the team's star quarterback. The Broncos also are looking for their seventh straight win. The last time they had a streak that long was when they won 14 straight spanning 1997-98, Elway's final two seasons as a player.
[+] Enlarge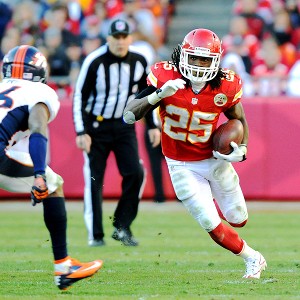 John Rieger/US PresswireJamaal Charles could give the Chiefs' offense a boost with some third-down carries.
Chiefs need to look to Charles on third down:
Despite their big problems on offense, the Chiefs haven't been horrible on third down this season. Going into last week's loss to Denver, Kansas City was 14th in the NFL on third downs, with a 38.7 conversion percentage. Running back
Jamaal Charles
has converted 38.5 percent of the time on third down with the ball in his hands, according to ESPN Stats & Information. However, against Denver, Charles didn't touch the ball on third down. The Chiefs went 3-for-14 on third down -- just 21.4 percent. The Chiefs need to get Charles involved on third down Sunday against Carolina.
Will another rookie run over the Raiders?
In Week 9, Oakland's home crowd saw Tampa Bay rookie
Doug Martin
run all over the Raiders in a 42-32 Oakland loss. Martin had 251 yards rushing on 25 carries, with four long touchdown runs. Now, four weeks later, Oakland hosts Cleveland and running back
Trent Richardson
, the No. 3 overall pick in this year's draft. Richardson has not been as good as Martin, rushing for 755 yards on 3.6 yards per carry. But you know he is going to be motivated by Martin's performance against a defense that has struggled all season.
Can Ryan Mathews get a 100-yard game?
The Chargers' offense needs a boost as San Diego clings to faint playoff hopes. If the Chargers have any hope of beating the smoking-hot Bengals on Sunday, their offense will need to come alive. That means running back Mathews must have a big game. San Diego hasn't had a 100-yard rusher all season. So much was expected from the No. 12 pick of the 2010 draft in his third season. But Mathews has been slowed by injuries once again, compiling 594 yards and averaging 4.1 yards per carry. He certainly has showed flashes, but he hasn't been dominant. Mathews hasn't had a 100-yard rushing game since Week 14 of last season. It's time for another.
Freeman-Denver battle brewing:
Tampa Bay quarterback
Josh Freeman
likes to go deep; Denver's defense is equipped to stop him. Something will have to give. According to ESPN Stats & Information, Denver has allowed eight completions and a completion percentage of 17.9 on passes longer than 20 yards this season -- both league lows. Freeman, meanwhile, has completed 22 such passes to lead the league.
November, 28, 2012
11/28/12
3:55
PM ET
The Oakland Raiders are on pace to get a boost Sunday against Cleveland.
The
San Francisco Chronicle reports
starting running back Darren McFadden is back at practice as is his backup, Mike Goodson. Both players missed the past three games with high-ankle sprains. If there is not a setback, I'd expect both players to play against the Browns. Fullback Marcel Reece has run well as the main tailback in the past two games. I'd think Oakland will keep him involved in the ground game with McFadden and Goodson
The paper reports defensive tackle Richard Seymour (knee/hamstring) is still not practicing. He has missed the past three games.
Meanwhile, Cleveland running back Trent Richardson stuck up for his former Alabama teammate, Oakland middle linebacker Rolando McClain. He has struggled often in the NFL.
According to the San Francisco Chronicle
, this is what Richardson had to say: "The Raiders need to get a lot more help on defense (for McClain), for him to be a successful player."
I wonder how that will go over in the Oakland defensive meeting room leading up to Sunday's game?
In other AFC West news:
Denver quarterback Peyton Manning remains No. 1 and Denver linebacker Von Miller remains No. 10
on Mike Sando's MVP Watch
. Don't agree with Sando's list? That's fair.
You can make your own MVP list here
.
This Insider piece examines the
value of having a strong backup quarterback
and it shows the Broncos are vulnerable at the spot behind Manning with rookie Brock Osweiler and veteran Caleb Hanie.
The Chiefs cut linebacker Bryan Kehl to create a roster spot that will be filled later this week. Kansas City coach Romeo Crennel provided quite the quip when asked why Kehl was cut: "He was expendable, so I expended him."
Denver defensive end Robert Ayers was excused from practice Wednesday so he could attend memorial services for his father, who died unexpectedly Saturday night.
Denver receiver Brandon Stokley was limited in practice Wednesday because of a wrist and hip injury.
Cleveland quarterback Brandon Weeden has been cleared to practice after suffering a concussion this past Sunday. The Browns visit Oakland on Sunday.
Pro Football Focus
, in an Insider piece, thinks San Diego receiver Danario Alexander can be a breakout star in 2013. Not bad for a player picked up off the street during this season.
April, 20, 2012
4/20/12
12:00
PM ET
With the NFL draft starting in six days, there are many interesting storylines involving the AFC West. Let's take a look:
Will the Chiefs make a big move up?
The
Kansas City Chiefs
could become the story of the division with a move up for Texas A&M quarterback
Ryan Tannehill
. There has been recent buzz that the Chiefs may be one of the teams interested in moving up for Tannehill. If he is available at No. 7 (Miami may take Tannehill at No. 8), I could see the Chiefs jumping in the mix. Jacksonville, which has the No. 7 pick, probably would be willing to part with the pick or the Chiefs could take a risk and hope he falls to No. 11. Tannehill is the only attainable quarterback who could immediately press
Matt Cassel
.
Will a second-day quarterback be on the way?
I think a Friday storyline could be the addition of a second-tier quarterback in the division. If the Chiefs don't take Tannehill, they could take a quarterback in the second or third round, and Denver could take one on the second day as well. The quarterbacks available on the second day probably will be Oklahoma State's
Brandon Weeden
, Michigan State's
Kirk Cousins
, Arizona State's
Brock Osweiler
and Arizona's
Nick Foles
. Kansas City could look at any of the four and Denver is probably in the mix for all but Weeden. He will soon turn 29, and with
Peyton Manning
in Denver, I don't think the Broncos will take an older quarterback.
[+] Enlarge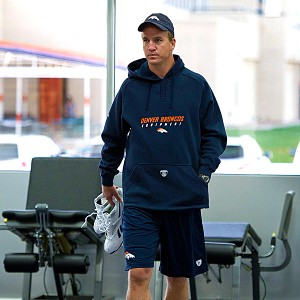 AP Photo/Eric BakkeWill AFC West teams draft differently now that Peyton Manning is in the division?
Will there be a Manning factor?
The Chiefs and Chargers could both opt to use their first-round picks on defensive players. With Manning entering the division, focusing on defense may be the right call in Kansas City and San Diego.
Will there be a changing of the guard?
Stanford's
David DeCastro
is considered one of the best guard prospects in the past several years and he is considered a sure thing. Both the Chiefs and Chargers are considered teams that could land DeCastro.
Will the Raiders make a move up?
The Raiders don't pick until No. 95, the final pick of the third round. Oakland could move up to get a better prospect, but I wouldn't think Oakland would move too far up the draft. Sooner or later, the team must stop mortgaging future picks, and I think new Oakland general manager Reggie McKenzie gets that. I'd expect him to suck it up and deal with what he has this year for the most part.
Will the Chiefs add a running back?
There was early talk Kansas City could make a play for Alabama's
Trent Richardson
, which could require a move up to No. 5. That may not be a likely scenario. However, the Chiefs could still take a running back in the early rounds.
Jamaal Charles
is coming off a torn ACL and
Peyton Hillis
signed a one-year deal. The Chiefs have been visiting with running backs, so I could see them taking one at some point.
Will the Chargers and Broncos take a running back early?
There have been projections that both Denver and San Diego could take a running back as early as the second round. I'd think Denver is the more likely of the two teams to take a running back early. Boise State's
Doug Martin
, Virginia Tech's
David Wilson
, Miami's
Lamar Miller
and Oregon's
LaMichael James
are all possibilities.
Will A.J. Smith make a splash?
The Chargers probably will have to make the playoffs for San Diego general manager A.J. Smith and coach Norv Turner to keep their jobs. The Chargers have been aggressive in free agency and they have always been aggressive in the draft. I could see the Chargers taking a chance and moving up for the right impact player.
Will Denver take a defensive tackle?
The Broncos haven't taken a defensive tackle since 1997 when they took
Trevor Pryce
. It is the team's greatest need. However, if players such as LSU's
Michael Brockers
and Mississippi State's
Fletcher Cox
are gone by No. 25, Denver may opt for another position or trade down rather than reach for another defensive tackle prospect.
Will the Raiders be a draft factor?
The Raiders only have five picks, but I think they can still get a couple of developmental players. It may be too much to ask for the Raiders to find instant impact players, but I think McKenzie will salvage this class.
Will the Chargers reach for their top need?
The Chargers badly need an impact pass-rusher, but it isn't a deep class. By the time the No. 18 picks rolls around, the top pass-rushing prospects -- South Carolina's
Melvin Ingram
, North Carolina's
Quinton Coples
and Alabama's
Courtney Upshaw
-- all may be gone. The next level of players include Syracuse's
Chandler Jones
, USC's
Nick Perry
and Illinois'
Whitney Mercilus
. Many scouts think taking those players at No. 18 may be too high. So, the Chargers could be on the move down if that scenario develops.
Will the Chiefs be swayed by Poe's beauty?
Memphis defensive tackle
Dontari Poe
is a high-risk, high-reward player. He has all the measurables and he has big potential. But he has unimpressive game tape against second-level competition. Many teams are leery of taking him. The Chiefs could use him, but with a recent history of taking under-achieving defensive linemen, can Kansas City general manager Scott Pioli take the risk?
Another Georgia Tech receiver in Denver?
If the Broncos bypass a defensive tackle at No. 25, they could look to give Manning another weapon. A name to keep an eye on is Georgia Tech's
Stephen Hill
. The Broncos have been scouting him and they wouldn't mind adding another former Georgia Tech receiver. Denver took
Demaryius Thomas
out of the school with the No. 22 pick in 2010.
Will Golden Domers head to the beach?
Two players Smith likes a lot are Notre Dame receiver
Michael Floyd
and safety
Harrison Smith
. Floyd could require a trade up and Smith could be a candidate via a trade down. Don't be surprised if one of the two ends up a Charger.
Is Josh Chapman AFC West bound?
One of the underrated players on a strong Alabama defense is versatile defensive tackle Josh Chapman, a fit for both 4-3 and 3-4 defenses. He has visited both the Raiders and the Chiefs and could be a target of any team in the division in the third round.
March, 13, 2012
3/13/12
9:18
PM ET
Is
Peyton Hillis
headed back to the AFC West?

It might just happen.
A report out of Cleveland says
the Browns' running back is going to visit the Chiefs. In Kansas City, Hillis would reunite with former Cleveland offensive coordinator Brian Daboll. Hillis had 1,177 yards rushing under Daboll's guidance.
Hillis had 587 yards and averaged 3.6 yards a carry in 2011, in a year he graced the cover of the Madden video game. It was a strange season for Hillis. He was questioned for missing a game when he was ill, there was a reported player's intervention for him because of his unhappiness over his contract, he went through several agents and he has denied a report that he thought about quitting football last season to join the CIA.
Hillis was a fan favorite as a rookie in Denver in 2008. He played a limited role before being hurt. He was buried by new coach Josh McDaniels and was sent to the Browns for backup quarterback
Brady Quinn
in 2010.
The fact that Daboll and the Chiefs are bringing him in for a visit shows the Chiefs are comfortable with Hillis.
He would be a nice pairing with
Jamaal Charles
, who is expected to be the Chiefs' top back. He suffered a torn ACL in Week 2 last season. With Charles' speed and Hillis' power, the Chiefs would likely remain a top running game.
If Hillis signs in Kansas City, they would be out of the Trent Richardson talk. The Chiefs pick at No. 11.
March, 8, 2012
3/08/12
12:00
PM ET
Midweek mail call:
Vic Liao from San Diego wants to know
which receiver --
Reggie Wayne
or
Hines Ward
-- would be a better fit for the Chargers.
Bill Williamson:
They are different receivers, Vic. I think Wayne can come into play if the Chargers lose
Vincent Jackson
. If Jackson leaves in free agency, I'd expect the Chargers to make a run at Wayne. Ward is a backup type, so I don't think the Chargers would choose between them.
Kolby Vaughn from Kansas
wants to who may be the best fit for the Chiefs at pick No. 11.
BW:
It's difficult to say what the Chiefs' needs will be after free agency, but right now, I think the best bets are Memphis defensive tackle
Dontari Poe
, Boston College middle linebacker
Luke Kuechly
and Stanford tackle
Jonathan Martin
. Then there's Alabama running back
Trent Richardson
if he slides to No. 11. But right now, I'd say the Chiefs will either take Poe or Kuechly. But that can change as needs are addressed in free agency.
Brian from Denver wants to know
which RB I think is a better fit for the Broncos in free agency -- San Diego's
Mike Tolbert
or Oakland's
Michael Bush
.
BW:
It's an interesting question. I know some teams like Tolbert better while other teams prefer Bush. In Tolbert, you get a versatile player. He can rumble, he is good in short-yardage, he can catch and he is a monster on special teams. Bush is also very rugged, but he is not quite as versatile as Tolbert. However, he is probably a better pure running back and of the two, he is likely the one who can be a primary back. I think the Broncos would probably look at Bush first, but Tolbert would also be appealing. Both players are going to cash a large check soon.
March, 7, 2012
3/07/12
2:55
PM ET
In Insider pieces, we are offering a double dose of mock drafts. Both
Mel Kiper

and
Todd McShay

offer new mock first-round drafts. Let's check out their choices for the AFC West teams:
11. Kansas City:
Kiper:
Luke Kuechly
, MLB, Boston College
McShay:
Trent Richardson
, RB, Alabama
My take:
This is interesting. Kiper has Richardson being off the board when the Chiefs pick and McShay having them taking advantage of him falling down the board. Richardson would be a luxury pick for the Chiefs, but he would give them a nasty offense and a great backfield partner for
Jamaal Charles
. Kuechly is a safe pick, who should be there for the Chiefs at No. 11. I think he could be the pick.
18. San Diego
Kiper:
Whitney Mercilus
, DE, Illinois
McShay:
Cordy Glenn
, OL, Georgia
My take:
I like the Mercilus pick. The Chargers need a pass-rusher badly. He led the NCAA in sacks last season. However, the presence of Stanford guard
David DeCastro
may be tempting because of the retirement of
Kris Dielman
. I know the Chargers are planning on
Tyronne Green
taking over for Dielman, but DeCastro is a special talent. I think we'll learn more about the Chargers' direction with this pick after the first wave of free agency.
25. Denver
Kiper:
Fletcher Cox
, DT, Mississippi St.
McShay:
Jerel Worthy
, DT, Michigan State
My take:
I think both Kiper and McShay are on the right track here. I think defensive tackle will be the position Denver looks at first. If Cox is on the board, I think he will be the first choice unless Memphis'
Dontari Poe
unexpectedly falls.
Oakland traded its first-round pick (No. 17) to Cincinnati as part of the trade for quarterback
Carson Palmer
.
February, 25, 2012
2/25/12
11:40
AM ET
INDIANAPOLIS – Alabama star running back
Trent Richardson
is the premier player at the NFL combine at his position.

Richardson
However, Richardson is unable to show NFL teams he is ready to be the league's next great back. Richardson had minor knee surgery after suffering an injury in January. He is not participating in drills at the combine. He will have his pro day late in March where he is expected to be fully healed.
While many top prospects don't do much at the combine, Richardson is upset he is not getting the chance to showcase his skills in Indy.
"I'm very disappointed I can't do the stuff here that everybody else can do," Richardson said. "In college, it irked my nerves when I heard guys say they don't want to this and that at the combine. That's something that you dream of and want to do your whole life and being a college football player and a competitor, I always wanted to come to this and show all my skills. That's what the top guys do."
If you listen to several league observers, expect the
Kansas City Chiefs
to have keen interest in Richardson's workout. Many mock drafts have the Chiefs taking Richardson at No. 11.
In my mind, there are a lot of obstacles in the way of that intriguing pairing. The biggest issue is Richardson's availability. There is a chance Richardson could go as high as No. 5 to Tampa Bay. If Richardson does drop to No. 11, the Chiefs would have to decide if they want to bypass needs at tackle and linebacker to take Richardson.
Kansas City general manager Scott Pioli said Friday that the Chiefs will look at running backs in the draft and in free agency. Starter
Jamaal Charles
is expected to be ready for training camp after suffering a torn ACL in his knee in September. Kansas City running backs
Jackie Battle
and
Thomas Jones
are free agents, so the position is a need area.
If the Chiefs don't pursue a running back — New England's
BenJarvus Green-Ellis
and San Diego's
Mike Tolbert
could be possibilities — in free agency, Richardson could be a target.
The blunt Richardson said he is ready to make an impact in the NFL.
"When it comes down to it, I'll be the dude that's on the field and getting the ball on third-and-3 or fourth-and-1," Richardson said. "Not to be cocky or anything, but I work on my game every day, and even if it's not physical stuff, I work in the classroom learning plays and learning the defensive line and what the linebackers and safeties are doing so I can pick up my blitzes. I love to block. Everybody knows I can run the ball. I've never been caught from behind, so if anyone wants to question my speed, just look at the tape. When it comes to playing football, any game you want to, just look at it and try to find a negative."
That could turn out to be a positive in Kansas City.
February, 23, 2012
2/23/12
11:00
AM ET
INDIANAPOLIS -- Let's take a look at what AFC West each team may be seeking during the NFL combine, which starts Thursday:
Will the Raiders still love speed?
It became a combine ritual. The Raiders would draft the fastest, or one of the fastest players, at the combine. It happened several times in recent years:
Stanford Routt
,
Darrius Heyward-Bey
,
Jacoby Ford
and
DeMarcus Van Dyke
. No team in the NFL valued speed more than Al Davis' Raiders. Davis died in October. Will the Raiders be married to speed now that Reggie McKenzie is the general manager? I'm sure the Raiders will stick to Davis' values somewhat, but I think it will no longer be automatic to connect the fastest combine runners to the Raiders.
Will the Chargers get their pass-rusher?
The Chargers took defensive end
Corey Liuget
at No. 18 last year and bypassed several pass-rushers in a deep class. This year's class is not nearly as deep, but the Chargers still need a pass-rusher. Once again, San Diego has the No. 18 pick.
[+] Enlarge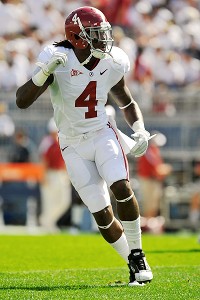 Randy Litzinger/Icon SMISafety Mark Barron is one of several Alabama defenders that AFC West teams may take a look at.
Will the Alabama defense roll into the AFC West?
Alabama won the BCS championship last season on the strength of a dominant defense. There are several key Alabama defenders who will go early in the draft, starting with linebackers
Courtney Upshaw
, safety
Mark Barron
and cornerback
Dre Kirkpatrick
. I could see all three players drawing interest in the AFC West. I think San Diego would jump on Upshaw if he somehow fell to No. 18, and it could take Barron if it doesn't address safety in free agency. If Kirkpatrick drops, Denver could take him at No. 25.
Will the Broncos look at quarterbacks?
Yes, I believe they will, but it remains to be seen whether Denver makes a play for a quarterback in the early rounds. Denver looked at all the top quarterbacks last year, and I think
John Elway
and his group will do the same this year. In his last mock draft, Todd McShay of Scouts Inc. has Denver taking Texas A&M's
Ryan Tannehill
at No. 25. I'm not sure Denver -- which has committed to
Tim Tebow
going to training camp as the No. 1 quarterback -- will take a quarterback that high, but there will be interest in the position.
Is Trent Richardson on the Chiefs' radar?
The Alabama star running back won't compete at the combine because of a minor knee surgery. However, he will be able to run at his pro day next month. Still, perhaps the Chiefs will meet with Richardson. He has been connected to Kansas City in several mock drafts. I'd be surprised if Kansas City ended up with him because of other needs and because the Chiefs have running back
Jamaal Charles
coming back from a torn ACL. But it is an intriguing scenario.
Chiefs, Chargers looking at the O-line:
Both Kansas City and San Diego could use their top pick on an offensive lineman. There are several players who could help their standing with a strong combine. I think Stanford tackle
Jonathan Martin
will be closely watched by both teams. San Diego could also look at Wisconsin's
Peter Konz
if it doesn't want to re-sign free agent
Nick Hardwick
.
Watch out for Luke Kuechly:
The Boston College inside linebacker has a chance to be a hot name in the top half of the first round if he has a big combine. He was productive in college and his game translates well to the NFL. Kansas City will surely be interested in him and could have competition if Kuechly lights it up in Indy.
Broncos will be watching running backs:
The Broncos probably will add a running back early in the draft or in free agency. Denver could use its top pick on the position. It will be closely watching Miami's
Lamar Miller
, Washington's
Chris Polk
, Virginia Tech's
David Wilson
and Boise State's
Doug Martin
, among other tailbacks, this week
Is this the time for a tight end in San Diego?
I expect the Chargers to look at tight ends this week. This isn't considered a great class, but the Chargers need to consider getting younger at the position.
Antonio Gates
will turn 32 in June and has been dealing with injuries the past few years. The Chargers probably would have to commit a second-round pick for the top tight ends, which include Stanford's
Coby Fleener
, Clemson's
Dwayne Allen
(though, they could both be late first-round choices) and Georgia's
Orson Charles
.
Nick Foles needs to show Denver some accuracy:
There was talk that the Arizona quarterback could be on Denver's radar last season. But he had some trouble with interceptions, which may have cooled the team on him. If he can show better accuracy at the combine. Foles could be a mid-round target of the Broncos again.
The Raiders need to pay big attention:
The Raiders currently have the smallest draft class in the NFL this season. They have just a fifth- and a sixth-round pick. They will, though, probably get two or three compensatory picks next month. The earliest will be at the end of the third round. But don't think for a moment that the combine won't matter to Oakland. The Raiders will have to dig deep and find great value in the mid-to-late rounds to get some something positive from this class. Closely scouting the combine will be essential.
Is Brandon Weeden too old?
The Oklahoma State quarterback is one of the more interesting players in the draft. He has skills that translate to the NFL, and some people think he could be a future starter. But Weeden turns 29 in October. There really isn't much time to groom him. Is it worth spending a premium pick on a player who could be over the hill in five years? I think both Denver and Kansas City could look at him, but they would have to be comfortable with his age.
Will the coin flip the Chiefs' way?
The Chiefs will have a coin flip with Seattle to determine the No. 11 and No. 12 picks in the draft. It is set to take place Friday. If the Chiefs lose and get the No. 12 pick, it will not be the end of the world, but there's no denying there is more value in having the No. 11 pick.
Will Mercilus impress the Chargers?
One player to keep an eye on for the Chargers is Illinois pass-rusher
Whitney Mercilus
. He came on strong in 2011, but there are consistency questions. If he answers all the right questions on and off the field this week, I could see his being a target at No. 18.
Will Chiefs look at suspect character players?
Kansas City has a reputation for taking players with sterling off-field reputations. However, last year, genearl manager Scott Pioli took Pitt receiver
Jon Baldwin
in the first round and Georgia pass-rusher
Justin Houston
in the third round. Both had character questions. Baldwin ended up missing a chunk of his rookie season because of a reported training camp fight with veteran
Thomas Jones
. It hurt his development. However, Houston was outstanding as a rookie. Let's see whether Pioli takes more risks this year.
Will Broncos add players to aid Tebow?
If Denver takes a running back early, adds to the offensive line and beefs up the defense, that means it is doing what it can to build around Tebow. The best way Denver can win with Tebow is with a good running game and strong defense.
Will the Broncos finally draft a defensive tackle in the first round?
Denver could take a defensive tackle at No. 25. Among the players it may consider are Penn State's
Devon Still
, Mississippi State's
Fletcher Cox
and Michigan State's
Jerel Worthy
. Denver hasn't taken a defensive tackle in the first round since
Trevor Pryce
in 1997.
Will Arizona State linebacker impress the Chiefs or Chargers?
Arizona State's middle linebacker
Vontaze Burfict
was considered a top-10 pick before the season. But after his production fell off and he had some character issues, Burfict is no longer considered a sure first rounder. I think he could help both the Chiefs and Chargers. His progress this week will be watched by these two teams.
February, 15, 2012
2/15/12
10:20
PM ET
The Denver Post reports
the Broncos have signed former Jacksonville starter
Jason Hill
. He started 10 games for the Jaguars with new Denver defensive coordinator Jack Del Rio. Hill had 25 catches those starts. He was cut later in the season.
Hill has a chance to be a rotational receiver in Denver. I still think Denver will look to add receivers, but Hill provides some depth.
Meanwhile, Denver signed guard
C.J. Davis
. He did not play in 2011, but he was with Carolina -- under Denver coach John Fox -- in a reserve role for parts of the 2009 and '10 seasons. He will compete to be a bottom-of-the roster player in 2012.
In other AFC West news:
Here is another mock draft that has the Chiefs taking Alabama running back Trent Richardson at No. 11. The two questions are, will Richardson drop past the top 10 and would the Chiefs bypass other needs to put Richardson and Jamaal Charles in the same backfield? It will be fascinating to see if this potential pairing gains traction as the draft approaches.
Denver leader John Elway talks about the team's plans for free agency.
UCLA offensive coordinator Noel Mazzone discussed working with Denver quarterback Tim Tebow this week. Mazzone coached San Diego quarterback Philip Rivers in college and Rivers is expected to join the workouts later this week.
January, 19, 2012
1/19/12
11:00
AM ET
It's starting to be mock draft season.
There have been several early efforts,
including this one from Fox Sports.
I enjoy looking at mocks to see if I agree with the thinking for each AFC West team. Sometimes, I'm surprised by the selection and other times, I'm simply fascinated by the choices.
[+] Enlarge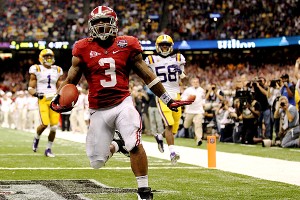 Matthew Emmons/US PRESSWIREIs it a stretch to think Alabama running back Trent Richardson could fall to the Chiefs?
Fascination was the word when I scrolled down and saw who Fox Sports had penciled in for the
Kansas City Chiefs
at No. 11 -- Alabama running back
Trent Richardson
. If Richardson is the pick of the Chiefs (who will take part in a coin flip for the No. 11 or No. 12 pick with Seattle next month), it will be the story of the draft for the AFC West.
Richardson is considered a potentially game-changing tailback.
The first question is could Richardson tumble to No. 11.
ESPN's Mel Kiper Jr., in an Insider piece
,

put out his first mock draft Wednesday. He has Richardson going to Tampa Bay at No. 5. Richardson is considered a top-flight prospect, so seeing him falling to No. 11 could be a stretch. However, we have seen running backs fall past their value spot because running backs aren't often taken in the top 10.
If Richardson is available when the Chiefs pick, would they take him?
Kansas City has needs on the defensive line and on the offensive line.
Jamaal Charles
, who was the second leading rusher in the NFL in 2010, is expected to be healthy this season. He was lost for the season when he tore the ACL in his knee in Week 2.
Richardson would be a luxury pick in Kansas City. However, a backfield featuring Richardson and Charles would be one of the most dangerous running-back tandems in the NFL. It would also take immense pressure of quarterback
Matt Cassel
and an underrated passing game in Kansas City.
What do you think? Do you think Kansas City should take Richardson if he falls to him, or do you think the Chiefs have too many other pressing needs? Fill up the comment section below with your thoughts.
November, 16, 2011
11/16/11
4:00
PM ET
Mid-week mail call:
James from Norwich, Conn., wants to know
if I think San Diego could fire general manager A.J. Smith.
Bill Williamson:
If the Chargers – who are 4-5 and who have lost four consecutive games – go a second year in a row without winning the division, there will be cries for the team to make wholesale changes — likely starting with the firing of coach Norv Turner. There will probably be some calls for Smith's head, too. Yet San Diego's ownership has long stood behind Smith, who has had full control of football operations. I don't think Smith's firing will be a certainty if the Chargers don't advance to the postseason, but it could be considered.
George from Nashua, N.H., wants to know
if Denver could draft Alabama running back
Trent Richardson
next year.
BW:
He is considered a top prospect and could be a top-10 pick. If the 4-5 Broncos keep winning, they might not get a shot at Richardson, but I do think the Broncos would be interested in him. He'd be a good fit for that offense.
Connor J. from San Diego wants to know
if the Chargers could stick with
Nick Novak
next year instead of
Nate Kaeding
at kicker.
BW:
It's an interesting situation. Novak has been very good for San Diego since he took over for Kaeding, who blew out his knee in Week 1 while trying to make a tackle. I think the team will go back to Kaeding next year, but if Novak finishes the season strong, I could see management considering him, particularly since he is healthy and would be cheaper than Kaeding. If the Chargers do part ways with Kaeding, I don't see him having trouble getting another job.