December, 7, 2010
12/07/10
1:35
PM ET
We can take one candidate out of the mix for the Denver Broncos' head-coaching job.
Air Force coach Troy Calhoun said
Tuesday morning he would not be interested in the job
. Calhoun is a former Denver assistant who has strong ties to the organization and who is known as an up-and-comer. I think this is a matter of timing.
[+] Enlarge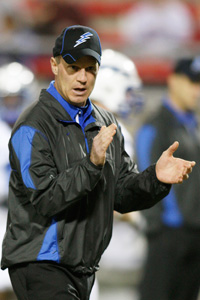 AP Photo/Isaac BrekkenCoach Troy Calhoun said he was committed to Air Force in "2011 and beyond."
Calhoun is in the middle of recruiting. He can't afford to wait until after the NFL season. If McDaniels had been fired after the season, then perhaps Calhoun would have been in the mix.
This isn't a devastating blow for Denver. Calhoun would have been a strong candidate, but there are plenty of other valuable candidates out there, including Minnesota interim coach Leslie Frazier, who was a runner-up to Josh McDaniels 23 months ago. I wouldn't be surprised, though, if the Vikings secured Frazier soon if they decide they want him long-term.
Meanwhile, McDaniels
told the Denver Post
he was not told by the team that he was being fired as a result of the recent videotape scandal. I'm sure more information on that will come out soon.
The Denver Post had a great tidbit
: Broncos owner Pat Bowlen dined Monday night with legendary quarterback John Elway. There has been rampant speculation that Elway will join Denver's front office. Even if he does, the Broncos had better bring an experienced personnel man in the mix. Elway was great on the field and he would be great for the organization as a leader, but an experienced football person would be needed as well.
The Football Outsiders' Bill Barnwell looks
at the Broncos defensive woes under McDaniels and points to them as a major reason why he lasted just 28 games in Denver.
ESPN.com's Page 2
talks to a very happy Denver fan.
December, 7, 2010
12/07/10
1:00
AM ET
Random thoughts on Josh McDaniels' firing in Denver on Monday:
Expect to hear a lot of rumors in the next several weeks about replacements. Remember, nothing will likely happen until January.
The Broncos are already denying a local radio report that they are negotiating with Air Force coach Troy Calhoun. He may be a candidate down the road, but the Broncos haven't started the process yet. Like they did during the search two years ago, the Broncos have promised to be up front with the media during their search and won't hide interviews. Kudos for that.
Expect the
John Elway
talk to heat up. Elway has said he'd like to become a part owner and he would be open to a front-office job. Perhaps Denver will consider the legendary quarterback down the road.
The Broncos need help in the personnel department. It might not be a bad idea if they hire a general manager and give him power of all personnel decisions, including the hiring of the next coach. The Chiefs went that route when they hired Scott Pioli two years ago and it's worked out pretty well thus far. Denver is a team that needs a complete overhaul, starting with the direction of the front office.
Denver CEO Joe Ellis and interim coach Eric Studesville will meet with media on Tuesday. It'll be interesting to hear what direction the Broncos will go in. Before he was fired Monday, McDaniels indicated he wasn't interested in making rookie
Tim Tebow
the starting quarterback now that the Broncos are out of the playoff mix at 3-9. I'm sure Studesville will be asked about his thoughts on the subject.
December, 6, 2010
12/06/10
10:30
PM ET
Here are five questions and answers in the aftermath of Josh McDaniels' firing in Denver on Monday:
[+] Enlarge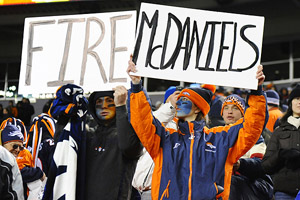 Ron Chenoy/US PresswireDenver fans started calling for Josh McDaniels' firing after a crushing loss to Oakland.
What does Denver do with Tim Tebow?
This isn't a great night for Tebow. McDaniels traded three draft picks to take Tebow at No. 25 in the April draft. McDaniels said one of the main reasons he targeted the former Florida star was because of an impressive pre-draft chalkboard session. But Tebow's future as an NFL player is far from secure. The Broncos are heavily invested in the young quarterback and should look to him as their future starter once
Kyle Orton
's contract runs out in 2012. Denver will have to find a coach who believes he can make Tebow into a legitimate NFL starter. That's why we'll hear Jon Gruden's name often in the next several weeks. Gruden has said he likes Tebow.
Will Denver spend big money on the next coach?
Only if it can get out of paying McDaniels for the final two years of his contract. The Broncos could say the recent videotape scandal gave them cause to fire McDaniels. If that is the case, the Broncos may have some money to play with and perhaps pursue a big-name coach. Denver still has to pay former coach Mike Shanahan for the final year of his contract in 2011. If the Broncos have to pay Shanahan, McDaniels and a new coach next season, don't expect it to be a big-money hire.
Who's the sleeper choice?
This process will be long and I expect Denver to look at several candidates. But keep a close eye on Air Force coach Troy Calhoun. He is a former Denver assistant and was an NFL offensive coordinator in Houston. He is highly regarded in both the NFL and the college coaching ranks. He is a leader who is known for his offensive knowledge, people skills and integrity. McDaniels had a habit of ruffling feathers. The quiet and polite Calhoun wouldn't recognize a ruffled feather.
What's next for McDaniels?
McDaniels made no secret he wanted to be like his New England mentor, Bill Belichick. Well, he's off to a fine start. Like Belichick in Cleveland, McDaniels was run out of his first NFL gig. The problem for McDaniels is that there's no guarantee he'll get another chance to be a head coach anytime soon. He may have to re-establish himself as an assistant coach elsewhere. Because of the videotape scandal, his 11-17 record and his history of clashing with others, McDaniels isn't exactly an A-list candidate these days. But he's a smart guy who is clearly a strong offensive mind. There is still room in the NFL for this intense 34-year-old.
What happens to McDaniels' assistants?
The group, which includes quarterbacks coach Ben McDaniels (McDaniels' younger brother) remains intact for now. But the coaches know they are now playing for their next job. Sure, a couple of McDaniels' staff members could be kept by the new coach, but that would be unusual. There will be wholesale changes in Denver.
December, 31, 2008
12/31/08
6:44
PM ET
Posted by ESPN.com's Bill Williamson
It is being reported the Cleveland Browns are planning to talk to Mike Shanahan about their open position. Shanahan could be intrigued by the power that the Cleveland job would offer and the chance to work with young quarterback Brady Quinn. The word is Shanahan is as open to coaching in 2009 as he is intrigued by the idea of talking the season off.
In his press conference, Pat Bowlen said that Broncos' personnel staff is safe. The thinking of the organization at this point is to bring in a new coach and have him work with the current front office.
The team may keep passing game coordinator Jeremy Bates. If so, that could mean the team is leaning toward keeping a defensive-minded coach.
Here are some of the more interesting quotes from Bowlen and Shanahan's press conference in Denver Wednesday:
BOWLEN
On whether he has a role available for John Elway

"John Elway has lots of things to do and he's got a business life of his own and he is a very busy man, involved with the (Arena Football League) Crush. I haven't talked to John, and I don't have any idea if he has any interest."
On whether he has talked with any of the players and gotten their reactions

"I talked to (QB) Jay Cutler, and Jay understood the conversation. I talked to him this morning. I didn't get any negative feedback. I think he understands enough about the business of football, the game of football, that there are going to be coaching changes and changes in organizations. I didn't sense that Jay had any negative feelings about it, and I'm sure he is very interested in who is going to be the next head coach. Obviously, he is the man around here now, so I will be talking with Jay."
On how he would react if Shanahan got a job within the AFC West

"I wouldn't be too happy if it was Kansas City. But Mike will have a lot of opportunities to go to different teams. If I am consulted by one of those teams, I will give him the highest marks I can."
SHANAHAN

On what he thought Bowlen was going to talk to him about

"I wasn't really sure. Maybe lunch, my new restaurant that I have to promote that I'm not getting any cash for right now."
On what he is looking for in his next job

"Everything... and players. (Whatever) gives you the best chance to win. A person (owner) that wants to compete, a person that wants to win the championship as badly as you do. That would be No. 1. Ownership that wants to win just like you do and is willing to go to extremes to get that done."
On if he talked with QB Jay Cutler

"I did talk to Cutler this morning. He tried to get in contact with me last night, and I called him this morning."
On the importance of Denver keeping some of its offensive staff

"Whoever the head coach that comes in (is), if he doesn't see what the offense did both in the running game and the passing game and the youth, (he) would have to be crazy not to try to keep the people that made it happen."
On if he wants to coach in college or the NFL

"Yeah, I think I'm an NFL guy. I'm not ruling anything out because when you don't have any jobs, beggars cannot be choosers. I'll just kind of wait and see. I'll look at anything out there to be honest with you, but I do love the NFL."
On if he would be surprised with John Elway working in Denver

"I think it would be great. You know what John Elway means to Denver. If I was a free agent coming in and John Elway was there, I would sign for no money. So it all depends on what John wants to do. There is a lot of time involved and John has got a lot going on. But I think John would be perfect for any organization, especially this one, if that's what he wanted to do."
This is what former Denver coach Dan Reeves had to say about Shanahan's firing on SIRIUS NFL radio:
"First of all it's a shock. I had no idea that that would happen. I don't think anybody did. Gosh, I think Mike had three years left on his contract and he and [owner] Pat [Bowlen] seemed to have such a great relationship. I certainly didn't see that. I know that had to be a big disappointment, having a three-game lead with three games to go and to have that happen. It had to be disappointing for everybody. I was shocked. They have constantly been one of the top offensive teams in the National Football League since Mike has been there and their defense over the last six or eight years has really struggled. But, you know, when you're in charge of everything then certainly the brunt of the decision has to fall on your shoulders."